Giant Marketers is one of the fastest-growing and leading digital marketing company in Bangladesh. Its primary goal is to help clients to grow big with...Read more
Did you know that there are over 1.88 billion websites on the internet world today? And everyone's competing with each other for the top spot in the SERP.  But competing with this huge crowd can be a daunting and difficult task, especially if you are a small business owner.
In this case, local SEO is the best possible solution for your small business. It is both cost-effective and competent that allows your business to get found on the SERP whenever your customers search for relevant products or services that your business offers.
But do you know what actually local SEO is, how does it work, and why you should do local SEO? If your answer is no, don't worry! This guide will give you all the clarity on local SEO. So, without any further ado, let's get into this guide.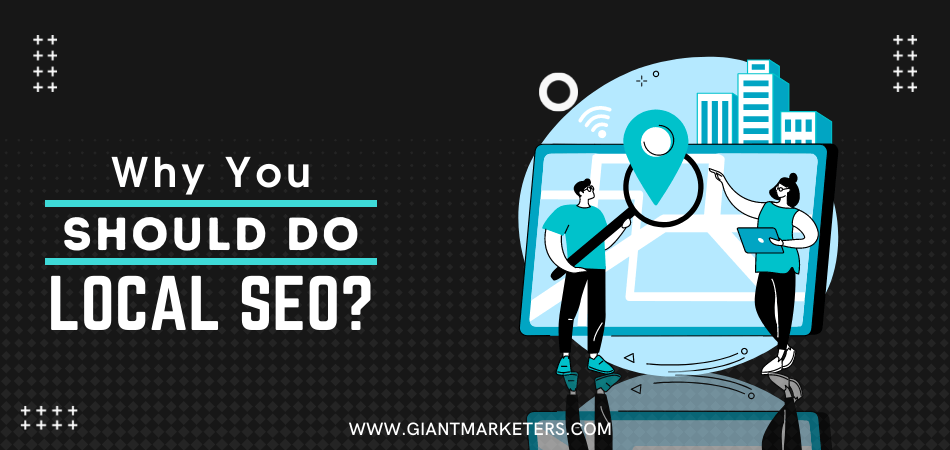 What Is Local SEO, and How Does it Work?
Local SEO is a part of SEO that aims to get your business to the top of the SERP when people search for your related services or products in your area. With local search engine optimization, you can effectively leverage your small business organically on the SERPs.
So, exactly what is local SEO for small business?
If you have a small local business, for example, a restaurant, shop, any local form or agency, you want to rank your web pages for search queries like doctors near me, lawyers in Mexico, etc., which are performed by your local audiences. This is exactly what local SEO services for small business do.
Basically, it is a strategic process that includes optimizing content, on-page, and link building with localized intent for businesses to be found on location-based search results. In general, location-based searches include some geo qualifiers like the name of the city, state, zip code, service area, and phrases like "near me."
But, how does it work?
According to Google, there are three most important factors that work for local SEO ranking. These are –
1. Relevance:
How well the customer's search query matches your business profile. Google always prioritizes providing users with the most relevant results based on the user's search intent. And to be more relevant as the user intent, local keyword optimization is the best way.
Thus, local SEO strategy involves adding local keywords to your site, blog posts, GMB listing, social media profiles, and all the other areas of your web presence.
Multi-Location businesses should focus on creating specific pages for each location, including specific products and services, working hours, contact info, and offers at that location on the website.
2. Distance:
How far is each business's physical location from the user's location while entering the search? Here local SEO will optimize your site by creating a Google My Business profile and make your business cited in different local directories.
When it comes to local business citation, Google values four things: your business name, address, phone number, and your business website, and these should be consistent across the web.
3. Prominence:
How well a business is known across the web, based on information Google gathers from articles, links, and directories.
Usually, Google measures your business's prominence through ratings and reviews, inbound links, social signals, user engagement, and the overall domain and website authority.
Here, local SEO helps businesses strategize to get constant quality links and reviews and take the local ranking to the next level.
Ranking for local searches requires many more strategies and implementation of local SEO best practices than only just optimizing your website. And local SEO can help you with all these strategies.
Who Needs Local SEO?
Simply put, if your business has a local customer or client base, Local SEO is for you. Any businesses that have a physical location where customers visit and serve defined geographical areas of customers will definitely benefit from local SEO. Here are some examples of businesses-
Lawyers & Law Firms – solicitors, barristers
Medical practices – doctors, dentists, clinics
Local Services – plumbers, fitness centers, locksmiths, florists, electricians, hair salons, accountants, etc
Hospitality – hotels, restaurants, café, bars, grocery stores, etc
Why You Should Do Local SEO?
Local search engine optimization plays an important role in gaining more and more local customers by ranking higher in specific areas like towns or regions. It is extremely essential to penetrate your local market better.
If you want to increase your local customer base, make your connection strong with the local community and influencers, enrich your brand awareness and reputation in your specific area, then taking advantage of local SEO is the only way to go.
Let's figure out why does local SEO matter through the following stats.
From all Google searches 46% are done for local information.
90% of searchers are more likely to click the first page's search results.
95% of smartphone users perform mobile searches for local businesses.
88% of local business searches are done on mobile devices and they either call to take the service or go to the store within 24 hours.
70% of mobile users call a business directly from Google search results.
78% of local-based searches are done offline on a mobile device and the purchase is being made offline
We hope all the statistics and data are enough for you to get the importance of performing local SEO. But this is not the end yet; there's many more to local SEO. So, here are the other reasons why you should do local SEO-
1. Getting Your Business on Google's Local 3-Pack
Local SEO is the best way to make your business appear in Google's local 3-pack. Now, what is actually Google's local 3-pack?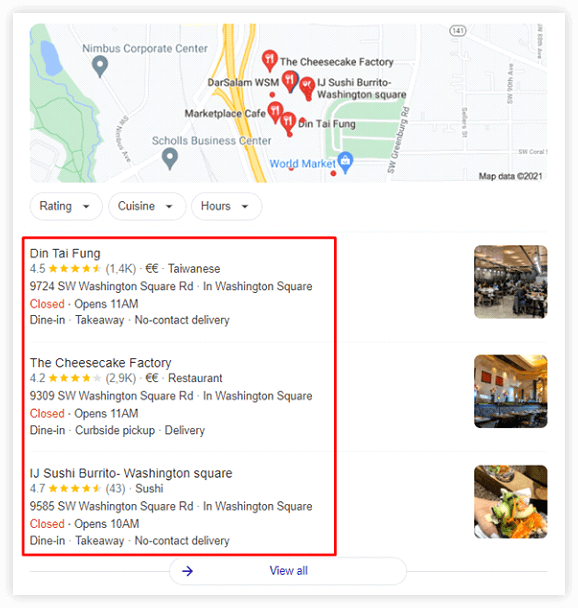 Here it is. When you search for any local businesses or services, Google SERP shows the 3 most popular relevant businesses in the form of a snippet, just like the image above. It is known as the 3-pack, and it includes business names, addresses, images, phone no, links to the website, direction, hours of operation, etc., of those businesses.
According to a study by MOZ found that 44% of people click through the local 3-pack listing and 8% choose "view all" to see more results.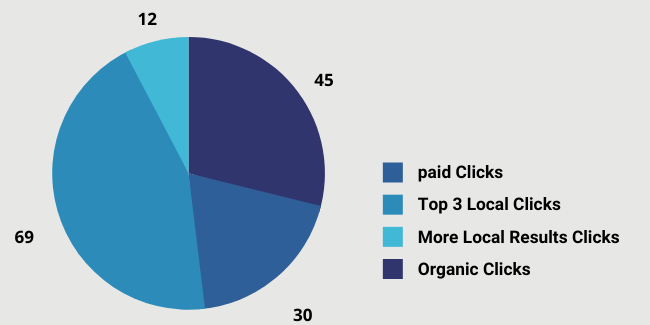 That means if you can make your site rank on this 3-pack, you can drive a huge amount of traffic and revenue for your business. Therefore, optimizing your site with local SEO is extremely necessary to fit your audience's search behaviors and get to this place.
2. Optimize for Near Me Searches
There are several location-based apps available, for example, Google Maps, AroundMe, etc. These apps allow users to find nearby shops or stores to get products or services.
So, in order to make your site visible for these searches, you should optimize your site with local SEO. Suppose you have a coffee shop in Amsterdam. Someone is traveling in your city, and he or she is using Google Maps to find a coffee shop in your area.
So, when they tap on the explore button to search for a coffee shop. Google will show all the sites relevant to the search. In this case, if you optimize your site properly, Google will show your site in the results.
3. Makes You More Competitive
Even if you don't do local SEO, your competitors are doing it. That means you're losing all of your potential customers. This simply implies that you need to optimize your site and its content with local SEO.
But, with the increasing competitors ranking top on the first page of the SERP can be difficult, especially with no or basic knowledge of local SEO. In this case, hiring the best local SEO services company with SEO experts can help you to ensure that your local search strategies and their implementation are up to code.
Additionally, it will make you stand out with a well-optimized website structure and let you run your business with a peaceful mind.
4. Improve Your Visibility and Ranking
Local SEO builds citations for your business in different local directories, social media, and GMB. This way, it helps your business to get more visibility and top SERP ranking and thus be found by the right type of potential customers.
5. Increase Organic Traffic, Conversions, and Sales
While building citations with local SEO gives you more online visibility and local ranking, this also improves your traffic and sales. On the other side, on-page optimization improves traffic for the most relevant searches.
This way, with local SEO, you'll have potential customers clicking on your website; as a result, your conversion rates will get higher and improve sales and revenues.
6. Build Links With Nearby Businesses
With local SEO, you will be able to compete with other local businesses as your site will regularly show up on the SERP for relevant searches. Here, if a local business wants to cross-promote its products with other businesses in the same area this company will easily find you as you are listed locally.
That way, when businesses find out about you, they're more likely to mention you in their posts. In fact, this way, you can get referrals from their customers, bring you more clients, and improve your business relationship.
7. Drive Sales through Phone Searches
As you can see from the statistics we've shown above, that maximum local traffic comes from mobile searches. In this case, local SEO helps your business to reach all those traffic by optimizing your site for mobile users and making the site responsive. Establishing your site with a strong local SEO lets people find when they search for relevant services and products.
8. Reduce Advertising Costs
We all know SEO is one of the most affordable digital marketing strategies, so is local SEO. Where ad requires a lot of investment, which can be a bit difficult for the small business owners to continue. Here, with local SEO, you will be able to reach more potential local customers, make huge sales and revenues, without requiring investing in advertisements.
How Can I Improve My Local SEO?
Google updates its algorithm several times a year, and these updates can disrupt your website ranking. Therefore, if you want to make the most out of your website, make sure to optimize your site with the following local SEO tips.
Claim your business listings
Improve nap consistency across the web
Take advantage of online business directories by building your business citation.
Update all your business information by creating a Google My Business profile
Hone in on local keywords to find the most appropriate terms for your business
Create local content around the best-suited keywords that your customers are searching for
Conduct local link building
Acquire backlinks from your relevant partners and sponsors.
Add location pages and the contact us page to your website. Make sure to create separate pages if you have more than one location.
Utilize social media platforms
Encourage customers to give reviews and ratings and reply to them honestly
Optimize your website for mobile.
Final Thoughts
There is no reason for you not to try local SEO if you have a business with a physical location. It is a really easy and cost-effective method that can significantly add tremendous value to your small business.
However, before you step forward to implement local SEO for your business, understanding why you should do local SEO is essential. Hopefully, with this guide, now you will have a clear concept about it and make your business as strong as it deserves.
So, let us know if you've tried local SEO or not and what outcomes you have earned by commenting below. Also, you can comment if you have any other queries about this guide.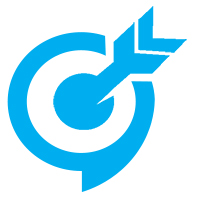 Giant Marketers is one of the fastest-growing and leading digital marketing company in Bangladesh. Its primary goal is to help clients to grow big with result-driven strategies and 10+ years of experience in the industry