SEO-Friendly Web
Design and Development Services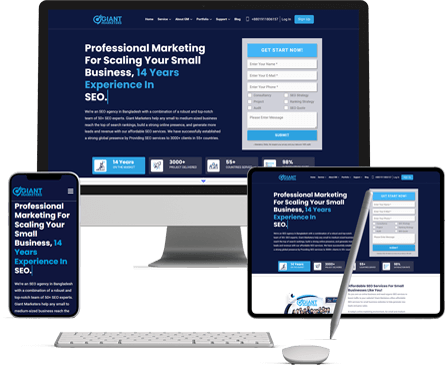 If you are planning to launch a website or redesign your existing site, you will want to create it to provide your users with an excellent experience that will keep them coming back. A comprehensive SEO-friendly website design is a must for user satisfaction and for maximizing your exposure on Google SERPs as well. After working on websites for more than a decade, we at Giant Marketers know what kind of work goes into making a good site design.
We provide web design and development services for small businesses with an SEO-centered focus on user interface (UI) and experience (UX). Our top notch, affordable design service will optimize your site to outpace your competition from its launch. If you are planning a new business or polishing an existing one, we will help you build your website from the ground up with growth in mind.
See What Our Clients' Experience On their Reviews!
We are reviewed by our global client base on sites like Facebook, Google and Trustpilot. Read our 5-star average reviews below to find out more about our impact on businesses just like yours! Ready To Craft An SEO-Friendly Website?
Want to build a new identity with a stunning website design & development service? Request a consultation with our expert website developer to explore how we meet our client's branding guidelines and user expectations.
What is SEO-friendly design?
Search engine optimization (SEO) is crucial to any business that operates online and thus must be built into the website design process from the start. SEO-friendly web design involves the practice of creating sites that are more fully accessible and indexable by search engines such as Google. Simply, this design and development process will make a site more search engine-friendly and user-friendly.
Making a website SEO-friendly means that Google and other search engines can crawl each page on the website efficiently, interpret the content effectively, and index it in their database. Once indexed, they can then serve the most relevant and valuable web pages to their users based on the topics they search for.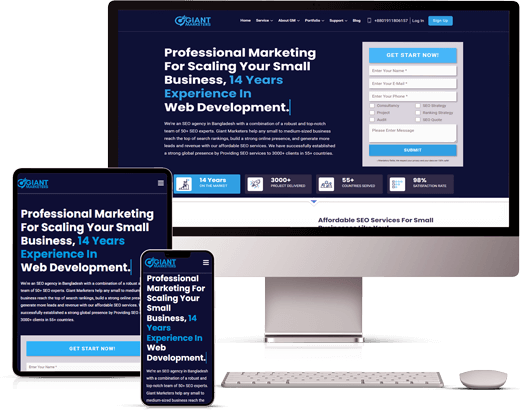 When it comes to optimizing your site with SEO-friendly web design, Giant Marketers implements key elements and follows best practices to make the site rank well in search engines. These include: optimizing website architecture, creating unique content, using canonical tags, URL structure, mobile-friendliness, header tags, internal linking, meta description, image, page loading time, and many more.
Through our years completing web design services for small businesses just like yours, we have been helping clients establish SEO-friendly designs for years.
Our SEO-Friendly Website Design And Development Services
Your website is the face of your business and you will want it to be smiling-friendly to SEO and users alike. For higher SERP visibility and user satisfaction, we craft our web design and development services around every major SEO criteria. See below for the details on the prime components of our service offering. Ready to take your online presence to the next level?
Having a website integrated with the right technology and framework along with the best UI and UX is essential to stay ahead of the competition and provide the best user experience. At Giant Marketers, we make sure to develop and design client-focused and customer-centric websites that are capable of delivering tangible business results. So, if you need a custom-made web development solution, contact us today!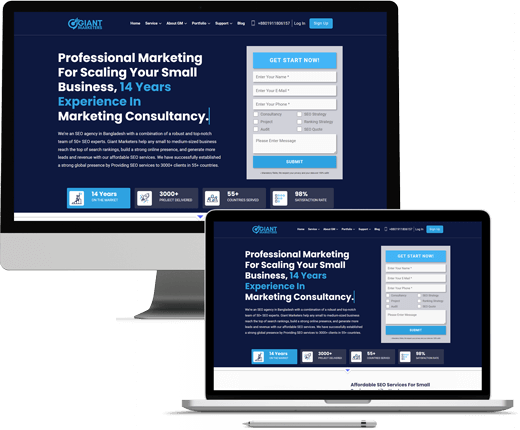 Why do you need an SEO-friendly website?
As a website and business owner, you always want to put your users first. That is what SEO is all about, providing value to users. Through web design and development, you will want to make every page optimized for them and for search engines.
Aesthetics and simplicity make for two major elements in good web design. Making your site attractive as well as easy to navigate and use is a core principle of SEO design. An optimized site means an enhanced user experience that will better solidify the nature of your target audience and maintain your customer traffic more readily. And as a result of your website's success, both your brand awareness and credibility can improve over time as well.
Your site's appearance on mobile devices needs to look as good as it does on desktop or tablet screens. SEO web design accounts for this by making pages responsive to each specific platform. Responsive web design is of prime importance to every modern business.
Altogether, you will need an SEO-friendly website because your top competitors might already have one!
What is Most Important to Create an SEO-Friendly Website?
From the bottom up, your website will need to be architected and built with SEO concerns in mind. As a long-time website design and development company we know the most important elements deal with efficiency and simplicity. See the sections below for more details on what is most important for an SEO-friendly website:

SEO-Friendly Website Architecture
The architecture of your website is imperative for proper SEO. How users and search engines navigate through your site is of prime significance to us and we will work to optimize your web pages.

Modern Coding
Our web development processes make use of the most advanced, up-to-date coding languages and systems. Each element of our customization is modernized to the latest knowledge bases in web design.

Optimized Speed
Website loading speed is an essential element for every new site. When we develop your website, we will ensure the highest loading speeds to give your users the best experience.

Mobile-Friendly
Given that many users access websites from their mobile devices these days, mobile-friendly designs are crucial for most businesses. Our service includes a full suite of assurances around a good mobile look.

Web Security
Our web development procedures always account for your site's security. Our team will ensure that every aspect of your site's online performance is safe for you and your users.

SEO Integration
In our development process, we will optimize the backend CMS for better SEO integration. This will ensure your site is crawlable by Google and set to index as quickly as possible.
Why Choose Us To Make Your Next Site?
Giant Marketers has helped build client websites from all over the globe. Our experience, expertise and support are unmatched in the field. Read below to see exactly what you will be getting when you order from us:
Our Website Design And Development Process
As a veteran website design and development company, we work with our clients to establish our designs and implement our developments. With our expertise and your collaboration, we will be able to make for you the best possible site. See below for the major components of our design and development process:
We Can Design You An SEO-Friendly Website With High UX|UI
Giant Marketers has successfully designed and developed hundreds of websites, from a variety of business types in industries of all kinds. If you are planning your next website project, see the list below for the main website types we have designed before:
Service Site
Our team will help design your new or existing service website. We are experienced service providers ourselves and understand the best development processes.
Business Site
Our team will help design and develop your business site, local or international. We have experience resolving all kinds of problems for business-oriented sites.
Portfolio Site
We will design and develop a sophisticated and professional portfolio website for you that will showcase examples of your best and most promising work.
You can contact us via any of the channels below. We promise to connect with you inside of 24 hours

Skype

Whatsapp

Facebook

Call Us
FAQ
Most Popular Questions
From our experience performing web design services for small businesses, we have encountered specific issues and questions from clients many times. Here are the most popular questions, answered in advance for you: