Giant Marketers is one of the fastest-growing and leading digital marketing company in Bangladesh. Its primary goal is to help clients to grow big with...Read more
While looking for SEO services, you will find that almost every SEO agency includes monthly SEO plans. While it seems the most convenient SEO strategy, Is paying for monthly SEO services really worth it for your business?
Well, in digital marketing, SEO is considered the best approach to boost your website ranking, obtain valuable leads, and improve sales. But, your site won't reach the #1 position from #1000 overnight.
As online professionals, we are all aware of the fact that SEO requires constant optimization and monitoring to ensure long-term traffic and revenue generation. And this is where monthly SEO services come into play.
In this guide, we will cover "is monthly SEO worth it" or not. So, let's get started with the details.
What Do Monthly SEO Services Include?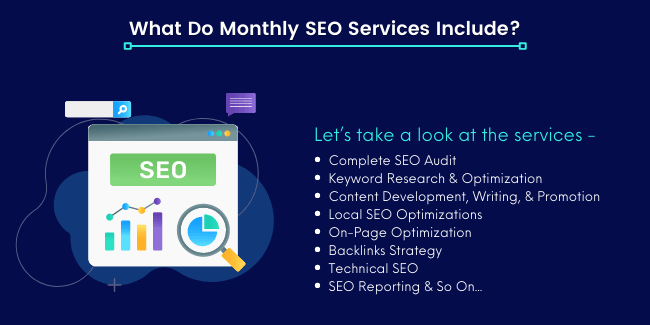 Monthly SEO services, or you can say ongoing SEO strategy is the month-to-month SEO services. The SEO monthly packages will vary from company to company. But following are the common Monthly SEO Packages that best SEO agencies must include.
So, let's take a look at each of the services-
Complete SEO Audit
The first step to begin the monthly SEO services includes a complete SEO audit of your website. This way, SEO agencies can identify the errors of your site, and based on the issues, they make a report including the strategies to solve them.
Keyword Research And Optimization
Once the audit is done, then the real work begins, and it starts with keyword researching and optimization. It is an integral part, which ensures your website's ranking for the relevant search terms.
That's why SEO agencies conduct proper keyword research to find out the valuable keywords in your niche, which can help you to outrank your competitors and get the top position for each relevant search.
Content Development, Writing, And Promotion
The next step is content development, where your site's existing content will be reviewed for improvements. Then, content strategies will be planned to build new content around the new keywords, optimize them for search engines, and make them published.
Local SEO Optimizations
When it comes to small businesses or local businesses, SEO agencies take measurable steps to help your site rank for local searches, Google 3-pack, and Google Maps. This step includes Google My Business listing optimization, doing research to find GEO-targeted keywords, creating content, directory submission, and others to maximize your local search ranking.
On-Page Optimization
This process involves a complete analysis and optimization of websites' keywords, titles, meta, headings, images, and all the other factors which are related to the website's content.
Backlinks Strategy
When it comes to ranking, search engines prefer authority sites. In that case, monthly SEO packages include backlink strategies that will help make your site authoritative and trustworthy towards search engines as well as users.
Technical SEO
User engagement is one of the key factors for your website growth. If your site can't engage audiences, it will get a higher bounce rate. Thus, SEO agencies ensure technical SEO services like website architecture, XML sitemaps, robots.txt files, mobile-friendliness, site speed, and others to make your site more user-friendly as well as SEO-friendly.
Keyword Ranking Strategy Development and Monitoring
When you are done with the keyword research and content promotion, now it's time to keep monitoring the performance. And if required, make some development to help them perform well on the web.
SEO Reporting
As monthly SEO services take time, periodic checkups and maintenance are required to ensure everything is going as per plan. In this case, SEO agencies conduct audits or website checkups and make a report to share with the site owners.
Does SEO Need to Be Done Monthly?
As there are alternatives to monthly SEO, you may wonder why I need to pay for monthly SEO services?
Well, being a long-term marketing strategy, search engine optimization requires constant maintenance. Once implementing SEO strategies, when businesses start getting results, they think they don't need any ongoing SEO services anymore. And this is a huge mistake done by site owners. Here's why-
According to Google, there are 200+ ranking factors, and Google makes all these algorithms update 500 to 600 times every year to ensure optimum user experience.
While some changes are insignificant, some core and major changes hugely affect site ranking and performance. In this case, if you stop implementing SEO, you can't even identify the changes and how they impact your website. Therefore, to stay updated with all the changes and react to the changes immediately, ongoing SEO is really crucial.
Another fact is that you need to monitor the SEO metrics constantly. This way, you can identify the poorly performed pages and plan accordingly to modify them. Here monthly SEO services help you compare strategies and determine pages that are performing well and need adjustments immediately.
Keep one thing always in mind that, as you are doing SEO to improve your business growth, your competitors are also doing the same to outrank you. Therefore, to keep your site ahead of your competition and reach more and more traffic constantly, you need to focus on monthly SEO.
How Much Do Monthly SEO Services Cost?
For monthly SEO packages, clients need to pay a monthly fee for their selected services. In general, monthly SEO service costs around $100 to $5000.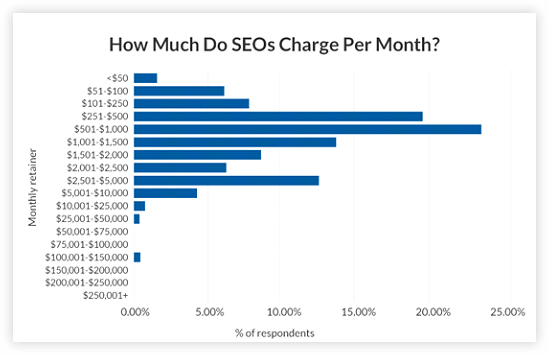 According to a large-scale analysis by Backlinko, the average cost of monthly SEO services is $500. Though the monthly package cost of SEO varies from company to company depending on several factors. For example,
Agency, consultancy, or freelancer
The SEO agencies experience, expertise, and location
Current situation of your business
Business goals and objectives
Your business type, location, and competition
The entire timeline to complete the project, etc
So, here is a breakdown of the average monthly SEO package cost of Agency,  Consultancy, and Freelancer from Ahrefs.
Agencies: $2,819.87/month, on average.
Consultancies: $1,906.48/month, on average.
Freelancers: $1,364/month, on average.
Another study by Search Engine Land shows some insights into what is the average client's monthly pricing looks like-
10% — less than $500
27% — $500-1,000
29% — $1,000-2,500
20% — $2,500-5,000
15% — $5,000-10,000
So, it is clear that the average monthly SEO spending is $500 and the majority of businesses spend less than $500.
Is Paying for Monthly SEO Services Really Worth It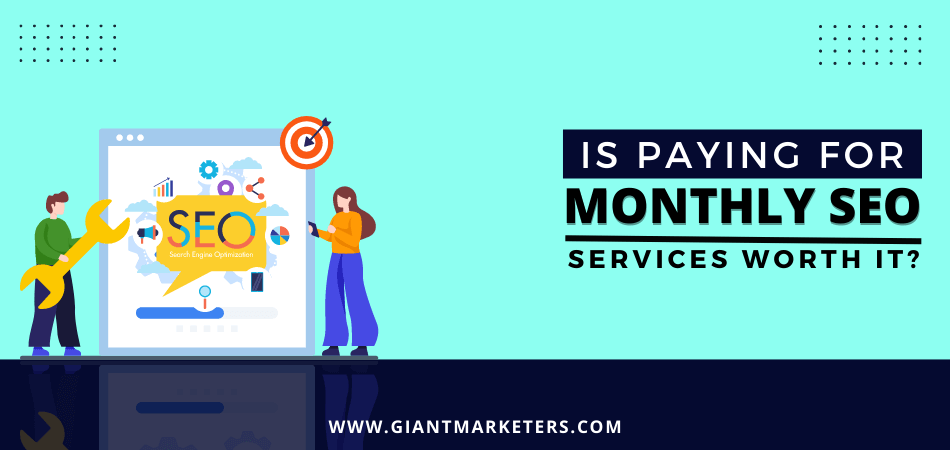 So, is paying for monthly SEO services really worth it?
We hope, after reading this guide so far; now you know the answer. Even then, if the following points match your situation, you should definitely go for the monthly SEO.
If you want to boost and maintain your website's top ranking.
If you have long-term SEO goals and plan to use SEO for years.
Do you outrank your competitors in the long term?
Are you looking to increase your organic traffic, conversion, and sales?
If your answer is yes, then a monthly SEO package is the perfect solution for your business.
Remember, SEO is not something that you do once, and then you don't have to think about it anymore. Rather, it requires continuous monitoring, adjustments, and optimization to reach its maximum potential.
Apart from these, due to the complex nature of SEO ranking, it is highly recommended to implement monthly SEO in your business strategy. This way, your website will never fall behind from the ranking and also be able to compete with the competitors to outrank them.
Over time, the monthly SEO plan will help your business gain improved online visibility, top-ranking for relevant searches, organic traffic, sales, and make your brand valuable and trustworthy to the users as well as search engines.
How to Choose the Right SEO Company for Your Business's Monthly SEO?
Selecting an SEO agency is tough and choosing the good, and the right one is even harder. When it comes to investing and partnering with an agency, it is important to find a company that can value your investment and whom you can trust.
Additionally, the company should be skilled enough, dedicated, and willing to create an SEO plan that works for your business.
But, how do businesses choose an SEO company? Well, there are several factors that you need to consider while choosing the best-suited company for your business.
Clutch conducted a survey that stated that people consider the following reasons most while selecting a company.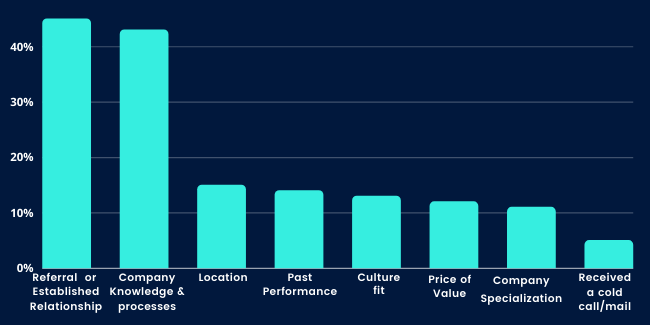 From the image, we can see what percent of people consider which method while choosing an SEO agency. Now, let's break them down in detail.
1. Research Different SEO Companies
When you search for SEO companies, you will find tons of different companies that offer monthly SEO services. And the worst part is, the more options you have, the more challenging it will become to get the right one.
In that case, you need to research to look deeper (about us page, provided services, pricing, etc.) into each company to understand them better. Once you have the necessary information in your hand, make a comparison, narrow down the companies, and list out the best ones.
2. Referrals and Recommendations
Previously established relationships or referrals are a great way to find a good company. So, if you are not familiar with any SEO company, you can take the recommendation from your near ones who have previous experience with SEO agencies.
3. SEO Company Knowledge and Processes
Make sure the company you choose has years of knowledge and straightforward and transparent processes. Look out for their team member's experience, transparency in pricing, customer service, dedicated manager to contact, reporting, etc. 43% of businesses consider these factors to make a company successful.
4. Look at the SEO Agencies Past Performance
Performance matters the most for any type of company. Consider analyzing their portfolio, customer reviews, testimonials, and others which will help you to see how they performed in the past. In this step, you need to ensure having verifiable proof about the companies' performance.
5. Ask Past and Current Clients About Their Experience
Next, you should contact the current and past clients of the SEO agencies and try to collect as much information as you can. Additionally, you can note some questions to ask them, for example-
How fast does the agency call back or email?
Do they have any dedicated point-of-contact or different ones?
What about the reports and strategy decisions?
This is the best way to learn about the companies' strengths, weaknesses, way of work, communication system, and reporting process.
6. Case Studies, Client References, and Online Reviews
Online reviews, ratings, client retention rate, case studies, client references, testimonials, etc., are the real-time evidence of an SEO company. You should be very careful while looking out for all these, as all this information can help your business to narrow down the list and choose the right agency for you.
7. Meet the SEO Company and Ask Questions
Finally, when you have a few potential companies on your list, you should fix a date and meet them personally or over the phone or video conference. Make sure to note down all the questions like-

Do you have any experience with my business's industry?
When should we expect to see results, or how long will it take to rank?
How much do your SEO services cost?
Which SEO strategies will you use?
Which backlinking strategies will you use?
Ask about their contract policies, customer service, dedicated manager, etc.
Mistakes to Avoid While Choosing an SEO Company
Masking mistakes is normal, but you can't afford to make any mistake when it comes to investing in an agency to make your business grow. This can ruin your online business permanently.
Therefore, make sure not to fall for the following mistake ever in your life while choosing an agency for SEO services.
When you see a company is offering monthly SEO services with prices that are too good to be true compared to other agencies, simply avoid them. Choosing cheap monthly SEO packages will be worth you nothing but damaging your site.
Do not browse only local SEO companies, as the location of SEO agencies should not be your top factor. If you limit the area, you may miss out on some of the best agencies.
Avoid selecting a black-hat SEO agency that promises instant results and top rankings for all your keywords. We all are aware of the fact that SEO doesn't deliver immediate results. It requires a minimum of 4 to 6 months to start providing the results of your SEO efforts.
SEO is an ever-evolving process, and thus, no SEO agency can guarantee you any results. If any company promises you something like that, just ignore them.
Ready to Invest in a Monthly SEO Campaign?
Did you know, 50% of businesses find organic search a better option to generate the highest ROI? Whereas only 20% of people find paid search as an effective way.
Besides that, 75% of online users never scroll beyond the first result page of the search engines.
So why am I saying all these now? Actually, the reason is if you want to reach this 75% of people and generate higher ROI for your business, you need to do SEO constantly to survive in the fight against your competitors. And when we talk about a constant or ongoing SEO strategy, we are actually referring to the monthly SEO packages.
At the end of this guide, we hope you get the answer to "is paying for monthly SEO services really worth it" or not. So, get ready to invest and see your business grow.
You can share your queries and experience regarding this guide with us by commenting below. We look forward to hearing from you.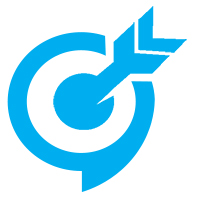 Giant Marketers is one of the fastest-growing and leading digital marketing company in Bangladesh. Its primary goal is to help clients to grow big with result-driven strategies and 10+ years of experience in the industry