Giant Marketers is one of the fastest-growing and leading digital marketing company in Bangladesh. Its primary goal is to help clients to grow big with...Read more
If you've already established your business, it's time to start growing it. You may have more options on your hand but one of the best ways to expand your small business is to go online and build your name there.
And, to achieve this, local SEO can be your best comrade. The local SEO strategy relies on marketing your brand, products, and services to local leads and customers.
A study by HubSpot revealed that 46% of all Google search traffic is local, so the absence of local SEO can be a big reason for losing a significant amount of traffic for your business. Therefore, to help you optimize your business for local SEO, I've come up with this detailed guide, that covers all local SEO tips and tools. 
15 Best Local SEO Tips to Grow Your Small Business
Local SEO is the practice of improving your local business's online visibility and reach to potential local clients. In short, through local SEO you can rank high in the search engine result pages for local searches. To ensure this you need to optimize your site for local SEO.
So, here are the processes to optimize your businesses to reach potential local consumers for specific local searches. 
1. Keyword Research
Keyword research is one of the best practices for any marketing campaign and if it's done rightly, the outcomes sustain for a long. And every local SEO starts with researching geographically related keywords to select the target local audience, create content for your small business, and rank top for local searches.
For small businesses, it's essential to rank for specific related local terms. Otherwise, when people search for any service or information related to your business your site won't show up to them.
For example, you're a dentist in Orland Park, Chicago. That means you should need to rank your site to show up when people in your area search for something related to your service.
Here, if you try to rank for Chicago, it won't work. Let me explain why? 

As you can see, 5400 people search for the term "dentist in Chicago." But among these 5,400 people, many of them may not be around in Orland Park. That means this keyword is not idle for your business as it is unable to capture the ideal audiences within your locality. 
So, you should focus on targeting area-specific keywords like "dentist in Orland Park," "best dentist near Orland park" "is there an emergency dentist near me," etc, etc. 

Let's take "dentist in Orland park" as an example. This term comes in 1300 search volumes per month with SEO difficulty 26. Though the SV seems lower than the first one, here you have a better opportunity to target and capture 1300 people towards your website. 
However, this is just one part of selecting keywords for your site. When it comes to keyword research, you need to consider so many things to find out the best and most accurate ones for your business. So let's take a look at how you can perform the perfect keyword research and what's its benefit for your small business:
User Intent
The first and foremost part is determining the user intent and starting researching keywords based on that. 
So, what exactly does user intent means? 
There are 5 types of user intent that help you to understand the user's needs better. These are-
Commercial Intent- Searchers have a strong intention to purchase your product or get your service. Usually, this type of keyword contains words like buy, join, subscribe, deals, etc. 
Informational Intent- Here users search with the intent of getting some information or learning something using phrases like how to, what, why, etc. 
Transactional Intent- This intent represents both buying purpose and getting information. Such queries contain terms like reviews, vs., best, top, etc. 
Navigational Intent- Here users search with brand names to reach a particular site like amazon.com, facebook.com, etc. 
Localized Intent- With local intent, people search for businesses or services near them or mention a specific location. For example, dentist near me, best dental service near Orland park, etc. 
Low Competitive Keywords
For your small business, it is ideal to go with low competitive keywords as they are low competitive and best for high conversion. With the keyword research tools, you can easily find the low competitive word in your niche.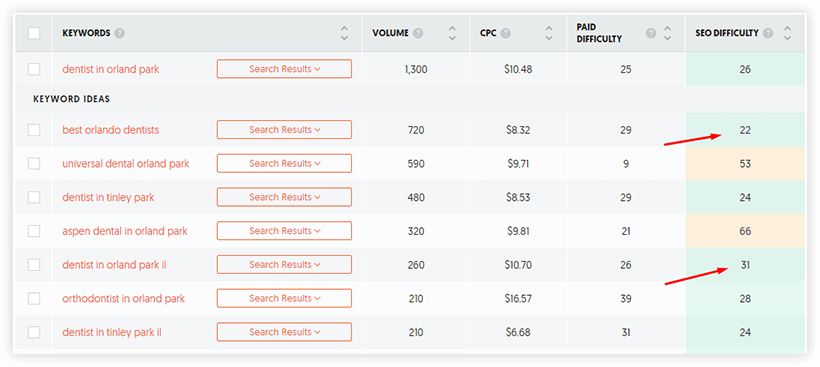 When you have entered your seed keyword in the search box of a keyword research tool and performed a search, you will get thousands of keyword suggestions. Among them, filter the keywords that have a low difficulty score with a decent search volume and choose one or a couple that is best suited to your business.
Local Keywords
Local keyword research can help you to find out the high search volume keywords in your targeted regions as well as determine the search trends.
Through the keyword research tools or Google's Keyword Planner, you can filter keyword searches based on a specific location to get an idea of the popular search terms.
Competitor Research
Competitor research uncovers keywords for which they are ranking top. It can be a good source of your keyword suggestion which brings many opportunities for you.
To perform the keyword research on your competitor, enter your competitor's domain in the specific section of the keyword research tool. And then, the research tool will show you almost everything about your competitors that might be needed for you.
You can consider the following tips while analyzing and sorting out the keywords from your competitor. 
Find out the unique and valuable keywords that your competitors targeted. 
Look out for each keyword's SERP position and which keywords bring more ROI to your competitor's business. 
Find out the keywords gap to see which pages of your competitor's site have been ranked for which keywords.
Tools to Use
I have already mentioned some of the tools and here are a few more that will make your keyword research process much easier.  So, here they are-
2. Create a Google My Business Account
Being listed in Google My Business is perhaps the most effective way to rank higher on Google Maps, local pack as well as gain visibility in the local search results as well.
To be listed, at first, you need to create an account in Google My Business and once you provide all the requested information in that account, all of that information will be added to your business profile which appears on Google Maps and Google search local results.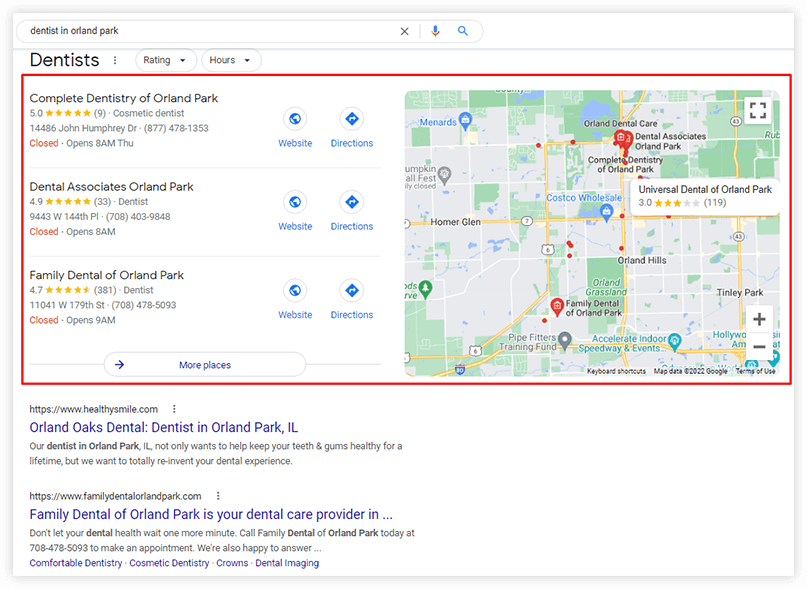 As you can see, when I search for "dentist in Orland park" I get two types of results. The first one is the local pack with all the information related to the businesses including Google maps locations are showing. And then the organic search results come. 
So, if you want your business to rank on the first page, you need to ensure the following things to optimize your Business Profile on Google My Business:
Verify the ownership of the business.
Ensure that the information (name, address, phone number, website, logo, description, location, category, attributes) you provide is accurate.
Also, you can add your physical office's image to add more value to it. 
Take the necessary steps to encourage the customer to review your business.
Respond to the customers' reviews sincerely.
Add posts in the Google My Business dashboard to share your business update.
While creating the profile, you need to be very careful about providing your business information. Google determines a business's legitimacy by checking its consistency across the web.
That means, all your information should be consistent and relevant across all the platforms. Remember, the slightest deviation can lead your business not to rank in the Google 3-pack. 
3. Optimize On-Page SEO
In a sense, the On-Page SEO is all about the words on a website. In the on-page SEO, the content gets the most attention, but it's also important to structure your post in a way so that it can increase your chance of being located in the local SERP.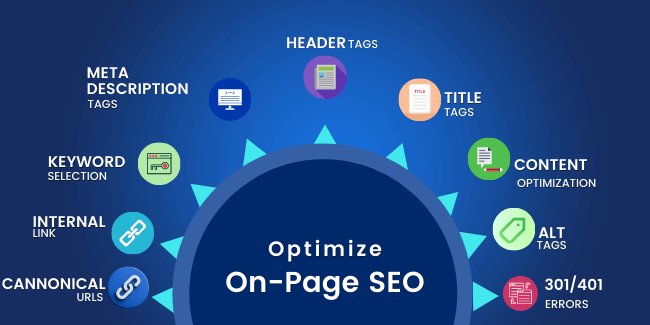 On-Page SEO helps optimize your web pages to boost rankings and attract high-quality local traffic. So, let's a look at how you can properly optimize the On-Page SEO factors and what it offers to you.
Spruce Up Your On-Page Content
Content is king and more likely, it's not a myth. The content has much importance, as it is the key ranking factor of your website.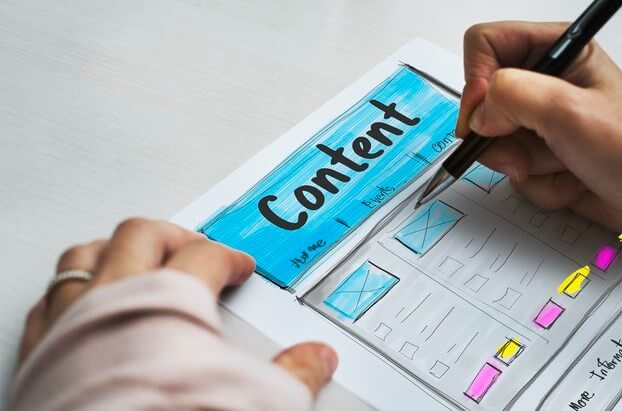 Great content not only gives a better position in the SERP but also engages the users with your site. If your content matches with the expectation of the searcher which grew from screening your headlines, they will stay for long on your page. Not only that, you have more chances to convert them into your potential customers.
Here I will give you some tips on optimizing the content that leads to more traffic as well as making them engage with your website.
Ensure the Content Quality: How much qualitative content you have on your site is a good indicator to rank your page. If you can ensure the quality of your content, it will engage the visitors to your site which gives a positive signal to the search engines. So firstly, you ensure the content quality and the ranking will come naturally.
Long-Tail Keywords: Creating content based on the long tail keyword is the way to make your content unique. It is less competitive to rank the page higher. Since the long-tail keywords are more specific so it increases the click-through rate and the conversion rate is 2.5 times higher than the head keywords.
New content: According to Search Engine Land's report about 15% of daily queries Google sees have never been searched for previously. So, the practice of keeping your sites up-to-date with new content increases the possibility of being appeared on the first page of Search Engine Result Pages. Apart from these, you can create your content based on the ever-green topic or any trending topic. 
So, these are the basics of content creation that we all know. But, when it comes to local SEO, you need to create content to target the Local Users. To grab your local customers' attention, there's nothing more fruitful than keywords directly relates to the local issues.
So, I'm going to tell you some strategies that you should follow to make your content more appealing to local users.
Blogs post on local events: The practice of writing blog posts about the local news, activities, or events takes it closer to the local users.
Header tags: We know header tags can draw much attention to the users, it's a big factor in your click-through rate, which is itself a key part of how SERPs determine their rankings. make sure it highlights the value of the content, is relevant, and within a standard length of 50-60 characters.
Optimize Title, URL, and Meta Description: Let Google know exactly who you are and what includes on your page. And, you can do this by simply adding the targeted keyword in your title, URL, and meta description. You should keep the title, URL, and meta simple, short and straightforward, so that both the search engine and readers can digest them easily.  
Include CTA: To run your local business successfully, only getting visitors to your website won't be enough, you need to make them convert. Therefore, using CTA throughout the content of all your website pages, you need to guide the users on what to do next like call you, contact you, or ask you about anything. 
Crating Videos: Make video content about the local charities or causes that support your business.
Language: Since your target is local users, so create the content based on the language of that region. For example, if the majority of the local audience is French, you can produce the content in the french language. When the visitors get the content in their own language, it creates the content more appealing and grows a positive perception of your business among the local users.
Make sure your NAP is consistent
You may be wondering what exactly NAP is? Well, NAP implies your businesses' Name, Address, and Phone Number. As your business is local, that means, you must include locations and thus, you should use your NAP exactly the same across all content of your site and web as well.
Internal linking
You can use the power of internal linking throughout your content to educate both the customer and search engines about your local service. Since you are using city names on your website content, it's a great opportunity to use them as an anchor link to your website service area pages.
Local Business Schema
Using schema markup, you can help search engines to understand your website content better than before. Usually, local content includes information like your business address, reviews, hours of operation, social media accounts, service area geo-shapes, phone number, etc. All this information helps Google crawlers and bots to understand exactly who you are and about your website service and products. 
4. Build High-Quality Links
The Local Search Ranking Factors study of MOZ reveals that link signal is the second-most important factor for local packs and first for the localized organic results.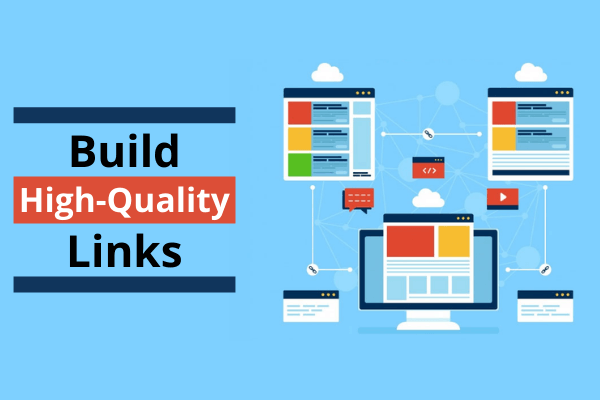 So the link signal plays a vital role to grow your small business for the localized search but the quality is important. From the Google penguin update, the tactics of building more backlinks to achieve a higher ranking no longer exist. Now Google gives much concentration to the quality of the links instead of quantity.
The following section will tell you some effective tactics that you can implement on getting high-quality backlinks:
Create High-Quality and Unique Local Content: An easy and effective way to get quality backlinks is by creating high-quality and unique content.  When you create local content, which is not been created yet by others, naturally it will be easier for you to build links through email outreach or guest post and get more qualitative links.
Guest Blog: Write creative content and reach out to other reputable local sites in your local area, local newspaper, forums, communities, bloggers, or influencers, and the local chamber of commerce. Once you reach them, approach them to publish guest blogs on their sites and this way you can get links from them.
Competitor Analysis: This is the easiest way to get some contextually and locally relevant quality links for your website. Simply look out for the websites your competitors have taken links from, then you can also get backlinks for your site by approaching the best and most relevant site.
Sponsor Local Events: Maximum local events require sponsors, and this can be a great opportunity for you to showcase your business in front of a large audience. 
5. Social Media Optimization
You may have a question in your mind since I already have a website, why do I need to optimize social media for my small business.
Well, let me explain, as you know that a vast number of people use social media for the purpose of gaining knowledge and for entertainment, therefore, through your social media channels if you can feed your audience relevant and up-to-date knowledge, you will more likely to increase the traffic to your website.
Not only that, social media helps you to build a long-term relationship with your target audience. It creates a positive image about your brand, makes them connected to your brand, improves your social signal ranking, and authority.
Using social media platforms, you can easily reach a large audience and inform them about your new market offerings, and get instant feedback from them.
So, here I'm going to share some tips that can help you properly optimize the social media of your website:
Create Specific Social Channels: First, you should create social channels for your specific business o different social platforms. Then share your customer reviews and testimonials on these platforms. This will help more people to know and connect to your business. 
Be Social on Social Media: In these platforms, your main goal should be building a good relationship with your audience. To achieve this sincerely participate in conversations, follow your customer base, and share helpful content from both your website and other relevant sites.
Use Branded Cover Images: When the users visit your page on social platforms, typically the first thing they see is your cover images and a great cover image creates a good impression.
Integrate Social Media Buttons Into Your Website: Integrate social sharing buttons on your website to make it easier for the users to share your post on the social media platform. 
So, to grab this opportunity always use professional images to convey your brand messaging to your current and prospective followers.
6. Website Architecture
More than half the local customers mainly use a company's main website to engage with them. this means that your business website will be the first thing that a customer will consider visiting while searching for your business. In that case, your website structure should be properly optimized for your local audience, so that it can engage more and more potential local clients. 
So, let's see how can you develop a better website structure-
Plan the Hierarchy
The first step is to strategies your entire website's hierarchy logically. Make sure the architecture stands out simple and not too complicated. A simple yet logical architecture is great to ensure optimum user experience, otherwise, your users will find it difficult to navigate your site and this will ultimately impact your user journey.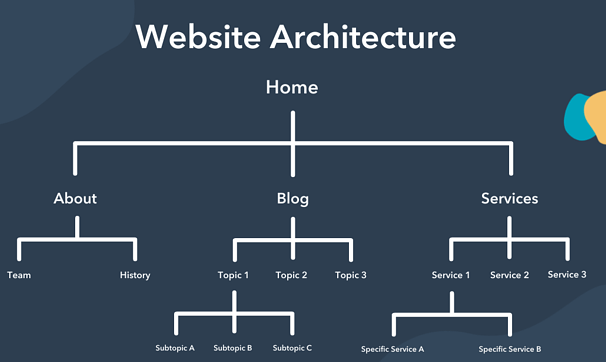 Navigation Bar
For every local business website, it is essential to have a clear navigation path. There is no need to put too many menu items, keep the navigation bar as simple and straightforward as possible. Additionally, you need to make sure delivering content is included in the menu item's name.  For example, if a user clicks on the Location tab, they expect to be directed to the location page, not a page with another title. 
So, let's find out what should be included on your website's header and footer navigation bar. 
As a local business, your website's navigation bar should include, About Us, Service, Location, Contact Us, Blog, Schedule Service, Request an Appointment, and any other menu relevant to the specific business. Also, don't forget to use sub-categories, so that users can conveniently navigate to other pages of your website.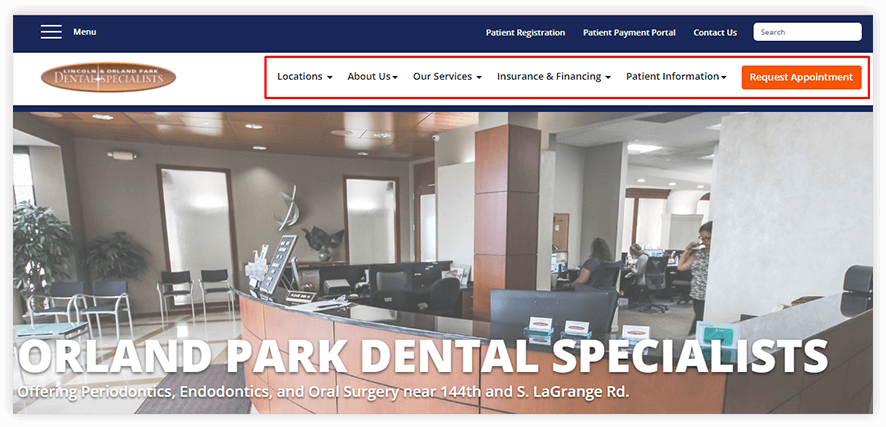 When it comes to the footer, here you can include your business locations, contact information, Social media buttons, Services you provide and of course the privacy policy, terms and conditions, etc.

Internal Linking Structure
How good your website's architecture is can be determined by how well your web pages are linked together. And it's great to link your category pages to their specific subcategory pages right from the navigation menu. Let me clear this through an example.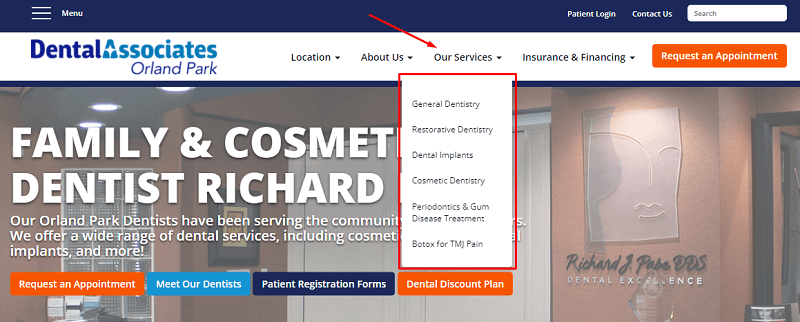 As you can see in the picture above, this website has linked all of its dental service pages to its subcategories. That way, whenever a user clicks on the "Our Services" section, they'll see a drop-down menu with all its subcategories and go directly to the page they clicked on.
7. Content Strategy
Here, in this section, I will show you how can you strategize your home page, service page, and blog page's content. These three pages are one of the most important factors in local businesses. So, let's get into them.
Home Page Content Strategy
Your homepage is the face of your website and through the homepage, you need to let your users know that they are in the right place and that you are the one they are looking for. And to make it possible, you need to include all the basic essentials and excellence of your business on the homepage.
Add creative images and videos and they must be relevant to your business. 

You can provide a small description of all your services and link them to the separate service pages.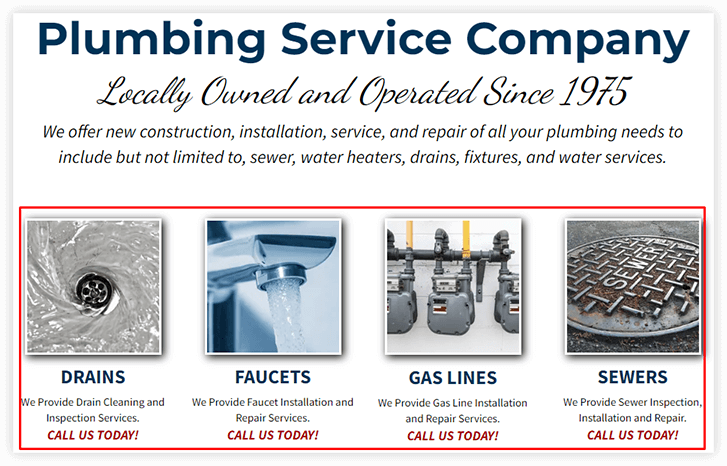 Showcase your business expertise, explain the benefits your users can get from you, and share your team members' efficiency. 
You must add a contact us form on your homepage.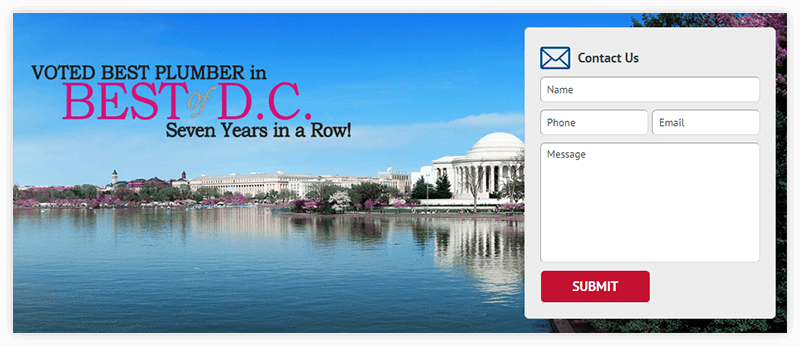 Make the best use of implicit keywords throughout the homepage content.
You can also share a few customer reviews and testimonials. 

Service Page
Before potential clients contact you, they need to make sure that you are providing exactly the same service they are looking for. That is why it is crucial to have separate service pages for all the services you provide. So, let's see how to optimize your service page content-
Suppose you are providing plumbing services like drain cleaning, toilet repair, sewer lines and excavation, etc. So, you must have separate pages for all these services with proper explanations about the services.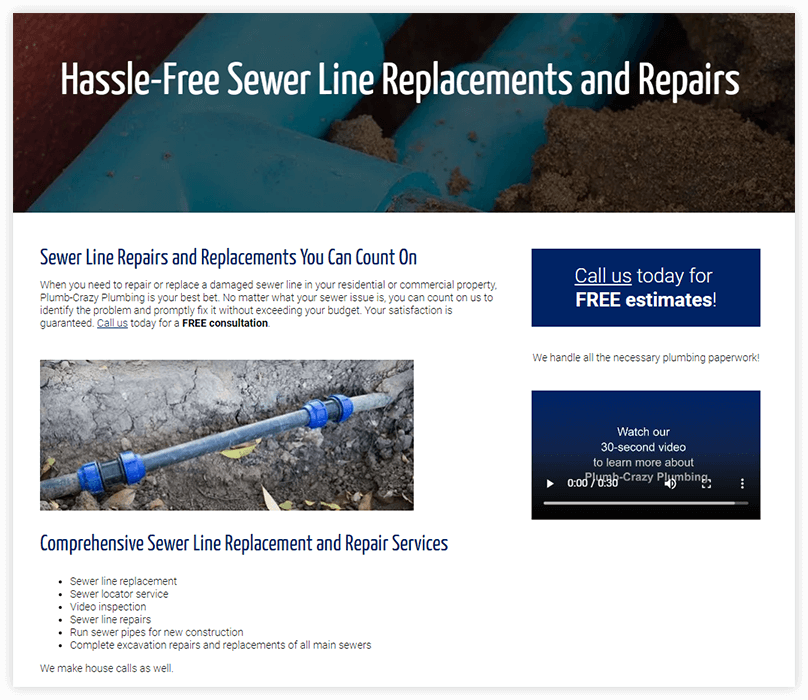 Your content should be detailed. You can share how you solve particular problems, how you work, etc. 
Then, make sure to include relevant keywords which have buying intent.
You must have a contact us button, a phone no, and if you want you can include a transparent pricing range on all your service pages. 
Blog Section
The main purpose of using a blog section on your website is to educate your customers or audience with proper knowledge about everything related to your business. The content in your blog section will feature explicit keywords which have a research intent. It's the best way to build internal linking opportunities and offer more value to your readers.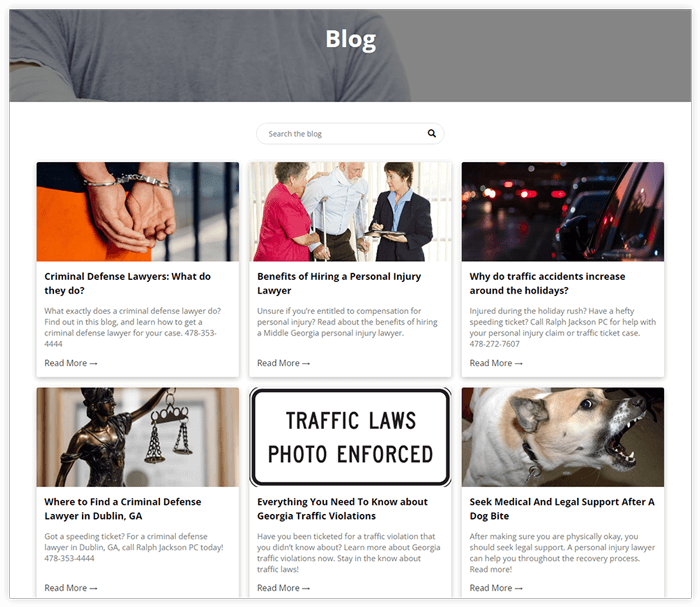 Now, let's see what you should consider while creating content for your website's blog section.
As a local business owner, you can write about local activities, news, and educational content about your specific industry. 
Make the best use of relevant local keywords on your blog content.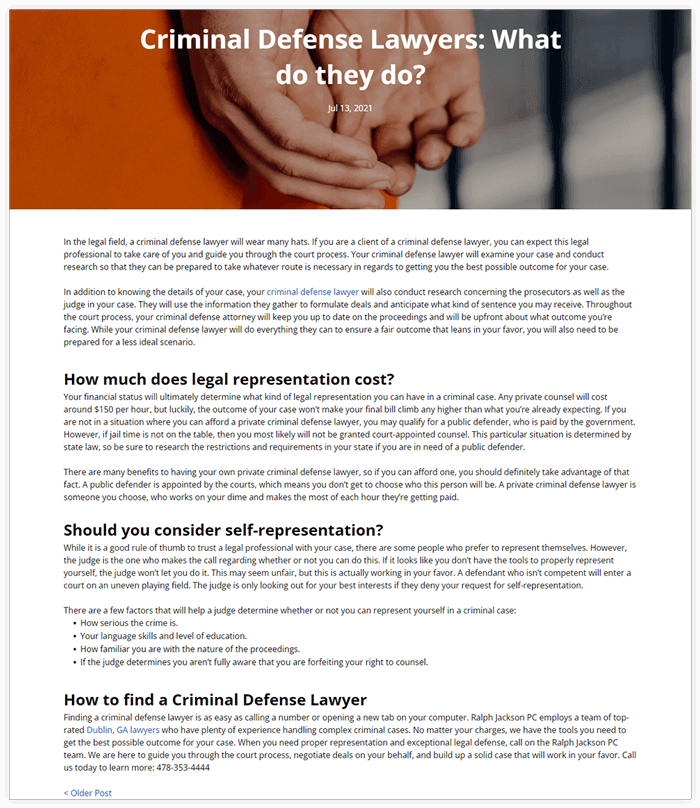 Also, you should do internal linking with relevant pages and refer to your own blog posts.
You can also link to other authority sites to make your content more engaging and resourceful. 
Do not forget to add CTA buttons, contact us form, phone call no or any other ways of contact. 
8. Optimize Your NAP Local Citation
As per MOZ, citation is the 5th most crucial factor in local business ranking. Thus, if you can correctly build your website's NAP citation, It will be much easier for your customers to find you online and also you'll be benefitted in many other ways. Now, let's find out how to optimize NAP local citation-
At first, you need to make sure that all your existing citations are correct and consistent. To check this, you can use a free tool which is Moz Local. 
Using data aggregators like Data Axle, Neustar Localeze, Factual, etc. comes really handy to distribute your business information to hundreds of other websites.
Build more citations by submitting your business NAP to other core directories like Apple Maps, Yelp, Yellow pages, BBB, Foursquare, etc.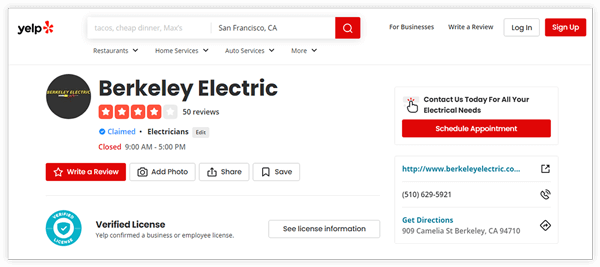 You can use this Local citation finder tool to find NAP citation opportunities based on your specific location and industry. 
Always ensure tracking the citation status and to do this, you can use Screaming Frog or Little Warden tool. This helps you to prevent losing any citations. 
9. Online Business Directories
The online business directories are an online listing of businesses that are categorized by niche, location, activity or size.
When your local business gets listed on the Online Business Directories, it enhances your online preference. Not only that, it improves your local visibility and increases your chances of getting discovered by new customers. Whenever customers search for services or products like yours, even if they don't search your business name directly, they will find you.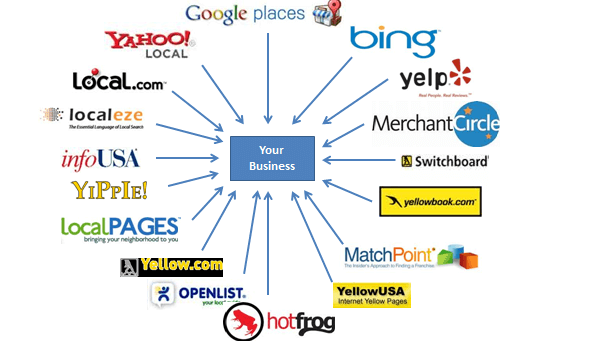 If the customers perform a search in the online business directories, a list of matching results with the snapshot of each business will appear in front of them. Even if they don't click on your business name they still see your business which increases the awareness of your brand as well as the chance of getting business from them.
Here you will find the top business directories list for specific industries.
To be listed in Online Business Directories you should include the following basics:
The accurate name, address and phone number of your business.
A backlink that directs the users to your website
The proper description of your business.
10. Create a Dedicated Contact Page
When people search for your local business, they want precise and detailed contact us page of your business. People are always in a hurry, and they don't have the time to figure out the contact option on your website. Therefore, it's a best practice for local businesses to use different ways of contact and make them easily visible and accessible.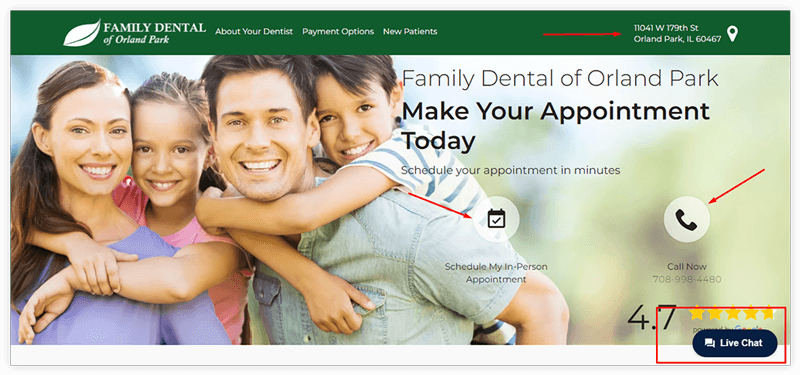 For example, as you can see in the above image that this particular website includes four different ways to contact them. Similarly, you should use such ways in your entire website along with a separate contact us page.
A dedicated contact page with accurate NAP works great, additionally, helps every type of business to lead the customers to become potential leads. Thus, it's essential for every local business to have a simple and easy to navigate contact us page.
So, let's take a look at how can you optimize your website's contact page for your local searchers.
It would be great if you add your email address and location maps to your contact page. 
To book an appointment you can add a specific contact form and another form for consultancy.
If you've more than 1 location, make sure to include the complete company name, address, phone no, email, and map for each location.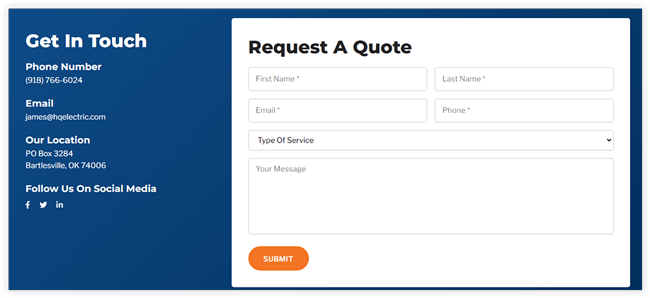 11. Develop Location Page
Building dedicated location pages is a must if you are serving your services from different locations. And, while creating separate location pages, you must include the following things on your pages-
Add Google maps of each location including the location name, address, phone number, and service hour. 
Give individuals descriptions of each location's office.
It would be much better if you can use real images of each office.  
You should provide unique content for each location page and avoid any sort of duplication. 
If possible share testimonials of customers of specific areas. 
For a single location, an "about up" page including location-specific descriptions with other information related to your business will be enough.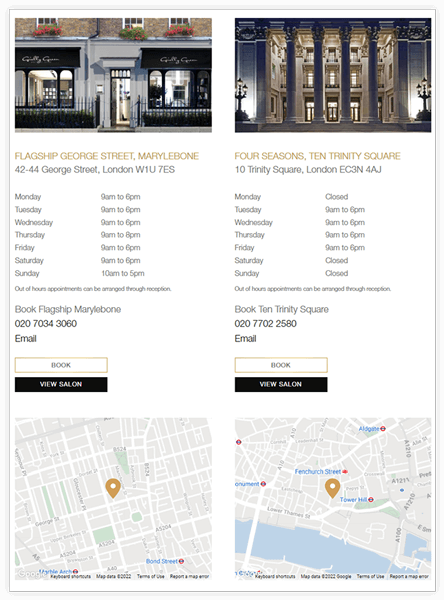 12. Voice Search
The popularity of voice search is increasing day by day. According to the search engine journal, "58% of consumers are using voice search to find local business information." On the other side, when it comes to searching for restaurants, 51% of consumers use voice search.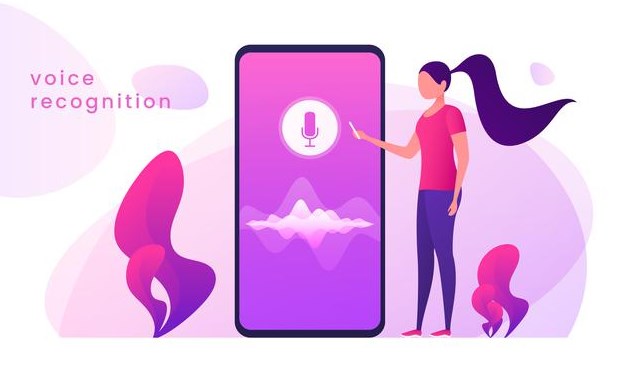 Another study by Search Engine Watch found that "mobile voice-related searches are three times more likely to be local-based than text searches." Now people just take their mobile phone put and start using voice search to conduct any local search. 
Since the voice search is growing rapidly, the optimization of your website for voice search takes you one step ahead of your competitors. Some points you should keep in mind while preparing for voice search optimization are:
Question keywords: Voice search contains a lot of question words like what, which, how, when, etc. So when you add keywords for the voice, include those question keywords.
Long-tail Keywords: People naturally use more keywords in the voice search than the traditional search. So, give your focus on long-tail keywords.
Use Natural Language: When you use natural language there is a lot of scope of matching as a result of verbal questions.
Use Schema Markup: Though this optimization doesn't affect your ranking directly, still, you will achieve an edge over your competitors, especially when we are talking about voice search. 
Create FAQ Content: For this, you should create a separate FAQ page. Here, you should gather all the frequently asked questions of users about your particular service and answer them all. 
Overall, you should consider the user intent when optimizing for voice.
13. Optimize Your Website for Mobile
When a desktop version of a website loads on the mobile device, the users bounce back from your website and try another. It leads to a negative user experience as well as lower your page rank for mobile search. But on the flip side, having a mobile-friendly website can be your best option to rank your page higher for the mobile search.
If you have a physical store along with a website, most likely, this research report will force you to optimize your website for mobile devices.
A report by LSA(Local Search Association) shows that more than 75% of local-intent mobile searches result in offline store visits within 24 hours, and nearly 30% result in a purchase.
Here are some tips for you to ensure a mobile-friendly site:
Run a Test: Use the Test My Site tool to see if your website is mobile-friendly or not. 
Increase the Load Speed: To give an excellent user experience to mobile users, keep your site load speed within three seconds.
Use Large Text Fonts: To make your content easily readable use large text fonts in your article.
Integrated Responsive Design: If you apply the integrated responsive design to your website, it doesn't matter whether the users use mobile devices or the laptop, the site will be shown based on their devices.
Block The Pop-Up ads: The pop-up ads cover almost the full screen of the mobile, it makes them annoyed and most often they leave your site without reading the full article. So make your site free from pop-up ads to give a better user experience.
14. Request and Respond to Customer Reviews
Online customer review is a huge part of your small business's online success. Positive customer reviews have the power to attract new customers to your business, while negative ones can do exactly the opposite. According to studies-
"Nearly, 9 out of 10 which means 89% of consumers worldwide consider reading reviews before making any product purchase decision."
93% of consumers read local businesses reviews to determine their quality. 
In fact, "79% of buyers stated that they trust online customer reviews as much as personal recommendations."  
54% of consumers visit a local business after reading positive reviews.
Now, you know how essential it is to have customer reviews on your website. Therefore, you should always encourage your customers to leave a review about your product or service at the time of purchase. Once you get the reviews, your work doesn't end there; you need to make sure that you are responding to those reviews. 
In fact, you should check for customer reviews periodically and respond to them. Remember, if a customer can take the time to write a review about your product or service, and doesn't matter if it is a positive or negative one, you can never ignore it. To make it more clear, let's see the following stats about the importance of replying to customer reviews-
Businesses that reply to at least 25% of their online customer reviews are more likely to earn 35% more revenue on average. 
Almost, 53% of customers expect a business to reply to their online reviews within a week. 
When brands respond to customer reviews, almost 42% of them feel that the company cares about them. 
89% of customers read the replies given by the businesses. 
Companies that do not respond to their customer reviews are at risk of a 15% increase in churn. 
15. Add Accreditations, Awards, Client Reviews or Testimonials, and Case Studies
You can show off your accreditations, certificates, badges, and awards to attract new clients and help them believe in your business. Other than these, you can also include your business license and your trusted partner's names. 

Adding case studies, customer reviews, and testimonials to your website is another great way to build your customer's confidence in your business. 85% of new customers find businesses trustworthy with positive reviews. Adding all of these to your site adds more value to the site as well as improves user experience. 
Conclusion
The proper implementation of these 15 actionable Local SEO strategies not only helps you to reach your 2022 business goals but also gives you a solid foundation when new SEO features are introduced.
So, don't miss the chance to grow your local business in 2022, start it now by doing local SEO.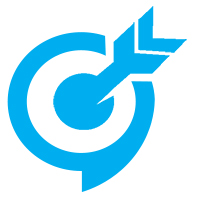 Giant Marketers is one of the fastest-growing and leading digital marketing company in Bangladesh. Its primary goal is to help clients to grow big with result-driven strategies and 10+ years of experience in the industry