Giant Marketers is one of the fastest-growing and leading digital marketing company in Bangladesh. Its primary goal is to help clients to grow big with...Read more
"After content, title tags are the second most important factor for on-page SEO,"— MOZ. Actually, it's your web page's message that users read, judge, and respond to. This small element with low effort can create a massive impact and a big result for your site.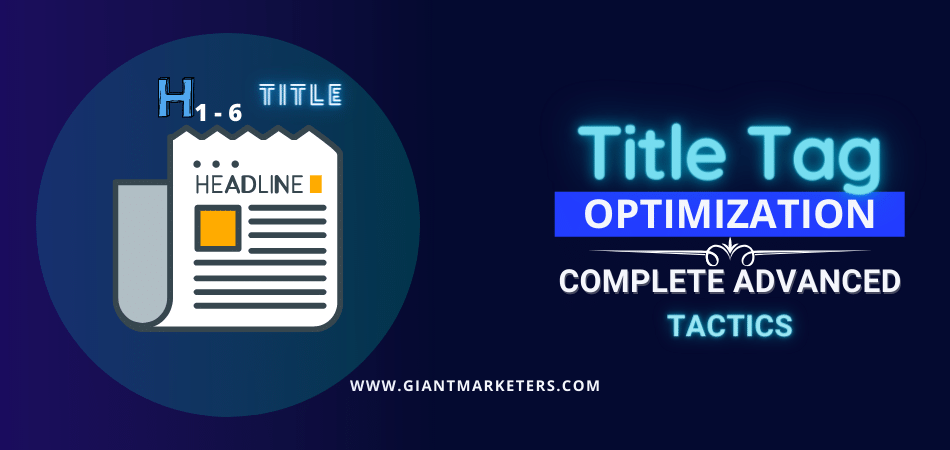 Usually, title tags give the idea of the page or content through the title tag. And it is the main process of achieving a positive response from the readers.
Unfortunately, most people have gotten title tag writing all wrong. They simply put the keywords and observe the character limit and that's it. But, there's a lot more than that.
You should optimize your title tag to achieve SEO purposes and strategies. Therefore, I've decided to cover the complete advanced tactics for title tag optimizationto help you build a solid foundation with your SEO efforts.
So, without any delay, let's drive into them.
What Is a Title Tag?
A title tag is an HTML element that is used to specify the content of a webpage. It is assigned to a page by adding an HTML code line, and apparently, it looks like this-
<title>10 Best Local SEO Tips to Grow Your Small Business in 2021 — Giant Marketers</title>
The primary job of title tags are briefly telling the visitors what they are going to see on the web pages. Typically, it shows in the SERP along with the meta description. For example,

Similarly, when you share a link on your social media, it shows the particular page's title tag. Also, people can locate it on the web browser tabs. Apart from all these, Google describes title tags as being "critical" in its Webmaster guideline.
This implies title tags are essential to create a good impression and reach the targeted audiences. So, let's find out the other reasons for optimizing title tags-
When conducting a search, title tags are the first things that viewers see.
Helps search engines to understand the relevancy and rank the page.
Title tags work effectively as a ranking factor.
Improves CTRs and leads more readers to your content.
It's a combination of science and psychology to entice readers into clicking.
A Guide of Fundamentals for Title Tag Optimization
Google's bots use title tags as a signal for understanding the concept of a page. That means your title tag should be relevant, SEO-friendly, and accurate to your content. Otherwise, it'll be difficult for Google bots to understand the content appropriately.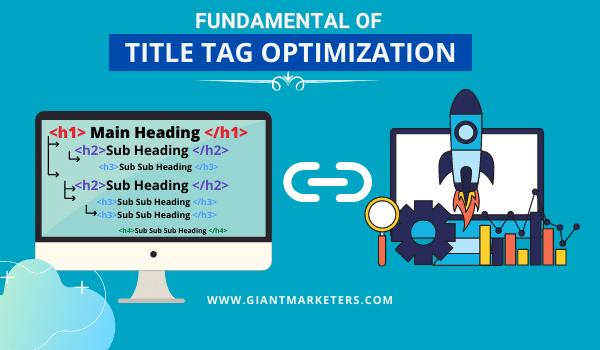 So, with Google guidelines in mind, here are the title tag optimization aspects to fine-tune a proper title tag.
1. Identify the Page Type
Always remember that your title crafting depends on the specific page type of your website. For instance, optimizing the title tag for your blog post will be different from a product page. Therefore, at first, you should identify the page type.
Generally, a website consists of several types of SEO-driven pages like-
Home Page
Product Category Page,
Product Page,
Local page,
Blog Posts, etc.
Here's how the title tags differ for your site's specific pages.
Homepages:
Before optimizing your homepage title tag, see the below example.

As you can see, our homepage title tag is structured in a way that'll drive leads through one of our core services. So, if you are going to create a title tag for your website's homepage, you have to consider such things.
Category Pages:
For your category page, you can create the title tag by following-
Category | Brands
CTA + Category | Brands
Product Pages:
The best format for product pages title tags are-
Product Title | Brand
Product Tile | Category | Brand
CTA + Product Title | Brand
CTA + Product Title | ISBN/Serial Number | Brand
Local Pages:
Here's how you can write the title tag for your local pages.
Industry Name, City — Town | category | Brand
Industry in City | CTA — Brand
Blog Posts:
It is the easiest process, as your focus should be making the title as accurate and relevant as possible to your content. A perfect example of a blog post title is-

2. Length of The Title Tag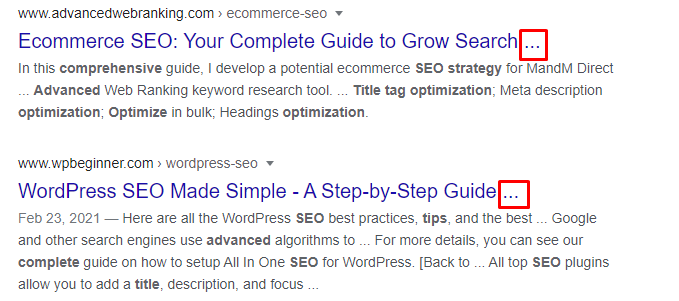 Now, see the above image carefully; here, the two red boxes indicate title tag truncation. This means Google cut off the rest of the titles because the title's lengths are longer than the visible width of the SERP.
Obviously, you don't want that, Google does this to your title tag also. So, follow the below tips to avoid title tag truncation.
Characters:
To avoid title tag truncation, keep it between 50-60 characters long. According to a study by Backlinko, pages that use title tag lengths between 15 and 40 characters have 8.6% more CTR than the others. In addition, Google's exact length limit is 600 pixels for the title tag, and 50-60 words perfectly fit into that pixel.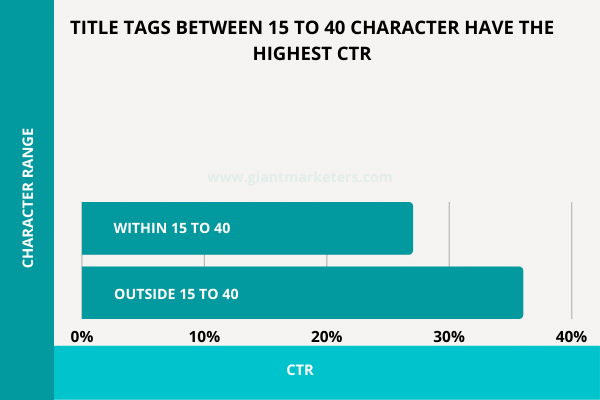 Short but Descriptive:
Keep the title tag short, but it should be descriptive enough to give a proper idea about the content. Google Search Center recommends avoiding lengthy titles which are unnecessary to the users. Well, to do so, you can avoid using all-caps, excessive punctuation and remove repetitive words.
Emotional Title:
You can write an emotional title to draw the attention of the readers. Studies show that titles with positive or negative sentiment improve your CTR by approximately 7%.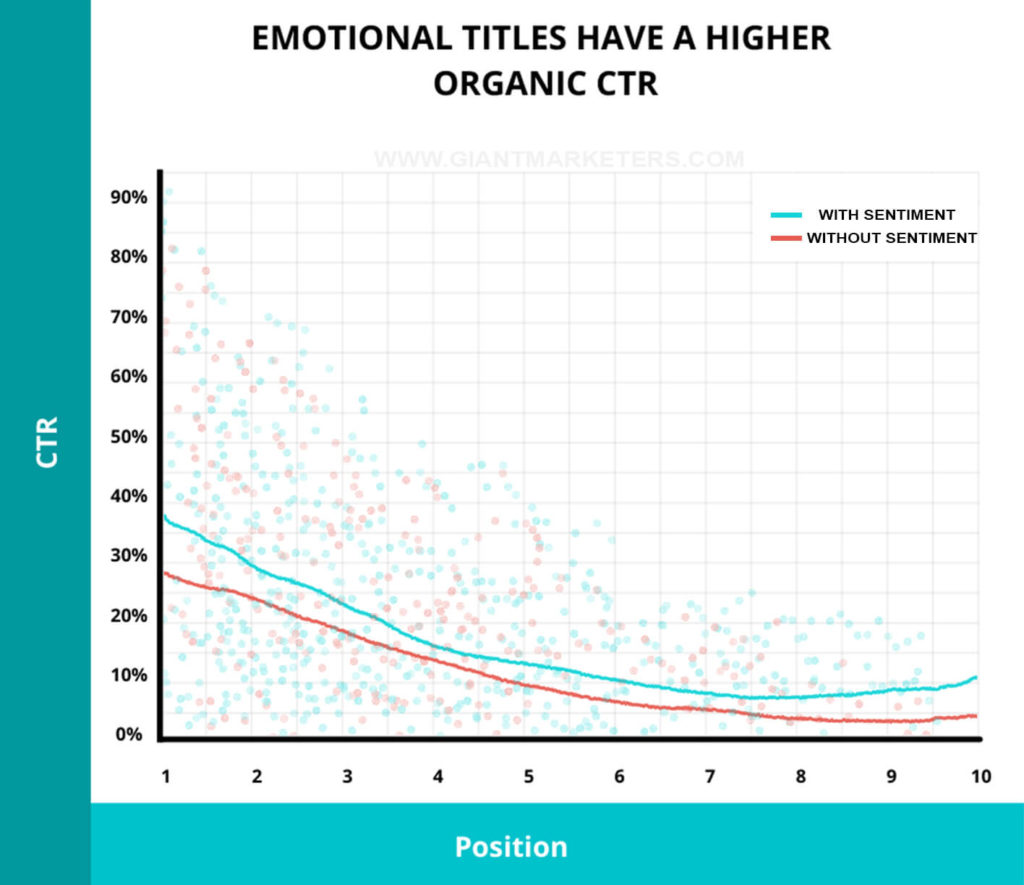 Make it Slightly Different From the H1 Tag:
Some keep the headline and title tag exactly the same. But if your headline is longer, and it has chances to get truncated, then you can make the title tag shorter. It will look better on the SERP, take less time to read, and most importantly, won't cut off.
3. Make it Compelling
Cyrus Shepard, SEO Consultant from MOZ, uses the acronym called NPR to explain the thought process behind writing compelling headlines. So, what does NPR exactly mean? Well, the acronym NPR implies-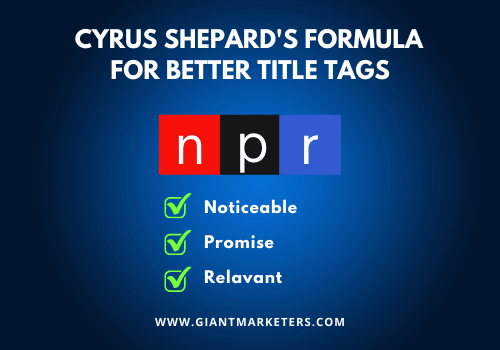 N (Noticeable)
Your title should be noticeable otherwise, it can entice readers to click through it. Only using the keywords won't work well for your title tags. Create something different from your competitors so that it stands out from any other results.
P (Promising)
A promising title will itself tell the audience what they can expect when they click through it. So, when writing title tags, you should use promising language to satisfy the audience's needs. Here are the best 6 ways to make more promising title tags for the searchers.
Surprise the audience,
Make them Thrilled,
Impress your viewers,
Educate them,
Reassure the readers, and lastly
Help them.
R (Relevancy)
In general, searchers are looking for results that are related to their intent. So, at first, identify your target audience and then create a relevant title tag that'll satisfy their needs and lead them to click through it.
4. Include the target Keyword into your Title Tag
Put your focus keyword as close as possible to the beginning. SEOSherpa explains the closer you place the keyword to the beginning of the title tag, the more weight it has with search engines.
But, you should make sure to place the keyword organically. Remember one thing, never stuff your title tag full of keywords; it can negatively impact user experience. If possible, include one long-tail keyword. Here are the reasons why you should front-load your keyword in the title tag.
Ranking Factor:
Including the main keyword in the title tag should be the first priority while optimizing it. A study from Backlinko shows pages in Google's top 10 results contain 65% to 85% of the keywords in their title tag that they're ranking for.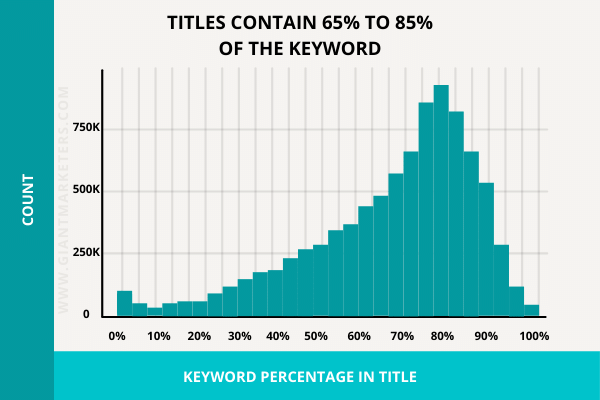 It Catches Users Attention:
Research data indicate that many users scan only the first two words of the title tag. If you front-load the keyword with the title tag, this is the first thing that the audience will see in the SERP.
Besides that, it will be much more prominent to the readers. In this way, your title tag can grab the attention of the readers. It also makes them convinced that your page is relevant and matches their search intention.
Improves CTR:
Remember, the higher you rank in search engines and the higher you can draw the attention of your audience, the more CTR you will gain. And when the audience sees your target keyword in the SERP, they will automatically relate to it and click through your title tag.
Result in More Keyword Rich Link:
This thing helps to frame your title tag in the way people view and refer to the post. As a result, it gets more keyword-rich anchor links. For example,
Google Core Algorithm Update Dec 2020 – 2021 Analysis: Results of 100+ Site Analysis.
After seeing this title, there is no doubt that this title can increase the likelihood of linking with the phrase "Google Core Algorithm" as an anchor text. So, while creating title tags, make sure to keep this thing in mind.
5. Use H & W Strategy, Special Characters, and Numbers
H & W strategy implies using "How, What, When, Where, Who, Why" into your title tag. Using any one of them works as an effective weapon for your title tags.
Actually, question-based content contains rich answers, and it's an effective way to gain more visibility and traffic. That's why title tags that contain a question have a14.1% higher CTR than pages that don't use a question in their title.
Using special characters will make your title tag stand out and get noticed by the readers. In fact, these characters will help your title tag to draw more attention and get clicks. So you can use any of them- ®, ™, », /, %, (brackets), "quotes" that go properly with your title tag.
If you are optimizing a title tag for list-type content, then it will be better to use a number on it. They are super effective and eye-grabbing. Conductor found that 36% of readers prefer headlines that use numbers.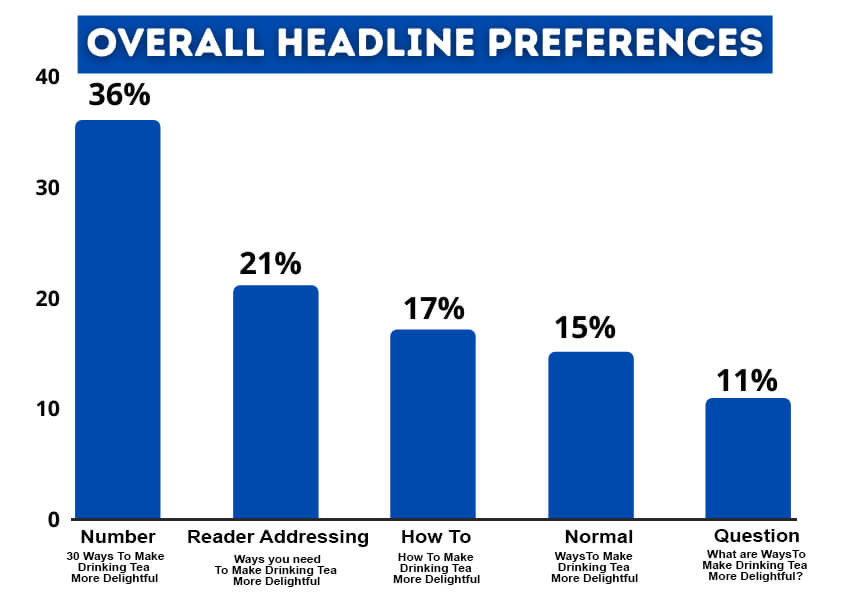 6. CTA in SERP
Some action words can provide big gains in CTR as they imply exactly what to do next. One study by Wordstream found some top-performing CTA featured by Google Ads very prominently. So, for increasing clicks on your organic search result, you can add CTA like get, learn, build, discover, try, etc. to your title tag.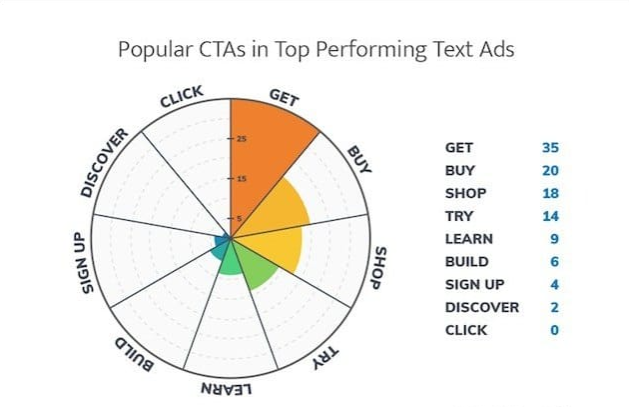 7. Focus the Benefit or Uniqueness of Your Content
Just like a headline, your title tag should also stand out with a benefit of your content. As the title tag represents your page, the benefit will simply provide the information on what the page is about.
Thus, adding modifiers like "How to, Review, Best, In-depth Guide, Top, Framework, Tips, Checklist, etc. works best. Let's see how to make them clear in your title tag.
How to:
"How to" implies using questions in the title tag. Questions work best because they create curiosity in the user's mind. As a result, it induces the users to click through the title tag to discover the answer. You can see the following example to get a clear idea.

Depth or Thoroughness:
Maximum readers love thorough and in-depth content. In this case, if your content is more thorough than the competitors, don't hesitate to express it. By adding some words like "complete, ultimate, study, guide, definitive, step-by-step," etc. in your title tag, you can entice the clicks. For example-

Here, these words "most important elements" will create curiosity in the reader's mind. That is why they will be more likely to visit this page and click through this title tag.
Lists or Quantity:
People love to read list posts, and therefore, Ahrefs suggests including a number in the title tag if the content is list style. Such as,

Freshness:
Some queries like "On-Page SEO tips" demand fresh and new results. No reader will click on a result from 2018 for such types of queries. So to ensure freshness, you should entitle your title tag with the recent year like (2021) or last updated on Jan 2021, etc. See the below example to clear this concept. 

Emphasize Speed:
Users like time-saving content, so if your content provides tips or checklists, you should focus that on your title tag. Emphasize words like quick, simple tips, fast, etc., to make the title tag more relevant and powerful.
8. Title Capitalization
Capitalizing the first letter of each word of your title tag can do wonders for improving CTR. Remember not to use the "ALL CAPS" title tag, as capitalizing the entire title tag seems spammy. Besides, it limits the number of displayed characters in the SERP.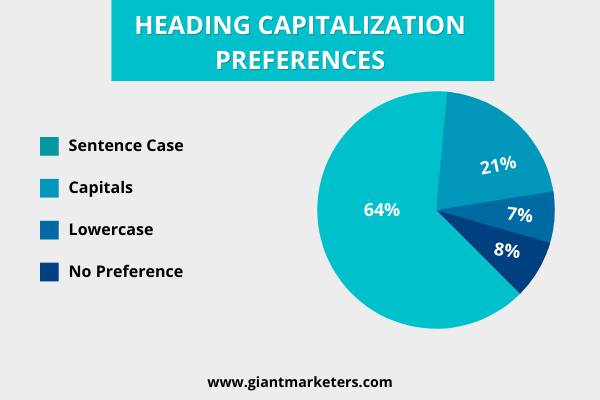 As capital letters have wider pixel width than lower case letters, it has maximum chances of the title tag truncation. Ahrefs recommends two options for title tag capitalization. These are-
Sentence Case: Here, you should only capitalize the very first letter of the first word. Such as, How to write meta title tags for SEO.
Title Case: It implies capitalizing the first letter of your title tag's each word. You can use this Title Case Converter to convert anything to your title tag. Now, let's see how the title case works from the following example,

9. Incorporate Your Brand Name
Your title tag is a great place for incorporating or placing your brand name. But you should do it wisely, as overdoing it could create some consequences. For example, be careful about displaying the brand name in every single title tag. This can hurt the readability and looks repetitive.
So, what are the best ways to incorporate the brand name?
Well, simply include the site name at the beginning or end of each page title. And do not forget to separate the entire title tag from your brand name using delimiters like a colon, hyphen, or pipe. Here is the best example of using the brand name.

10. Unique Tags for Each Page
Generally, a website consists of several pages, and you have to make sure that every page has unique title tags. Google explicitly says it's essential for each page of your site to have distinct and descriptive title tags. Repeated or duplicate title tags make it difficult for the users to differentiate one page from another.
Now, you may be wondering, checking each page manually will take much time and be also difficult. Fortunately, using SEO audit tools like SEMrush, Ahref, and many more you can check for duplicates much more conveniently.
Once identifying duplicate title tags, simply rewrite and make them unique. If you find this task difficult, it will be better to get the task done by an SEO professional. They will audit your site and help you to optimize the title tags also.
11. Test your titles
To make sure that your title tag is effective enough, you can test it by using some tools. Here we are providing some tools that you can use while optimizing your title tag.
Conclusion
Actually, creating and optimizing a title tag is not that complicated. The thing is, it will take a bit of effort and time of yours to get the task done perfectly. So, if you still don't leverage the power of the title tag optimization, use my guidance from this post to get started.
I almost shared all the advanced tactics for accurate Title Tag Optimization based on my research and experience. If you can put all these title tag optimization techniques into practice and implement all of these best practices correctly, undoubtedly, it can be a game-changer for your SERP visibility.
So, if you found this guide useful, you can share your thoughts in the comment section below. Or, with any SEO service-related queries, you can Contact Us without any hesitation. We're always there to help you out.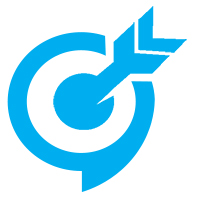 Giant Marketers is one of the fastest-growing and leading digital marketing company in Bangladesh. Its primary goal is to help clients to grow big with result-driven strategies and 10+ years of experience in the industry