Giant Marketers is one of the fastest-growing and leading digital marketing company in Bangladesh. Its primary goal is to help clients to grow big with...Read more
On-Page SEO is the practice of optimizing each page of a website so that it can secure the top position in the SERP and get relevant traffics. Today, taking a position on the search result page becomes much more competitive than before.
You need to struggle hard. It is difficult, but not impossible. For this, you should have good knowledge of Off-Page, On-Page, and technical SEO. But, over the last few years, it seems that most people are paying more attention to the Off-page and technical SEO.
Truly said, all your Off-Page SEO effort won't pay off much if your site lack in On-Page SEO. Therefore, it is essential to prioritize On-Page SEO fundamentals for your site. In this guide, I'll cover the 15 essential on-page SEO factors that are essential to focus on.
So, let's dive into this guide to know in detail.
15 Essential On-Page SEO Factors In 2021
The On-Page SEO will help you most to take place in the SERP and be more sustainable. This SEO practice helps search engines to understand your website, its content, and its relevancy to a searcher's query.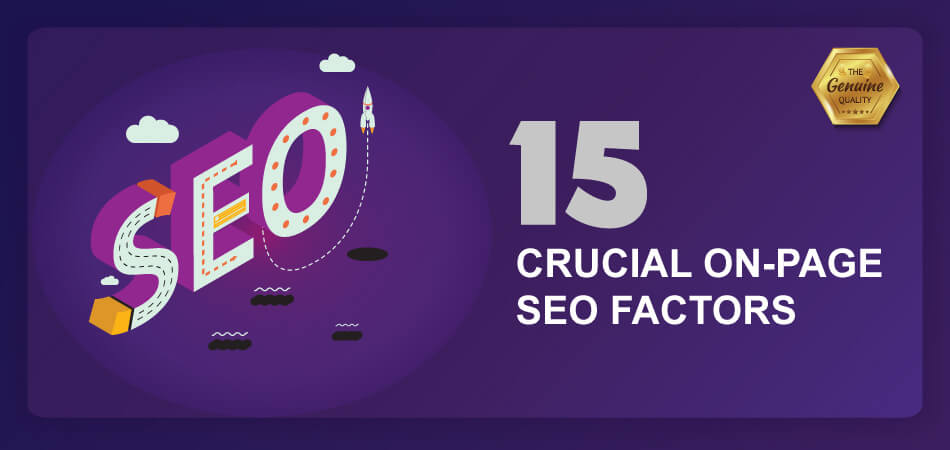 Above all, if you put your effort into optimizing on-page strategies for your site, you'll definitely see a huge boost in ranking and traffic. Through this guide, you'll get to know 15 essential On-Page SEO factors that'll help you to improve your content, authority, conversions, and many more. 
So, let's see how these on-page factors work.
1. Keyword Research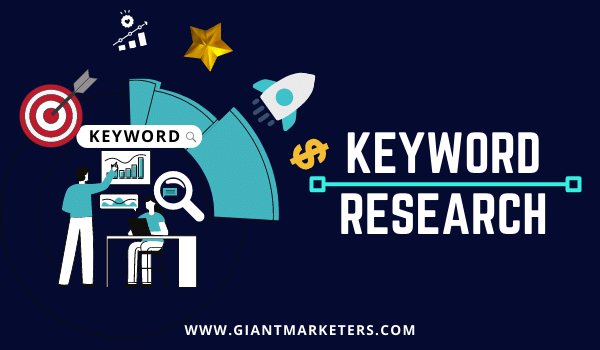 Keywords are the foundation of SEO and keyword research is the first step of your content strategy. It is the process to find search terms that people use while searching for something in the search engine.
Through proper keyword research, you will get valuable insights into the queries of your targeted audience. But if the keywords research proves wrong, that will curse for you.
Here I will talk about some tactics by which you can easily find the most traffic-earning keywords.
Understand Searcher Intent
The intent is the purpose of the search for which a searcher performs their search.
It may be knowing the information, getting the solution to the problems, or buying any product. Behind every query, the searchers have an intention.
If you've found any keywords with huge search volume but didn't understand their intent, you shouldn't try to produce the content based on the keywords. It will be a waste of time.
Analyze Keywords
If you think that you have lots of keywords relevant to your business, now it will be really easy to rank higher, you just live in a fool's paradise.
Once having keyword ideas now, it's time for analyzing them and select the best ones. Going through each keyword manually nearly impossible task. In that case, you can use some keywords research tools to explore the best-suited Keywords. Some of the best keyword research tools are-
But, how do you get the best ones for your business using these tools, or what to look for? Well, simply use the following SEO metrics to narrow down your keywords.
Search Volume
Search volume implies the average number of times a specific phrase or term is used by people while searching per month. You should focus on keywords with super-high and decent search volume. 
Clicks
Generally, people search using different terms but they don't click through all of them. They enter the page by clicking on just a few of them and this is where the click metrics come in. 
The click metrics show the average number of monthly clicks for a keyword on the search results. So, you should GOP for keywords with higher search volume as well as higher click-through rates. 
Keyword Difficulty
If the keywords have a higher difficulty rate, you need to work hard to produce high-quality and unique content, build backlinks, and the related tasks to achieve a good ranking for the keyword.
Traffic 
The keyword analyzing process doesn't end here, you should look at the top-ranking results of your keywords to estimate the total search traffic potential. A single page can rank for all other related keywords and terms.
Therefore, estimating the search traffic from a single search query isn't enough or can be a big mistake. Here, it will be better to look for how much traffic the current ranking pages get. Using Keywords Explorer you can do this easily. 
Understand Head Term Vs. Long-Tail Keywords
Head Terms Keywords: In general words, head terms are the keywords that consist of only one or two words. However, the head terms get more traffic on their sites but may not suit getting targeted customers.
Long-Tail Keywords: Long-tail keywords are opposite to Head Term Keywords. It consists of many words. However, it achieves low search volume compared to the head term but can get targeted customers.
For example, you use keywords like "Cars" and get huge traffic, but the searchers' intent may not match your business's purpose. Conversely, if you use the keywords like Toyota Hybrid Car, it has more possibility to match the searchers' intent.
2. E-A-T
E-A-T stands for Expertise, Authoritativeness, and Trustworthiness. Google uses these factors to rate your website based on how much qualitative content you have and how trustworthy it is.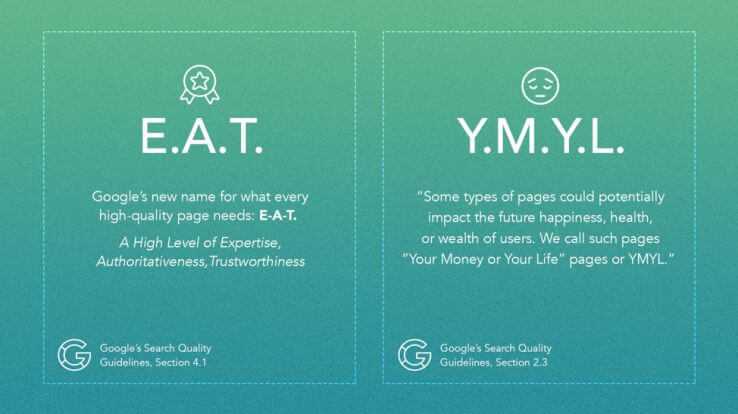 Expertise
Expertise indicates that you are skilled and have much knowledge in a specific area. In SEO, expertise indicates that you are an expert about the terms you wrote in your article. It can be about some products, services, or solutions to any problems.
Let's say, your content is about medicine-related. But if your content fails to solve a medical-related problem, it will prove that you are not an expert in this field. This will ultimately affect your site's traffic.
Authoritativeness
Authoritativeness is how much reputation you've earned through your content.
"Are the users liking your content? Are they given positive reviews?  Do experts recommend it?" These things are the indicator of your site's authoritativeness.
When it comes to links, the quality of those links matters the most, and there is no secret about it. The more quality link means the more vote you get, the more authoritative you are. 
And the best way to get quality links is to create useful and unique content
Trustworthiness
Trustworthiness indicates how authentic, proven, relevant and legal content you have. Secure website, correct information, inbound links from trustworthy sites are helpful to make your site reliable.
Another way to increase trust is, highlighting the credentials of your content creators, awards, testimonials, endorsements, transparency, and other trust factors.  
Google always wants to give the exact information that can satisfy the searcher.
For example, the searcher searches for the process of applying for a visa to the USA.  For this query, obviously, he needs the exact information. In that case, Google uses E-A-T to give him precise information.
3. Title Tag
The title tag is the HTML element, which is also a clickable link to a website. It is the head section of a site and specifies the title of the webpage.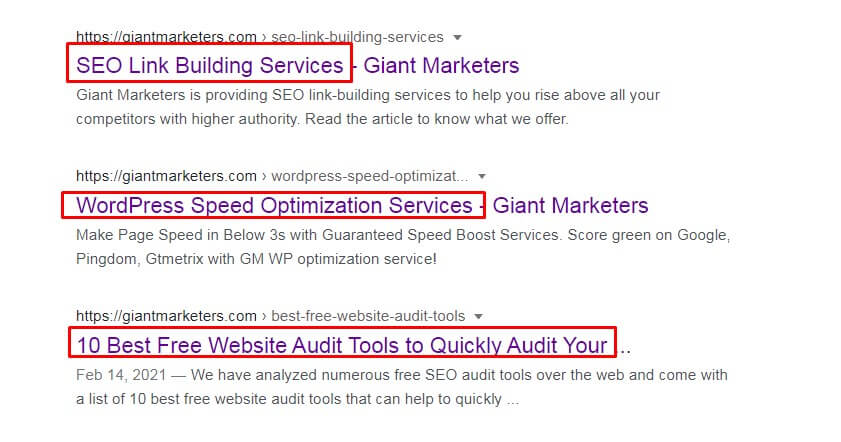 Through the title tag, the content writer gives an idea of what's the content about. It's the process of getting a positive impression from the users.
For example, a searcher wants to learn SEO. That's why he performs a search on Google. If your content title is like "Full SEO Guides for Beginner." That has much chance to impress the searcher.
Check out some ways to properly write the title tag:
Context of the Page
Before you start writing title tags, you should remember one thing that you need to know the page's context first. Each page has a different context and you need to create a title tag that fits the context. 
A title tag for the home page and a title tag for your blog post or service page won't be similar. Let me clear this with some examples- 
Home Page Title Tag- Marriage Anniversary gifts for couples. 
Product Catagory Title Tag- Home decor marriage anniversary gifts for couples. 
Product Page: 5-piece customized wall hangings gifts for couples. 
As you can see from the above examples, how the title tags are different for each page and the deeper you get into the site, the more specific your title be. 
Incorporate Your Target Keyword
As title tags imply what the page is all about, therefore you have to put the main keyword into it. Try to place it as closer to the beginning of the title as possible. This way, search engines, as well as the audiences, see the keyword early on. You should keep it relevant to the page and ensure not to repeat the keywords.
Keep it Unique
Duplicate title tags won't help you in any way, not even for the search engines and searchers. With duplicate title tags, you'll mostly found them on Google search console's reports.
Search engines consider multiple pages with the same title tag useless. Google says that the title tag should be distinct and descriptive for each page. So, if you have duplicate titles must consider assigning custom tags within them.  
The Length
Google display title's in its search result with a 600-pixel width limit. Therefore, your title tag's length should remain under 60 characters. Otherwise, Google will truncate the rest. Which is not a good thing for user experience.
There is no need to put so many things in your title, simply get the important words, keywords, and some phrases in there. You can use the following tools to preview your titles-
Use Modifiers
Modifiers like- best, fast, review, guide, checklist, step-by-step, comprehensive, etc, helps to rank higher and grab the user's attention. 
For example, In one of our blog posts, we include a modifier like "Free".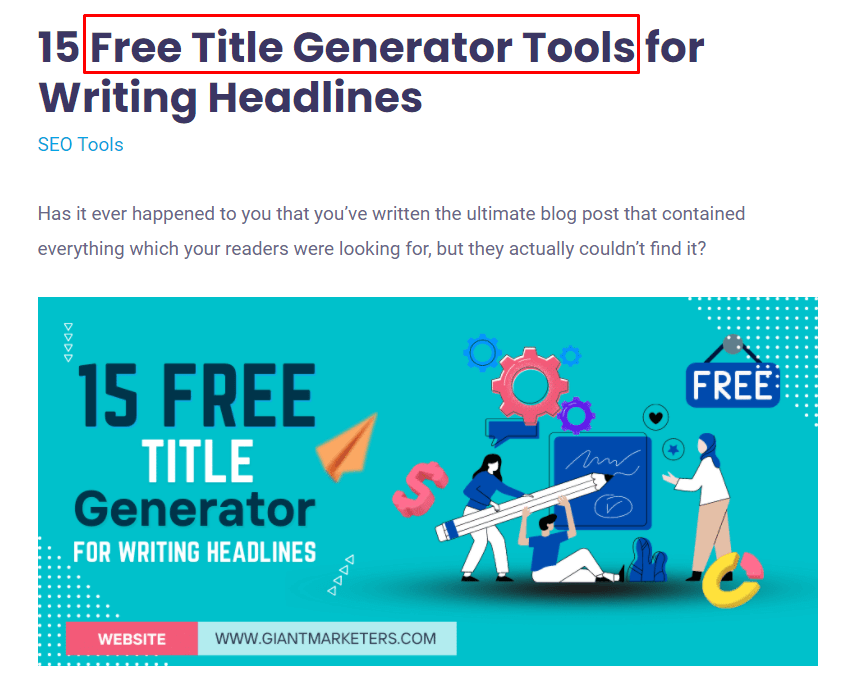 This way, we can rank for free title generator tools. And when users use the term "Free title generator tools" this page would show up. 
Include Numbers
People are more likely to read content that contains numbers on the title. When you include a number on your title, people get an idea about the list you've provided. For instance,

Express the Value of Your Page
A title tag should express the overall value of that specific page by describing a benefit. It should communicate a benefit naturally without trying too hard that will make the title tag stand out from the competitors at the search engines. 
Remember, your title tag is representative of your page, which can show the search engines and users that your page is unique and contain valuable content. So, to grab the reader's attention, all you need to do is, explain the benefits of your page through your title tag. 
Brand Your Title
According to Google, a title is a reasonable place where you can add your business name to improve brand value. In that case, you can include your site name in your title's beginning or end.  Make sure, to keep the site name separate using hyphen, colon, or pipe just like the following example-

4. Meta Descriptions
The metadata or meta descriptions are a summary of a webpage. It is shown below the page's clickable link to give a more accurate idea about the content. Every page of your site should have a meta description.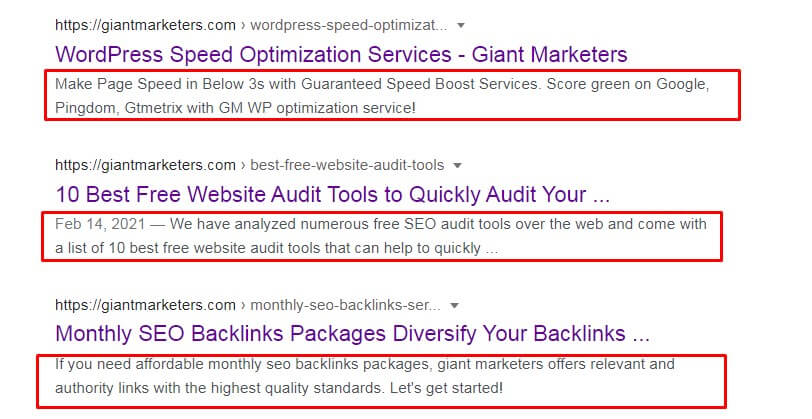 The meta description is like a mini ad for a webpage and a great way to provide search engines and readers with proper information about the page. Through screening the meta description, if the searcher perceives that it will satisfy them, they enter into the page; otherwise, not.
So, when writing the meta description, ensure the following elements:
Use Target Keywords
Every webpage includes a target keyword for which that specific page ranks in SERPs. You should include that focused keyword in your SEO meta description. Incorporating keywords in meta tags help users to notice your meta easily as the search result marks the keyword bold.  
Character Length
Just like title tags Google also measures the meta description limit using pixel width size. For meta description, Google starts truncating over 920 pixels. To keep your meta description within 920-pixel width make sure to use 155-160 characters, not above that. 
To check the meta description length, you can use the above tools that I've mentioned in the title tag section. 
Make it Unique
It's crucial to create meta descriptions for each of your site pages unique and distinct. Using the same meta description for every page hampers user experience. So, never use the same phrases, keywords, or descriptions for multiple pages' meta descriptions. 
Use Quality Description
A meta description is one kind of invitation to your page, that's why you have to think about your user and their need to visit your page. Don't make your description dull, difficult, or too cryptic.
Let the people know what they can expect from your page clearly. Ensure giving them a reason to click through your page by explaining the benefits they'll get from your page. 
Use Active Voice
Try to maintain and use active voice as much as possible in your meta description. Your meta description should be active, motivating, and addressing the users directly.
It'll help users to know what they are going to get from your page once they click through it. This way, you can ensure engaging the audience and hold their attention. 
Include Call-To-Action
Title tag and meta description are the first things that users read and make a judgment about your page. Therefore, you should use such words that will guide them to take a step to click through your guide. 
In that case, including a clear call to action encourages the readers to act. Some of the call to actions are- Get, Check out, Watch, FInd out, Read this guide to learn,  Try out, etc. 
5. URL Structure
Uniform Resource Locator, is a human-readable text that is commonly known as "web address." URLs specify the resource location over the internet. It helps in improving the user experience and rankings.
Thus, in recent years,  creating SEO-friendly URLs become much more important. If your readers can't get the URL of your page then the search engines also may find it difficult. 
So, here's how to create an SEO-friendly URL for your page. 
Make it Clear and Readable
Let me clear this with an example,  
https://giantmarketers.com/seo-for-small-businesses/ 
https://cdn07.mydomaqin.cc/article/0,,30200-1303092,00.html
Notice the above URLs, which one is more clear to you? I'm sure the first one right? From the first example, it's absolutely clear that what the page topic is and what the audience can expect from this page. 
On the other side, the second one is fully confusing and I have no idea what this page is all about. So, while creating the URL, make sure that it is human readable and implies precisely what your page contains. 
Length
URL length is listed as #46 in Google's top 200 ranking factors. Your page's URLs should be short as there is a chance to get truncates by Google with the longer ones. Search engines as well your users can easily figure out the topic of your page with shorter URLs. 
To keep the length short you can stick with lowercase, avoid using dates, and avoid using the entire blog post title in the URL. 
Use Focused Keyword
It's a must to use the keyword in your URL structure. This way, it can indicate Google about the content and help you rank on the SERP. Readers find URLs more friendlier which contains relevant keywords. 
Use Hyphens
Using hyphens in between words is a best practice of On-Page SEO. it works as a separator and makes the URLs more understandable to the readers. For example,
https://giantmarketers.com/aicopywritingtools/
It's really hard to read and get what the URL trying to imply. But, if you add separator like hyphens in between the words like this-
"https://giantmarketers.com/ai-copywriting-tools/", it becomes much easy to read and understand the URL as well as the concept. 
6. Content
Content is considered the main factor of the webpage. In simple words, content is 'what people search for'. Content that is appropriately optimized and able to give the solution of the searchers' queries can perform better.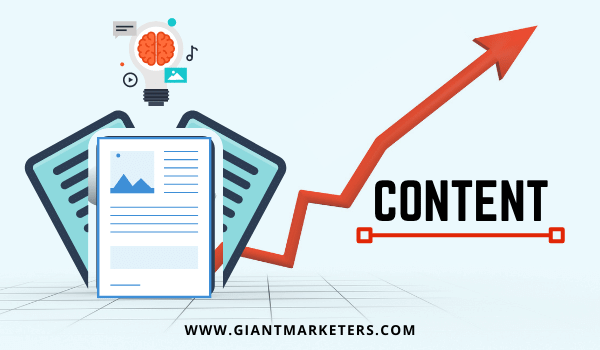 But only writing great content won't work to rank higher and reach the ultimate customers. After producing the content, you also need to optimize them. For this, you should follow the mentioned things:
Keyword Match Content
Users search for something on the internet when they wanted to know or learn something. While searching they use some terms which are known as Keywords. Therefore, it's crucial to find a related keyword and create content matching with this keyword.
If the content information doesn't match with the keywords, it will be annoying for the searcher. For example, you have used the keyword like Toyota Allion Car but your whole content is about Avanza. That will create nothing but a bad user impression about your site.
Unique and Valuable Content
Statistics found that about 15 percent of daily queries Google sees that have never been searched for previously. So, if you keep your sites up-to-date with new content, the possibility to show your result also increased.
Millions of content come out every single day, therefore, it becomes really tough to bring your content in front of the audiences by ranking higher. Though it's tough but not impossible.  
If you can provide something unique, relevant, and valuable content, it will become much easier to stand out and get noticed. To make this happen research is something that can help you the most.
You should find out the content gap of your competitors and take the advantage of covering thorough your content. For example-
A new strategy or tips,
A better resource list
New case study
Statistics, step-by-step processes,
Unique design and UX.
Well, creating content with all unique information is a great starting point, but it's not enough. you should add proper value to your content so that readers prefer your page instead of your competitors. So, here are some facts that can add more value to your content.   
Adding images, videos, screenshots, charts, steps, etc to ensure more detailed information. 
Make strong and unbeatable copywriting with accurate research and data.
Cover every possible relevant data that can provide more detailed information to the readers about their query. 
Make sure to include all updated information and examples. 
It will be great if your content is written by someone experienced. It's always considered more valuable.  
Audience-Centric Content
The audience-centric approach is user-orientated. At the time of making the content and optimizing it, you have to focus on your user's needs. That's why you should produce qualitative and relevant content.
Focus on your reader's search intent and it will help your post to get the first-page ranking. Although when you create content focusing on your audience, it will drive more traffic and rank your page higher.
Content Optimization
Now that you understand what things you should consider while researching and creating content let's see how you should make it SEO-friendly. How properly you present your content is a good factor for page ranking.
The searchers want organized content. If it is not properly organized, it seems jargon to the users. As well as to rank higher in the SERP you should meet Google's requirements. So, here's how to do it-
Content Structure
Once deciding the topic you're going to create content, the next step will be to prepare the structure. Your content should be easy to read and quickly scannable.
Use H2, H3, H4 tags to define your headings and subheadings. This will make sure a well-structured and segmented content and users will find it more convenient to go through.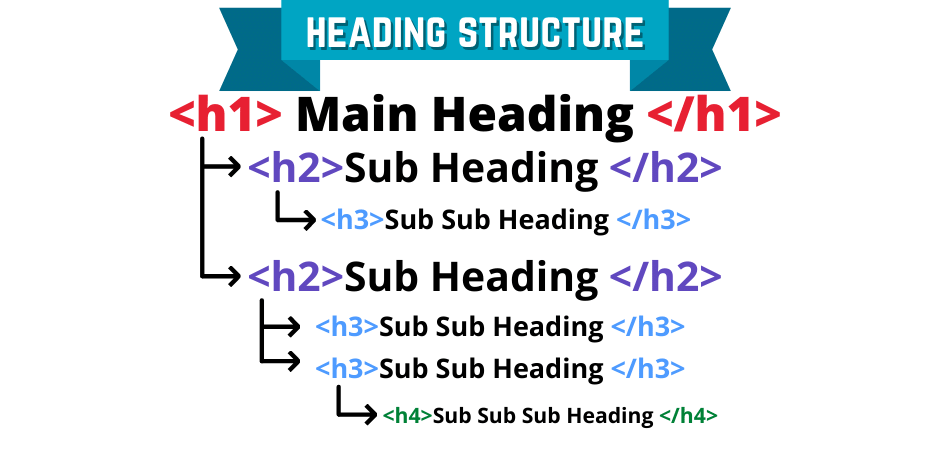 Content Body
When you're doing everything to provide the best quality content to your audience, make sure to do it in the right way. Putting so many things unorganized will make things worst. Thus, make sure to consider the following things on your content body.
Maintain a natural, engaging, and consistent tone throughout the content. 
The target keyword should be placed naturally. never try to place it forcefully here and there. It should come organically.
Highlight important statistics, data, information, points by making them bold. 
If your content has huge information, use bullet points to make the topic highlighted. It's the best way to getting a featured snippet.
Include relevant LSIs to increase the SEO potential of your content. 
Tools 
When your content is ready to publish, just give a final check to see if everything is optimized correctly or not. To do this, there are a few tools that can help you out. Such as,
Once done with the optimization, now, it's time for checking if your content is unique or not. This is the last but the most crucial step. Your content should be 100% unique from your competitors. Using the following tools you can check the uniqueness of your content. 
7. Links

Links are the HTML object that allows the users to jump to a new location when they click or tap it. Almost every website now uses links to provide a simple means of navigating between pages on the web. Have a look at the types of links:
Internal Links
Internal links are hyperlinks, which relate to other pages of a specific domain. It's essential to pass the authority from one page to another, guide readers to high-value content, and prompt visitors to acft as CTA. 
When you browse a domain's homepage, you'll notice that other pages' links are also categorized within this page. By clicking the links we go to the pages. Now it may be much clearer to you that "what are internal links."
For example, when searching for a domain like https://giantmarketers.com/, search engines take us to Giants Marketers' homepage. In the top menu bar, you'll also see other categorized pages' links like Service, About, Support, Marketplace, etc. By clicking the links, you can go to that specific pages.
You can even link your most valuable relevant pages into your content to provide in-depth knowledge or provide detailed info about specific terms.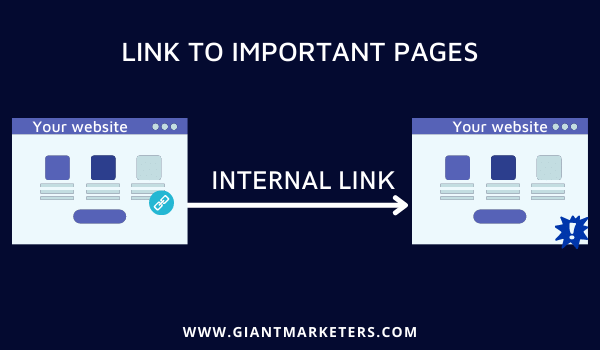 Outbound Links
The Outbound links are exactly opposite to Inbound Links which are also known as external links. Here you post other sites' links to your webpage, and by clicking those links, the searchers will go to those pages.
For example, on my webpage, I relate the links of Wikipedia for specific words or key terms, and by clicking the words that mean the links, the searcher will go to the particular pages. And through which they can know the actual definition of these key terms.
8. Image Tag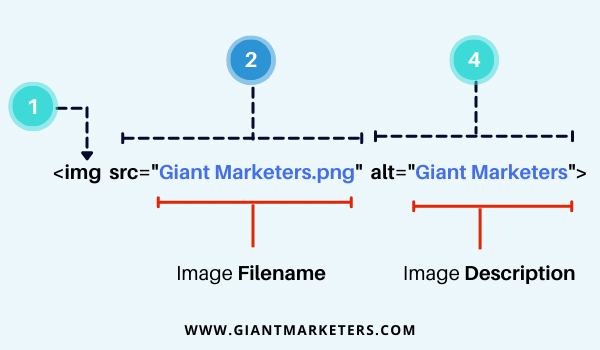 Using images in the content has many benefits. It is an effective way to present the content, readers can easily understand the content, and improve your sites' user experience.
But just by using images, you can't make the most out of it, you should also optimize your page images to make them SEO-friendly. In fact, to make your page loading faster image optimization is considered as the topmost recommended strategy. 
So, let's find out the image optimization processes.
Select Content-Related Images
Using images is an effective way to present the content. When you can't convey something to the readers through hundreds of words you can do it through a single image.
Through the image, the readers can better understand the topic. It is an easy way to demonstrate what you want to explain to your readers. 
Image Size
large-sized images impact page speed negatively. These images lead the page to load slower, therefore, the first thing that you'll need is compressing the file size of the images before uploading them. There are several tools out there to help you out in this process. These are-
Besides these, you should also focus on choosing the right file format for your images from JPEG, PNG, GIF, SVG, etc. 
Alt Tag
The alt tag is also referred to as alt text or alt attribute. The alt tag describes what the image is about and its function on the page.
If you use an image but don't mention the alt text, Googlebot won't understand the function of the image. That's why there will be less chance to be indexed.
Along with these, using alt text has more benefit, which is mentioned below:
Blind people use screen readers to read out the content. So if you use alt text in the image, the screen readers will be able to read out what the image is about.
From 2013, Google gave the image view option on the search page. So, when people are surfing the internet for a particular image, your images can appear on SERP. Besides, it enhances the chance of visiting your site if the queries match your alt text.
Now that you know the benefits, let's have a look at how can you create an alt tag for your page images. 
While creating an alt tag, always remember that you should describe all your images specifically by keeping the text short. 
It is recommended to keep the text around 125 characters.
Must include the target keyword on one image of the entire page.
Avoid using "image of" or "picture of" in your alt tag. 
9. Header Tags
Header tags are HTML elements that range in H1-H6, which are critically important for your user experience and SEO. All these header tags highlight the headings and subheadings of your content.
Though header tags are not that essential for site ranking, they do impact your ranking indirectly. The reason behind this is, header tags make your content more readable and easy to locate the topics by providing keyword-rich context for the search engines about your content. 
In addition to that,  they improve the content accessibility and user can determine whether the content is worth reading or not. The best part is, to optimize your contents' header tags you don't need to be an SEO expert.
Following some simple steps, you can conveniently optimize your header tags. So, here are the common best practices to consider while optimizing header tags in your content.
Structure the Content Using Headers
Naturally long content contains large chunks of text, which is difficult to read and engage with. Here, header tags ensure providing a structure and context for your content by breaking the content according to its topics and subtopics.
Each header tag (from H1 to H6) gives an idea of information about the paragraph to the readers. Let's see how they work from the following-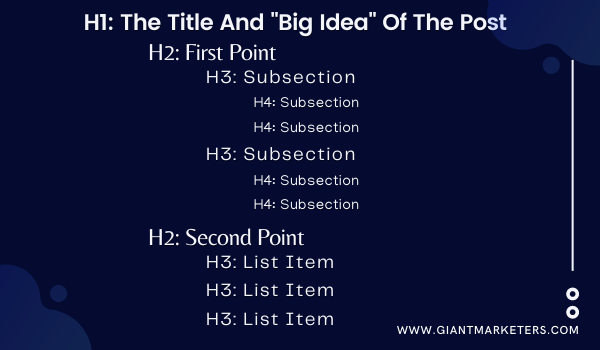 You should use headings hierarchically; start with H1 and then down to H2, H3, and beyond. 

Introduce the content topic or title using H1. 

Then break down the Topic of your content using subheaders with H2. 

H3 to H6 works as subsection headers, these works as additional sub-headings within each H2 section. H3 to H6 helps in organizing the content by adding more in-depth details without causing unnecessary chunks of text. 
Breaking Up Text
Content that is scannable is better readable, and you can only expect to perform well in search engines with better readable content. Only 16% of readers read the entire content word-by-word and the rest just scans. 
The good thing is scannable content performs  58% better for readers. Therefore, if you want to make the content scannable, nothing can work as the header tags.    
Include Keyword
You must include the target keyword in your H1 and an H2 header tag. Google prioritizes this to understand the context of your page better. But make sure not to overdo it.
So, include the keyword naturally without being spammy and make it readable for the users. 
Keep them Consistent
When it comes to using header tags, consistency is a must to provide the finest details to the content. This way, readers will find your content much impressive to read which in turn decreases the bounce rate.
You should treat the header tags as the mini title for every section of your content. The more presentable your content, the more readers will engage with your site.
Optimize for Featured Snippet
Optimizing header tags for featured snippets can make a positive impact on SEO. And, you can do this in only two ways, these are-
 Optimize your header tag for a long-tail voice search keyword. Then answer the query directly below the header tag using text within <p> paragraph tags.
Outline different list items on your content page using subsequent and smaller headings. This will help Google to use these headers creating its own bulleted and numbered lists as featured snippet results.
Best Practices
While considering the above factors make sure to implement the following best practices in your header tags. 
Ensure using only one H1 on each page of your site. If you use more than one H1 Google may consider it as over-optimization. 
The H1 should only describe the main topic of your entire page.
Keep the H1 between 20 to 70 characters.
You should answer user intent through the H1.
Make sure the header tags are formatted correctly starting from H1 to H6. 
10. Optimize Content for Featured Snippet
Featured snippets refer to the short snippets of your content text that appears at Google's top search results to answer the searcher's query quickly. The most common featured snippets are short but exact definitions, tables, steps, and lists. 
According to a study by Ahrefs, to get a featured snippet, you need to be already on the first page. and here id the featured snippets tend to rank.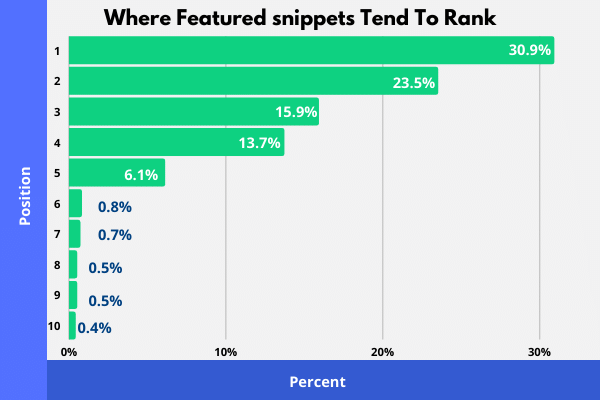 As you can see from the above image that featured snippet, 30.9% of featured snippets rank at the very top, and the rest rank in the top 5. If you can rank in a featured snippet it will make a huge difference in you're CTR.
So, here's how you can optimize for featured snippets. 
The first step is to look for a featured snippet opportunity. For instance, if you search for "best tv wall mount full motion", you'll see a list featured snippet at the top of Google's search result.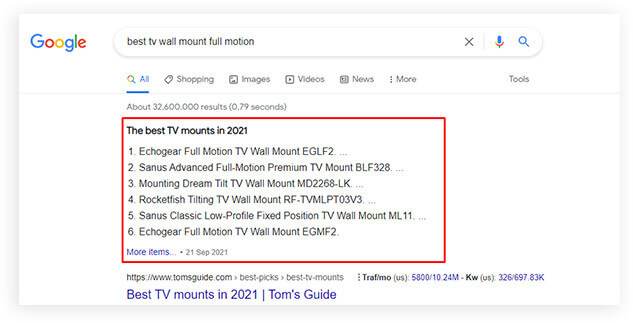 This way, you'll understand the type of that featured snippet that Google wants to show. It will help you optimize your page for a featured snippet easily. To do this more quickly by narrow down the keywords with featured snippets, you can use tools like SEMrush and Ahrefs. 
Once getting the most suitable keyword now it's time for optimizing it for a featured snippet. So, let's see how to do that. 
The Definition
Here, you need to provide an exact answer to your targeted keyword. Make sure to keep the answer short and within 40-60 words. It will be best if you mention the question above the answer or the definition.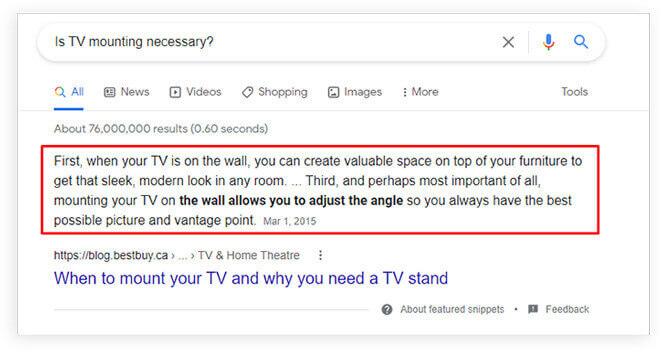 The Table
According to Backlinko, "Google tends to get content for Table Featured Snippets from tables." Instead of collecting data from various parts, Google uses your existing tables as the table featured snippets.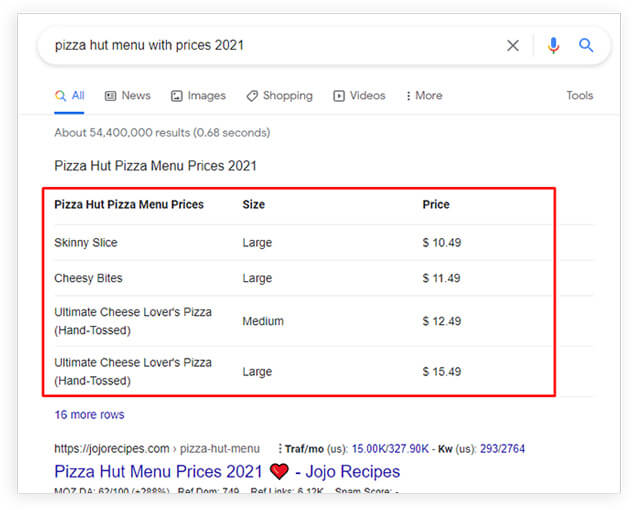 If your HTML uses the <tr> tag to present your table's data, Google finds it easy to read the table. It's an easy way for getting a featured snippet.   
The Ordered List
One of the most easiest ways to get a featured snippet is to present your content in steps or lists. So, you should present your page's every step in H2 or H3 tags to present each of them as subheaders. This way, Google will understand the order easily and help you in getting a featured snippet.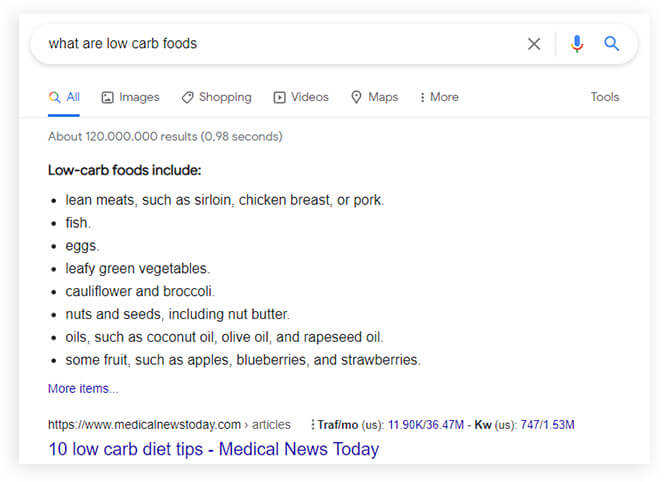 Apart from these, you can also define your steps including,
Step #1, Step #2, Step #3…
1., 2., 3……
The Unordered List
It's Google's way to present a list that doesn't follow any particular order. Here Google just picks the items and presents them as a list. 
11. Monthly Content Audit
To make the most out of your site's on-page SEO, you should run a site audit every month. This way, you can determine if your existing content is achieving its goal, identify errors, and fix the on-site errors.
Not only these, with a regular content audit, you can also identify the content gaps and find out the type of content that works for your site. You can use some tools like-
At first, think of your goals like if you want to improve your SEO results, or improve audience engagement, or increase conversion rates. Based on your goal now, do the following steps-
Gather the content that you're going to audit and don't forget to collect the URLs. 
Categorize them by content type, author, publication date, content format, metadata, metrics, etc. 
Now analyze all the data critically and while analyzing consider- missing content, information gaps, underperforming content, and content that are performing really well. 
Organize them in a spreadsheet and assign different colors based on your analysis just like this-

Based on your analysis now, start improving the content and update them.
You should do this audit at least once a month. I know, it's a bit time-consuming and complicated task so, if you find this content auditing task difficult, the best way is to hiring audit experts. 
12. Page Speed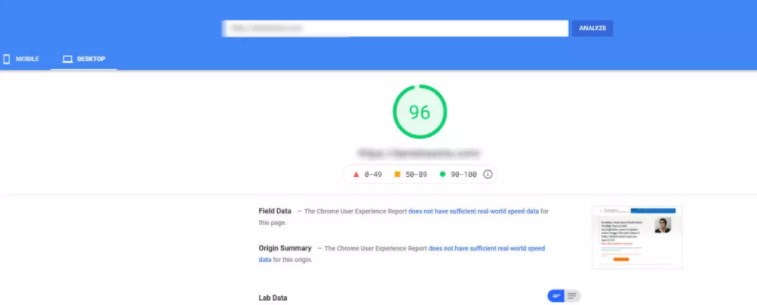 Tell me "A reader enters your site to see your content, but your page takes too much time to load, will he/she stay on your site?
It's really pathetic but truly said the reader won't.
Now, you may understand how important it is!
Have a look at some findings that will give you a more accurate idea about page speed's impotence.
Almost 73% of mobile users abandon a site that takes too much time to load.
About 70% of consumer says that page speed influences their likeliness to buy from an online store.
The pages in which load speed is within 2 seconds have an average bounce rate of 9% but take 5 seconds to have a bounce rate of 38%.
Suppose other factors like content quality, design, links, and usability are equal. In that case, the load speed acts as a good determination to achieve more traffic that results in a good ranking of your pages.
Google first crawls the site, then indexes the pages. So if your site is faster, it will be much easier for Googlebot to crawl and index the pages. You should keep in mind that without indexing your pages, the searcher won't see your content.
So always keep the page load speed as soon as possible to lower the bounce rate rank higher. To do so, do the following-
Reduce the CSS, HTML, JS files size by compressing them. You can use GZIP compression to do this without any manual interaction. 
Keep the redirects minimized.
Leverage browser caching,
Use a Content Distribution Network (CDN)
13. Mobile-friendliness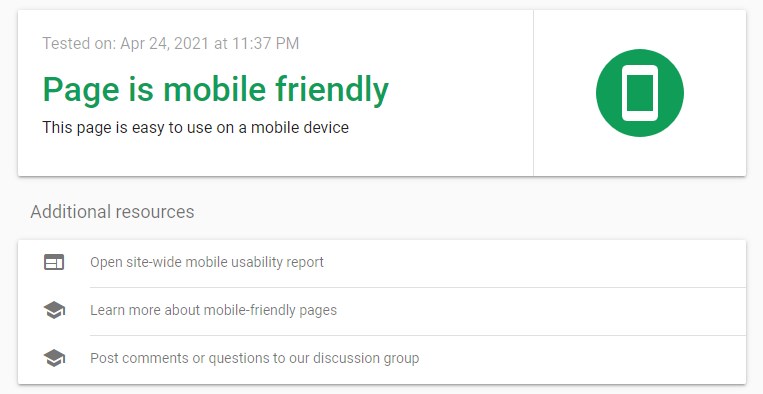 According to Search Engine Marketing Statistics 2020, about 50.71% of people search from a mobile phone. The percentage is huge. And it's creasing continuously. About 40% of online transactions are done using mobile devices. Almost 61% of mobile users contact a local business if they have a mobile-optimized site.
So if your site is not properly optimized for mobile, you will likely lose massive traffic and potential customers. Most people will probably hit the back button when a desktop version of a site loads on mobile.
If the users continuously do the same thing, just imagine what will be your page's rank! After a certain period, you might vanish from the search page.
So when you build a website, focus on some specific area to optimize it  for mobile:
Run a mobile speed test to see if your site is mobile-friendly or not. 
Ensure Responsive Web Design by scaling the images as per mobile, making the CTA visible, easier navigation, using a standard font, and keeping the button size larger enough that easy to touch. 
While using pop-ups make sure they don't take the entire display of the user's mobile. Use them only those areas of your page where they make sense. 

Optimize the Page Loading Time of your mobile site. 

Enable Amp Pages

Avoid Using Too Many Redirects.
14. User Engagement
User engagement indicates how much time visitors stay on your site, appreciate your content, and share your content on social media.
User engagement affects SEO. If you can engage the users with your site, it will give the search engines a positive signal and convert them to your customers.
So now, I will talk about how you can engage the users on your site.
Increase the Page Loading Speed
If the page took too much time to load, they would lose interest in reading the content. It does not matter how much qualitative content you have. Most amazing websites can't perform better for the reason of taking too much time to load.
So you should cut out your page load speed to engage the users.
Create Useful Content
Users read out the content for getting information or solution to their problems. So the content should be useful and relevant to the searchers' queries.
If they think that your content is useless, that won't stay on your site. That leads to a bad impression on users, and they won't visit the site further. So always keep your eye on creating useful content.
Don't Display Too Many Ads
Displaying too many ads on the webpage makes the user annoyed. The ads interrupt the readers to read out the content.
The ads may not be relevant to the users. About 73 percent of people dislike pop-up ads.
Some images and auto-playing video ads can be the reason for embarrassing the users when they stay among other people or in public vehicles. And for this, they depart from the site without reading the content. About 82 percent of people report that the reason for closing the page is auto-playing video ads.
So to engage the user in your site, don't use too many pop-ups and auto-playing ads.
Interact With the Users
Interaction with users leads to a positive impression. Add a chatbox on the home page and employ a person who will interact with the users.
Encourage the users to give their feedback and ask through the chatbox if they face any problems. Give solutions to their issues in real-time. And improve the site based on the users' needs and wants.
Build a User Engagement Strategy
Along with interacting with the audiences on the chatbox, you should apply some other ways. You can gather their email addresses for further communication. Also, organize surveys, questionnaires, and polls to keep the audiences engaged. 
Date Analysis
Here you need to analyze your website's data to decide which page and content need to develop. Scan out which pages get more traffic, which gets less, and which can engage the users and which are not. If you found that the bounce-back rate is more on the About Us Page, you need to optimize it.
15. NLP Optimization
Natural Language Processing (NLP), which Google prefers as a ranking factor. When your content is optimized with NLP it will make sure that your content is SEO-friendly, able to meet searcher's intent, and worthy to rank top. You can expect your content to rank higher on the search engine result page and stay here for a long time, only when you optimize your content for NLP.
 Therefore, when you write content and perform on-page SEO always consider NLP. If you can implement all the above 14 factors in your content properly it will automatically help you to optimize your content for NLP. However, there is an easy method to ensure that your component is NLP optimized and SEO-friendly.  
And, this method is using NLP optimization tools. here are the top 5 NLP optimization tools, which will help you to create the content perfectly optimized with NLP.  So, let's figure out the tools-
Once completing the content, you must see how well optimized your content is through using any one of these five tools. This will also help you to determine how well you can outrank your competitor and meet the searcher's intent.
Conclusion
There is no doubt that On-Page SEO is essential to your site and it includes more than just optimizing the title and meta tags. If you just focus on some factors like optimized content, Title Tag but ignore the page speed, links, and other factors, your site won't perform better.
From this guide, I hope the on-page SEO is clear to you now. Remember that every factor is individually responsible for taking place on the result page and being ranked.
Now, I'd like to hear from you, which part do you want to try first from this guide? Let me know in the comment section below. For any further queries, you can also Contact Us, we're always there to help you out.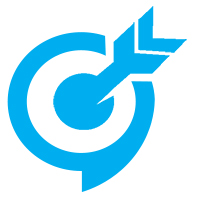 Giant Marketers is one of the fastest-growing and leading digital marketing company in Bangladesh. Its primary goal is to help clients to grow big with result-driven strategies and 10+ years of experience in the industry