Smart Clean is a building maintenance company located at 160 B Guthrie Lane, Suite 5 Brentwood, CA 94513. This company is well-known for its janitorial, business, and office cleaning services. Smart Clean provides cleaning services in several locations.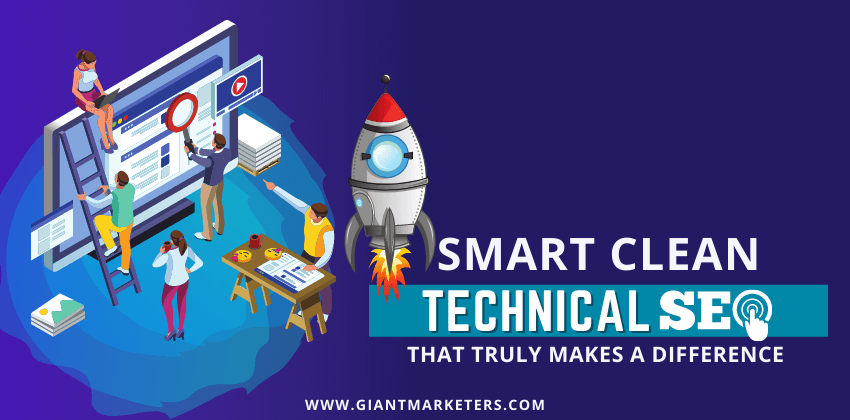 It is a professional cleaning service company that offers service excellence for over 12 years with valuable and quality cleaning and maintenance services. As you can see, this site wasn't new at all. It had a solid amount of search visibility and traffic as well.
However, this site had been taking off quite well, but suddenly, it experienced a drop-down in SERP rankings. Which ultimately affected its traffic's increasing rate, Impression, CTR, and conversion rates. Unfortunately, the numbers were constantly dropping.
Therefore, the owners decided to hire us to take care of the issues and help the company by implementing our best SEO strategies. So, today, I'm going to show you how my team managed to help our client's site recover its best position on the SERPs and increase monthly traffic by 329%.
The Challenges
At first, we conducted a manual, in-depth audit of this website. After completing the audit of Smart Clean's website, we have encountered some issues like:
Some of their web pages weren't indexed properly.
This site did not score high on the Core Web Vitals metrics.
It wasn't optimized for mobile use.
Contained content structure issues
This site had broken internal links.
These were the main issues of Smart Clean which led this website to fall out from ranking and lose its traffic, CTR, and conversion rates. Actually, all these missing SEO factors were related to Technical SEO. Now, let me explain exactly what happened to this site when it encountered such issues.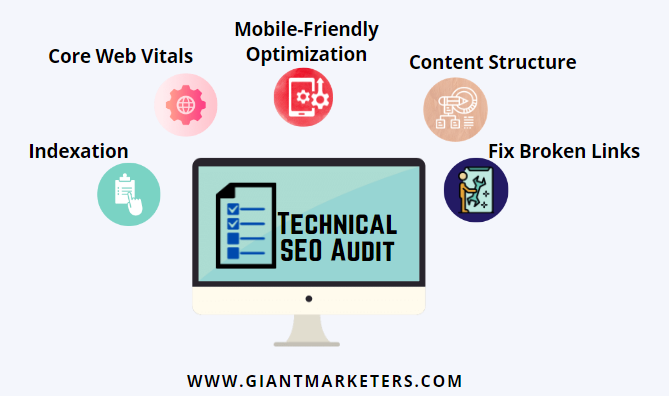 As you can see, the website's pages weren't indexed correctly; that's why Google couldn't crawl them. As a result, they won't show up in the search results when users search with relevant terms. Mistakenly or unintentionally, some of its essential pages were de-indexed in the robots.txt file, and that was the reason that Google couldn't crawl those pages to index them.
Now, the second issue was poor page speed. This site used to have unoptimized images, non-critical CSS, and JavaScript files. Thus, when Google announced the core web vital update, unfortunately, this site failed to stand out on the metrics score. This led Smart clean to a bad user experience and increased bounce rates.
Though Smart Clean was optimized for mobile users, it faced slow page speed issues due to having render-blocking files. As a result, the user experience was hampered, and the bounce rate was increased greatly.
This site had plenty of content, but the thing is, they were not well-optimized as per SEO requirements. There were issues like keyword placement, NLP optimization, keyword stuffing as well. Which prevents the right content from being served to the target audience.
Finally, the last issue was this site's broken links. Due to the broken links of smart Clean web pages, users used to land on "404 Not Found" pages. This affected the UX, and users were more likely to leave the page.
Our Strategy and Solution
Our main goal was to increase organic traffic by improving the ranking of this website. By doing so, eventually, the conversion rate of this site will be automatically increased.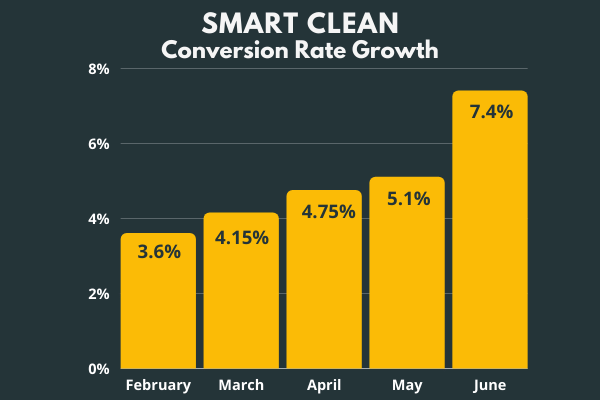 So, here are the SEO strategies that we implemented to optimize this site.
Focus on Indexing Pages
Some top-performing pages of Smart Clean accidentally block with robots.txt file; as a result, Google deindexed those pages. To solve this-
Our first step was unblocking the relevant pages that were disallowed in the robots.txt file.
After that, we generate a new sitemap and submit it to webmaster tools.
Then we input the URL for Google to Fetch into the Google search console so that Googlebot can visit the page and index.
Also, we added some internal links to help Google crawlers.
Optimizing Core Web Vitals Metrics.
After that, we focus on the speed optimization process to fix the slow loading issue. the LCP, FID, and CLS metrics of Core Web Vitals.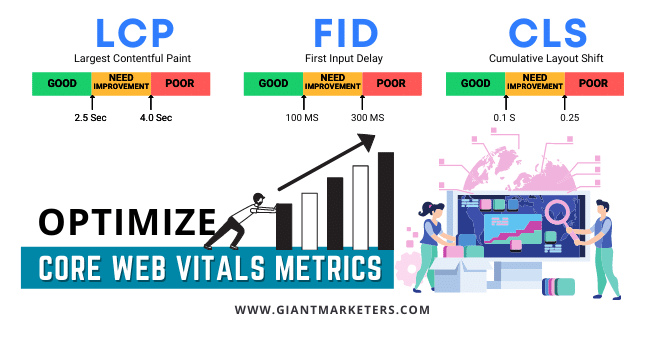 Large Contentful Paint: Actually, LCP implies a page's total time from clicking on a link to showing the entire content on-screen. As per Google's guideline, the accurate score of LCP is 2.5 seconds. So, we make sure smart clean's web pages hit LCP within 2.5 seconds. To ensure that we-
Removed all the unnecessary third-party scripts,
Remove large page elements,
Set up lazy loading, and
Minify the CSS files.
First Input Delay: The FID measures the duration a page takes to happen something on it. Unfortunately, due to the poor loading speed of smart clean, when users interact with the page, they have to wait until it is loaded. So, we-
Minimized the javascript files from the pages,
Removed unused CSS, and
Used a browser cache.
Cumulative Layout Shifts: CLS measures the visual stability of a page when it loads. With the poor CLS score, Smart Clean's web page's elements started moving while browsing. So, these were the initiatives we took to minimize the CLS score-
We set the size attribute dimensions for video, infographics, images, GIFs, or other media.
Also added a new UI element below the fold.
Ensured ad elements have a reserved space.
Mobile-Friendly Optimization
After that, we moved to optimize the website's mobile speed. As I said before, Smart clean was designed or optimized for mobile users, but it had speed issues. Therefore, we simply made some improvements like-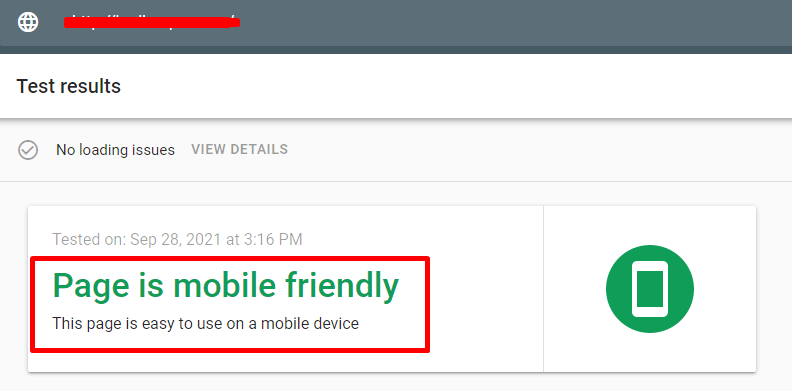 Minimized redirects and web server response time,
Used GZIP compression for reducing file sizes.
Improved the latency using a mobile CDN
Removed all the render-blocking JavaScript and CSS.
Implement Content Structure
Well, this site had plenty of content, but the thing was they weren't well-optimized. So, we started improving the content by-
Ensuring placement of keywords appropriately,
Remove the unnecessary and additional keywords from the content to make them more natural and relatable.
Last but most important, we make sure every content is optimized with NLP.
Fixing Broken internal links
The broken internal links redirected the users to a "404 not found" page where the user found nothing. This led the smart clean to face a sudden increase in bounce rate. To fix this issue-
At first, we fix the internal links by replacing the broken links with live links and
Remove the rest of the broken links, which are useless.
The Massive Outcome
Once the audit and implementation of SEO best practices are done, we see tremendous growth in Smart Clean's traffic and conversion rates.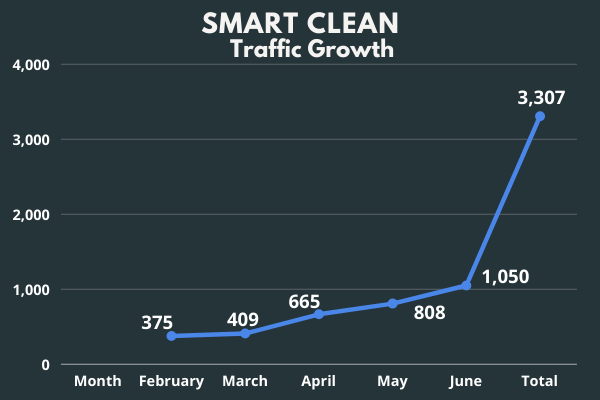 Actually, we started working on this site in January, and it takes almost 1 month to complete all the tasks. After that, we keep monitoring the growth of this site. And here's the clear picture of the outcomes of this site.
Previous Data
| | | | | |
| --- | --- | --- | --- | --- |
| Month | Traffic | Impression | CTR | Conversion Rate |
| November | 380 | 760 | 2% | 3.1% |
| December | 246 | 369 | 1.5% | 2.85% |
| January | 319 | 798 | 2.5% | 3.5% |
| Total | 945 | 1927 | 2% | 3.15% |
After implementing all the strategies, these are the 5 months data of Smart Clean.
| | | | | |
| --- | --- | --- | --- | --- |
| Month | Traffic | Impression | CTR | Conversion Rate |
| February | 375 | 1106 | 2.95% | 3.6% |
| March | 409 | 1350 | 3.3% | 4.15% |
| April | 665 | 2461 | 3.7% | 4.75% |
| May | 808 | 2828 | 3.5% | 5.1% |
| June | 1050 | 3885 | 3.7% | 7.4% |
| Total | 3307 | 11,630 | 3.43% | 5% |
Within 5 months, this site has drastically increased its organic traffic by 329%, and 165 leads have been generated. In addition, the conversion rate has been increased by 211%. With the growth of impressions by 487%, we have successfully led this site to improveits CTR rates from 2% to 3.43%.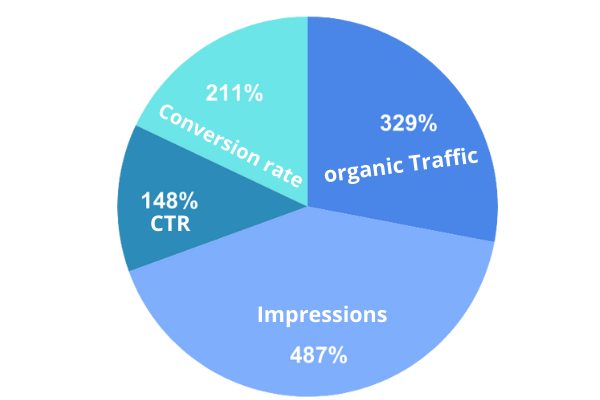 That means the total Click Through Rate has increased by 148%. We do hit the milestone as the progress of Smart Clean's website says it all. All our strategies and plans continue to help this site with a better ranking, generating more traffic, impressions, CTR, conversion rates, and ultimately better revenue. Our working collaboration continues to grow and develop as we are still working with them on business objectives. However, there is a long way to go, and we are looking forward to seeing the upcoming growth of Smart Clean.