Giant Marketers is one of the fastest-growing and leading digital marketing company in Bangladesh. Its primary goal is to help clients to grow big with...Read more
In today's world of digital marketing, it is essential for every site owner to have a good ranking in the SERP, to reach out to more people, and outperform competitors. To ensure all these, your site should ensure excellent SEO performance and a better user experience.
But, do you know how your website is performing?
If your answer is negative, Website SEO audit services can be a savior for your business. In order to ensure the long-term success of your website's performance, every site owner should focus on performing SEO audits regularly.
However, in this competitive era, it is essential to have a clear understanding of an SEO audit, as with the basic knowledge, it may seem a daunting task to you. That's why we've come with this in-depth guide highlighting what is an SEO audit and why is it important, with all necessary information.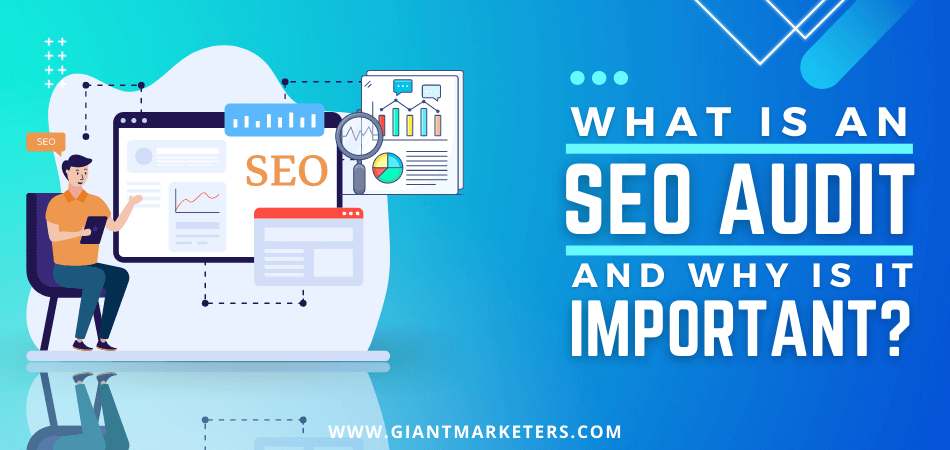 What Is an SEO Audit and Why Is it Important?
SEO audit evaluates your entire site to figure out all the errors, make strategies and helps you to fix all these errors by optimizing them. This is why an  SEO audit is significant for every site to conduct on a regular basis.
Google updates its algorithms around 500 to 600 times a year to ensure an optimum user search experience. Where some of the updates don't really impact your site, but with the core updates, you may notice some huge changes in your site.
So, it goes without saying that SEO website audit services are one of the most influential factors to your site's success. It doesn't matter if you are a small business owner or an agency; an SEO audit is unnecessary to keep your SEO strategy up to date and ensure optimum performance.
What Is an SEO Audit?
An SEO audit is a process of evaluating an entire site's web presence, core web vitals, and other elements that impact its performance in organic search. It is the first step before making any strategy and implementing them to increase site performance, boost rankings, and reach more audiences.
According to Search Engine Journal, "the journey of a thousand optimization typically begins with a single step- the SEO audit. Through SEO audits, you can have a better insight into your site's overall performance, structure, and issues of individual pages.
An SEO audit aims to review all the ranking signals (literally 200+) to find out what is working well and which part requires improvement of your site.
Typically, a thorough SEO audit includes the following-
Insights of your Competitors
Assess the site structure
Determine whether search engines can index and crawl your website
Content gaps in assessing where to implement keywords
Backlink checks
Issues that impact your user experiences like site health or speed test
A traffic source overview
Potential off-site issues
On-Page SEO issues
Website structure issues
Technical SEO issues
You can do this in two different ways-
Manually, or
Using advanced website Audit tools
Why SEO Audit Is Important?
Simply put, an SEO audit is essential to find out the strengths, weaknesses, and potentials of your site to rank higher. To rank top in SERP, it's crucial to have a site with higher visibility, a lightning-fast speed, and great performance that can deliver the expected results.
In this case, through an SEO audit, you can make sure everything on your site is going well and take the required actions if anything goes wrong.
This is not the end yet; you'll get many more advantages through SEO audits. So, let's find out all of these-
1. Identify Your Current SEO Standing
You should include SEO audits into your regular activities and must conduct them at regular intervals. Since you have to implement SEO in the context of recent Google algorithm updates, you need to adjust accordingly whenever there is a new update.
As we all know that Google updates are more frequent, so an SEO audit is the only way to identify where your SEO campaign is standing and the site's current situation. It will help you to track your campaign progress and make the ongoing changes more effective.
2. Overall Performance Improvements
When you conduct an SEO audit, it inspects all the vital parameters or elements of your site and reveals the issues in your site. It can be low page speed, site maps issues, linking issues, and many more.
This way, you can identify the issues which are escaped from your notice and create an action plan by prioritizing the issues. After that, you'll be able to maximize your site's visibility, traffic, revenue, boost your site speed, and repair your overall SEO strategy.
3. Helps to Avoid Unfriendly SEO Practices
SEO is constantly evolving, and to ensure more user satisfaction, Google keeps changing its search algorithm. This means the strategy that worked for you before may not work today.
In that case, if you stay up to date and keep your SEO campaign accordingly, you must stay abreast with all these updates. This is where you'll find SEO audits handy to identify the redundant practices and immediately take action to solve them and avoid getting a Google penalty.
4. Track Progress of Keyword Rankings
Most website owners are unaware of which keywords are contributing to their site's ranking. However, you can get valuable insights into the impact of your organic presence and which keywords are not contributing at all or having a negative impact.
In fact, you can identify keywords that are driving the right kind of traffic to your site. Also, an SEO audit shows the keywords that cannot reach more traffic and the reasons behind this. In this manner, you can optimize your content strategy for the right keywords and draw maximum attention to the content.
5. Prioritize Marketing
An SEO audit highlights several elements and areas for improvement like 404 errors, implementing structured data markup, crawling or indexing errors, and many more. Considering the issues, you can segment them into mini-projects and prioritize optimizing them to improve your site's overall performance.
6. Assess Your Competition
SEO audit is not limited to your site only; it can also help you assess your competition. You can discover your competitor's strengths and weaknesses by performing an SEO audit on their site.
It will help you to uncover what keywords your competitors are ranking for, their backlinks, content strategy, and many more. This way, you can adopt the best strategies from your competitors and make changes to your site's strategy.
When Should an SEO Audit Be Done?
The long-term process of SEO requires constant adjustments. Therefore, checking your SEO campaign and conducting an SEO audit every day can be a daunting task. Also, as an SEO expert, a common question that we get frequently asked is, "when should the site audit be performed?"
So, if you relate to the following points, then it is the right time for you to conduct an SEO audit.
You just started a new site or bought one, and you wanted to figure out your next steps.
Your organic traffic is dropping gradually, and you need to discover why.
You are experiencing an increase in bounce rates.
If you want to figure out how your site is performing.
If you want to maximize your site performance and SEO results
Now, one question that may come to your mind is how often you should perform an SEO audit?
Well, most companies do an SEO audit almost 2 to 4 times a year. SEMrush recommends performing an SEO audit quarterly and including it as part of your ongoing SEO strategy. It will help you find and fix issues quickly.
However, if you're a small business owner, conducting an SEO audit once every six months will be enough. But, if you have a larger site that produces huge content every month, it will make sense if you can conduct an audit every quarter.
How SEO Audit Helps to Improve Ranking?
The point is, if you can't identify the issues with your site which are preventing you from getting top ranking and optimum traffic, you can't optimize your site for search engines. Here, only an SEO audit can help you to make your site well-optimized to rank well.
As we said before, an SEO audit is a process of identifying your site's SEO gaps and opportunities. It becomes really difficult to stay up to date with the changes or updates with the constantly changing algorithms.
In this stage, the SEO audit will run through your entire website and uncover the following-
If your site's technical structure is reliable enough or not,
Identify the missed SEO opportunities,
Find the errors related to the content, link building, and user experience.
Assess the issues that hinder your site's ranking on the search engines,
Find out if there are any optimization issues or not and other aspects.
Once you find all the errors, then you can strategize plans to solve all these issues and implement SEO best practices to optimize your site for search engines as well as your audiences.
How Long Does an SEO Audit Take?
A proper SEO audit can take 2 to 6 weeks to complete. Though the timeframe may vary depending on several factors, for example, SEO checkpoints, no of pages, business type, etc. We all know that there are 200+ ranking factors, so taking a detailed audit with all these checkpoints will take a huge time.
However, larger websites with a lot of pages and content may require 2 to 3 weeks to complete the entire audit. On the other hand, you can complete the SEO audit within 2 to 3 days if the size is smaller and doesn't contain many pages.
How Much Should I Pay for SEO Audit?
According to WebFX, the SEO audit will cost between $650 to $14,000. Another fact is, larger companies with a bigger website will cost more than smaller sites.
Now, you may be wondering exactly what determines SEO audit pricing?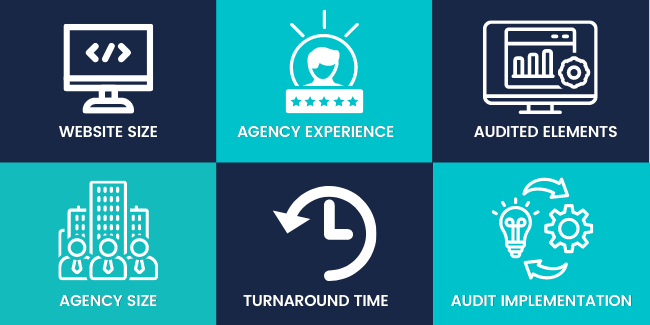 Well, as you can see from the above image that there are a variety of factors that work here like-
Website Size: A site with 150 pages will naturally pay more for an SEO audit than a site with only 50 pages.
The Experience of Your SEO Agency: The costing will vary depending on the SEO agency you choose. With the most experienced SEO audit service company, you'll receive several perks, as it knows the standard way to conduct an SEO audit than the others.
They know what and how things will work for your site and offer you an actionable report complying with SEO best practices. These are the reasons they can charge a bit higher.
The Agency Size: A larger SEO agency with 100 team members can handle extra pressure or workload than the smaller SEO agency with 20 or 50 team members. Thus, the smaller firm will probably charge a higher price for its SEO audits.
Elements for Audit: What elements or features the SEO agencies include in their SEO audit packages will also differentiate the cost.
Turnaround Time: The faster you expect or want your SEO report, the higher it will cost. In that case, you can partner with the larger SEO company, as they can audit your site quickly and implement the necessary changes.
Audit Implementation: Many agencies offer recommendations and implementation services along with the SEO audit service. In that case, the implementation service can differentiate the SEO audit cost.
How Do You Do an SEO Audit?
An SEO agency or marketing team follows an SEO audit checklist so that they can cover everything required. We'll keep things really simple here so that anyone like a beginner or a person with basic SEO knowledge can even conduct an SEO audit without any hassle. So, here are the processes-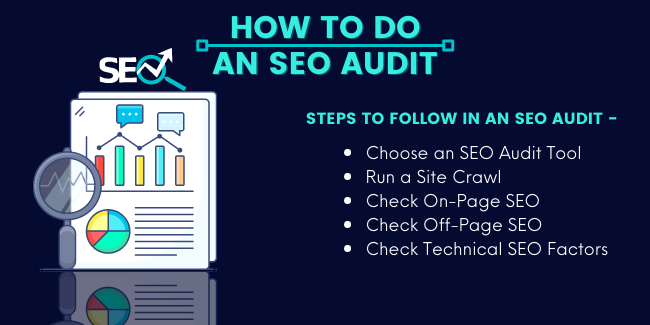 The SEO Audit Tools:
There are several tools that will help you in this process. The SEO audit tools help you to dig deeper into all the SEO factors. You'll find using these tools really easy and convenient.
So, here are some of the best free and paid SEO audit tools for you all-
Run a Site Crawl:
After choosing the SEO audit tool that you want to use while conducting an SEO audit, now it's time to run a site crawl. When you run a site crawl, you can identify several issues. You just need to put your site URL into the audit tool, and it will do the rest.
Once finished, it will come up with a breakdown of all your website's components to help you identify the problems. These may include several factors which may harm your site in the long run and require immediate adjustments or optimization according to SEO best practices.
On-Page SEO Checks:
When looking for the on-page factors, you need to make sure to optimize all the elements for your site so that they are in place and perform as they should. This may include-
Title Tags and Meta Tags
Let's start by checking the title and meta tags. Make sure they are well-optimized and aren't truncated in the search engine. So, here is an example of a correctly optimized title and meta tags.

You should keep all your title tags between 50 and 60 characters and meta tags between 150-160 characters. Anything beyond that will make your title tag and meta tag to be truncated in the SERP. Also, make sure not to have any duplicate title and meta tags on your site.
Header Tags (H1, H2, H3)
Still, optimization of the header tags is really important when it comes to on-page factors. It is best to use a single, descriptive, and unique H1 tag on each page of your site.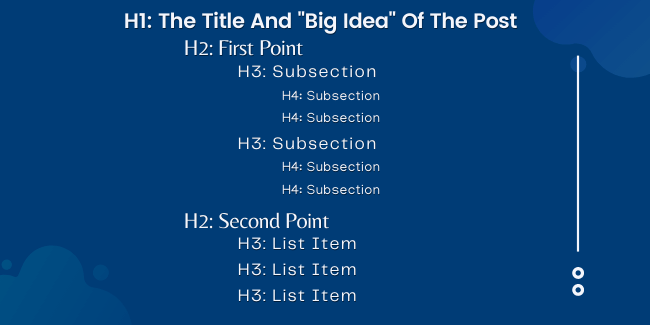 Then use subheaders like H2, H3, H4, etc., logically to break down the topics. It will make your page well-organized and help readers to understand the topics easily. In fact, the subheaders will also help you to target the secondary keywords or phrases.
Content Structure
Content is king, and with great content, you can easily rank on top in the search engines. Therefore, the content of your site should be relevant to your services and what the audiences are looking for. Otherwise, you can't engage your audience towards your site. Here are some factors that you should consider while auditing your content-
Content Structure,
Identify thin content pages and make them improve by creating great and unique content.
Find and fix duplicate content issues
Look out for content gaps and opportunities.
Create your content ready for the featured snippet.
Keyword Rank Tracking
In this stage, you can use SEMrush or Google analysis to find keywords that you rank for. Here, your goal should be ranked on the first page in the SERPs. Besides, ranking at a position between 5 and 10 with high-volume keywords is pretty good.
You can also look out for if your site's multiple content pieces target the same keywords. This process is known as Keyword Cannibalization. Make sure to target one single keyword for only one page of your site.
Apart from these, make sure to look out for the image alt tags, URL Structure, internal linking and external linking (do-Follow and No-Follow), etc.
Off-Page:
Off-page audit includes checking your liking, references from other sites, and the quality of backlinks on your site. So, running a successful Off-Page SEO audit, you can identify the following-
Broken Links
Having broken internal links on your site leads to a really poor user experience. You can find out the broken links using a free tool called Broken Link Check and a paid tool like Ahrefs. Then move to fix the broken internal links, either updating them or removing them.
Backlink Profiles
A study by Backlinko found that backlinks correlate with rankings more than any other SEO factors.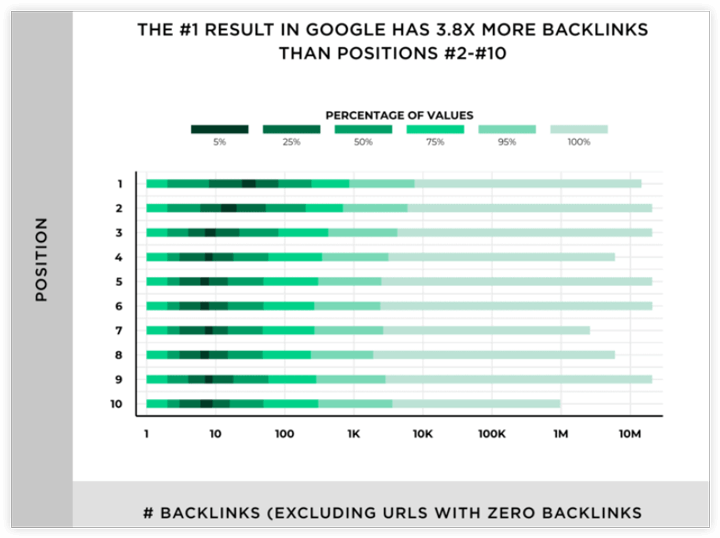 So, it's essential to analyze your backlink profile while conducting an SEO audit. Here, you can use tools like  Majestic SEO, MOZ pro, or Ahrefs backlink checker. After that, check out the following factors-
Referring domains are the number of different websites that link to your site.
Domain Rating or domain authority to find out how much authority your site has.
Check the toxic links by looking out the most common anchor text in your link profile.
Do follow and No follow Backlinks Variation
Anchor Text Variation
Citation Flow & Trust Flow
Social Share and Signal
All your backlinks should come from reliable and authentic sites. If you find shady links, simply disavow them.
Technical SEO Factors:
One of the most critical and most essential parts of your audition process is checking the technical factors. Technical SEO is directly connected to your site's core web vital metrics, user experience, and ranking factors.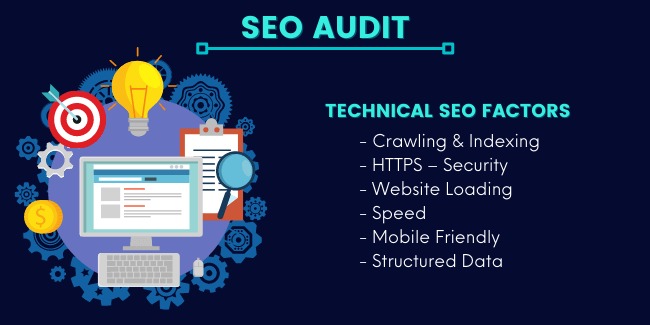 In this case, with the Technical SEO Audit Service, you can focus on several technical SEO factors and make sure to optimize them for your site to perform on the SERP better. So, here's what you need to check out for technical facts while doing an SEO audit-
Crawling & Indexing
If Googlebot can't crawl your site, it can't index your site on the SERP, as a result, you'll see no rambling ever. Here, some of the common issues that may include are=
Pages with noindex attribute are submitted in a sitemap,
Your pages are being blocked from crawling in the robots.txt file.
404 pages are also submitted in your sitemap.
In that case, you should focus on examining your XML sitemap status. It should include all your blogs and posts, free from any errors, and appropriately formatted. Also, you can generate an error-free new site map by using Google XML Sitemaps or  Screaming Frog and submit it to the Google search console.
Then, move forward to examine the robots.txt file and look for the phrase:/'. This term indicates that your pages are being disallowed from being crawled and indexed by Google.
To solve this issue, you can use SEOptimer, to generate a robots.txt file and set it accurately. Then upload the file to your website's root directory. Here you can use FileZilla and then test the robots.txt using the robots.txt Tester to ensure it is working correctly.
HTTPS – Security
Make sure that your site is using HTTPS; it will ensure that your site is legitimate. Being secured is better for both SEO and your audiences. If your site is not using HTTPS, you should immediately move to it; otherwise, it will impact your ranking in the SERP.
Website Loading Speed [mobile & Desktop]
Almost 50% of visitors abandoned a site that takes more than 3 seconds to load. In that case, it is really important to ensure your site is loading super fast. Therefore, when you conduct an audit, make sure to look out for the following factors-
Optimizing your Core Web Vital metrics
Compressing images,
Minifying CSS, HTML, and JavaScript,
Using Browser Caching,
Reducing Redirects,
Reducing server response time.
Mobile Friendly
Google considers the mobile-friendliness of a site as a ranking factor. Therefore, it is one of the top preferences for technical SEO audits. To see for any issues, you can use the following tools to test your site's mobile-friendliness-
After the test is done, you can use the following best practices-
Integrating a responsive web design
Compressing the images
Using bigger fonts
Accelerate AMP
Avoid using pop-ups
Structured Data
Another factor is structured data; Google uses it that appears in your site's HTML code. Structured data, also known as schema markup that helps search engines provide rich snippets for your pages. To make the most use of structured data, you can use-
So, once you're done with the audit, prioritize your task based on the issues, resources, and efforts required to fix all of them.
Wrapping Up
An SEO audit is the most valuable way to diagnose your site for any issues and figure out the weaknesses. Once you get the result, it will share a detailed analysis of what areas you need to focus on to make some improvements and optimize your site for better results and improve the performance.
So, if you're interested in growing your business, staying ahead of your competitors, ensuring optimum performance to your audiences, and reaching more and more traffic through your well-optimized website, an SEO audit is a must.
Hopefully, this guide helps you to understand what is an SEO audit and why is it important for your business's success. So, we're ending this guide here. Let us know if you have conducted an SEO audit and what the outcomes are in the comment section below. Also, you can share any queries regarding this guide; we'll be happy to answer you.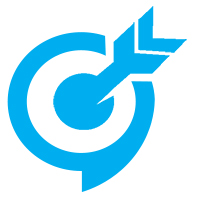 Giant Marketers is one of the fastest-growing and leading digital marketing company in Bangladesh. Its primary goal is to help clients to grow big with result-driven strategies and 10+ years of experience in the industry