Giant Marketers is one of the fastest-growing and leading digital marketing company in Bangladesh. Its primary goal is to help clients to grow big with...Read more
Do you know how well optimized your site is for search engines? If your answer is no, then must carry out an audit to analyze all the aspects that impact the site's performance. It finds overall issues in detail and suggests possible solutions.
This way, you can know what to do to optimize all factors and get more traffic organically. The audit tells you about the titles, texts, the structure of the website, optimization, loading speed, broken links, image optimization status, used keywords, and much more.
But, auditing a site is not that easy, it takes huge time and resources as well. Fortunately, with the help of auditing tools, you can ease the process. When carrying out an analysis of your website, it is essential to choose one or more tools that tell you what you have to improve in your project.
With so many options it may become difficult for you to select the right one. Therefore, I have presented the best free website audit tools so you can find and fix your website issues to make it user-friendly.
Best Free Website Audit Tools: In-depth Analysis & Audit Report
With the fast-paced growth in the digital world and ever-changing SEO tactics, it becomes really difficult for site owners to make their site visible in the SERP. To ensure top ranking, you need to stay up-to-date with the regular Google updates. Therefore, you need to do a regular audit to figure out the issues and optimize your site accordingly.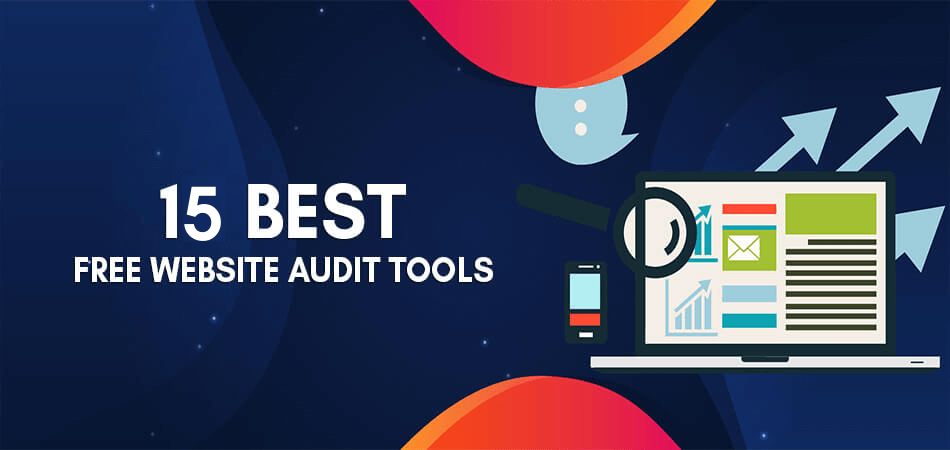 But conducting an SEO audit isn't that easy. Thus, to make the auditing task easier, I am going to show you the best free website audit tools to make your website friendly to users and search engines. 
Note: Some of the SEO tools include paid versions with more features. On the other side, some tools are available free only for limited trials. The rest are fully free to use.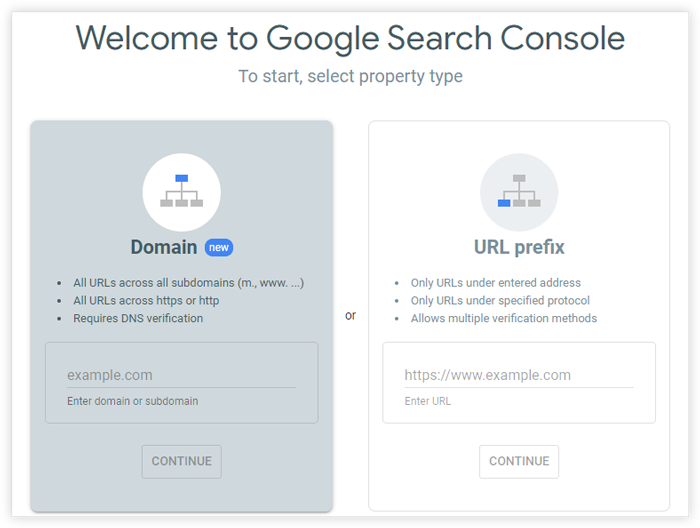 A perfect audit tool for beginners which is absolutely free to use. It will give you tons of insights on crawl errors, search analysis, sitemap, structured data, HTML improvements, links to your site, internal links, mobile usability, indexing status, keywords, loading speed, security issues, and a long, etc. You'll get the basis to start creating your own blog.
With this tool, you can carry out a complete analysis of your website's performance in search results including detecting content cannibalization problems. This occurs when more than one page is competing for the same search on Google. You will be notified with alerts when Google detects problems on your website.
Google Search Console Features:
It presents the crawling and indexing status of your website.

Presents manual actions on your site's high-priority technical issues.

Identify robots.txt file and blocked content of your website.

Inform the hacks, malware, and security status of your website.

Shows the indexing status, errors, actions, and page health.

You can discover new plans and better improvements for your project.

Provides website-related metrics like clicks, impressions, average click-through rate, and average position. 

Optimize your site with AMP, Mobile-Usability, and rich results. 
Pricing: 100% Free of cost. 

Woorank offers you a free website audit with its 14 days free trial. You can take this advantage to perform your website's analysis, reveal the opportunities to optimize, and improve your site. The report suggests the impact of each factor and the level of difficulty to solve it.
It improves your website's speed by fixing the suggested issues, the correct use of different tags such as title, description, image alt, and headings. With its own algorithms, it measures the rating of a website and thus offers you perfect statistics of the page.
It shows us a general report with a percentage number, stating how to optimize it, also empowers you by uncovering quick wins. WooRank organizes your data, prioritizes the work and schedules automates web crawls to diagnose issues and provide you with solutions.
Woorank Features:
The fresh site crawls allow providing smarter SEO decisions with the most up-to-date information.

It displays data about site visits, information about indexed pages, internal and external SEO.

Shows the broken links by crawling the entire website.

Generates XML sitemap for quick search engine indexing.

Ensure the site's mobile friendliness, navigation, legibility, and more.

Review each page and create a social media marketing checklist.

Targets the technical, on-page, and off-page audit.

It audits all daunting issues for you so you can fix them to improve your website.
Pricing: The free option is limited to its 14-days free trial period.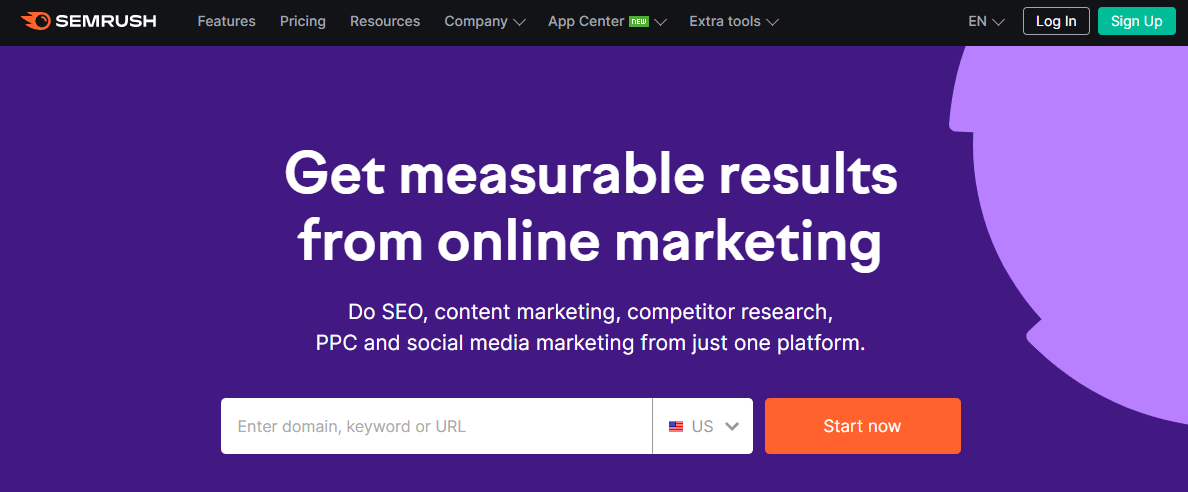 SEMrush is an all-in-one SEO tool that comes with an in-depth dashboard to analyze your entire site and share how the site is performing. The site audit tool from SEMrush performs a comprehensive SEO audit and helps you rank well on Google.
With this tool, you can scan your site for over 130 technical and SEO mistakes. It will show you information on the ratio of code to text, alt tags, duplicate content, navigation errors, links, and much more. It presents the website's health to improve the errors that appear.
Besides, it offers you progress graphs so that you can see the improvements that are being applied and the effects. It alerts the confusing duplicate versions of your website that Google has indexed. You can understand the site's UX by the measurements that it provides. The graphical report allows you to understand the site's issues at a glance.
Semrush Features:
Includes advanced filters, site structure view, and integration with Google analytics to audit your money-making pages properly. 

Audit your site and then divide issues into errors, warnings, and notices to help you prioritization the systems.

Have a direct comparison with the competition, monitor the type of visibility, etc.

You can observe the type of SEO strategy that each competitor's positioning entails.

Get the last update status and HTTPS percentage of your website.

Offers detailed reports on crawling, loading speed, linking issues, HTTPS implementation, etc. 

Allows to schedule a weekly technical SEO audit, this way it will start crawling your site automatically.

After crawling your website, it shows reports in the thematic method. 
Pricing: Semrush offers a 7-day free trial and in this period, you can audit 100 pages of your site.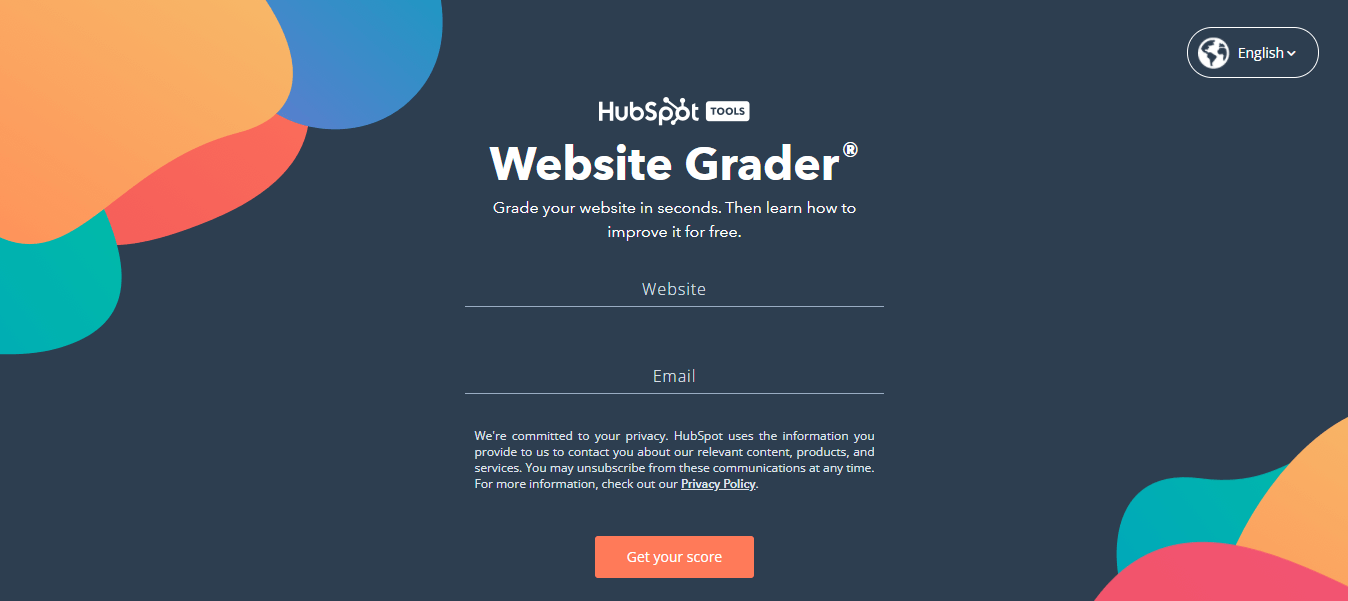 Website Grader is a web-based tool, that gives you a visual analysis report with a summary of your site's health. It will help you improve the impact and progress of your website's performance. You can see the four levels of grades for your site which cover Performance, Mobile, SEO, and Security.
In the "Performance" section it indicates the level of optimization for page size, server requests, loading speed, redirects, cache, etc. Also, it suggests the required JS and CSS files to compress.
The "Mobile" section gives you basic information about optimization for mobile devices. For "SEO," it analyzes the titles, meta description, headings, and sitemap. Finally, the "Security" section shows if you have HTTP or HTTPS. Get ideas on what you should do next on the report.
Website Grader Features:
Once entering the sites' URL, it will automatically generate a report with actionable insights. 

Optimize site performance by solving technical parameters that it detects.

Track keywords rankings with inbound and outbound links.

It shows the website's text readability and indexed pages to the users.

Analyze the current security level and age of your website.

The tool provides a free course for each section with the report.
Pricing: Free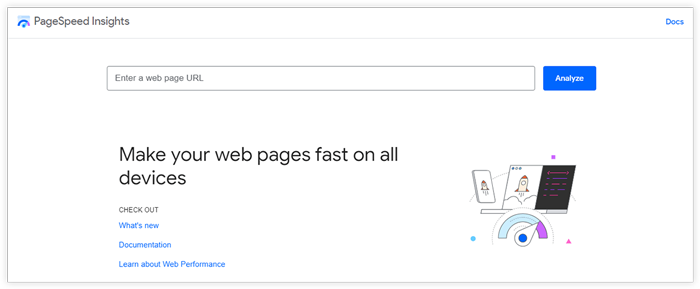 Yet another free audit tool is Google PageSpeed Insights, powered by Lighthouse. It focuses on analyzing the loading speed of your website for both PC and mobile devices. With this tool, you can discover what your real-time users are experiencing.
You will see the factors to correct that are usually related to the speed of the server and the JavaScript. It indicates the elements that you can consider correcting, such as the browser cache, image optimization, HTML and CSS code, compression, etc.
Using this tool, you can identify issues into three different classes like passed audits, diagnostics, and opportunities. In addition, it categorizes the page loading speeds as Good, needs improvement, and poor. This way, It becomes easier to get a clear idea about the sites' performance. 
Google PageSpeed Insight Features:
Allows analyzing the performance of your site for desktop and mobile devices.

Gives information about files or elements of a specific URL to improve them.

Calculate performance metrics based on the FCP, LCP, CLS< time to interactive, speed index, and TBT scoring. 

Through the opportunity suggestions, it helps the pages to load faster.

The diagnostics share the issues that directly;y affect your sites' performance. 

Suggest the required file and image compress and optimize to avoid lazy loads.
Pricing: Absolutely free to use.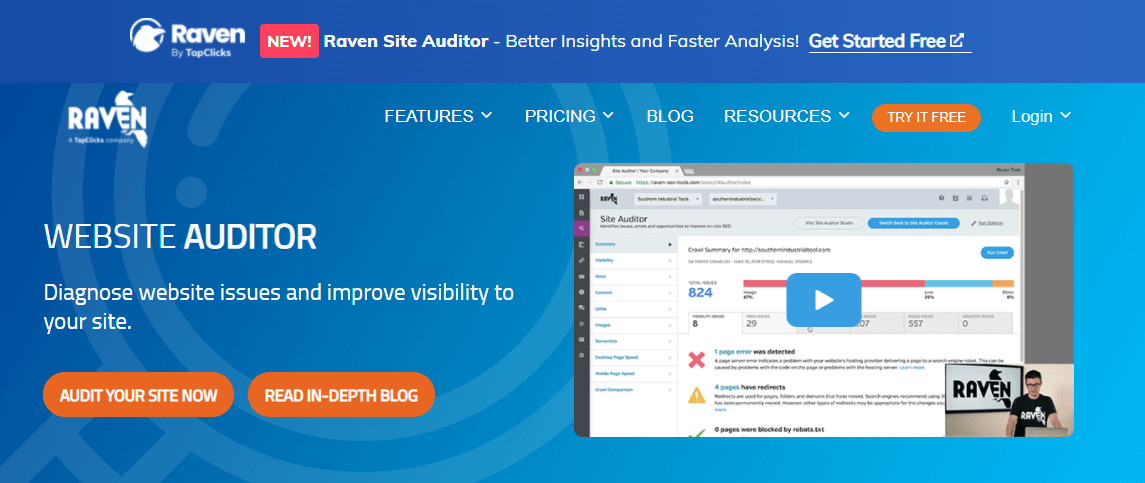 Raven's Website Auditor tool uncovers your sites' visibility issues, broken links, titles, goals, images, tags, etc., showing the type of priority that each factor has. It allows you to do the audit in a timely manner, although it can be scheduled to be done weekly or monthly. Its wide variety of tools allows you to track up to 20 projects simultaneously and track your Social Media accounts.
You can audit each page to find the errors. In fact, you can see all errors in a visual format, so you can make a quick checklist to optimize your website by fixing the detected issues. Also, it analyzes the website design, user experience and suggests improvements for optimizing site conversions. the best part about this tool is you can share your SEO roadmap through an HTML link with anyone on any device. 
Raven Site Auditor Features:
Raven Site Auditor audits the entire website and reports on 6 sections.

Offers two different ways like classic and the studio to view your audit. 

Along with listing the issues, it provided actionable tips to optimize the site for better performance. 

This tool not only compares your site crawl but also tracks how your SEO campaign is moving. 

It offers an integrated score and detailed report of your website from google analytics.

Allows to schedule your site audit on a weekly or monthly basis. 
Pricing: 7-day free trial. 

Zadro Web's SEO Auditor tool is a really easy-to-use tool to analyze or audit your site within a few seconds. Once entering your site URL, it'll start auditing your site. After that, it will come up with your site's domain authority, page authority, loading time, Google page speed scores.
It allows you to audit the report in PDF that is separated into organic traffic, basic SEO, Google crawl, source code, social networks, and other technical factors. Also, it tells you the type of information in each section and the importance of optimizing each point.
After auditing, you can see the success, warning, and error count with a score. In SEO stats, it presents the title, description, keywords, headings, and image status. Apart from that, it checks robots.txt, inline code, and sitemap stats. A social graph ensures your site's social engagement percentage. If your website has canonical URLs and matched keywords, this tool will alert you.
Zadro Web Features:
It shows website loading speed and authority metrics.

Sharer audit scores in three different categories like success, warnings, and errors. 

You can see the 10 top-ranking organic keywords of your site 

It detects the sitemap and robots files status on your website for better crawling.

Presents the social engagement of your website including Facebook graphs, Twitter tags, and social links.

Presents all the SEO and URL stats including some advice for better optimization.
Pricing: It is completely free and allows to download of a non-branded PDF report. 

SEOptimer performs an easy-to-understand web analysis in which it informs you about your site's performance, On-Page SEO, links, usability, performance, social. It shows you a summary so you can see the strengths and faults. In the recommendation sections, you will see all errors in one place that can damage your website. Its technology-based results allow you to optimize your site by fixing all issues.
Using this tool, you can review your subpages and the friendliness of the page's URL. Besides, it examines HTML title tags and meta tags length in your site and suggests the best practices. You can even, check out the content counts and missing alt tags for on-page improvements. The tool shows the 10 KW rankings and visitor locations. 
SEOptimer Features:
Audit website in your own language with white label downloadable prospects.

Allows changing the colors and fonts to customize and make the report more presentable. 

Explore ranked keywords, estimated visitors, monthly traffic values, and locations.

With this embeddable audit tool, you can generate more leads straight from your site. 

Notify you with new leads including their details straight to your mailbox. 

Monitors keyword rankings, improvements, and keep your site's performance always updated.
Pricing: You can make the most use of this amazing tool absolutely free for 14 days.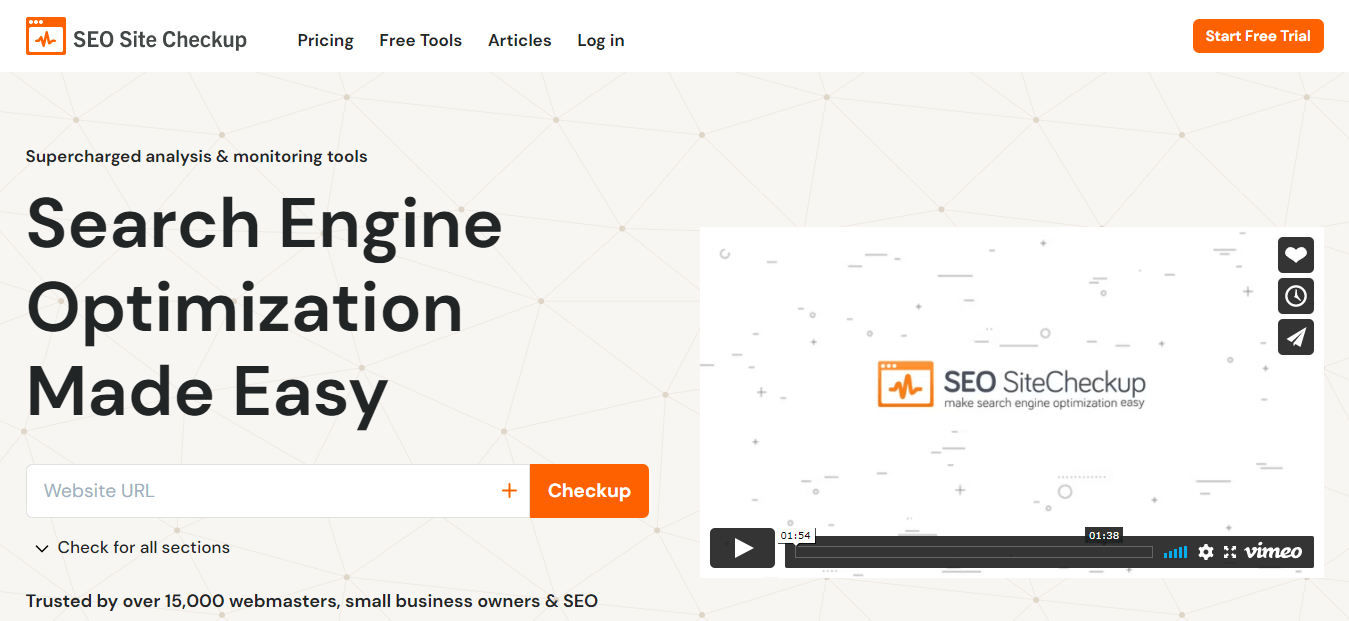 SEO Site Checkup allows you to audit your website quickly with good and bad issues. It places everything that you need in one single dashboard. Getting instant access to audit reports, monitors, and analysis is a single click away.  You can optimize the website loading speed, server security, mobile-friendliness, and many common issues by fixing suggested errors.
All processes are checked automatically and presented in a detailed report. So, you can take action to solve the problems. It helps to check the sitemap for fast indexing on search engines. Also, it shows you the website SEO evolution graph, allowing you to track your actions.
Analyzes canonical URLs, HTTPS, safe browsing, and more server security issues. It shows you the advanced SEO issues, including structured data, page error, records test, and much more. The issues are prioritized in high, medium, and low, so you can understand which one is needed to fix urgently.
SEO Site Checkup Features:
Analyze your website instantly and audit the major issues that slow the site's performance.

With the professional SEO monitoring tool, it keeps track of weekly changes in more than 30 SEO variables. 

Notify you of the changes in SEO scores. 

Check the mobile usability through responsive and snapshot tests.

Compare your site with your top 5 competitors' SEO profiles. 

All issues are displayed in high, medium, and low categories.
Pricing: It offers a 14-days free trial.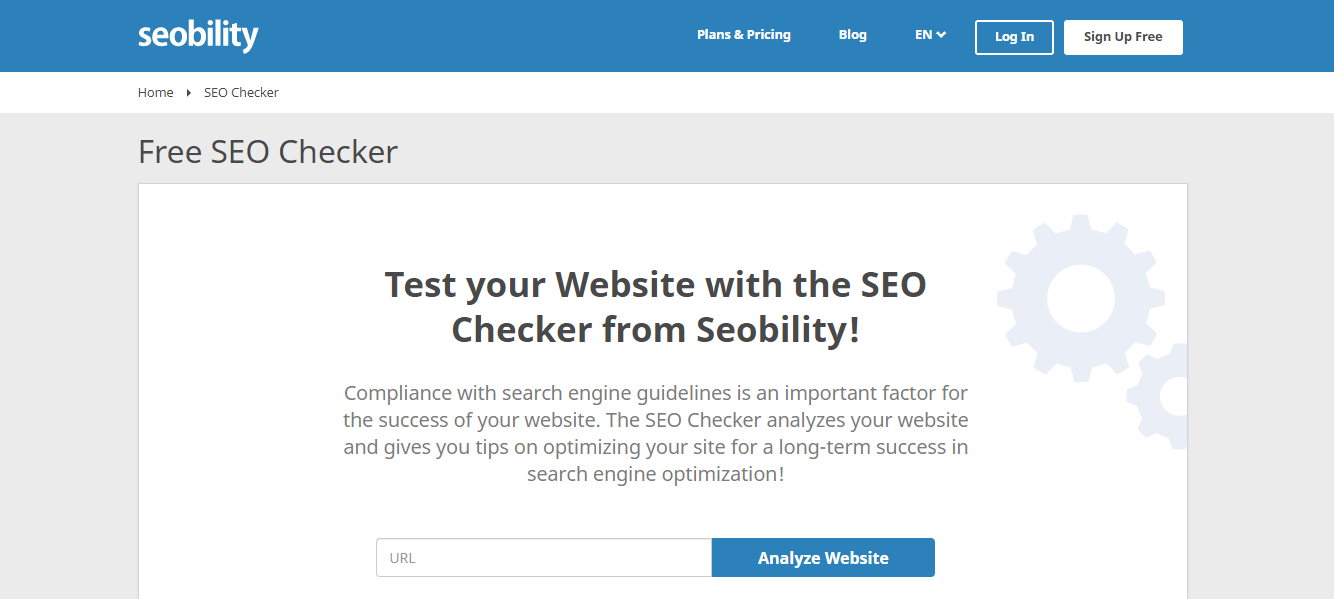 SEO checker directly audits the website and provides all information. From analyzing your site to giving tips for optimizing your site, you can do everything using it. It comes in handy to scan your web page for technical errors and SEO issues and test the level of compliance with today's SEO guidelines.
Simply enter your URL and once the audit is done, you'll receive tips on better optimizing your site. Along with the detailed SEO audit, you'll also get access to 1000 subpage audits, keyword monitoring, email reporting, and alerts. 
SEObility's SEO Checker Features:
Get subscores for each of the categories checked.

Identify areas to improvement regarding your page speed, content quality, responsive design, and more

Helps you to understand how the page and link structure can be improved. 

Unfold the overall potential of your site content to make it rank for potential search terms. 

Scan the entire site for server errors and other technical issues to ensure an error-free and faster loading site. 

Allows you to get a full picture of external ranking factors about backlinks, social media, etc. 
Pricing: You can complete 1 project, crawl 1000 pages, check 100 external links for free.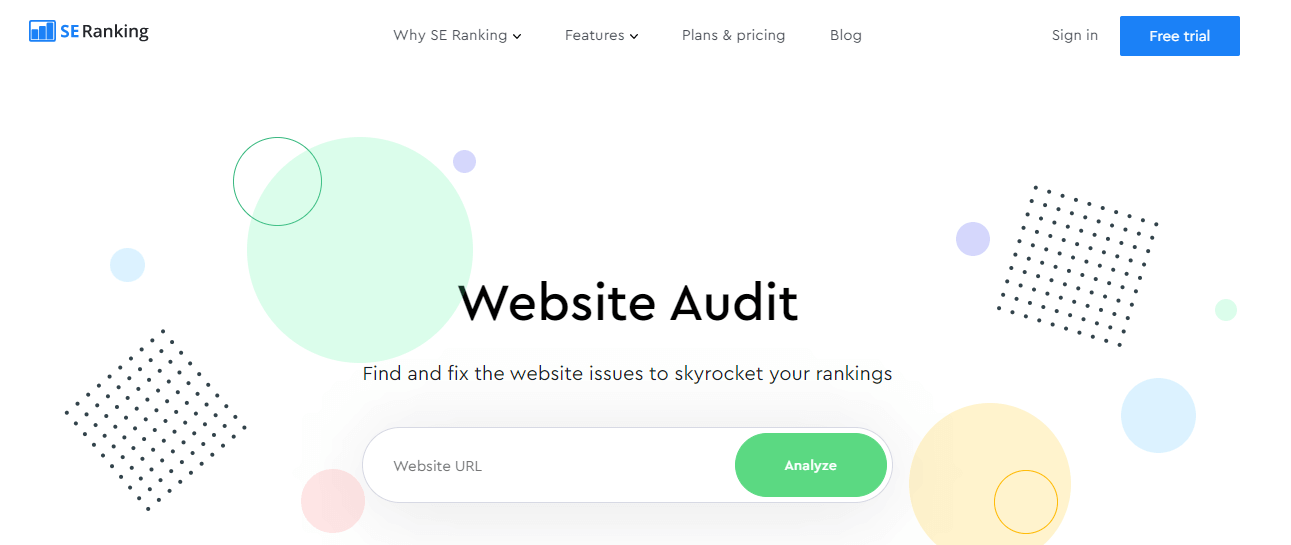 SE Ranking Website Audit provides in-depth reports using analytics and search console access. This tool analyzed over 70 parameters about your website. It crawls all pages, links, and all sources to audit. You can solve all technical errors, loading speed, image optimization, and link analysis.  Its adjustable setting allows you to audit your website as you want. You can find and fix ranking negative effects with a query.
After detecting the errors, it provides actionable insights for your quick action. It displays a dynamic comparison of past and present audits so you can recheck the progress level. Using this tool, you will be able to crawl 1000+ pages in just 2 minutes and give your site a quick health checkup. 
SE Ranking Website Audit Features:
It crawls all links, sections, and pages with a complete examination.

Check HTTP authorization covering domains and subdomains.

Detects all technical errors by analyzing the site codes.

It checks site loading speed and presents the problems.

Scan images and links to make your website google-friendly.

Includes dozens of new tools and solutions to breakdown all major issues. 

Notifies you if the tool finds that your files (images, CSS, JS) are not optimized. 
Pricing: This tool offers 14 days free trial period.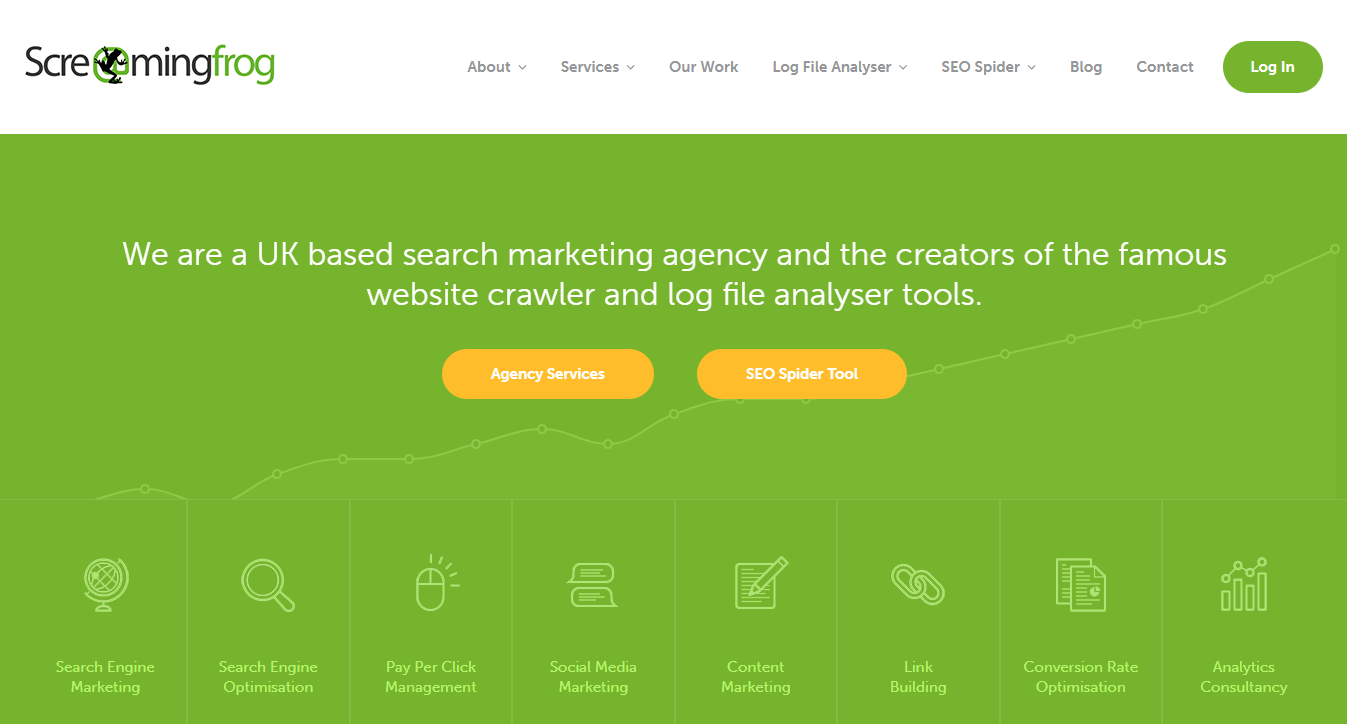 Screaming Frog scans your full website and presents useful insights to improve the site's performance. It reports more than 30 website factors and SEO problems. You can scan 500 URLs on its free version. Detect duplicate and thin contents to prevent penalties. It analyzes the title and Meta for your website and suggests the best format.  
SEO spider provides expert data through its insights so you can find all technical issues. You can audit your site's backlinks and sort out the bad links. If any links are not working, the tool shows the error. Also, it shows image size and alt text with numbers of total pages. Audit over hundred pages within minutes. Overall it will provide you with a comprehensive report for optimizing your site to perform better and improve UI/UX. 
Screaming Frog Features:
Track and analyze the website to find the page errors so you can fix them.

You can analyze the link quality and errors from the entire website within minutes.

It allows us to connect through the API with various external tools such as Analytics, Search Console, and more.

Presents image size, alt text, and a number of pages with source links.

Suggest a structure for your site's content planning with pillar pages overview.
Pricing: Free

MySiteAuditor shows the loading speed, URLs quality,  tags, optimization of images, best keywords, headers, and more. The tool offers a basic audit through a configurable form. You will get a clear idea for specific page designs by auditing the full website.
At the top of the audit report, it shows the number of good signals, issues, page grades including 50+ other SEO signals. It provides the used top 5 words and their density. Analyze copy, code, social profiles, mobile usability, page link, and root domain. You can audit based on a specific keyword.
The best part is you can generate unlimited SEO audit reports using this tool or using the audit forms embedded on your site. It will take only 15 seconds to generate your entire site audit report.  
MySite Auditor Features:
It audits your entire website and shows the technical errors.

You can customize your audits with your own logo, contact details, and colors.

Export the data and add it to your mailing list with a single click.

Consists of three audit forms that you can personalize and embed on your site.

Presents different designs: large, small, slim, in the notification bar.
Pricing: Without requiring your credit card details you can start using this tool for 10 days absolutely free.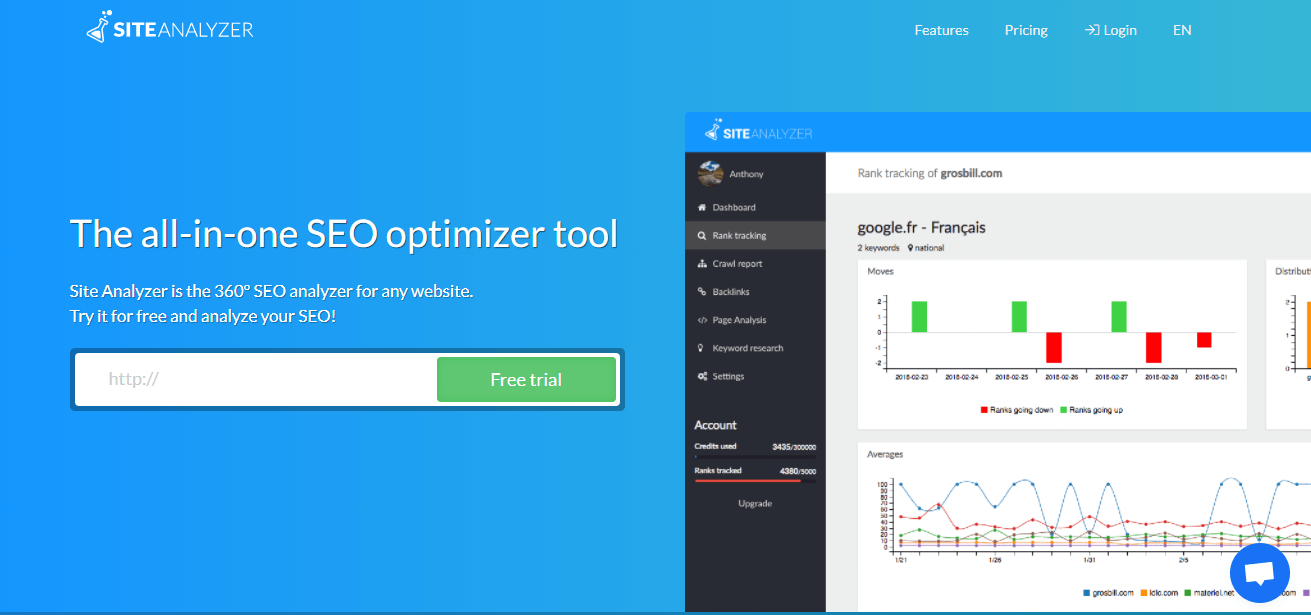 SiteAnalyzer provides website audits with identifying more than 60 parameters. It performs the SEO audit by gathering and analyzing all SEO data from trusted sources and then generates the report. You can understand your website's health with its in-depth analysis scores. 
You can audit your website by filtering data, even you can check your link-building strategy, page content, and many more with this tool. It allows you to check sitemap status to ensure search engine crawling. Finding backlinks and research keywords more deeply than it tracked from your site's ranked contents.
SiteAnalyzer provides a 360-degree audit report on site ranking, crawling, backlinks, keyword research, and page analysis. It tracks your site's ranking pages with graphical data. Evaluate competitor's strategies from its rank tracking section and make a better plan for your site.
SiteAnalyzer Features:
It audits the redirects, heading, Meta tags, and other technical issues.

Analyze the links so you can remove the broken links.

Detects 60+ on-page and off-page SEO errors to improve site optimization.

Creates detailed PDF reports of your website analysis or your client's websites with your brand logo. 

Measure PageRank authority of your website according to Google.

Filter data by a few parameters and export reports in your own language.
Pricing: It comes in a 14-days free trial period. 

Ahrefs site audit is one of the best SEO tools that can offer an overall SEO crawling and provide in-depth health scores, flags all SEO issues, and recommendations to fix them up. You can check your website for more than 100 pre-defined SEO issues. Ahrefs siteauditbot presents all data in the visualized chart by flagging all issues.
While using this tool, you can even create custom filters. With the site audit tool, you can schedule a periodic search or crawl in Ahrefs. It will inform you of SEO issues on the page that can impact your ranking in search engines. This tool can also be used to search for pages with errors such as 404 and 503. You can analyze all the content at once. Then it will be easier for you to find duplicate titles, excess H1 tags on a page, and missing meta descriptions.
Ahrefs Site Audit Features:
Do complete audits of your website and thus know what actions to take to improve positioning.

Analysis of the statistics of your website through a fairly complete and easy-to-view interface.

Keyword Research with a wide variety of metrics when organizing keyword lists.

Make a complete analysis of the competition from different points of view.

Allows crawling your website for a mobile version by selecting the pre-configured mobile user agent.
Pricing: This amazing tool offers you to see how the tool works using its 7-day free trial option.
Ahrefs also comes with a free website checker tool with minimal features. Though it's not as powerful as the paid tools of Ahrefs, for limited requirements it works great. You just need to verify your website ownership to use this free tool. and that's it.

Webmaster Checker Features:
It will monitor and analyze your site SEO health,

You can check your site for 100+ SEO issues. 

Ensure viewing all the backlinks,

You can see all the keywords for which you are ranking,

Make you able to find internal linking opportunities. 
Pricing: 100% Free to use.
Final Thoughts
To find out the bad issues on your website, website auditing is essential. These are some SEO tools that you can easily use to audit your website and solve the diagnosed issues yourself.
I have presented the best free website audit tools which are tested and handpicked. You can save your valuable time on manual actions with these tools. So, get the suitable one for your website audit and see the improvement.
Also, let me know, if you picked your favorite one yet, and how it performs for your site. Lastly, don't forget to share your thoughts about this guide or any queries in the comment section below.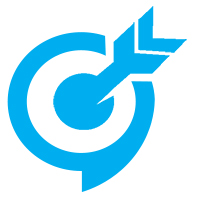 Giant Marketers is one of the fastest-growing and leading digital marketing company in Bangladesh. Its primary goal is to help clients to grow big with result-driven strategies and 10+ years of experience in the industry