Giant Marketers is one of the fastest-growing and leading digital marketing company in Bangladesh. Its primary goal is to help clients to grow big with...Read more
This case study shows how the Giant Marketers team helps this website recover a Google penalty and improve its traffic.
DentaLux- Your Family Dentist
Our client owns a dental care office located at 1308 Cottman Ave, Philadelphia, PA. Their focused services are Emergency Care, Endodontics, Cosmetic Dentistry, Preventative Dentistry, Implants, Crowns, Bridges, and more. DentaLux has been treating both kids and adults since 2011 for their dental or oral health issues.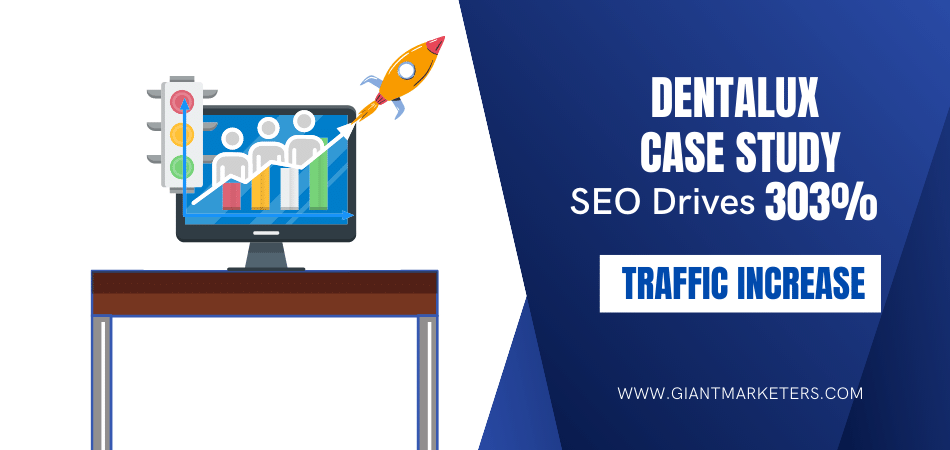 Generally, Dentalux's most clients were acquired from its website visitors. But, suddenly, the owners got to see that their website's ranking has dropped drastically. This site started losing its traffic, and as a result, its service was affected. So, the owner wanted us to work on the site's issues and help it to grow.
In this way, we got this project to implement our best SEO strategies and practices. So, this is the case study, where I'll share how we handled these issues and what the results are at the moment on this site.
The Issues
We always start our project by running an entire website audit to point out problems in advance and plan strategies accordingly. So, once auditing the website, we found that this site had experienced a severe drop in rankings after the Google core algorithm update. The reasons behinds were-
Its content wasn't optimized correctly,
Service page layout was incorrect,
Poor page loading speed,
The website wasn't found on Google Maps.
This site used to have huge content, but unfortunately, they weren't up to the mark and not optimized as Google's requirement. The content wasn't created following EAT and didn't optimize with NLP. As a result, Google started ranking the quality content of this site's competitors, and it started facing a dropdown.
Also, its service page was very simple and didn't have much information about its working processes and services. That's why this site failed to provide optimum information to its users.
Another issue was that this site usually took a huge time to load due to having non-critical third-party files and unnecessary javascript files. This was the main reason for having a poor page experience and a higher bounce rate.
The best thing is DentaLux is one of the best dental care service centers in Philadelphia, PA. But the thing was they weren't found online for local searches, and that was its biggest lackings. Just because of that, many potential patients couldn't find them on Google maps and they have to look for other alternatives.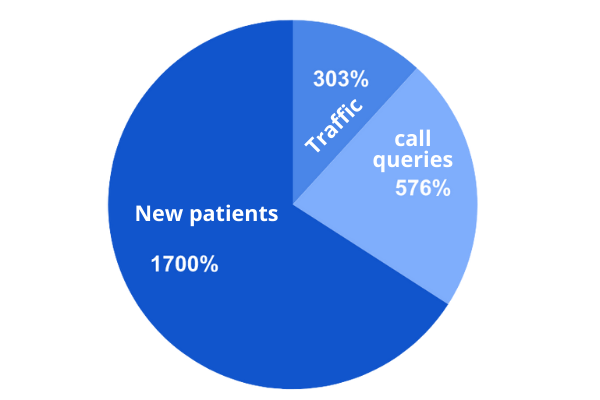 Our Strategies and Solution
When we get this project, the condition of this site was severely affected. The ranking of this website was going down day by day, the traffic and conversion rate was also going down rapidly. However, it was a great opportunity for us to win the traffic back for our client's website.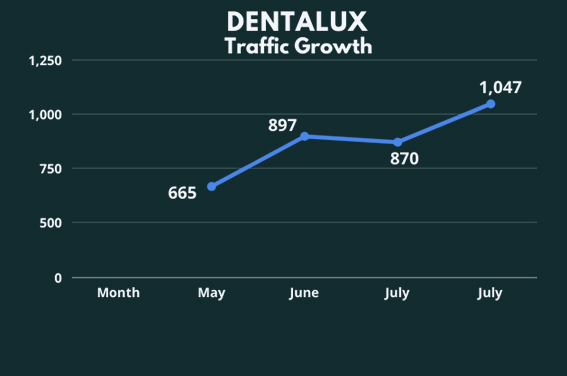 Here are the SEO best practices that we have implemented to improve Dentalux's traffic and leads.
1. Improving the Content
First, we turned our focus to On-Page SEO to improve Dentaluxs' existing content. So, we started looking for the keywords this site is ranking for. This helped us to find the keywords as well as pages that were easy to improve. We have followed some tactics like-
Improved the existing content with low competitive keywords.
Replace the thin contents with well-structured and engaging content.
Started publishing content following EAT to ensure the dentist's authority, knowledge, and expertise.
Also, we optimized all the content with NLP to make them more relevant to the readers.
Fixed the page title tags and meta tags to make them well-defined. In this way, Google can understand the content of these pages clearly.
2. Focus on Improving Page Experience
This website had page loading issues like it used to take a huge time when users clicked something on it. This issue refers to one of the page experience pillars called FID (First Input Delay). Technically, FID measures the loading time when users click on something on a page.
Usually, users get frustrated when they clicked to sign up or log in to DentaLux appointment pages, and they had to wait for the page to load. As a result, users leave the page without moving further, which leads to an improving bounce rate.
As per Google's guideline for FID, it would be best for the website if the score remains between 100 MS. So, to ensure this score, we started-
Minimizing and defer the JavaScript files.
Removed all the non-critical third-party scripts.
Lastly, we used a browser cache.
3. Fixed All the Service Page Layouts
We have noticed that in this site, all the practices and services were grouped into bullet points. Many websites follow this, but this is not a best practice for long-term SEO. Another issue that we discovered was that its service page wasn't well-optimized with CTA.
Generally, users wanted to know in detail about your services, how you perform, what benefits they will have, etc. So, if they didn't find these information, they'll switch to other sites.
So, what we did to develop this site was-
Highlight its best practices, key points, and all the services they provide.
We made sure to break out all services separately onto their own pages.
Ensured CTA optimization so that patients can relate conveniently.
On every service page, we add the Contact Us form and calling button.
4. Launched a Local SEO Strategy
Ranking top on Google Maps is a huge opportunity to generate more local traffic and leads. But unfortunately, DentaLux didn't make up for this and had to give up huge potential clients. So, to ensure this site for local searches on Google Maps, we launched a Local SEO strategy like-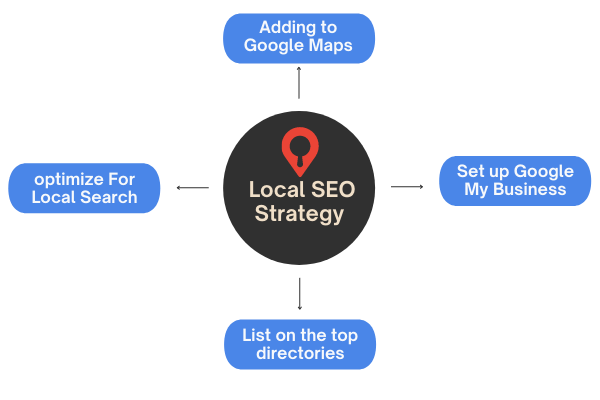 Adding DentaLux to Google Maps.
Set up Google My Business and claim listings.
Also, we listed this site on the top directories along with the dental-specific directories.
Lastly, optimize the website to rank higher on local search results.
The Outcomes
We have been working with our DentaLux client for almost 5 months. For the past months, we have been able to increase its traffic greatly. And the great thing is its potential traffic is constantly increasing month to month.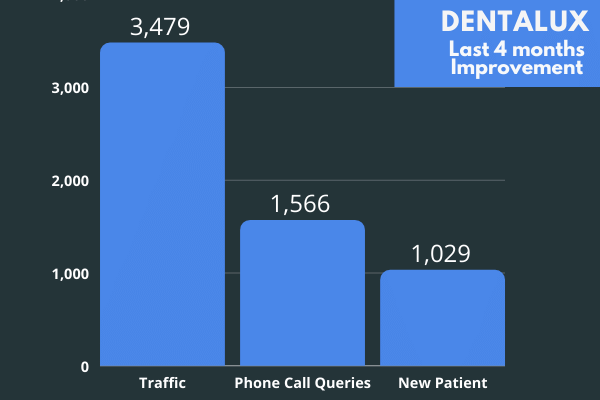 When we first overviewed this site, it was only able to generate 20 new leads from online traffic. Now, we are proud to report that the patient's phone call queries increased drastically within a month. The good news is right now, dentaLux's website is in the 2nd position of Google Maps. They have already generated 76 Google Reviews with a 4.5-star rating in Google maps.
Now, let's see the real-time data of Dentalux from which you can understand how this website is gaining the top position, patients, and profit.
Previous Data (March)
| | | | |
| --- | --- | --- | --- |
| Month | Traffic | Phone Call Queries | New Patient |
| March | 345 | 97 | 20 |
We have started working with DentaLux in April, and here are the data for the last 4 months.
| | | | |
| --- | --- | --- | --- |
| Month | Traffic | Phone Call Queries | New Patient |
| May | 665 | 278 | 160 |
| June | 897 | 337 | 232 |
| July | 870 | 392 | 297 |
| August | 1047 | 559 | 340 |
| Total | 3479 | 1566 | 1029 |
We have optimized this site for local searchers, improved content, page experience, created the service page more relatable and made this site user-friendly. Within 4 months, the traffic has increased by 303%. They have answered a total of 1,566 phone calls, and from the last month's data, the total call queries increased by 576%, which is huge.
Lastly, the great news is, till now, they have generated 1700% more new patients. We are very proud while saying that our DentaLux client expressed to us that choosing us as a partner is their best practical decision ever. And this is not the end yet; many more years to go with them.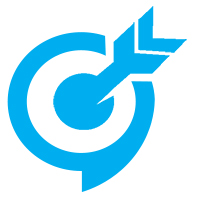 Giant Marketers is one of the fastest-growing and leading digital marketing company in Bangladesh. Its primary goal is to help clients to grow big with result-driven strategies and 10+ years of experience in the industry