Masum Billah Bhuiyan is an industry-leading digital marketing expert. He's working for more than 14 years in the industry who's nationally recognized as a successful...Read more
Amazon Affiliate, we often hear people talking about it, right! For years, it has been considered as one of the best ways of earning long-term passive income. In the USA alone, Amazon is responsible for about 40% of all online sales.
Anyone can access a portion of this retail's profits. All you need to do is design an Amazon affiliate niche website or have a social media presence and sign up for the Amazon Affiliate Program.
This program allows you to monetize your website, blogs, or social media simply by placing a link to Amazon products. When customers purchase a product via clicking one of the links on your site, Amazon will give you a commission.
Still, many people are left wondering, "are Amazon affiliate sites profitable." To clear all your confusion, here, we've come up with this guide covering every related aspect of Amazon Affiliates. So, without any further delay, let's get into it.
What Is An Amazon Affiliate?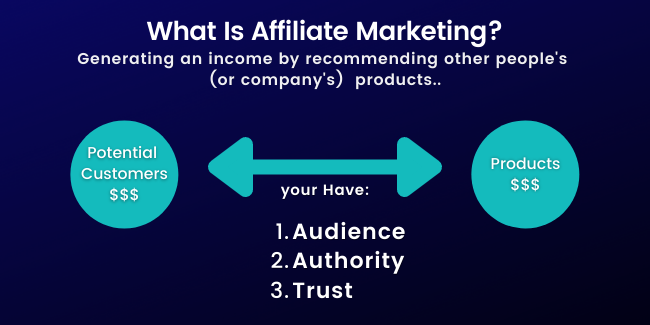 It is a process of promoting other companies or people's products and earning a commission. Here you will promote products you like to others, and when people make a purchase, you can earn a commission for each sale made by you.
Suppose a company puts its products on Amazon. To generate more sales, Amazon asks more people to advertise or promote these products to drive sales on their websites in exchange for a certain amount of commission.
But, how does the Amazon affiliate program work?
The process is actually really simple. And here are the steps-
The website owners need to create an Amazon affiliate account on Amazon.
Then, Amazon will provide each website owner with a unique associate ID.
When the application gets approved by Amazon, affiliates can start creating affiliate links on their Amazon portal.
After that, associates can use these links placed in their blog posts or website's other parts to promote them.
When someone clicks through the link and makes a purchase from Amazon, the associate will earn a commission.
What Are The Benefits Of Being An Amazon Affiliate?
With the Amazon associates program, you can access millions of products and programs which are available on Amazon. Using simple link-building tools, you can direct your customers to your recommendations. This way, you can earn a certain commission from qualified purchases and programs.
There are many more reasons why Amazon associate is a good choice for an affiliate program.
There is no charge required to apply for it.
Provides an opportunity to generate revenue via their site.
Availability of tons of relevant products to promote from Amazon's huge selection.
Competitive commissions for most niches.
Easy-to-use tools to create and customize the links that work best,
As you're not the product owner, you won't lose anything if customers don't buy products. That means there is no risk.
More freedom with passive income potential.
Allows working anytime from anywhere, as long as you have internet access.
How Do You Earn Money Promoting Amazon Products As An Affiliate?
Truly speaking, becoming an associate by applying for the Amazon affiliate program isn't that hard. The real struggle starts right after you become an affiliate. You need to make sure to promote the products in the correct way so that you can make enough sales.
And to do this accurately, you need to follow some processors. So, here's how to make money with the Amazon affiliate program.
Select a Niche For Your Site
When it comes to becoming an Amazon associate, you need to choose a single e-commerce niche for your site. If you put everything like beauty products, home improvement, electronics items all in one site, it won't work well. Therefore, you need to consider some things while choosing the niche. And these are-
1.  Commission Rate
A simple fact is, the higher the commission rate, the more your revenue will be. So, if you want to work with a product that can lead you to get a higher profit, you need to consider the commission.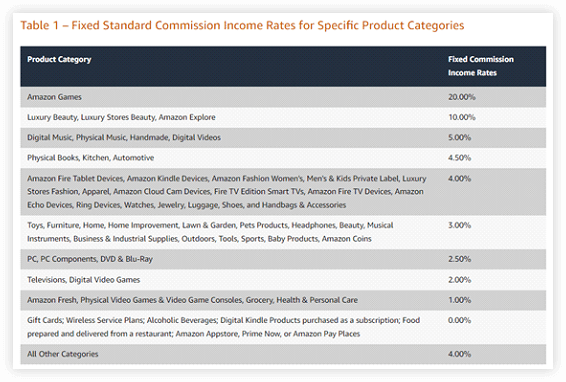 As you can see from the above image, not all product categories come with the same commission rate. Therefore, to make the most out of your Amazon affiliate program, you just need to look out for the commission rate.
2. Product's Availability
Unless there is a wide range of choices, there is a higher chance of failure of all your marketing efforts under high competition. If you do not have enough products, you will not find the desired niche you want. So it is crucial to go with an affiliate platform that has a wide product selection.
3. Your Interest and Expertise
Last but not the list, whatever niche you choose, you must have an interest in this. As you need to write constantly about your products, it must come naturally without being too salesy, and you must not get tired of writing.
Another fact is when you choose, you must make your site look authoritative and trustworthy to the visitors. When you talk about the products, it should imply your expertise and seem like you are writing content to share your experience and knowledge.
Write Product Reviews And Comparison Posts
Writing product reviews and product comparison guides are one of the most effective ways to make money through your Amazon affiliate website. This way, you can link the products you are reviewing more naturally.
Nearly 89% of consumers worldwide consider reading reviews before buying any product. That means product reviews are high intent guides that can offer you the opportunity to generate more sales.
On the other hand, product comparison posts offer several alternatives to the readers to choose from. It is an even greater opportunity for your site to increase sales.
Blog Consistently
Blogs give every Amazon affiliate plenty of opportunities to include product references and links. Almost 64.48% of affiliate associates find quality blog content effective to generate the most qualified traffic. This is the reason constant blogging is always recommended.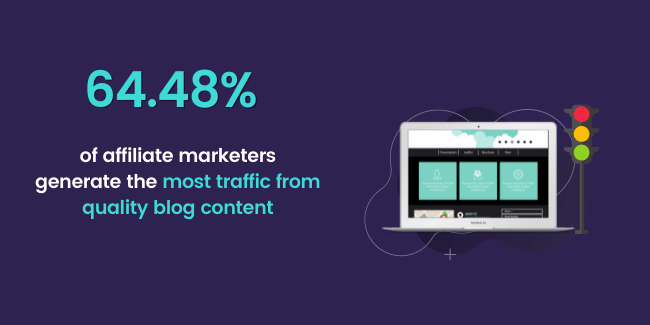 But keep that in mind that quality matters more than quantity. If you can publish two well-researched and quality content per month, it will help you drive more qualified traffic to Amazon. But if you write 4, 5, or even more posts in a month with poor quality, it will ultimately be worth nothing.
To make the process more effective and create content topically relevant, you can implement a content marketing strategy. Also, optimize your content with SEO best practices to get the top search ranking, more traffic, conversion, CTR, and sales.
Create A Storefront On Your Website
Storefront is a great choice for those who don't want to write content and regular upkeep. Here, you just need to create a storefront that will act like exactly an online store and don't require any editorial mentions to drive referrals to Amazon.
In the case of a storefront, the links will point to Amazon instead of a checkout page. With a storefront site, you need to check the links once or twice a month to make sure that your storefront drives referrals. This is because sometimes, the product pages move or are entirely removed. Thus, to make sure that every product of your site is available on Amazon, you should keep your eye on them.
Promote Your Site On Social Media and Search Engines
It's not possible to drive referrals to Amazon and earn a commission if your site doesn't have enough traffic. And among all the marketing strategy SEO, social network, and blogging becomes the top 3 traffic sources for affiliate marketers.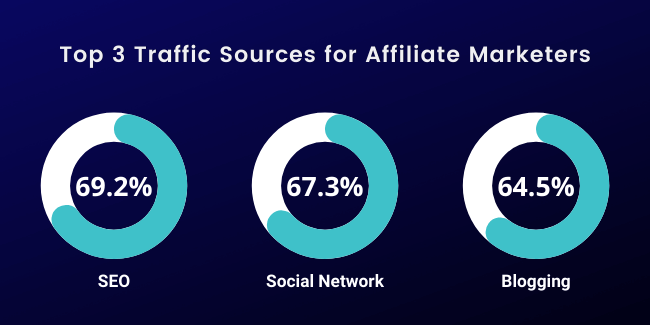 Therefore, it is essential to implement SEO, write good content, follow content marketing strategy, and promote your site on search engines and social media.
Only if you can do all these steps accurately, you can make the most out of your Amazon affiliate program. If you have no time or find it difficult, consider hiring an agency. They know what niche will work for you and how to implement all the processes for you so that you can generate more sales.
Are Amazon Affiliate Sites Profitable?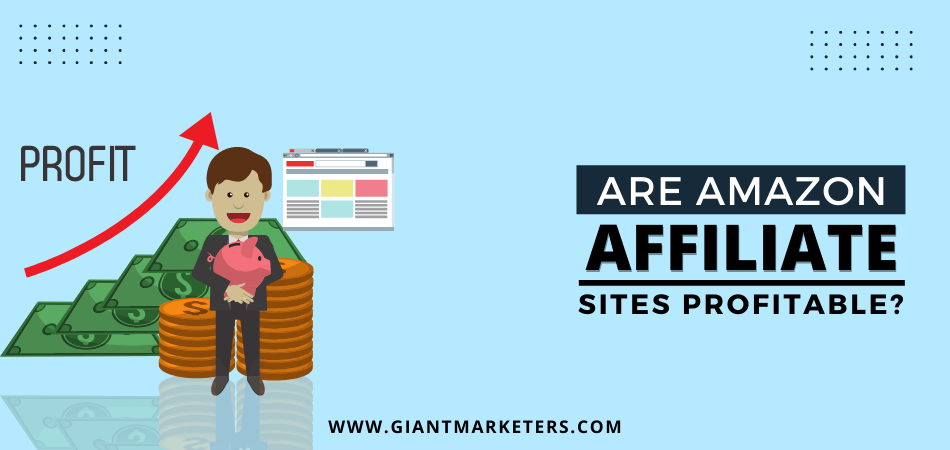 We hope you get an overall idea about the Amazon affiliate program and how it works. Still, if you're wondering are Amazon affiliate sites profitable, here are some facts and figures for you.
The following graph from Statista will give you an idea about affiliate marketing spending in only the United States.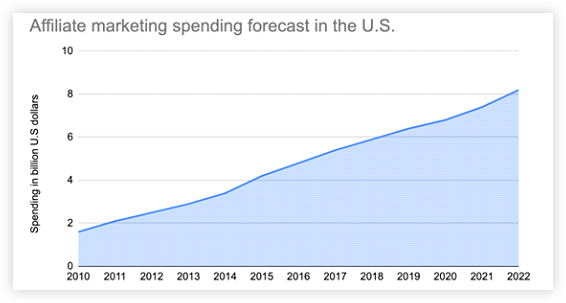 The above data is a forecast about Amazon affiliate marketing published in 2019 by A. Guttmann on Statista. It stated that by 2022 the spending of the affiliate market would reach $8.2 billion. This means that the affiliate industry site in the United States will triple in size. Isn't it huge?
Another survey by FinancesOnline shows that Amazon Associates is the #1 network among the top 3 affiliate networks based on market share, with 39.77% in 2021.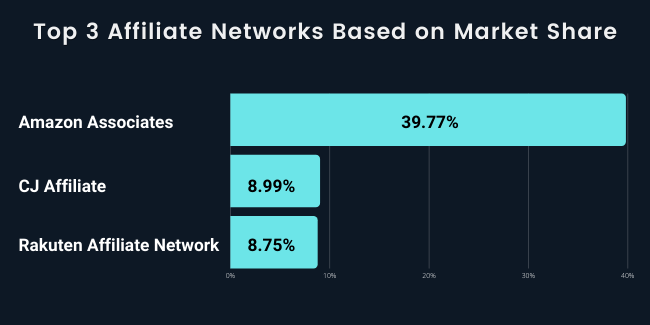 Well, here are a few more affiliate marketing statistics that will prove that Amazon affiliate is still worth it.
The affiliate marketing industry's global value is estimated at around $12 billion.
In July 2020, the number of affiliate marketing publishers applying to Amazon increased by 150%.
With over 900,000 active affiliates, Amazon Associates has become the largest affiliate marketing network ever.
With a 69.22% rate, SEO has become the number one global traffic source for affiliate marketers.
85% of global consumers search on Google for product information that they want to purchase.
About 37% of online shoppers have used an affiliate channel to make their first purchase since April 2020.
About 48% of marketers earned $20,000 per year or $1,660 monthly in 2020 worldwide.
38% of marketers agree that affiliate marketing is one of the best strategies for gaining new customers.
These are all real-time numbers and statistics that prove how profitable the Amazon affiliate is. But don't forget, this can only be possible if you do things accurately.
How Much Does the Amazon Affiliate Program Pay?
According to HubSpot, on average, you can earn from $100 to $20,000 from the Amazon affiliate program. But this earning fully depends on how many referrals you can generate for Amazon. It works on a commission basis, which means you will get a portion per sale.
As we mentioned above, depending on your product category the commission rate will differ. For example, if you choose a kitchen niche, for each sale you can generate a 4.50% commission. Now, if you can sell 5 products at a total of $3500 in one day, you will get $157.5.
Next, let's imagine, if you sell these same products 30 times per month, you can earn $4725 per month. But, remember, at the beginning stage, these numbers can be diagonal downwards.
However, by investing in SEO, producing continuous quality content, through social media marketing, and all other required factors, you can make the most out of it.
Why Is The Amazon Associates Program So Popular?
Amazon associate is the world's biggest affiliate program. And this is not just a statement; there are several reasons behind this. The following statistics are enough to justify this statement.
The annual net revenue of Amazon hits $386.06 billion at the end of 2020.
Amazon sells an average of 4,000 units per minute. That number is much higher than the full monthly sales of some of the top brands.
Due to the low entry barrier, many beginners can start their journey to earn passive income with Amazon. There is no need to have any exceptional achievements to become an associate of Amazon. The only thing you need is a website or a YouTube channel with a decent number of visitors.
There are more than 350 million products listed on Amazon. Not only just products, but you will also find several categories and sub-categories on Amazon. So, it doesn't matter which category you are an expert in, and you will find it on Amazon for sure.
Since Amazon is a popular brand and a well-established platform, it's really easy to convince customers to purchase products from Amazon. Apart from this, if the visitor doesn't even know you, they won't feel hesitant to purchase anything when they reach the Amazon store.
Amazon affiliate is a consistent source of passive income.
Amazon affiliate sites can be sold at much higher prices than other affiliate sites. For example, an Amazon site that can make a $500 profit per month can be sold at $25000.
Final Verdict
So, are Amazon affiliate sites profitable?
Actually, it is an excellent way to turn your passion into a passive income source. However, it does have some flaws like changing commission rates, and a short cookie window often makes it harder for the associates to earn more money.
But, if done correctly, you can make the most out of it. Select your niche that can boost your revenue, do proper keyword research, create your product-centric quality content, use contextual affiliate links, do proper optimization, keep your site user-friendly, and you'll be a step further to grow your Amazon affiliate income. But, it should be done correctly.
Hope you have liked this guide. You can share your thoughts about this guide and your experience with Amazon affiliate with us by commenting below. We would love to hear from you.
Masum Billah Bhuiyan is an industry-leading digital marketing expert. He's working for more than 14 years in the industry who's nationally recognized as a successful internet marketer.
Latest Posts by Masum Billah Bhuiyan All Posts