Masum Billah Bhuiyan is an industry-leading digital marketing expert. He's working for more than 14 years in the industry who's nationally recognized as a successful...Read more
The Amazon associate program is one of the top and most well-known affiliate programs out there. If done right, you can generate a pretty decent income from your Amazon affiliate program.
But, can you get kicked out of Amazon affiliate program?
Well, the uncertain truth is yes. In addition to being a great affiliate network, Amazon became really strict about banning affiliates for violating the terms and policies.
With that in mind, you need to make sure that you're following the rules. That is why we've come up with this guide, which will break things down for you so that you can understand how you can meet Amazon affiliate's requirements.
So, let's get into this guide.
Overview of the Amazon Associates Program
Amazon Associates is one of the largest affiliate programs that help website owners monetize their traffic and get a referral fee by referring the traffic to Amazon. It's a great opportunity and an effective way for content creators, bloggers, influencers, and publishers to earn a passive income.
Here, Amazon gives the website owners unique product links which are called affiliate links to promote on their sites. And when someone makes a purchase by clicking that affiliate link, the website owner receives a commission. Remember, you can only make money when someone purchases products by clicking your site's affiliate links.
Remember, the commission is not the same for every product. Amazon has different categories for different products, and each category has a different commission rate. Here are the product categories and their commissions-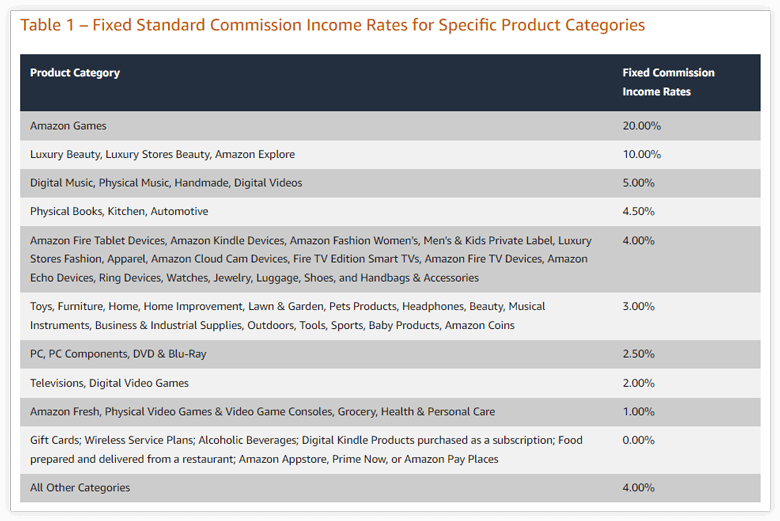 So you will be paid according to the commission rate of the product of the category you choose to promote.
What Are The Requirements For Amazon Affiliate?
Almost anyone who has an internet connection can do Amazon affiliate. But there are some requirements or steps that you need to follow. These are-
Step 1: A Website, Blog, or YouTube Channel
To start Amazon affiliate marketing, you must have an active website, blog, app, or YouTube channel. It will be great if your site contains original content which is publicly available.
But, if you don't have any side, make sure to create an Amazon affiliate niche website before applying for this program. Once the website creation is done now, it's time for you to sign up for the Amazon associate program.
Remember, Amazon will reject your application if your site promote or contain the following-
Sexually explicit or obscene materials,
Violence or contain violent materials
Potentially dangerous or harmful acts,
False, deceptive, libelous, or defamatory materials,
"Hateful, harassing, harmful, invading the privacy of others, abusive, or discriminatory activity or information (based on race, color, sex, religion, nationality, disability, sexual orientation, or age)."
Illegal activities,
Violate any intellectual property rights
"Collecting, using, or disclosing personal information under the age of 13 years old child or other applicable age thresholds (as defined by applicable laws and regulations)."
"When any applicable law, ordinance, rule, regulation, order, license, permit, guideline, code of practice, industry-standard, self-regulatory rule, judgment, decision, or other applicable government authority relating to child protection is violated."
"Any trademark of Amazon or its affiliates, or any domain name, subdomain name, any "tag" or associate ID, or any username, group name, or other identifier in the social networking, including an alternate or misspelled trademark of Amazon or its affiliates."
Step 2: Sign Up For The Amazon Affiliate Program
So, once you have ensured that your website doesn't enforce, promote, or contain anything from the above points now, it's time for signing up for the affiliate program. Here, all you need to do is, visit the Amazon Associates home page and click on the "Sign Up" button.

From there, you can create a new account or log in to your existing account if you have one.
Step 3: Provide Your Account Information
After completing the signup process successfully, start creating your Amazon associates account, providing all your account information.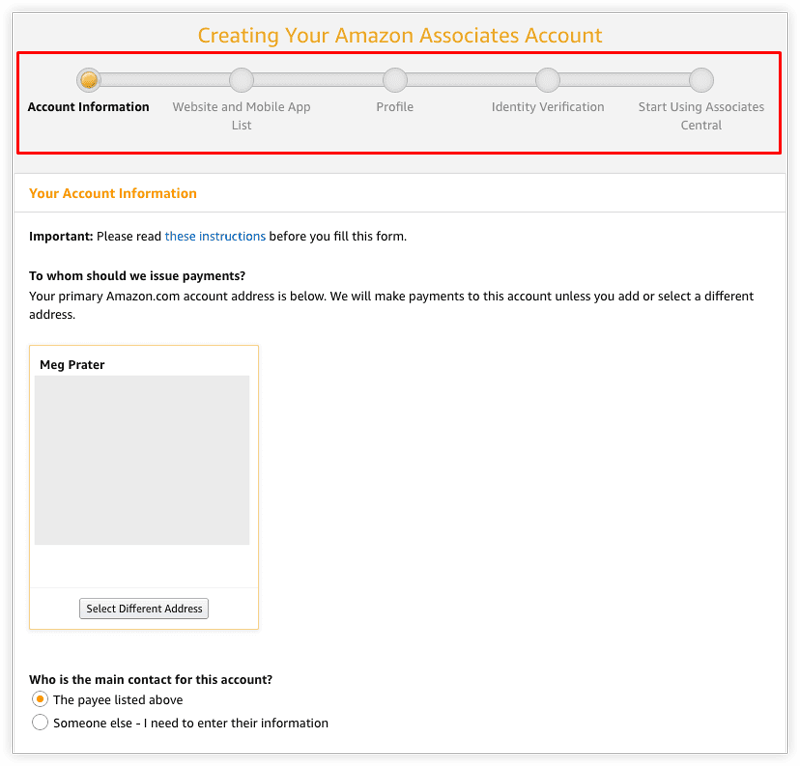 Here, you need to provide the payee's name, address, and phone number. You may also get asked about your website's goal to determine the best-suited products and services for your affiliate strategy. Once done, click on Next.
Step 4: Share Your Website Address
From the website and mobile app list page, add your website(s) URL, YouTube channel, or mobile app URL(s). You can add up to 50 websites, YouTube Channels, or mobile apps here.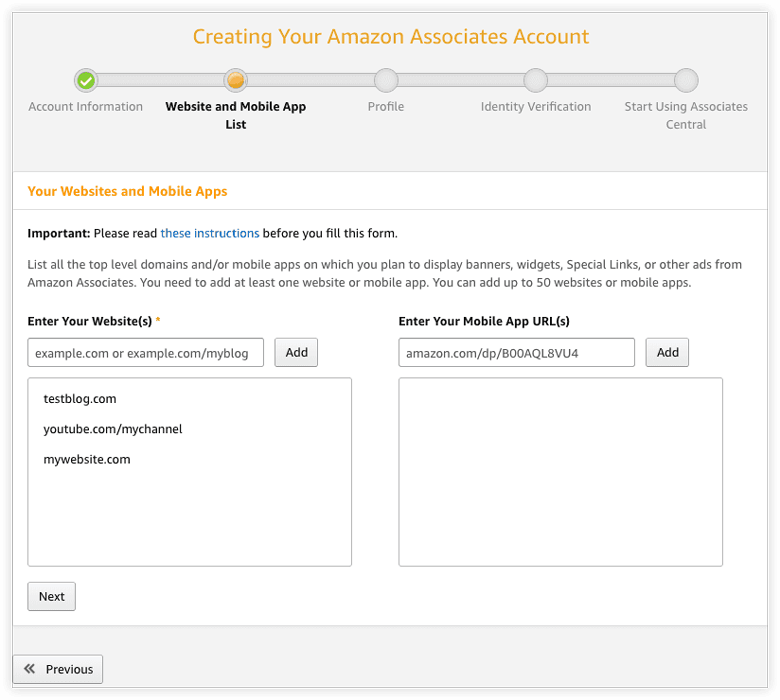 Once done, press the Next button and move to the other page.
Step 5: Enter your preferred store ID
Next, add your preferred store ID, website list, or mobile app list, and choose the topic that best describes your website or mobile app from the Profile page.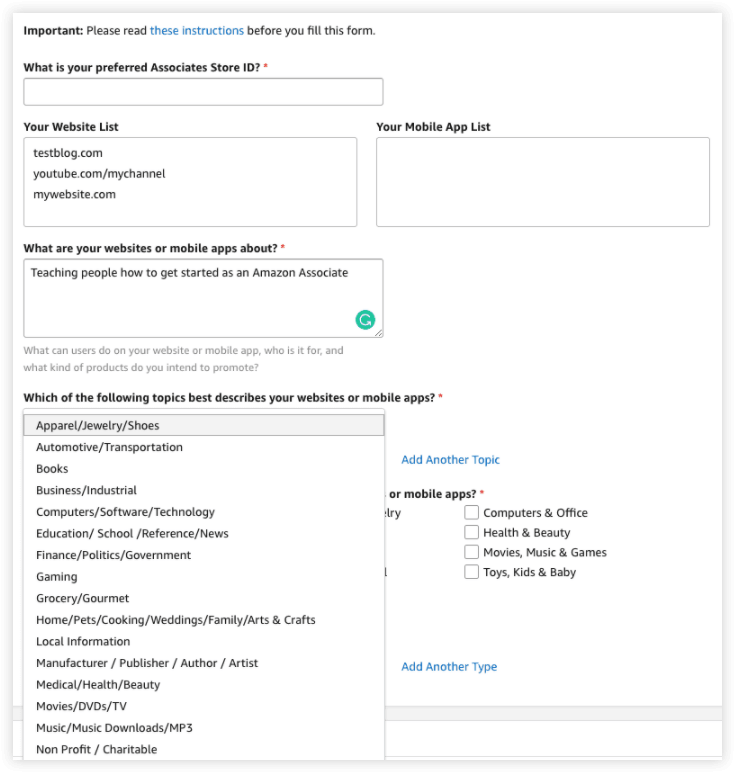 Step 6: Explain Your Website's Traffic and Monetization Processes
In the next step, from the traffic and monetization page, you should answer some questions about your-
Traffic source,
How you generate income through your website and apps,
Link building strategy,
Per month total visitors,
The main reason to join the Amazon associates program, and
How did you hear about Amazon?
Step 7: Choose a Payment Method
Then, move forward to the identity verification step, and from this page, you will get your associate ID. Also, you'll be asked to enter your payment and tax information. If you want, you can skip this section by selecting "Later."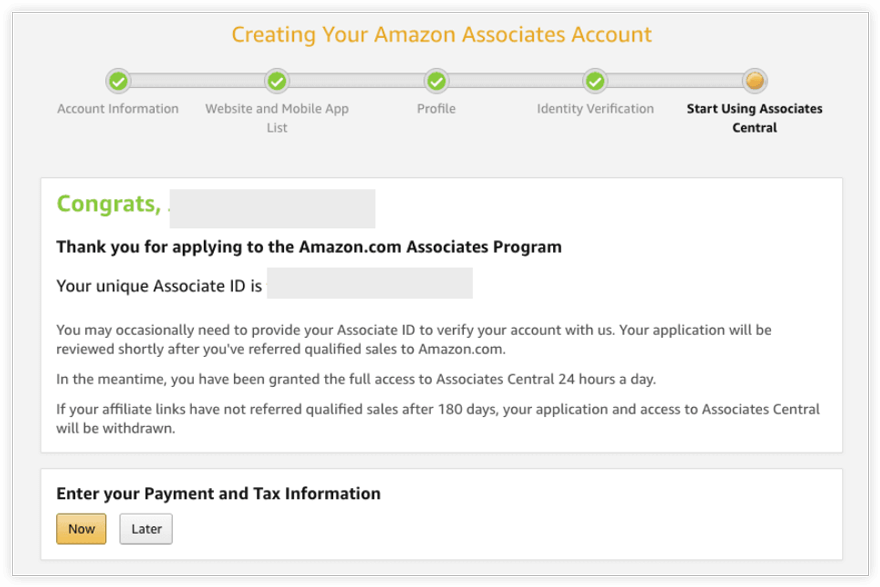 Step 8: Start Making Your Amazon Affiliate Links
Now that you have finished creating your Amazon associate account, you will be automatically sent to your personal Associate homepage. From this page, you can track your performance dashboard (including your earning overview, present month's summary, total fees, total bounties, and total clicks.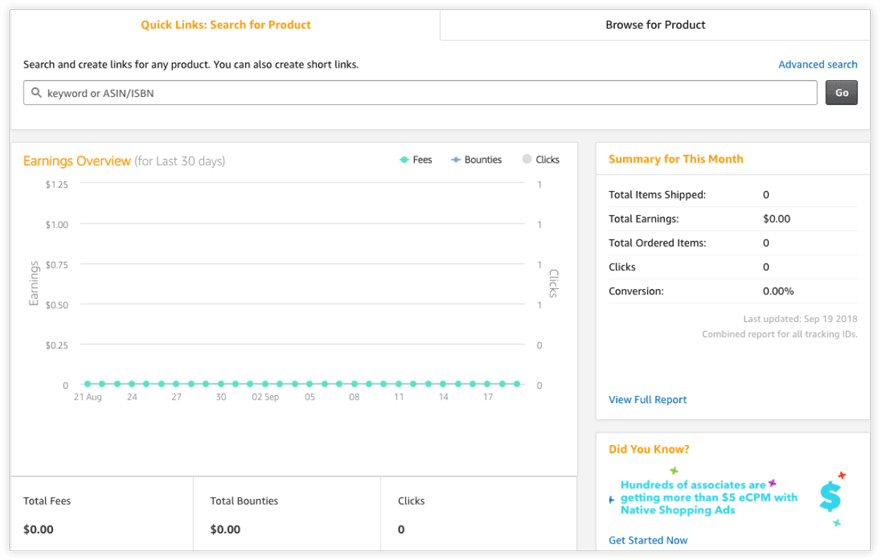 In fact, from this same dashboard, you can create your Amazon Affiliate product links. But, do you know how to create an Amazon affiliate link?
Well, if you don't, see the following steps to create your Amazon Affiliate Links correctly.
Log in to your Amazon associate account, click on product linking, and select product links.
From here, you can search for any related product and keyword. Also, you will get links to the best-selling products by category for the niche you are working on. You can get the link just by placing your cursor over any product of your choice and clicking Get Link. It will bring you to a new page, from where you can build links for text, image, and both text and image. Simply copy the HTML, Standard link, or Short link and paste them where you are going to promote them on your website.
You can also get affiliate links from the product links page. You just need to navigate to the option called search for.Simply search with keywords to see the items that match your niche. Once you get the product that you want to create an affiliate link for, click on the get link button from the right side.
Then simply copy and paste the link on your site.  It is the best option if you want to create a list of multiple product links.
From the same page, you can build an affiliate link using the ASIN of your product. You can find the ASIN of a product on the product information section, simply copy the 10 character ASIN code and paste it into the product listing page's search for box.
Then click on the Get Link option just like before, copy the text link or image link, and paste it on your website.
Another way is, getting the affiliate link from the Site Stripe. So, go to any product page on the Amazon website, and from the top bar, you'll see an option like Amazon Associates SiteStripe.
Click on the Get Link option, then select the text button, and you'll get an affiliate link for that specific product.
And that is all. It's really easy to create affiliate links to place on your site.
Can You Get Kicked Out Of Amazon Affiliate Program?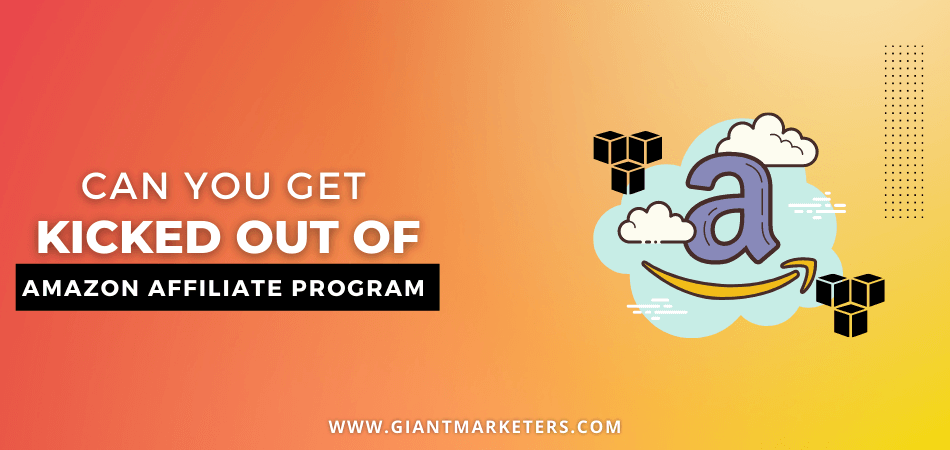 It doesn't matter if you just started or have been a member of the Amazon associate program for years; you must follow its operating agreement and program policies. Otherwise, Amazon will terminate or make your account close at any time.
To stay in compliance, you must go through each of the agreements and policies. We know these are a bit dense, but to avoid getting kicked out of the Amazon affiliate program, you must read them out carefully and follow them.
So, here we are sharing some of the most important and basic rules for you so that you can understand them easily.
1. Disclosure Statement For Amazon Affiliates
You may be thinking that an affiliate disclaimer may lead people to think that your page is cluttered but if you don't do it, it will go against Amazon's operating agreement.
It is clearly stated in point # 10 of the operating agreement that
"You must clearly and prominently state the following, or any substantially similar statement previously allowed under this Agreement: "As an Amazon Associate I earn from qualifying purchases."

Apart from that, You will not issue any press release or make any other public communication with respect to this Operating Agreement, your use of the Content, or your participation in the Program. 

Again, You will not misrepresent or embellish the relationship between us and you (including by expressing or implying that we support, sponsor, endorse, or contribute to any charity or other cause), or express or imply any relationship or affiliation between us and you or any other person or entity except as expressly permitted by this Operating Agreement."
2. The Date And Time Of The Recent Updated Price
When you display a product price on your site, you must indicate when and on what date you pull it from Amazon. The reason behind displaying the date and time is the prices on Amazon change constantly. So, here's what Amazon stated in its agreement-
"You will include a date/time stamp adjacent to your display of pricing or availability information on your application if you obtain Product Advertising Content from a Data Feed, or if you call the Product Advertising API or refresh the Product Advertising Content displayed on your application less frequently than hourly.

However, during the same day on which you requested and refreshed the pricing and availability information displayed on your application, you may omit the date portion of the stamp.

Examples of acceptable messaging include:

Amazon.in Price: Rs.3500 (as of 13/07/2013 14:11 IST – Details)

Amazon.in Price: Rs.140.77 (as of 14:11 IST – More info)"
3. No Link Cloaking
You will immediately get into trouble if you make any mischief with your product links. You must use the special links on your site, and they must be built and placed in accordance with Amazon's operating agreement.
Amazon needs to be able to determine where the traffic is going, and it needs to be clear to the customer also that you are taking them to an Amazon site. So, here's what Amazon stated about linking processes on its agreement.
"(v) You will not cloak, hide, spoof, or otherwise obscure the URL of your Site containing Special Links (including by use of Redirecting Links) or the user agent of the application in which Program Content is displayed or used such that we cannot reasonably determine the site or application from which a customer clicks through such Special Link to an Amazon Site.

(w) You will not use a link shortening service, button, hyperlink or other ad placement in a manner that makes it unclear that you are linking to an Amazon Site."
4. Emails And E-Books Should Not Contain Affiliate Links
Email, e-books, PDF documents, etc., can be accessed offline, and Amazon doesn't allow offline use of its associate's links. Mentioning affiliate links in ebooks, emails, private messages on social media, or any other printed materials is strictly prohibited.
You can't send a user directly through emails or personal messages to Amazon. Therefore, while writing reviews or blog posts containing Amazon affiliate links, make sure not to mention any e-books.
"You will not engage in any promotional, marketing, or other advertising activities in any offline manner, including by using any of our or our affiliates' trademarks or logos (including any Amazon Mark), any Program Content, or any Special Link in connection with email, offline promotion or in any offline manner (e.g., in any printed material, ebook, mailing, private messages on social media networks, or attachment to email, or other document, or any oral solicitation)."
5. Amazon Content Should Not Be Used Inappropriately
You can't copy and paste the texts, titles, images, and descriptions of Amazon products on your site. However, you can use this information on your site with SiteStripe or product advertising API. But, to gain the API access, you need to have at least three sales.
Another fact that you should be very careful while using is Amazon's trademarks or other marks that might be Amazon-inspired. Amazon outlined in its agreement that-
"You will use Program Content solely in accordance with the terms of the Agreement and within the express scope of the license granted herein.

Without limiting the foregoing, you will (a) use Program Content solely to send end users and sales to an Amazon Site and will not link any Program Content to, or in conjunction with any Program Content, direct traffic to any page of a site other than an Amazon Site (however, parts of your Site that are not closely associated with the Program Content may contain links to sites other than an Amazon Site) and (b) link each use of the Program Content solely to the related Product detail page or other relevant page of an Amazon Site and not to any other page."
6. Don't Bid On Amazon Branded Terms
It's a big no when it comes to bidding on Amazon-branded terms. Though you can run paid ads, you cannot bid for them.
"You will not bid on or purchase keywords, search terms, or other identifiers, including the word "amazon," Kindle," or any other trademark of Amazon or its affiliates or variations or misspellings of any of these words.

You may purchase paid search advertisements and submit links to Search Engines to appear in response to a general Internet search query or keyword (i.e., in natural, free, organic, or unpaid search results), so long as you comply with the Agreement and those paid or unpaid search results send users to your site and not directly, or indirectly via a Redirecting Link (as defined in the Commission Income Statement), to an Amazon Site."
7. You Cannot Purchase From Your Own Link
Never make any purchase from the computer you use to run this Amazon affiliate site. Not only this, you, your family members, and other relatives also can't purchase products using your site's affiliate links.
"You will not directly or indirectly purchase any Product(s) or take a Bounty Event action through Special Links, whether for your use or for the use of any other person or entity, and you will not permit, request or encourage any of your friends, relatives, employees, contractors, or business relations to directly or indirectly purchase any Product(s) or take a Bounty Event action through Special Links, whether for their use, your use or the use of any other person or entity. "
8. Don't Mimic Amazon's Site
You can't mimic Amazon's site by using a similar design, color, and layout like Amazon. If Amazon can identify something like this, they will take it as a violation and make your associate account close.
9. Rebates Are Prohibited
You can never offer any discount, rebate, incentives, or reward on Amazon's products' links. What Amazon has to say about this-
"You will not offer any person or entity any consideration, reward, or incentive (including any money, rebate, discount, points, donation to charity or other organization, or other benefit) for using Special Links.

For example, you cannot implement any "rewards" or loyalty program that incentivizes persons or entities to visit an Amazon Site via your Special Links."
Well, Amazon has many more policies and agreements, and we've only discussed a few general rules in this guide. Before starting your Amazon affiliate journey, never forget to read out all of these regulations. Otherwise, you have to face the consequences.
Can You Reapply To Amazon Affiliate?
Actually, there are a number of reasons behind the closure of your Amazon affiliate program account. And depending on the reasons, you can appeal the closure.
As per Amazon, "if your account was closed due to the violation of customer trust risk (if you failed to respond to a request for more information), you can correct the violation and appeal by providing the information that Amazon requires in a warning response."
Again, if your account is closed for redirecting traffic from an Amazon site, Amazon will only review an appeal that provides detailed evidence that their information was incorrect in their violation analysis.
Next, once you apply to the Amazon Associates program, your account will be valid for 180 days. And you have to make a sale of at least one product in that time, or your account will be closed. In that case, after making adjustments to your site, you can reapply for the associate program again.
While appealing, make sure to do it within 5 business days of the closing. You can appeal through this Contact Us form, choosing "Closed Account Appeal" as your subject from the dropdown menu.
Note that if your account is rejected without your account being closed, you can reapply once the requirements of their program have been met. Here is the application review process of the Amazon affiliate program.
Last Thoughts
To make passive income, affiliate marketing is one of the most effective ways. And Amazon is the best affiliate program to help you in this journey.
But, you need to be careful that this is not just about creating an Amazon affiliate website, creating blogs, and starting promoting to send referrals to Amazon and earn commissions. There's many more to it, which you need to follow strictly.
Make sure not to get familiar with Amazon's Associates Operating Agreement and their Associate's Program Policies. Both will help you to stay risk-free.
Finally, we've come to an end. Hope you get the answer to can you get kicked out of Amazon affiliate program and how you can avoid getting kicked out. We have shared every possible thing in this guide, which will help you stay on the right track with Amazon.
Masum Billah Bhuiyan is an industry-leading digital marketing expert. He's working for more than 14 years in the industry who's nationally recognized as a successful internet marketer.
Latest Posts by Masum Billah Bhuiyan All Posts