Masum Billah Bhuiyan is an industry-leading digital marketing expert. He's working for more than 14 years in the industry who's nationally recognized as a successful...Read more
There are over 4.66 billion active internet users worldwide, which is 59.5 percent of the global population. With the growing digital marketing, every day new businesses are emerging online and thus competition is getting higher. Today, there are more than 1.9 billion websites on the web and still counting.
As a result, it is becoming really tough for businesses to maintain the top ranking and traffic for a long time. Here comes Monthly SEO Packages to keep your site up to date with all the latest algorithm updates and keep obtaining valuable leads by maintaining its top ranking for a more extended period.
Therefore, to help you understand the necessity of monthly SEO, we've come up with this guide about is a monthly SEO service beneficial for a client. So, to learn in detail, let's dive into this guide.
What are Monthly SEO Services?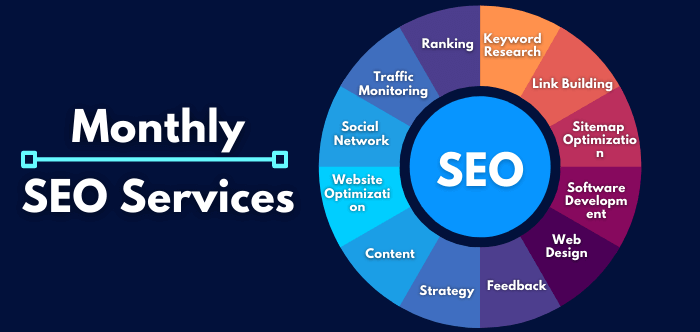 Generally, SEO agencies include several SEO packages for their clients. And monthly SEO services are one of these packages, which are ongoing month-to-month services. This package is stable and allows you to build a long-term SEO campaign.
As the name implies, a monthly SEO service needs constant work. That means someone will work for your site constantly to optimize your site. As you get more time to work on the project, you can ensure better performance and drive better results through it.
Monthly SEO facilitates the benefits of delivering long-term online objectives. From regular website maintenance and updates, content creation and optimization, backlink and citation building, and regular monitoring, monthly SEO cover everything. This way, it ensures you a higher position in search engine results pages and helps your business grow for a long time.
How to Know Do I Need Monthly SEO?
While searching for SEO services, you will find agencies offering several packages like hourly packages, one-time packages, contract services, and monthly SEO services. So, how will you know whether you require monthly SEO or one-time SEO, or anything else?
To get the answer to this question, first see the following situations and questions.
Do you have long-term goals and targets for your business?
Are you looking for a long-term campaign to boost your business?
If you want to stay up to date with the algorithm changes made by Google.
If you want to minimize or avoid errors and slip-ups.
Do you want to leverage your website's analytics more efficiently?
If you want to maintain your top ranking and stay ahead of your competitors for a longer period.
Well, if you relate to the situations and all your answers to the questions are yes, then you will definitely need monthly SEO plans for your business.
What Is Included in Monthly SEO Services?
Different agencies include different services in their monthly SEO plans. Based on the variation, the cost also differs. Therefore, before investing in any monthly SEO services, make sure to review the services and SEO monthly packages of every company.
This way, you will get an idea about what you are getting while partnering with an agency. Now, let's have a look at the services that every agency includes in their monthly SEO packages.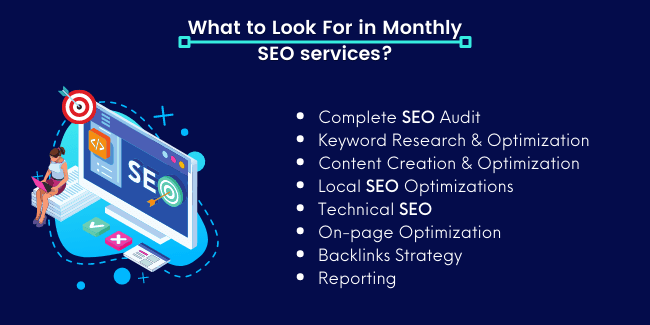 Complete SEO Audit
Maximum agencies conduct a complete SEO audit which contains keywords, website & competitor analysis, on-page SEO, backlinks, and technical SEO audit. This way, they get an overall idea about the strengths and weaknesses of businesses and plan further SEO strategies in accordance.
Keyword Research & Optimization
The next step is keyword research and selecting the best ones relevant to your niche. To reach the right leads and maximum traffic it is the most crucial part. Here, SEO agencies consider several metrics to choose the best keywords and help you integrate them into your website.
Content Creation & Optimization
Content development is an essential part of monthly SEO as it can help boost your site's ranking to get the top of the results. Thus, companies include upgrading existing content, creating new blogs, content optimization, publishing content in their monthly SEO plans.
Local SEO Optimizations
If your business provides service in a specific local area and is looking for local clients with monthly SEO service, you can optimize your site with local SEO. It will implement all the necessary changes like keyword research with local intent, creating content focusing on the local audience, local link buildings, optimizing Google my business profile, doing citations, directory submission, designing websites for local clients, etc.
Technical SEO
Technical SEO contributes a lot to helping a website perform well. When a site is technically sound, it can conveniently improve its user experience and ranking in the SERP.
The best part is monthly SEO services help to optimize your site for both mobile/desktop, make the site load faster, create an XML sitemap and robots.txt. Also, it sets up your website for webmaster search console, Google Analytics, etc.
On-page Optimization
To make your content more SEO-friendly and user-friendly, it is essential to optimize it with on-page SEO factors. For example, heading tag optimization, meta tags creation, URL structure, content optimization, image optimization, etc. And you can get all these services through monthly SEO plans.
Backlinks Strategy
Google considers quality backlinks while determining the website's ranking. Therefore, it is essential to have a strong backlink profile. Monthly SEP packages include several services in its backlink strategy like-
Blogger Outreach Links,
Google My Business Page Optimization, Social Share,
Authority Backlinks,
Web 2.0 Links,
High DA Profile Backlinks,
High-Quality DOC Share,
Infographic Backlinks,
Video Submission,
Local Directory Sub,
Social Media Account Setup, etc.
Once done with all these, your site will gain authority over time. This way, search engines, as well as users, will find your site trustworthy, and they will be more likely to connect with your site.
Reporting
The best aspect of the monthly SEO package is, you will get monthly reports of your entire site's performance. This report typically includes
Keyword Ranking Report
Google Analytics Report
Google Search Console Report
Acquired Links Report
These detailed reports help you to determine how your monthly SEO campaign works and how your site is performing on the web. Through this monthly report, it becomes really easy to find the issues and take measurable actions immediately to solve them.
Is a Monthly SEO Service Beneficial for a Client?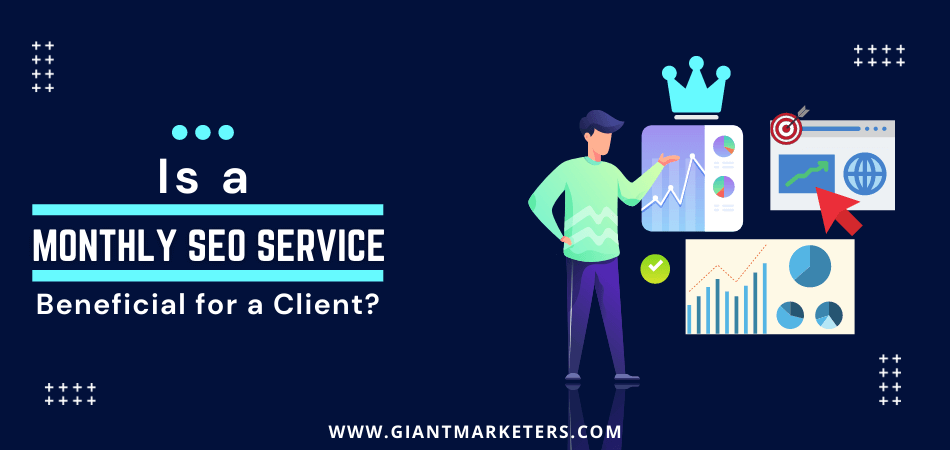 When it comes to running a successful business, one of the crucial elements is having long-term goals. And then, you need to plan and strategize how you can achieve your goals.
So, when you have long-term plans, that means you have to keep followup on them to ensure accuracy. However, improving your website visibility, search engine ranking, traffic, conversions, and sales is no different. To ensure having all these for your business, you need to do what it takes.
In this manner, achieving your long-term online goals and growing your web presence requires a monthly SEO service. After a few months of SEO implementation when the visibility of your site continues to increase, monthly SEO is still needed. Still confused? Let's break down why is a monthly SEO service beneficial for a client.
It provides ongoing monthly traffic & CPL reporting.
Monitor competitors' website changes on a monthly basis.
Helps to analyze your leads to project the number of leads that competitors receive each month
Ensures progressive monthly optimization
Handles every change required immediately to keep the site up to date.
With monthly SEO, you will get to discover the latest trending keywords, which your potential customers are using while conducting a search.
It makes sure to update your website with the latest and new keywords and phrases.
It is actually a challenging job to master SEO with its ever-changing algorithms and tactics. For people who can't manage to keep pace with all these changes, their business doesn't take much time to fall from the search.
In that case, only monthly SEO services can help you to access all the latest SEO tactics, strategies, algorithm changes, keep up with the competition, and make your business able to outshine them.
Now, let's see why monthly SEO is a better option than the other plan, like one-time SEO campaigns.
With one-time SEO plans, you need to pay a fixed amount for one-time and allow running SEO optimization for a set amount of time. This is a quick and easy fix strategy, which Google never appreciates. Also, the main drawback of this campaign is before you start seeing your desired result, time runs out.
Therefore, to get the most out of your SEO campaign, you should stick to the monthly SEO plans. It works best in long-term situations and ensures driving an effective campaign to get the most out of your budget.
How Do You Do Monthly SEO?
With a monthly SEO plan, you can create and implement an efficient SEO strategy for your business. Here are a few glimpses of how to do it.
Take time to research keywords related to your industry.
List the ideas in the blog post that will help to utilize your targeted keywords.
Identify blog posts that can be updated.
Identify other SEO opportunities to get the best use of them.
Start building and optimizing content and make them published.
Follow a proper link-building strategy.
Track progress at the end of each month.
Grow Your Business With Monthly SEO Packages
SEO can actively ensure your site to be found on search engine result pages for relevant search queries. In that case, by investing in monthly SEO services, you can ensure your business's top ranking for a longer time. And when we are saying longer, we actually mean it.
With the long-time top-ranking and visibility in the search engine your brand value will improve, the customer will find you as an authentic business; thus your traffic, conversion, as well as sales will also increase.
We hope, now you don't have any confusion about is a monthly SEO service beneficial for a client or not. With this investment, you are building an asset that will bring ROI to your business for years.
So, leave a comment below and let us know whether you find this guide useful. Also, you can ask us any questions regarding this guide.
Masum Billah Bhuiyan is an industry-leading digital marketing expert. He's working for more than 14 years in the industry who's nationally recognized as a successful internet marketer.
Latest Posts by Masum Billah Bhuiyan All Posts