Giant Marketers is one of the fastest-growing and leading digital marketing company in Bangladesh. Its primary goal is to help clients to grow big with...Read more
We all know SEO's importance for digital marketing success, and local SEO is a crucial part of these successful search optimization strategies. Almost 50% of local customers do a local online search and then decide to visit a store within a day.
So, if you have a local store or business with a local customer base, you'll definitely optimize your business for local SEO. But, what is local SEO or what local SEO includes, or how does it help your business?
In this post, we'll discuss everything and help you to learn more about local SEO. So, stay tuned to know local SEO in detail.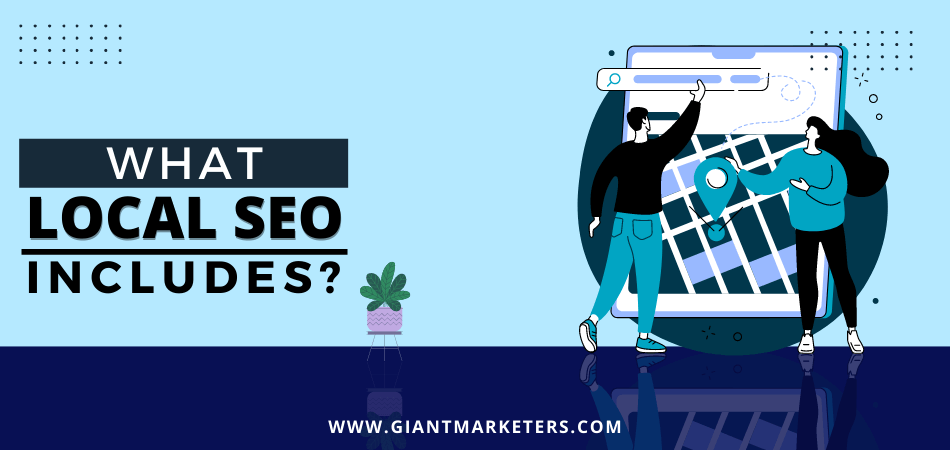 What Is Local SEO?
Local SEO is an essential branch of SEO that aims to optimize websites to be found for local search results. Now, what is a local search, and how it looks like? Let's find it from some examples-
Plumbers near me
Coffee shop near me
Lawyers in [city name]
Doctors in [city name]
Nail salon open now
So, here are examples of some local search queries. When you search with such terms, you'll get three types of results, like-
Paid ads
Local Pack — Google My Business (GMB)
Organic Search Results — The website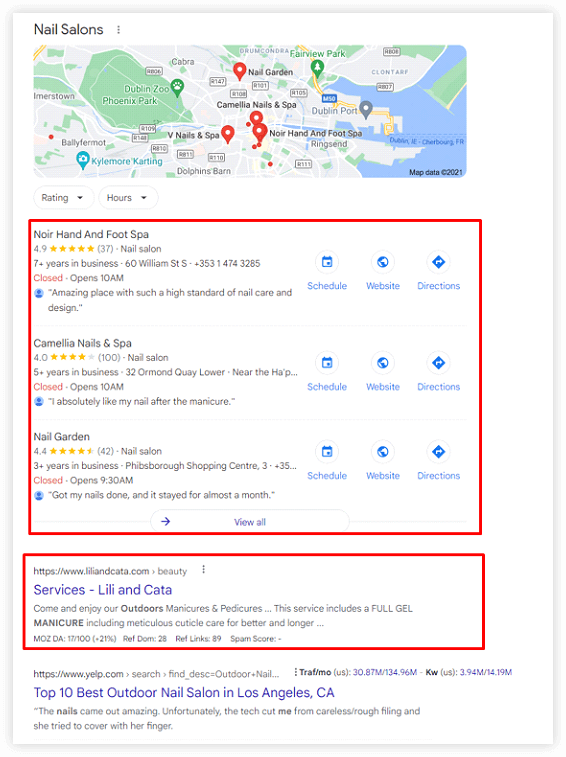 Basically, it is a strategic process that helps optimize your business, product, or service for location-specific search queries. With the local SEO, you can optimize your site for your specific city and address, and thus, help people find you online and reach offline to get services or products.
For example, when a user searches for a plumber, dentist, locksmith, or car wash, search engines will display local businesses near to the user's location by using the custom's location-based IP address or geolocation. This way, users can easily find businesses to purchase products or get services from their locality really easily.
What Matters for Local SEO?
It doesn't matter whether you are a lawyer, dentist, plumber, real estate agent, contractor, or any other local business; it's essential to understand what matters for local SEO while building a strategy. Otherwise, all your local SEO effort will be wasted.
Well, there are three major factors that matter for local SEO success, and Google prioritizes these while considering top ranking. So, let's have a look at these three factors which influence the local search results most-
Proximity:
Proximity refers to the distance between your business location and the searcher's location. Google tends to show results for each search that is closest to the user's location. So, if you also want your business to appear in Google's search results for relevant local searches in your area, you need to optimize your Google My Business profile.
Relevance:
Relevancy is one of the main factors that Google considers while showing search results. Your business relevancy solely depends on the search query, the products, and the services you offer. Therefore, it is essential to do accurate local keyword research so that you can target the most optimum and relevant search queries for your business and create content around them.
Prominence:
This factor focuses on how well-known your business is across the web. Google identifies this considering the custom reviews, ratings, inbound links, social signals, user engagement, and the overall domain and website authority.
As your business position in local search results depends on your local SEO strategies, you must consider these three factors when creating your strategy. This way, you can optimize your local SEO plan better and drive more organic traffic to your site.
Why Is Local SEO Important?
Simply put, local SEO helps businesses stand ahead of competitors for local searches by improving business exposure and driving more organic traffic, conversions, sales, and revenues. But how?
Let's find out through some statistics.
Almost 46% of users search in google with local intent, and 1 in 3 mobile searches were conducted just before arriving at a store.
50% of mobile searchers and 34% of desktop searchers who did local searches take service from a physical store within 24 hours.
18% of local searches done through mobile devices lead to a sale within one day.
71% of people say they search for a business location to make sure it exists before they go there for the first time.
12% of consumers look for local businesses online every day.
These imply that local businesses have huge opportunities to reach all these consumers and provide services to them. But, to make the most out of all these opportunities, you need to implement local SEO.
You can do this on your own, or if you have no experience and time, you can hire a local SEO services company to help you create a local SEO campaign that will drive more traffic and sales. So, once you are done with the local SEO, you'll see the following benefits for your business.
Increased Visibility and Ranking
93% of the time, Google's Local Pack appears in the search results with localized intent. So, if done perfectly, your business also has a good chance of getting this ranking position.
Also, local SEO will help you in researching local-intent keywords, creating content around them, building citations in directories, doing local link building, and all other local optimization. This way, your site will rank organically with all the relevant keywords in the SERP.
More Qualifies Search Traffic, Conversions, and Sales
Generally, local searchers come in with higher buying intent. For example, to find a local business, almost 86% of people solely rely on the internet. In contrast, 29% of customers search for local products and services at least once a week. All these customers have higher buying intent, and typically they make up their minds to buy something.
That implies the traffic you get after doing local SEO is potential ones who are interested in engaging, buying products, and taking services from your business. As a result, your business has a high chance of getting positive outcomes which will dramatically increase conversion rates and sales of your business.
Boost Local Authority
When your business is listed in your specific local directory and all the necessary areas of the web, it inspires the searcher's confidence that your business is established, credible, and trustworthy.
Also, through high-quality local backlinking, your site will be considered an authentic site. This way, other relevant businesses will find your business to get linked. Also, you will get more and more traffic from other sites, and they will feel confident about getting your services.
What Local SEO Includes?
According to a study by BrightLocal, the following elements are the local ranking factors-
On-page (34%)
Links (31%)
Behavioral (11%)
Citations (7%)
Personalization (6%)
GBP – Google Business Profile (6%)
Personalization (4%)
Reviews (5%)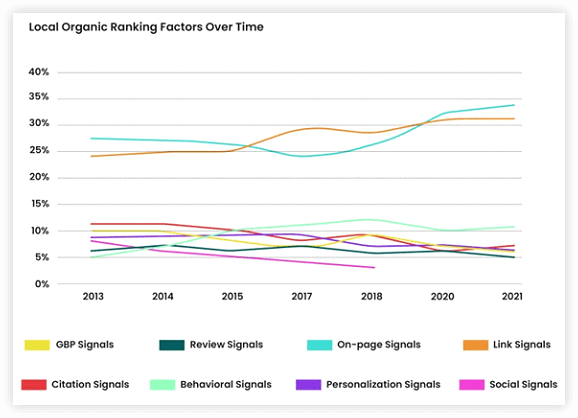 As you can see, local SEO is not that different from organic SEO. It includes almost the same signals as organic SEO with just a local focus. When it comes to local SEO, all the elements have a local focus that aims at searches performing in the same area of the businesses. So, let's see what local SEO includes-
1. Creating a Google My Business Account
For local and Google Maps ranking, optimizing your Google listing with Google My Business is a must. That's the main reason local SEO includes creating a GMB account to make a business profile. It helps your business to appear in Google Search local results, the Google Search Knowledge Panel, and Google Maps once creating the profile accurately.
2. Design Your Website with Local-Focus
A site focusing on the local audience's intent helps significantly make your local campaign successful. That's why local SEO helps to create a dedicated web page for each product/service you offer, use location pages, a location-specific "about us" page, and a dedicated contact us page.
3. Keyword Research
To target the right local audience, performing accurate keyword research focusing on local intent is a must. For example, if you are running a service-oriented business, you need to target terms, including questions. On the other side, if you have a restaurant, law firm, or clinic, you should try to find keywords that have a conversational tone and focus.
To help you in this process, you can use tools like-
SEMrush's topic research tool,
Keyword.io, and
AnswerThePublic
Using tools is an excellent way to target potential keywords with local intent. While performing keyword research for your business, make sure to consider metrics like higher search volume, lower competition, long-tail keywords, etc.
4. Content Creation
When it comes to a successful local SEO effort, content with a local focus has significant importance. But just writing long-form content won't be enough to produce the best results. Depending on your niche or industry, your content should have the presence of NAP, keywords in titles, links with high domain authority, on-page optimization, etc.
Local SEO focuses on creating the best quality and custom local content keeping user intent in mind; which ultimately results in the top ranking for local search results.
5. Local SEO Links
Link building helps to increase your website's link authority for local searches. When it comes to doing local SEO link building, you must consider Google's webmaster guidelines. Local SEO link building is a bit different from organic SEO.
Here, you'll find several categories for linking which helps to achieve a quality local SEO link profile. For example,
Citation / NAP sites: These are the NAP-focused local sites where you submit your business site, in order to improve your local search presence.
Local directory websites: Next, local SEO focuses on local directories like yext, yelp, Hotfrog Avvo, yellow pages, white pages, and all other industry-specific directories for link building.
Industry-related local sites: To increase the value of your local link profile, local SEO links your site with industry-related local sites like schools, universities, government associations, etc.
Local partner sites: These sites are usually local partners of your specific business. Google always prohibits excess link exchanges that can manipulate page rank, but it's not bad to list your business partners' support locally to get links.
The local chamber of commerce sites: Local SEO also helps your site by getting listed on your local chamber of commerce websites, local business associations, and community hubs.
Local newspaper sites: Another best option that offers link opportunities to help add authority and uniqueness for your site is local Newspaper sites. And through local SEO), you can make the most out of it.
6. Optimize for Mobile Users
As maximum local customers are mobile users, it is essential to optimize your site so that, whenever your customers search with relevant queries your site appears in front of them. And local SEO does exactly the same for your site.
7. Review Signals
Review and social signals play an important role in local SEO. Reviews imply the trust of customers in your business, and the review signal factors include review quantity, review velocity, review diversity, etc.
How to Improve Local SEO?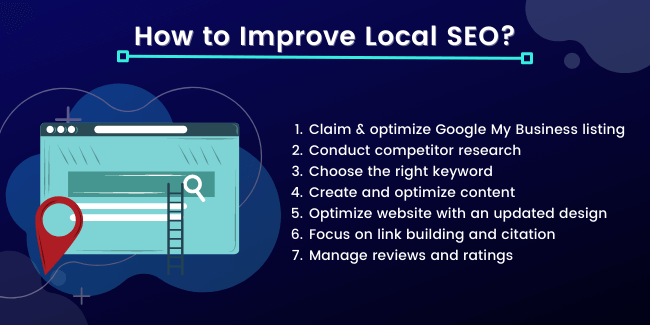 Now that you know what local SEO is, what it includes and how does local SEO work, let's find out how to imp[rove local SEO for your business. The following six steps will help you to optimize your site to improve your local presence.
The first and most crucial step is to claim and optimize your Google My Business listing, including your consistent business NAP, website link, photos, detailed introduction, working hours, etc.
Conduct competitor research in local search results, and find out what you should follow and what you can offer your clients better.
Choose the right keyword and only those which are locally focused. Apart from this, focus on long-tail keywords with low competition and decent search volume.
Create and optimize content considering local intent, which means you should localize your site content. To do so, you should include the name of your city, country, and region throughout your site.
Optimize your website with an updated design, improve site loading, make it mobile-friendly, keep the navigation simple, and keep separate pages for each of your locations and services.
Focus on link building and citation within relevant, high-quality, and authority local sites and directories.
Manage reviews and ratings by encouraging your customers to give reviews, and you must reply to them honestly, even for the negative reviews.
Last Thoughts
Finally, we've come to the end of this guide. We hope now you got what local SEO includes and all the other necessary factors.
Just remember that 46% of all Google searches are local, and all these searchers are highly motivated to purchase products from you. With local SEO, you can successfully establish and maintain a local SEO strategy to reach these customers and make your business grow in the local market.
So, have you implemented local SEO for your business? Tell us in the comments below. Also, don't forget to share your thoughts and queries with us.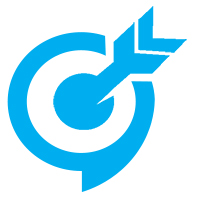 Giant Marketers is one of the fastest-growing and leading digital marketing company in Bangladesh. Its primary goal is to help clients to grow big with result-driven strategies and 10+ years of experience in the industry