Giant Marketers is one of the fastest-growing and leading digital marketing company in Bangladesh. Its primary goal is to help clients to grow big with...Read more
Being able to reach out to potential clients is the main key to success for local agencies especially when it comes to local law agencies. Therefore, optimizing the business for local search has become more significant than before.
But the reality is, most law firms focus on SMM because they actually don't know how local SEO can be a big factor for their business. In recent days, about 60% of Google Visits come from mobile devices and above that 96% of people seek legal advice using search engines.
This digital revolution has made the legal industry highly competitive online. Thus, focusing on local SEO implementation is the biggest opportunity for a law firm to find their prospective clients and do business. So, if you own a local law firm or attorney and want to ensure the top position in the SERP for local searches, then stay with this guide.
This is a complete local SEO guide for law attorneys and law firms that will help you to get started with your local SEO.
Local‌ ‌SEO‌ ‌Strategy‌ ‌for‌ ‌Law Attorney and Law Firm
As the world moves toward online, professionals like lawyers are discovering that their potential clients are searching for services online instead of walking through their doors. Now, local users prioritize online reviews, ratings, and rankings more than other things while choosing the best law firm.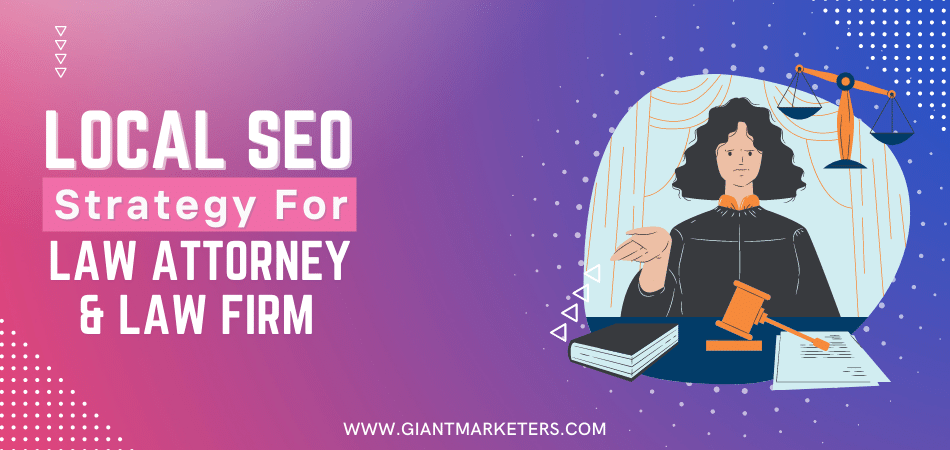 After researching law firms' websites, what I've found is that law firms who haven't optimized their sites for local search are far behind those who have. That's why below I've outlined the main local SEO strategies for law attorneys and law firms. So, without any further delay, have a look at these best practices.
Keyword Research
Local SEO starts from researching geographically related keywords that local users search while looking for any legal services. The fact is finding appropriate keywords is essential to rank well in the organic results for local searches.
If your site doesn't show up when people search for legal services in your location, you are losing out on a lot of potential clients. Therefore, you must keep in mind geography while researching keywords for your local law firm. So, make a list of your services and start searching keywords for each of your services.
For example, if you provide child custody and support services in California, you may use keywords like "child support enforcement and dcss in California."
Similarly, these are some other local keywords that you may use for your specific services- "legal separation from husband," "family law mediation services near me," "business litigation and dispute resolution services," "notarial services attorney lawyers council in my city," etc.
Then you have to understand the keyword intents. Usually, for law firms, the keyword intents are divided into three sections. These are-
Commercial Intent: Here, the customer searches with the intention of hiring an agency or taking a specific service from a law firm. For example, legal services in california or family court mediation.
Research Intent: People generally search with research intent keywords when they need some information about any specific subject. For law firms, the research intent keywords are like – "how much does family law mediation cost," or "can I sue an insurance company."
Localized Intent: Local intent keywords are those terms that users use when searching for businesses near them or mentioning the location. For example, "California legal service," or "law firm near me."
Now that you know how the local search terms look and their types, it's time to learn how to select particular keywords for your business.
As I said near the beginning of this post, the keywords should be relevant to the legal service you provide.
Go for the low-competitive, long tail, and keywords with a decent search volume. In general, 70% of audiences search with long-tail keywords.
Consider if you are providing state-wise services or local services to find the best-suited keywords.
Let's get a clear idea from the below image. Suppose your law firm is in California, and you wanted to rank for your local searches. Now, from the below keywords which ones you'll choose for your keyword list?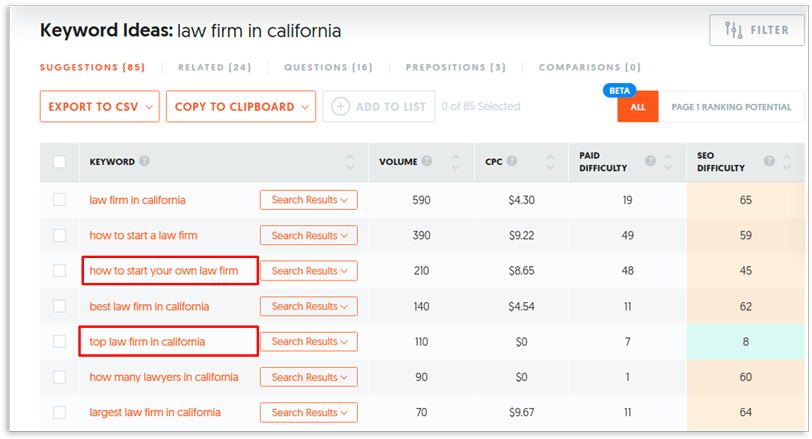 In my opinion, among all these "how to start your own law firm" and "top law firm in california," these two are better. As these two have lower difficulty, long-tail plus decent volumes of monthly search.
Again if you search with "top law firm in california," you'll get many more other related keyword suggestions. See the image to understand what I'm talking about-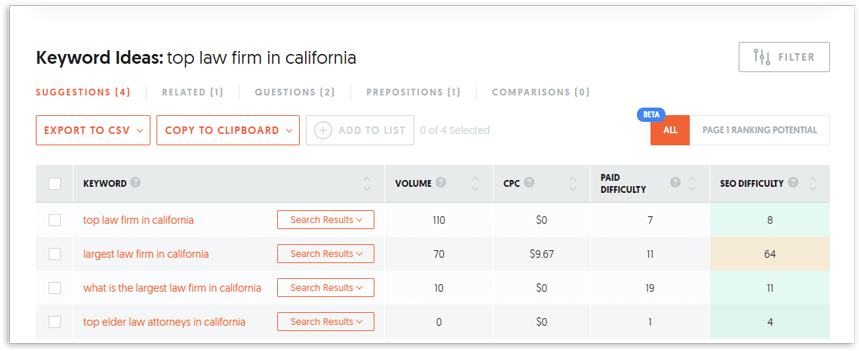 So, this is the actual process of doing keyword research and picking the best suitable ones for your law firm. To make your keyword research much easier, you can use keyword research tools. There are plenty of tools to choose from. I'm sharing a few of them-
Competition Analysis
In order to take your law firm apart and establish an edge over your competitors, competitive analysis is a must. To stay ahead of your competitors, you need to understand what they are offering. In short, it is strategic research that will help you to collect, analyze, and review information about your competing law firms.
By uncovering your competitor's common practices and strategies, you can figure out their strengths as well as their weaknesses. Besides that, you can also identify where your business is falling behind and use this opportunity to make your business better.
However, when you figure out the missing components of your competitors, you can utilize this chance to take that advantage and offer something better to your customers.
Now, let's see the best ways in which you can begin your competitive analysis.
1. Identify Your Top Competitors:
In order to start conducting competitive analysis, first, you have to identify your true competitors. So, start searching for those competitors who are doing well for your related services in your area's local searches. But how?
Well, take the list of your keywords that you have researched before and start searching for each of them. In this way, you'll get the real competitors for your specific service areas. Once finding your true competitors, make a list of them, and move forward to the next stage which is analyzing their keywords.
2. Analyze Their Keywords:
To conduct a proper keyword analysis, at first, you need to know what tools to use. Well, I'll make it easier for you; here are some best tools that will help you to sort out the keywords your competitors are ranking for.
Now you know what tools to use, but do you know exactly what to look for in your competitor's keywords?
Here's the list that you should consider while analyzing and sorting out the keywords from your competitor.
Find out those uniquely valuable keywords that your competitors targeted, but you didn't.
Make sure to look for their SERP position and figure out which keywords bring more ROI to your competitor's business.
Also, do an analysis for the page keywords gap. This way, you can find out which pages of your competitor's site have been ranked for which keywords.
Apart from all these, be sure to keep in mind all the keyword research tactics that I discussed above in the keyword research section.
3. Check the On-Page Factors:
When it comes to analyzing the on-page factors, you should look out for the top-ranking sites of your competitors. Let's say your law firm is in california, so search with the term "law firm in california" and analyze the top 6 to 10 pages related to your services.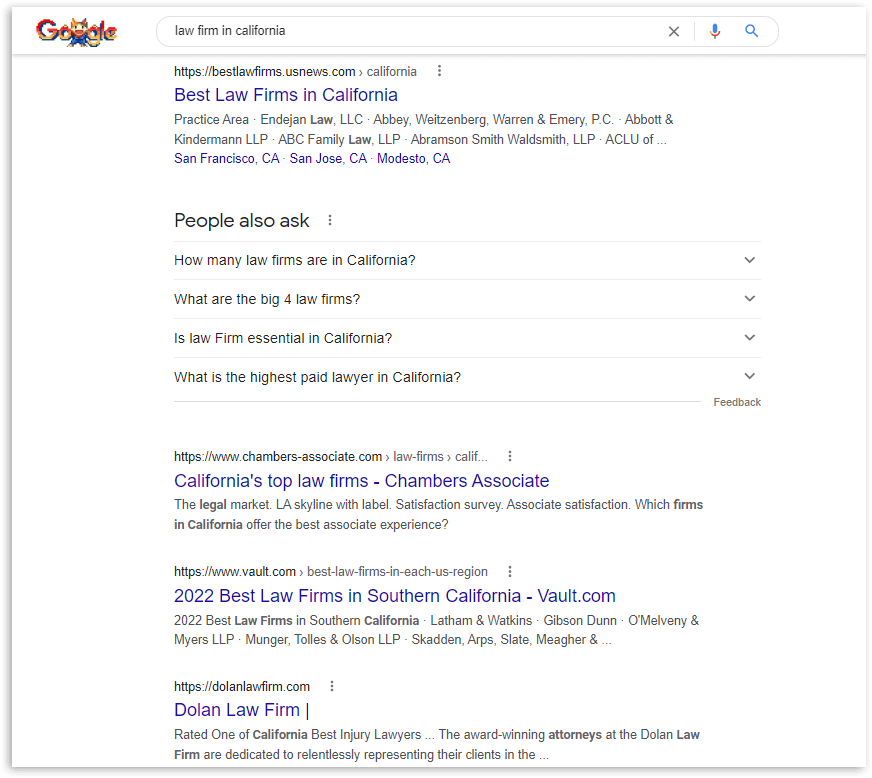 Also, when you search with your service-related terms on the above-mentioned keyword research tools, they will show your competitor's content.
So, let's move to what exactly you should analyze in your competitor's site-
Content strategy, content quality, and content gaps.
How many words are on any particular page?
Identify the content topics and most linked content,
How many times did they mention the keywords on that page?
Call to action and engaging facts of their content.
Examine their page structure.
Find which other sites link to them, their URLs, breadcrumbs, anchor text, etc.
4. Backlink Analysis:
Still, backlinks are one of the top-ranking factors, and doing backlink analysis of your competitors' sites can actually work for your site improvements. By doing so, you can see whether there are opportunities to get links from sites that you haven't yet. For analyzing your competitor's backlinks, you'll find a range of tools like-
However, while analyzing the backlinks, you should remember to consider quality over quantity. The more quality backlinks your site will have, the more Google will determine it as an authority site. But how do you find such links? To know this, see the following steps.
Look for your niche-based link sources.
The backlink source should come with high DA (Domain Authority).
Your backlinks should be in content and contextually relevant to anchor text.
Locally relevant websites like local newspapers are great sources.
Consider backlinks with both do-follow and no-follow.
Try to find backlinks that are important for both your page level and domain level.
5. Technical Factors:
If you really want to win against your competitors, you must analyze all their technical aspects. If your site is not technically sound, or user-friendly, you'll lose tons of opportunities for sure. On the other side, your competitors will grab all of these opportunities, make the best use of them, and stay ahead of you.
So, when it comes to technical factors, what I actually mean is how SEO-friendly, user-friendly, and attractive your site is. When you see that your site lags behind your competitors, then you must compare your site's technical factors with your competitor's site. Here's what you should look for-
Visit your competitor's site manually from your mobile phone and see how much time it takes to load.
Is it mobile-friendly?
Is the site easy to navigate?
Is your competitor's site optimized with robots.txt file and XML sitemaps?
Look out if they use schema markup or not.
If your competitors have any broken pages or dead content pages, you can take advantage of them. Choose the same topic, create better content, optimize properly and publish.
The best part is, to do these analyses, you'll also find some great tools. These are-
Site Architecture
Once the keyword research and competitor analysis are done, let's move on to developing your site structure. Actually, a site structure refers to how well-organized and well-optimized your site is. Creating an ideal architecture helps your site layout offer the best UX.
People can navigate around your site easily, using the logical flow of links and buttons. In fact, an easy-to-navigate site lets Google's web crawler crawl and index your pages easily and quickly without facing any hard times.
Now, let's look at how law firm websites should structure themselves for maximum UX and UI.
1. Plan the Hierarchy:
When it comes to law firm sites, the site hierarchy should be logically organized and structured. Plan out the pages you want to add along with the menus and submenus, and make sure all the pages are related to your service and imply your firm. There is no need for putting so many pages unnecessarily, as it will make the users confused. Keep it simple and concise.
2. Website Navigation:
There are a few major aspects of a law firm that should be presented in your website's main navigation bar. So, focus on optimizing your sites' two main navigation bars. These are the header navigation bar and footer navigation bar.
As a legal firm, you must organize the header menus in a top-down way. Your services or practice areas menu should drop down with the sub-menus showing the specialties. For example, The LA Law Firm organized all the services related to injuries, attorneys, and accidents as sub-navigation.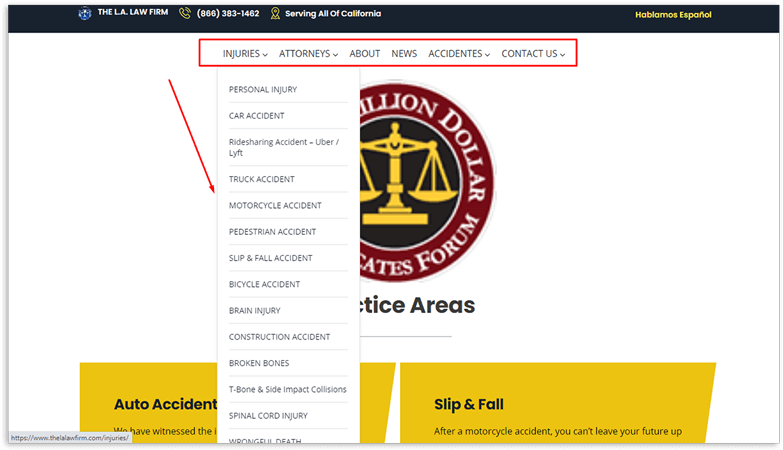 Keep the home and practice or service pages first then you can put the blogs, About Us, Contact Us, Resources, Fees, one after another.
In your footer navigation menu, you can include your locations, address, contact info, appointment times, social media buttons, and directions. See the below image from the Law Office of Michael T. Smith & Associates to get an idea about how to optimize your law firm's footer menus.

3. Internal Link Structure:
Internal linking structure is vital for every website. The pages you link from your homepage navigation bars should be easily crawlable. Small blocks or sub-menus can briefly describe your service area as you can't load up your homepage with all your written content. Therefore, you can link to them using specific keywords.
Home Page Content Strategy
It's obvious that law firms are service-based organizations. But instead of focusing on hundreds of service pages, your site should also feature a well-optimized home page. Remember, every site's homepage, especially law firms, needs to convey a great deal of information all at once.
Your homepage is the first logical place to convince customers that you are the right one they are looking for. Therefore, include every single detail about your law firms, show your services, excellence, how much your previous clients trust your services, etc.
Also, make sure the links and buttons should be guided naturally from your home page, and they should be concise and clear in their layout. Let's find out how you do it from the following steps.
Use competitive legal keywords with commercial and localized intent. These terms help people who are on their way to employ any specific service of a lawyer.
Add some related images and videos that can better reflect your law firm and practices.
Keep in mind that colors also matter for websites. And when it comes to law firms, it should convey auras of professionalism. Avoid bold colors; white, light gold, charcoals, black, and light blue are optimal for law firm sites.
Ensure keeping Contact Us form or free case evaluation form and caller button.
Add all your practice areas with small descriptions.
Share your law firm history and some more information about your firm.
Introduce your attorney along with their profiles.
Explain the reasons why people should choose your law firm.
Add customer reviews and testimonials.
You can also provide some resources and FAQs related to your services.
Last but not the list show your expertise by adding all your "Honors and Recognitions."
Practice Area Pages
I saw several law firms making a mistake by listing all their practice areas on their homepage and leaving them like that. However, it's not a good idea; you should have separate dedicated practice area pages on your site.
In general, practice area pages offers two main benefits, and these are-
Offers your visitors more information about each practice area.
Helps to increase visibility and rank your web pages of relevant searches.
Let's say you are a public entity defense lawyer. So, when you provide all the information for defending public entities in all forms of civil litigation on your public entry defense page, visitors will have a better understanding of the services you are offering. In that way, making a decision whether to contact your law firm or not will become easier for them.
On the other side, a well-optimized service page will rank higher for specific services. So, when people search for "public entry defense" or "public entry defense lawyer," they'll get your page. Here's how to optimize your practice area pages-
All the pages should be keyword-specific related to your provided services.
You can also use geo-modifier keywords that people use to search for your services.
Include a clear call to action on each of your service pages; this will make it seamless to contact you online.
Highly focus on all on-page content factors for each service page.
The information you are going to provide on your service pages should be 100% accurate, high quality, unique, and most importantly well-researched.
Also, you can write how your firm manages clients relations and deals with difficult situations.
Contact Us Page
Almost 57% of consumers look for a lawyer on their own and search for services online. This implies that when your potential client naturally finds your site for their particular service, they'll be more likely to contact you. Here, the contact us page comes into play for your site to lead drives.
You can optimize your Contact form in different ways. See how DeMaria Law Firm uses its contact buttons on the home page. Not only the home page, but you can also add them on your site's every page. This helps to generate the maximum number of queries; also, the audience can get in touch with you more easily.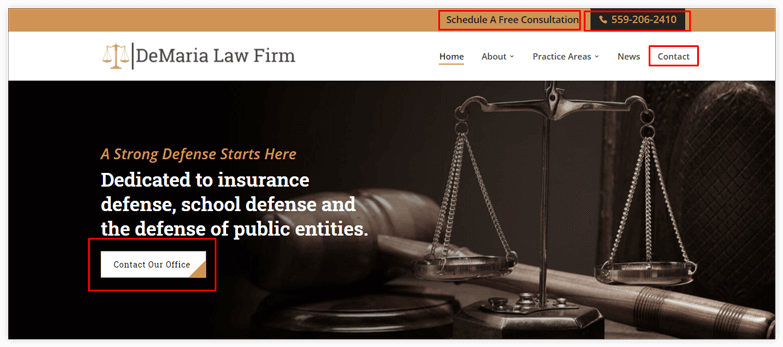 Now, let's talk about the dedicated Contact Us page, which is the most crucial page for every website owner. So, here's how to optimize your Contact Us page.
Add all the locations, including the contact numbers, email addresses, and location maps.
If you offer free consultation, you can highlight that and add your phone number on every site page.
When adding your business mobile number, make sure to optimize it for mobile users. So that they can make a call directly from that number button.
Add a specific contact form to book an appointment.
Location Page
For a single location law firm, creating a location-specific and locally descriptive About Us page will be enough. Or, you can also create a separate page. But, if you provide services from multiple locations, make sure to create a location landing page. It's a great way to use geo-targeted keywords. Now, let's find out how to optimize your law firm's location landing page.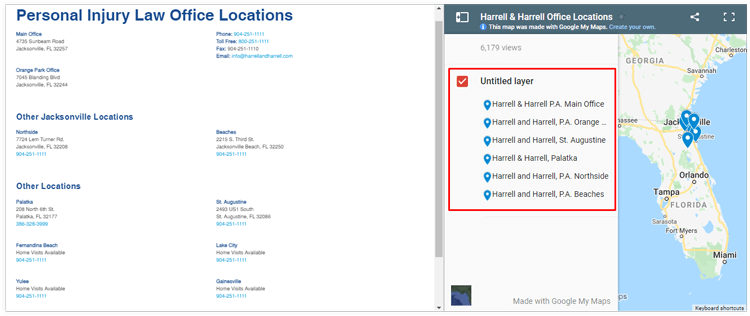 The Location page should clearly indicate the city/state of your office's every location, along with the contact information like mobile no and email.
Make sure to include your service hours.
After that, link each location to individual location pages and create specific content for each location.
Suppose you are a personal injury law firm in California. In that case, your landing page should be optimized with keywords like "california car accident lawyer," brain injury attorney california," or personal injury lawyer in california."
Add testimonials of each location client's on each location-specific content page.
If you have a separate office in every location, you can also add the front side image to add more value.
Lastly, you must add Google maps of your office locations.
Website Design and Development
A website with an SEO-friendly and well-optimized design is vital for every website to ensure optimum user experience and reach more potential customers. The design of your law firm's website is the first thing that influences people's minds about your business.
Ensuring a better UX is significant to keep the users on your site long enough to lead them into becoming your potential clients. The site should be presented in a way that makes sense and easy for the users to get the information appropriately they need. It should be well-organized, including clear and conscious layouts.
Apart from that, you should also focus on your site's development factors. Now, people don't have enough time to waste their time on a slow or insecure site. Remember, they will immediately leave your page if it's not secure enough and has a slow loading speed. So, here's how to ensure a  perfect design for your site.
1. Templates
You'll find several templates for your law firm site to choose from. But, while selecting one, make sure it should be ideal or suitable for your business. It should be professional, easy to navigate, simple, and come with a standard design and blonde color.
2. Logo and Brand Name Brand Color
When it comes to website design, branding is one of the core factors that you should focus on. Usually, branding includes your Brand name and logo, which helps to build brand recognition. You should always use your legal practice or law firm's name on your attorney's website so that customers will immediately recognize you.
But, you have to ensure that your website design blends well with your brand name logo and color. The logo and brand name should be prominently displayed on all pages of your site.
3. Brand Color
It's hard to keep a balanced look when there are so many things to display on a site. To minimize the hassle, you can tie the entire website's components together using your brand color. So, you can use the brand color as a background, apply it on the CTA buttons, or separate content blocks. But, keep in mind to provide sufficient contrast between background and text.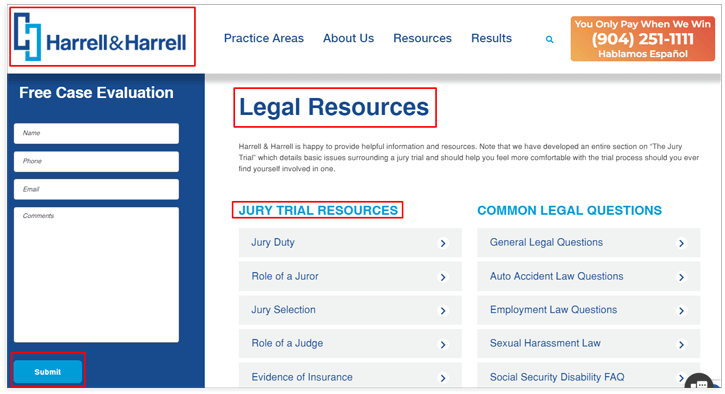 This image may clear all things that I explained in the above sections. See how Harrell & Harrell uses the logo and brand name colors throughout their website's all the boxes, blocks, and buttons.
Blog Section Strategy
You really don't need to get too fancy to present your content for your law firm site. Users will visit your site to get help with their legal troubles. So, you should focus on rewarding them with the best possible solution and making it clear that you are there for them.
Having a blog section is essential for any law firm's local SEO strategy. Essentially, you should target the research-based keywords for your blog section. As people will generally read your blogs to learn something or get any necessary information.
For example, blog posts like, "what do I do if I get arrested in california," "how to file for legal separation," "what are the most common OSHA violations," or "how to file for legal separation in california" can work well to attract prospective clients in your local area.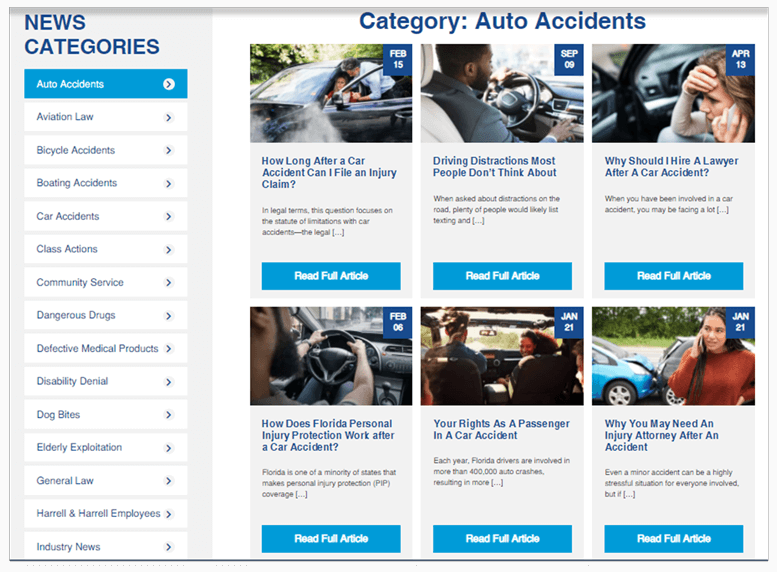 Apart from that, you can categorize the subjects you want to cover and then create content using the most researched-based keywords. Now, it's time to know how to optimize your blog posts for your local audiences.
Once finding the keywords to target, start writing informative content.
In order to rank for your target keywords, use them throughout the content naturally.
Link other relevant pages of your site internally in your blog post.
You should also link other authority sites that are relevant to your content topic and provide additional in-depth knowledge to the readers. This will also help you to increase your site's authority signals to search engines.
Technical SEO
Technical SEO is the process of optimizing your site for easy crawling and indexing to achieve higher search rankings. Simply put, technical SEO involves improving all the technical aspects of your site so that your local law firm site can get an instant boost on the SERP.
To ensure top ranking, you should audit your site frequently to identify technical issues and suggestions. So, to perform the audit, you can sign up for Google Search Console. Now, let's move on to the basic technical factors that you should focus on optimizing for your site.
1. Loading Speed
Multiple studies found that site speed affects conversion rates the most. Statistics show that 47% of consumers expect a web page to load in 2 seconds or less. Even a 1-second delay in page response can result in a 7% reduction in conversions. Now, you may understand how essential it is for your site to load faster.
To avoid increasing bounce rates and drop in conversion rate, check your site speed on Google's Page Speed Insights Tool. This tool will analyze your site speed and then generate suggestions to make your site faster.
2. Mobile-Friendly
About 60% of Google visits come from mobile devices. This implies maximum people use mobile phones or tablets to search for local services. In that case, if your site isn't optimized well for mobile users, they won't spend their time on your site. As per research, 73% of mobile users say that they've encountered a website that was too slow to load.
As a law firm website owner, you'll definitely want to optimize your site for mobile users so that your prospective clients can stay engaged with your site and navigate easily. So, create a mobile-friendly version of your site, keeping the text clear and distinct for the small device users. The images should load faster, keep the CTA buttons straightforward and clickable.
Here is an example of how your site should look while browsing it on mobile devices. It should be compatible or fit enough any size of the device.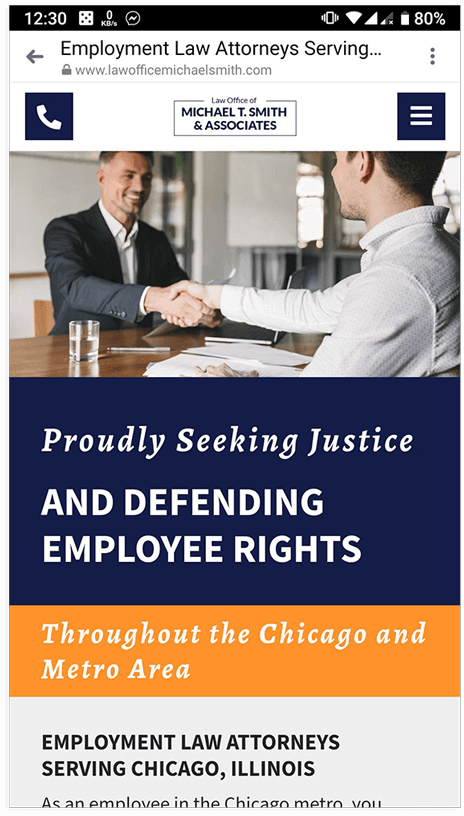 3. Robots.txt File
Sometimes, some pages of your site get missing from the SERP because of indexation issues. This issue occurs if you unintentionally or mistakenly block pages from search engine crawling. You can find out this issue by searching on Google with the term "site:yourdomain.com." After that, you can see the number of results of your site.
If you see fewer pages or identify missing pages, then you should optimize your robots.txt file. While examining the robots.txt file, look for "disallow" and make sure none of your relevant pages are being disallowed in the robots.txt file.
4. XML Sitemap
Sitemaps are necessary to crawl and index your site for Google. Without an XML sitemap, Google won't be able to find and index your site, so your page won't appear in the SERP when users search for related services. Thus, make sure to create XML sitemaps of your site using  Yoast or Google XML Sitemaps. After creating it, submit it on  Google Webmaster Central.
5. Security
If you still didn't migrate your site from HTTP to HTTPS, you're making a big mistake. This internet communication protocol helps to protect the confidentiality and integrity of data between you and your user's computer. So, make sure to migrate your site to HTTPS to make your site more secure for the users and you as well.
Then install an SSL certificate to encrypt all the communication of you and your client's browser. If you make online transactions, then you can use an AVS like  Melissa, Loqate, Square to add additional security for the checkout process.
6. Add Schema Markup
Using schema markup, also known as schema.org markup, you can boost your website's visibility in the SERPs. It's a powerful tool that involves putting code on your website to help search engine bots pick more information about your site relevant to users.
So, make sure to use schema markup on your site to provide more information about your law firm to your visitors. It's a great way to attract qualified leads to your website. Here are some schema generator tools that can help you- Hall Analysis schema markup generator, Google Structured Data Markup Helper, Microdata Generator.com, etc.
These are some other factors that you should keep in mind while optimizing your site for technical aspects.
Optimize the internal and external links,
Use canonical URLs to avoid duplicate content issues,
Check and fix broken links on your site,
Find and minimize the number of 301 redirects for your site.
Verify GMB Listing
If you ever searched on Google for any local business, you may have seen the top results showing several nearby businesses along with their address, contact no, website, direction, images, reviews, and ratings. Probably, these are the first sites that potential customers will contact. These top results with data are optimized with the Google My Business tool.
Essentially, Google My business is an online directory that will allow you to create your business profile and submit it to rank in Google Maps. The best part is getting started with Google My Business is absolutely free. It's the best way to improve your local online presence and drive more traffic to your law firm's website.
So, let's see how you can optimize your business profile or list on Google My Business.
Start with entering your business name and choosing the business category.
Then put your business location and service areas.
Add your business phone number and business website URL to include in your business profile.
After that, verify your business.
Provide all your accurate business information like logo, business name, hours of operation, practice areas, payment methods, etc.
You can also optimize your business profile by adding your physical office's front side images and workstations images.
Add the client reviews and ratings also encourages your new clients to share their thoughts.
NAP- Local Citation
The NAP refers to the Name, Address, and Phone Number of your business listing. It's essential to ensure a consistent NAP citation across each page of your website and directories. Here, the word consistency implies that your NAP should be exactly the same across the web.
Local NAP citations are vital to rank higher in the SERP for local searches and it's the most essential ranking signal as well. So, here's how to optimize NAP citation.
Never build duplicate NAP citations.
Ensure the information is displayed on your site prominent and is text, not an image, so that Google can scan them and easily read them by customers.
Use data aggregators like Data Axle, Neustar Localeze, or Factual. These aggregators will help you to distribute your business to get listed in hundreds of other sites or directories.
Get listed in the top core directories such as Yelp, Yellow Pages, Foursquare, BBB, etc.
Submit your NAP citations on the directories that are specific to your law industry.
Keep a record of all listings, and it'll help you make the changes easily whenever needed.
Directory Submission
Many people seek legal services by typically searching on the legal directories. So, it's a great opportunity for the local businesses to reach potential clients by getting listed on these directories. Actually, for every local business to get listed in these directories is a must. The reason behind this is, people trust businesses listed on these directories.
In general, directories are categorized into national, local, and industry-specific directories. You'll find several local business directories; therefore, here are the top business listings for your law industry to make things easier for you.
BrightLocal's industry listings
While listing your business NAP, make sure to follow the following-
Your business's accurate Name, Address, and Phone Number. As I said before, these three things should be consistent across all the directories and web.
A backlink to your website helps the customers to find you more easily.
Must provide a thorough description of your business and practice areas.
Don't forget to list your business in the local directories as well. For example, the local chamber of commerce and local business associations. This will help you to get more visibility, and customers will find your business more authentic.
Social Share
Social media is a great and the most easy way to increase your local business's online visibility and improve SEO as well. By using social media, you can establish your business as an authority as well as reach a large audience, improve customer engagement and drive more traffic to your site.
It's a powerful factor for increasing your business's social signal ranking. Let's see the best ways to make the best use of social sharing-
Pick the most popular social media channels like Facebook, Twitter, Youtube, LinkedIn, Pinterest, Instagram, Reddit, Google+, etc.
Post relevant and informative content like tax issues during a divorce or divorce mediation, how to get a divorce, or how to file for custody for your children on your social media platforms.
Provide local-related news or issues on your social sites to keep the audience engaged.
Share your experience about any case and your law journey through posts, videos, and images. This will double your audience engagement.
Arrange contests, ask questions, or ask people to share their issues or thoughts on any particular issue.
Encourage your happy customers to give reviews, and you should always respond to your customer's or social site visitors' comments.
Content Marketing/ Outreach
A big component of local SEO for law firms or any other local businesses is link building, content marketing, or, you can say guest posting. This implies getting backlinks from other authority sites back to your own website.
It works like a vote of confidence from top industry-related sites that your law firm is reputable, trustworthy, and authentic. So, how do you do that? Let's get the answer from the following steps.
You should create high-quality content and find the top authority sites.
Then, do guest posting to relevant sites, and it's the most effective way to gain authority and reach potential clients.
Landing interviews or sharing your thoughts on industry publications like HARO, Source Bottle, Gorkana, Muck Rack, etc., also works great.
When getting backlinks, focus on quality over quantity as the best links will ultimately help your site to boost your local rankings.
Search for Twitter hashtags like #JournoRequest or #PRrequest, which are used by journalists to comment, share your thoughts and knowledge.
You can sponsor a webinar, seminar, promote any legal meet-up, and host community events in your local area.
Client Testimonial/ Reviews
Remember, your law firm is a service-based company that relies on customer reviews to gain trust and reach clients in your geographic area. Positive client reviews work like a wonder to make your site trustworthy, increase reputation and authority.
Suppose a prospective client searches for a lawyer and sees your firm is the most positive reviewed. In that case, there is a higher chance that that client will choose you over your competitors with fewer positive reviews. Therefore, you should devote a dedicated section or block to display the happy customer's reviews, ratings, and testimonials.
These reviews and testimonials will greatly help your business to generate trust among new visitors to your site. So, you can ask your clients to leave testimonials, reviews, and ratings to your GMB listing, clutch.co, Facebook, other social sites, and directory listings.
After that, you can add these testimonials and reviews on your site; it'll really set your law firm apart while indicating to Google that your site is legit. Just like the Contreras Law Firm adds all the testimonials to their site.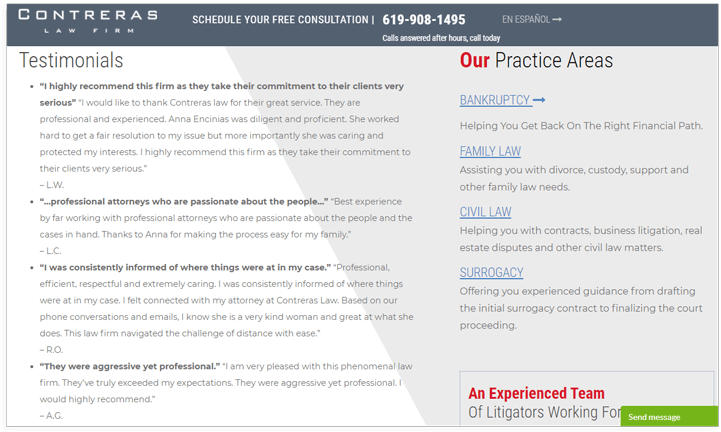 Adding Accreditations, Awards, and Case Studies
For any business, especially for law firms, it's essential to add their Accreditations, Awards, and Honors to their site. It's a way to show how hard you've worked and establish your law firm as legitimate to the audiences.

On the other side, you can share case studies about some special cases you have solved and their outcomes. Here you can also share the particular clients thinking about you and your service.
Last Thoughts
The truth is, legal markets can be brutally competitive, especially in local areas where several law firms are already ranked higher and competing for the same place. In order to beat them and stand out from the crowd strongly, local SEO can help you the most. It's a powerful marketing strategy for every small business that targets customers in their local area.
Local SEO includes several elements that are a bit different than traditional SEO. It takes more than optimizing keywords for your site to rank higher on SERP than your competitors. You'll require a comprehensive SEO strategy in place to make your site found for local searches by your best prospective clients.
To ensure planning all the comprehensive local SEO strategies and implementing them accurately, hiring an SEO professional or agency will be the perfect decision. The best SEO agency can literally put your site on the map and help to reach more and more potential clients.
And when it comes to implementing local SEO strategies for law agencies, Giant Marketers is always there for you. We are confident enough to make your site on the top. Most sites we've worked with are now on top ranking and are generating the highest ROI. So, if you are interested in working with us, you can contact us.
Also, if you like this guide, do share your thoughts in the comment section below.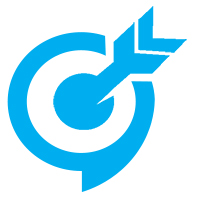 Giant Marketers is one of the fastest-growing and leading digital marketing company in Bangladesh. Its primary goal is to help clients to grow big with result-driven strategies and 10+ years of experience in the industry