Masum Billah Bhuiyan is an industry-leading digital marketing expert. He's working for more than 14 years in the industry who's nationally recognized as a successful...Read more
SEO has become a crucial part of digital marketing, and its necessity is irreplaceable for small businesses to bring a high return on investment. The best monthly SEO services can bring you a great website, more customers, higher conversion rates, higher brand awareness, and more sales.
However, for every small business owner, budget is a huge thing, and when it comes to spending money for SEO services, almost everyone makes a count of every penny.
So, if you want to make the most out of SEO as well as are concerned about how much does SEO cost for a small business, this guide will help you out. To know in detail, read on this complete guide regarding small business SEO costing.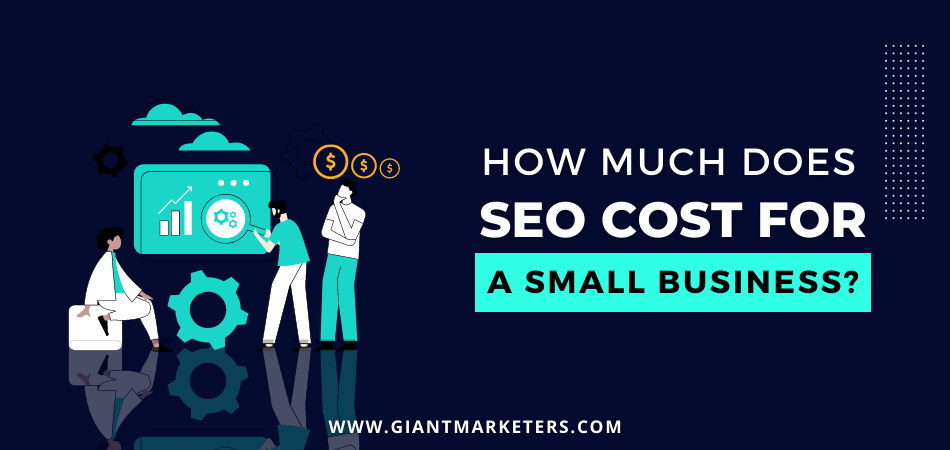 How Much Does SEO Cost for a Small Business?
On average, small businesses need to pay $500 to $10,000 per month for monthly SEO packages, $501 to $30,000 for one-time projects, and $50 to $150 for per-hour service.
However, when you start looking for SEO agencies or digital marketing firms, you'll get tons of options. All of these agencies and firms offer a variety of SEO services.
It's true that SEO agencies offer relatively affordable SEO services packages for small businesses compared to larger businesses. Thus, when you research SEO costing, you'll notice that the maximum number of agencies includes different pricing models for small businesses.
So, let's take a look at the basic SEO pricing models and how much does SEO cost for a small business.
| | |
| --- | --- |
| SEO Pricing Model | SEO Cost |
| Per Hour | $50 – $150 / hour |
| Per month | $500 – $5,000 / month |
| Per Project | $501 – $30,000 / project |
| Contract Services | $5000 – $30,000 / contract |
Now, let's get into the details-
1. Per Hour
Some SEO professionals who work as website consultants usually charge hourly fees for their services. In general, $50 to $150 is the average per hour cost of hiring an agency.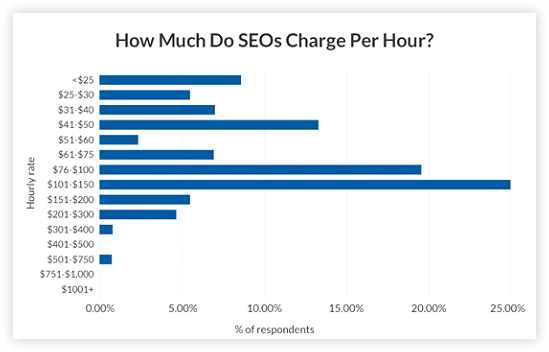 Of course, you will find agencies with less or more price ranges than this. Typically, the price varies based on the company and how many hours they have spent on your project.
This per-hour SEO service costing refers to digital marketing agencies and freelancers. The scenario will be different with full-time SEO professionals.
2. Per Month
Larger SEO companies usually come in monthly SEO plans where clients pay a flat monthly fee for ongoing work. As SEO is a long-term process, and it requires continuous maintenance, SEO monthly packages work great to ensure keeping your website updated.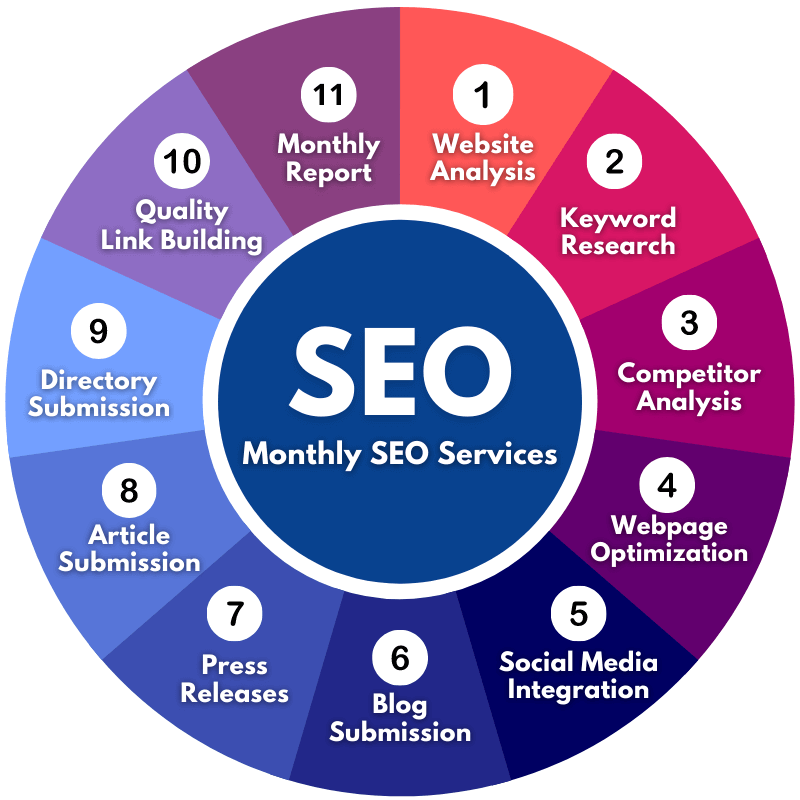 Typically, Monthly SEO Packages include complete SEO audit, keyword research, content creation and optimization, on-page and off-page optimization, implementing technical SEO, local SEO optimization, website maintenance, and others.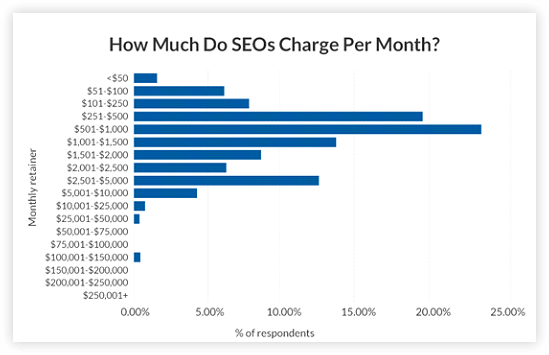 So, the monthly SEO services cost an average of $500 to $5000. However, depending on the business needs, the price will fluctuate. According to Backlinko, the monthly spending of small businesses varies quite a bit, and businesses even spend between $100 to $5,000 per month for SEO services.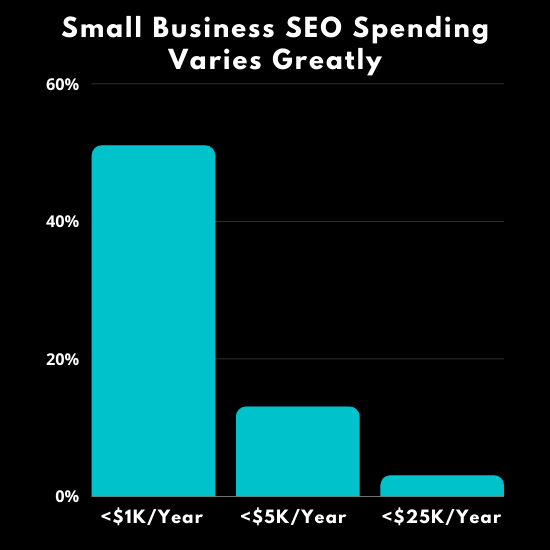 3. Per Project
Project-based models focus on specific projects, such as launching a blog or boosting social media presence for a short period. And the cost truly depends on the project type and the amount of work needed to complete the entire project. But, on average per-project fees range between $501 to $30,000.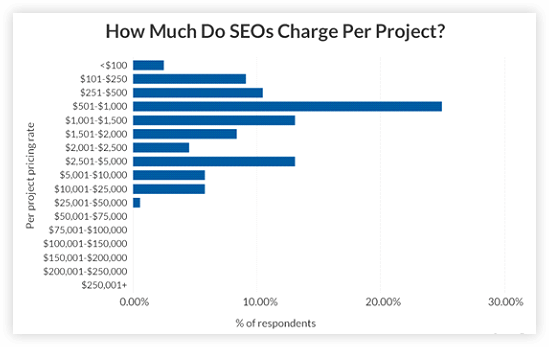 4. Contract Services
When businesses cannot be sure of their commitment to monthly services, they choose this option. The main difference between monthly and contract SEO services is that there is no end date with monthly SEO, while in contract services, there is a start and end date.
In contract services, clients choose their only required services, and then the agency provides a quote for the service. Thus, the total cost depends on the services you choose. In general, the contract services range between $5000 to $30,000.
Well, to give you a distinct idea, we are providing a chart in which you can see the average price range of SEO agencies, consultancies, and freelancers on the basis of per hour, monthly, and per-project SEO services. All these data are collected from a survey conducted by Ahref on 357 respondents.
| | | | |
| --- | --- | --- | --- |
| | Per Hour | Per Month | Per Project |
| Agencies | $134.66/hour | $2,819.87/month | $5,222.06 |
| Consultancies | $122.33/hour | $1,906.48/month | $4,481.94 |
| Freelancers | $68/hour | $1,364/month | $1,530.85 |
What Determines How Much SEO Costs?
Every SEO agency is different, and each agency has a different way of providing SEO services. And no agency will price their SEO services in the same way. Thus, the strategies and the final costing vary from company to company. Also, there are some factors, which determine the average cost of SEO services. So, here are the basic factors-
Agency vs. Freelancer
It's obvious that larger SEO agencies charge higher than freelancers. As they can ensure more resources like expert team members and time for a specific campaign, they charge higher. In fact, compared to freelancers, agencies charge 8x more.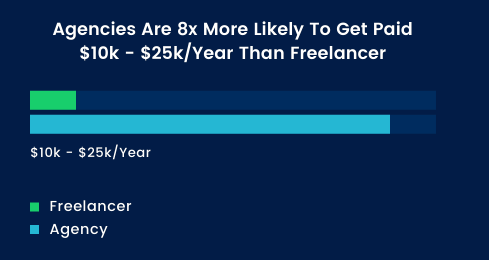 That means, if you work with an agency, you need to pay more in comparison to SEO consultants or freelancers.
The SEO Agency or Consultant's Pricing Model
As we stated earlier, different agencies come in different SEO pricing models. So, it's common to have a variation in per hour, per month, and per project's costing.
The SEO Agency or Consultant's Experience
The more experienced an SEO agency is, the more success rate they have. As a result, they do charge more for their SEO services.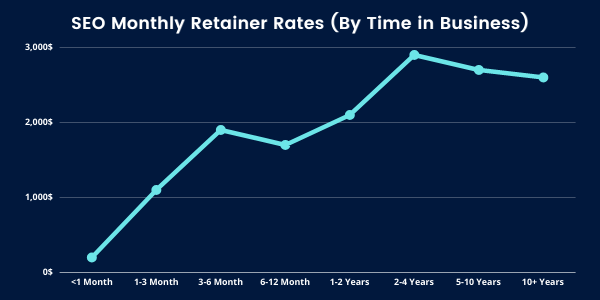 As the image implies, $1,266.31 is the average rate of SEO companies that provide services for 2 years. And, the rate jumps to $2,563.20 for companies that have been serving SEO services for more than 2 years.
SEO Agencies Locations
The location of your SEO agency does matter while concerning the service cost.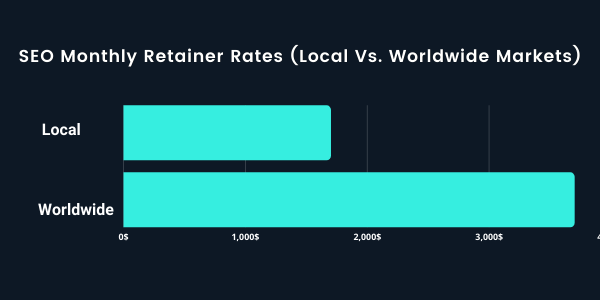 As the above image implies, SEO agencies that offer services locally charge $1,566.09/month on average. On the other side, companies that offer worldwide services earn $3,613.61/month.
Business Competition
If the business or industry is highly competitive, the SEO agencies should make some additional strategies to ensure the top ranking and bring your site to more potential customers. And with the additional services, the cost will also differ.
Goals of the SEO Campaign
Depending on your goal, the SEO agency will strategize the campaign and its timespan. For example, you may want to increase your visibility or improve conversion rates or boost your site for local searches. With all these different goals the SEO costing will vary and will decrease or increase.
The Campaign Timeline
Now, to achieve your business goal, the SEO agency will start implementing all its SEO best practices. And based on your project type, the time frame will differ. In that case, the longer the destination, the higher the cost will be.
 The Target Market of the Business
If your business's target market is larger, you need to have a larger budget to attract potential customers and obtain a good ROI. With that in mind, you can't expect niche companies to spend less on SEO. The fact is they can use the same resources to do more.
The Tools, Software, or Resources Needed
SEO is a vast area where you need to work with several factors. We all know there are 200+ ranking factors. So, to make sure proper optimization of all these factors, SEO companies require tools, software programs, and other resources. The more these will require for your project, the more it will cost you.
Remember, a qualified and experienced SEO agency will cost a bit more than the cheapest SEO service providers. And if you choose the cheapest one over the experienced ones, it will be a big mistake.
Low-cost SEO benefits nothing to your business; rather it may harm your business permanently. Therefore, while choosing a business, make sure to partner with a company that has enough experience, expertise, as well as a decent budget to help your business.
How Much Should a Business Spend on SEO?
We all are aware of how critical SEO is to improve your website performance, reach more potential customers, and generate more and more sales. But a question that remains in people's minds, especially in small business owners is, how much should a business spend on SEO.
Everyone wants to invest the right amount of money, but they failed to determine the perfect number. In that case, the following tips will help you to get an idea about the amount of your SEO investment.
1. Commit a Portion of Your Entire Digital Marketing Budget
First, you need to determine how much you rely on website traffic to generate sales. And then, based on this, you should keep a percentage of your digital marketing budget aside. For example, an e-commerce business probably prefers to invest in SEO more than its brick-and-mortar counterpart.
An analysis by Backlinko found a direct correlation between SEO spending and satisfaction. It shows that business owners who spend more on an SEO agency are more satisfied than those who spend less.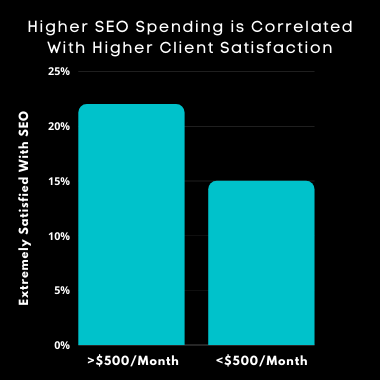 2. Match Your Competition
If your business is highly competitive, first, you need to compare your current performance to your competitors. This way, you can decide how much to spend on SEO to target industry keywords to maintain your organic traffic aggressively. Also, you can determine the budget to outrank your competitors and measure the opportunity cost of losing potential customers.
3. Consider Your Goals and Objectives
Before you allocate a specific amount, consider your business goals and ultimate objectives.
Accurate planning is needed to align your budget with your goals. It helps you in distributing your funds in a way that will ensure proper support for your goals. Here, you need to consider some facts like-
Are you looking to boost your organic search result?
Do you solely rely on organic traffic growth to meet key KPIs like leads or sales?
How does your information architecture stack up against competitors?
How is your content strategy compared to the competition?
How does your backlink profile stack up against the top-ranked websites?
Are you looking to expand brand awareness?
Lastly, you need to ensure you set the right expectations for your marketing budget and have enough channels to achieve the desired results.
4. Calculate Budget Using Customer Lifetime Value
The best thing about organic traffic is that if you can ensure optimum customer satisfaction, retention and provide brand loyalty, your customers will extend beyond a one-time purchase. And, depending on the customer lifetime value, which is also known as CLTV, you can determine the value of your site.
Customer lifetime value refers to the amount you can expect from a customer for the long term. Now, let's understand the calculation of CLTV from a real-time example.
Suppose your website consists of a business transaction page, and this page gets 10,000 visitors per month. Among these visitors, if you can convert 1% of visitors, that means you are serving 100 customers per month.
So, if your website's CLTV is $3,000, over time, your web page will be worth $300,000. And, you can utilize this figure to invest in your SEO strategy.
You probably want your SEO strategies to increase your website's traffic by 10%, which will generate 1,000 more visitors to your site per month. Again, with a 1% conversion rate, you will get 10 new customers, and this will give you a value of $30,000 to return on that SEO investment.
Is SEO Really Worth It?
The upward trend in SEO spending is the ultimate proof that SEO is definitely worth it. It also implies that marketers or business owners are steadily realizing the role of SEO in helping boost your website, generate more organic traffic and sales.
To make it more clear, let the following numbers, trends, and stats do the talking.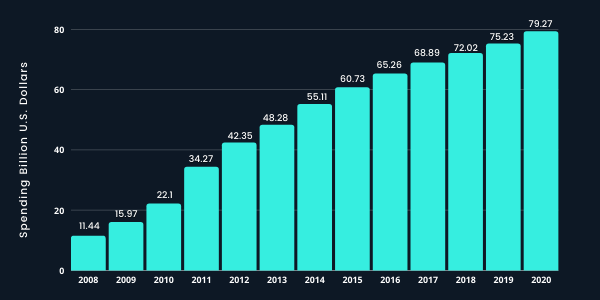 According to Statista, on average, SEO spending in the USA grows from 44 to 79.27. Which is huge, right?
About 93% of online experiences start with a search engine, and the rate near SEO leads is much higher than traditional marketing.
SEO drives more than 1000% more traffic to a site compared to organic social media.
A survey which is conducted by Databox found that 70% of respondents find SEO better to generate more sales than PPC.
The average conversion rate of organic search is 5% which is much greater than the other channels.
SEO leads an average of 5 clicks to businesses whereas, PPC can provide 1 click.
When social media can generate 1 visitor to your site, your site will get at least 10 visitors from organic search.
SEO is really cost-effective than PPC, which is an excellent opportunity for small business owners to make the most out of it.
We know SEO can't ensure immediate results like PPC. However, a comprehensive SEO campaign involves a combination of implementing content marketing, link-building, and technical SEO best practices.
While executing all these SEO strategies accurately, the process takes time. Additionally, Google requires time to recognize and reward these efforts.
Having said that, the traffic that your website gets from this long-term SEO effort is the most consistent and best conversion among all the other channels. As a result, you can generate more sales and revenue for your business. So, it goes without saying that SEO is absolutely worth investing in.
Get started with SEO Services
Budgeting is a huge fact, and you need to consider so many things to align your SEO budget with your business goals. And, when it comes down to how much does SEO cost for a small business, you need to depend on what your company wants to achieve.
We hope you find the answers to your questions from this guide. So, what are you waiting for? It's time to act; invest in a good SEO company and get the best results for your small business.
Now we'd like to hear about your experience; let us know in the comments section below. Also, you can share your queries regarding this guide.
Masum Billah Bhuiyan is an industry-leading digital marketing expert. He's working for more than 14 years in the industry who's nationally recognized as a successful internet marketer.
Latest Posts by Masum Billah Bhuiyan All Posts