Best WordPress Theme for Google Core Vitals & Page Experience
Google has just announced that Core Web Vitals will be one more factor when deciding what position your website occupies in Google rankings. It depends on user experience. These measure the time in which a user can begin to interact with the web page they visit. So, you have to use the correct theme that will improve the user experience and load faster.
Choosing a theme for core vitals and page experience is challenging. If your website does not have the requirements of the core vitals, google ranking is impossible for you. I have tested lots of themes and picked the best themes for core vitals and page experience. So, get the best one for your website ranking.
What are Core Vitals?
The Core Vitals are included with the LCP, FID and CLS. The ideal values ​​can be modified as the web development progress and the speed of data transfers, but currently, it is considered optimal:
LCP: The LCP tells us the time it takes to load a website significantly for the user. Specifically, the LCP tells us the time it takes to load and render the largest element in the graphics window. The LCP is below 2.5 seconds. Below 4.0 seconds, it is considered that it needs improvement and above, it is considered a bad result.
FID: First Input Delay is the metric that measures the minimum time in which a user can interact with the web page. The faster the FID, the better the user experience of the user visiting the web. This metric is below 100ms. Below 300ms it is considered that it needs improvement and above it is considered a bad result.
CLS: Cumulative Layout Shift is the metric obtained by summing the cumulative load time of all unexpected layout changes. That is, this metric tells us when unexpected changes in the web design are occurring. This metric must be below 0.1. Below 0.25, it is considered that it needs improvement and above it is considered a bad result.
Our selected themes for the core vitals and page experience are tested on GTMetrix, Page Insights and Pingdom. All perform well so visitors and readers will get a better experience. So, make your website with these themes and have a rank on google.
Best WordPress Themes for Google Core Vitals
The following WordPress themes will improve your website's page experience and meet all demands of the core vitals. Below are the top selection for core vitals and page experience:
GeneratePress
Zakra
Twenty Twenty
Astra
Schema
Let's see their features:
GeneratePress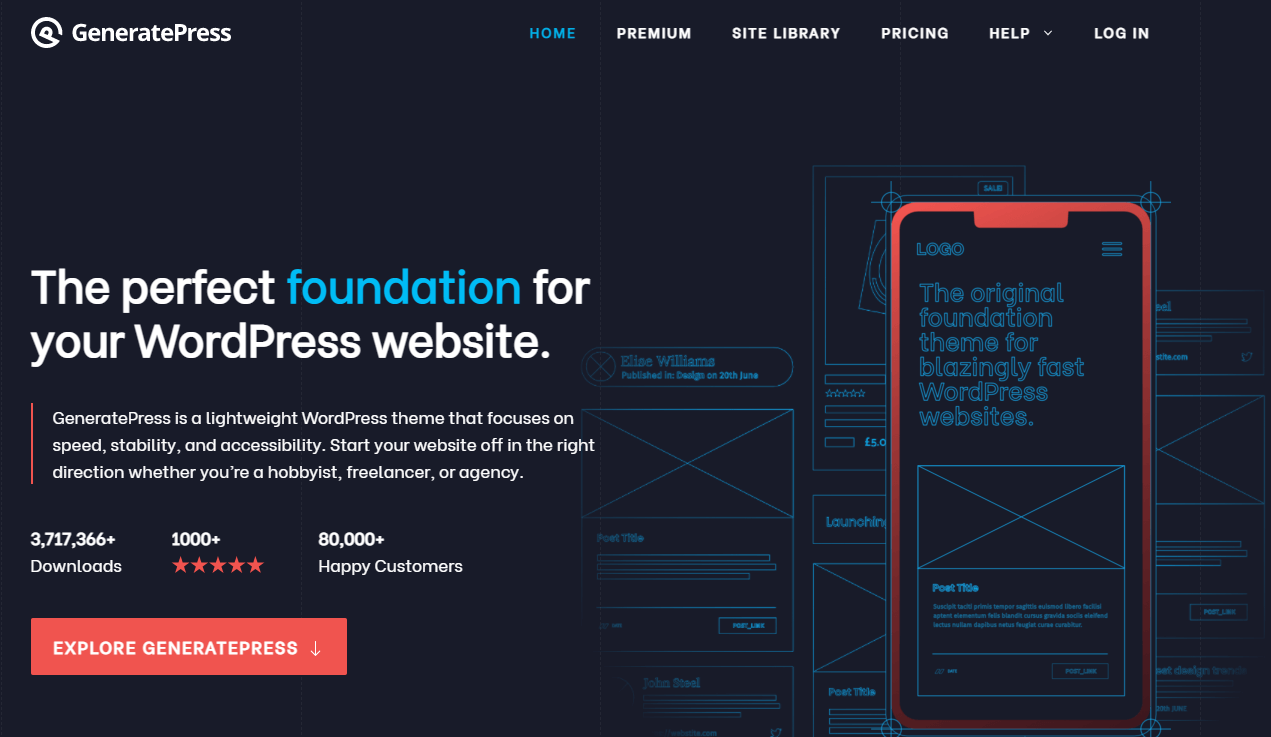 Generate Press is one of the easiest WordPress themes to use ever because it is intuitive and complete, even in the free version. Many newbies choose it at the beginning to create a blog simply without sacrificing quality. Its compatibility with any Page builder allows you to achieve everything you want with this theme. It is fully customizable.
The implementation of microdata is another very good point for the SEO that GeneratePress has implemented. In real-time, you can do anything on your pages that with another template you will not achieve without touching code. Also, you will not have problems with any secured device. Generatepress theme borders on perfection and once you use it, you will not want to use another.
Its features:
GeneratePress includes many more customization and configuration options.
Its zero-loaded feature makes it lighter and faster.
It is best suited to small screens so users can enjoy better UX on phones.
Its code is clean and optimized for Google to look favorably on your website.
It is compatible with essential plugins and browsers.
You can add widgets on 8 areas with customization support.
Pros:
It is a framework theme
Very fast and well coded
It uses microdata
Fully customizable
Support page builders and editor blocks
Cons:
Limited customization on the free version
Zakra
Zakra is a fantastic theme because it is also modern and multipurpose. You can access multiple sites with a very clean design. The theme is fully Gutenberg and GDPR-ready compliant. It supports Elementor, so any design imaginable is really possible. The setup process is quick and easy, including multiple startup sites for businesses, agencies and many more.
It is fully WooCommerce compatible and comes with an online store demo. You have numerous options and 10+ free starter sites to choose from, which are generally not found in free themes. You can translate any language with its multilingual support. In any problem, you can get free support from its authority.
Its features:
Its free version has incredible features to run a website completely.
It is compatible with blogging options and WooCommerce tools.
Perfectly designed for online stores and e-commerce stores.
Fully responsive and AP enabled to start the website quickly.
Integrated with elementor with several customization options.
Work smoothly with all page builders and editors.
It has flexible headers, footers and sidebars with personalization options.
Pros:
Faster, and optimized for SEO
Several header styles
Color selecting options
Friendly for mobile screens
Advanced typography
Free support
Cons:
It has no visual header builder
Twenty Twenty
Twenty Twenty is a common theme that every WordPress user knows about it. It provides flexibility and fast page loading because its block editor is Gutenberg. It is well coded and has a simple configuration. It has a pop-up menu and web search with the icons that make up the header to search or enter the menu can be opened in a pop-up way. You can easily Link Back to top without having to scroll long.
It brings the possibility of using variable fonts, such as the Inter typeface. This typeface seems to make it stress-free to recite. You can change the background color of the theme as you need. It has many functionalities and design. If you have not been in the WordPress world for a long time, without a doubt you will have had a good experience with its use.
Its features:
Highly rated and mostly used free theme in WordPress theme store.
The small file sizes and requests ensure quick page loading.
It improves the website's UI and UX with a clean interface.
Unlimited customization options allows you to plan blogs as you want.
Various styles, colors, fonts etc helps to design with attractive content.
Friendly to mobile devices because it is well-coded for small screens.
It has a built-in Gutenberg block editor which is popular as the quick editors.
You can customize a landing page easily using default templates.
Pros:
Quick page loading time and lightweight.
Works on Gutenberg block editor.
Pop-up menu.
Blocks in the widgets.
Use variable fonts, styles.
Customizable cover page.
Cons:
Simple look.
Limited customization.
Astra
Astra guarantees excellent performance in terms of website speed and offers a very varied template library. The theme is optimized to load fast and it blends in very well with practically any visual editor. Using such an editor will always load the template better. You can use the theme with a lot of essential plugins.
You can change the color of almost any element of the template so that the design looks the way you like it. Also, you can choose the typeface that you like the most for the texts on your page. The theme is compatible with WooCommerce and they have recently added two templates to import and have your store set up with a few clicks.
Its features:
It works fine with all popular WordPress page builders.
Its clean interface ensures quick load time.
Built-in page builders with well-coded themes make all tasks easier.
Its functions are logical and clean so beginners can use it freely.
Pre-built templates are ready to go and save time.
You can modify the theme as you want.
Pros:
Quick loading speed.
Custom layouts.
Transparent header.
Variety of colors.
Woocommerce support.
Suitable with all page builders.
Free plugins for extended performance.
Cons
Basic styles
Limited resource in free version.
Schema
Schema is the fastest WordPress theme for its clean interface and professional design. It shows impressive speed on all speed test platforms. You will get all tools to run a new blog. It is popular to the bloggers because it offers spaces for ads.
Responsive design prepares it to work anywhere on small mobile devices and on all screen types. The dynamic response model can accommodate all kinds of portrait and landscape designs. Consequently, the user can easily navigate through the menu links, photos, videos and also easily read the contents. It has a built-in ads panel that allows you to use your code and enable ad units with ease. It also provides moving functions so you can save your own settings and use them to your website.
Its features:
It is designed responsively for smooth mobile and PC view.
The Rich snippets are very effective for search engine ranking.
It has a Customizable ads management panel to control advertisements.
Its codes are secured and have custom options for enhancing security.
It supports multilingual platforms so you can translate any languages to English.
The social media sharing option provides one click share on social sites.
24/7 Support from its forum is very helpful to solve errors.
Pros:
Fast and optimized from small and large screens.
Codebase is optimized for SEO.
Default review option.
Ads management tool.
Clean interface with professional look.
Rich snippet.
Cons
Final verdict,
A good and well-responsive theme allows you to fulfill the requirements of core vitals and page experience. You can easily boost your blog with these themes for easy google rankings. All themes work faster and ensure a better user experience.
WordPress themes are designed for creating a website. Choosing the right one is challenging in the crowded platform. We make it easier for you by rounding up the responsive and fast themes. Get one of the themes to rank higher on google by doing well on google core vitals.