Giant Marketers is one of the fastest-growing and leading digital marketing company in Bangladesh. Its primary goal is to help clients to grow big with...Read more
Gutenberg is undoubtedly the most used visual builder in WordPress. The best part about Gutenberg is its comes with huge flexibility and a set of basic blocks.
However, to make your site more powerful and professional these basic blocks like a paragraph, image, button, and gallery block won't be enough. And, this is where you'll find the Gutenberg block plugins much more handy and useful. 
With the latest updates of WordPress, many Gutenberg plugins and many other things on Gutenberg are added. While searching for the best Gutenberg blocks plugins, I have tried and tested several plugins among them. 
And, in this guide, I'm going to share the best ones with you all. So, check them out if you want to expand your content creation efforts.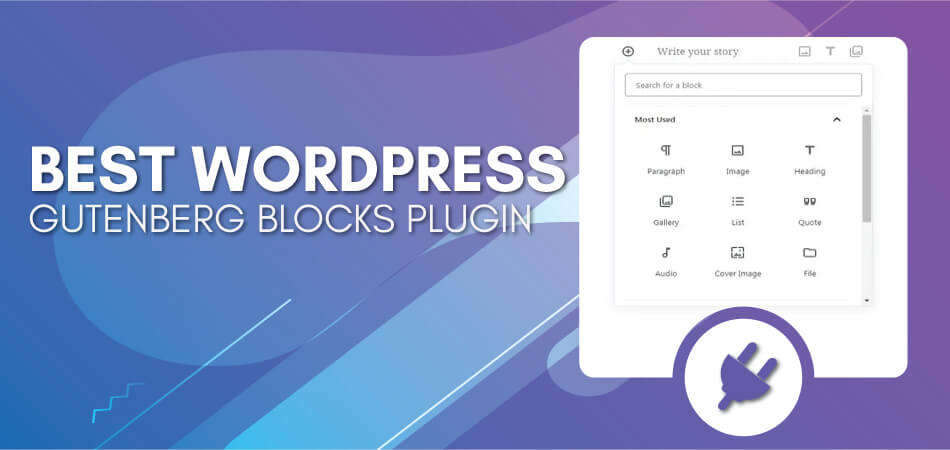 Best Gutenberg Blocks Plugin
There are 2 types of approaches when it comes to Gutenberg plugins. They are-
Single Purpose Block Plugins and
Gutenberg Block Library Plugins. 
Single plugins are a single-purpose Gutenberg block and they focus on one feature. Block library plugin includes a collection of features and Gutenberg elements into one single plugin. 
I have tried almost all Gutenberg block plugins and rounded up the best Gutenberg blocks plugins for your website or blog. Let's discover them below: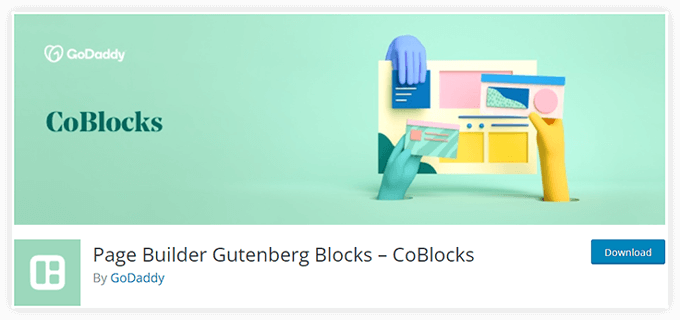 CoBlocks is a complete and lightweight plugin that adds several options to the WordPress editor without impacting site speed. You can make engaging pages in real-time with its innovative collection of page building blocks.
This plugin allows you to create custom columns and rows with an efficient page-building experience. It offers 32 unique blocks for creating a complete website within a short time.
You can set font size, transformations, etc., with the typography controls. This free plugin provides the full potentiality to create a complete professional website.
Features:
It has an innovative Page Builder system to create an engaging blog.
The Advanced typographic controls provide customizable font, weight, and size.
Free theme with customization support for your website.
You can make your website responsive with its grid system.
Allows tailoring each block with the custom control and setting.
Pricing: Absolutely Free. 
2. Gutenberg Blocks – Ultimate Addons for Gutenberg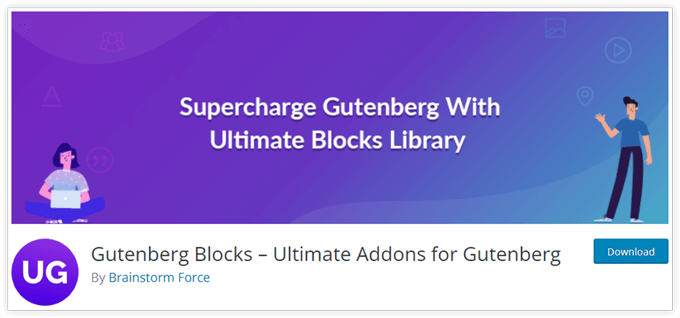 Ultimate Addons with several advanced and powerful blocks to build a powerful Landing Page. It is compatible with the Astra theme so that you can speed up your website loading speed.
In fact, you can use this plugin for different niches like local businesses, restaurants, agencies, online stores, etc., which is a handy option. Its pre-built contact form allows you to fully customize and design your contact page.
If you need to customize your default gravity form you can do this using its gravity form styler and display a more appealing form that will help your site to improve conversions. Besides these, it is integrated with major plugins and allows you to create a different type of website.
Features:
An easy-to-use interface and several customization options.
Its 20+ pre-built starter sites ensure one-click website setup.
Allows you to add start ratings anywhere on the Gutenberg page.
Enables review schema to get a higher ranking in SERP
It is integrated with WooCommerce and other plugins.
Pricing: Free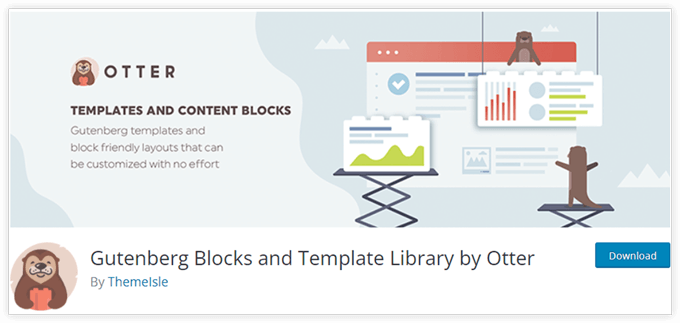 If you're concerned about site speed and looking for a block plugin that won't impact your site speed this one is for you. It comes in a lightweight approach with various content blocks and built-in Gutenberg templates to build your site faster than ever.  
This plugin is really easy to use and can transform your basic block into some expressive layouts in seconds. Without losing the personal touch of yours, you can build everything from a personal blog to an international store, and create a visual experience for mobile, tablet, and desktop. 
With this plugin, you can cover all of your website's most important areas like headers, testimonials, pricing tables, content, and more. In fact, it has different templates to match your headers with images to headers with features, from content with images to about sections with video. You just need to add the content and everything will be set.
Features:
Drag-and Drop efficiency,
Provides 23 blocks like section, accordion, advanced heading, Google Maps, post grid, testimonial, etc. 
Improves readability with enhanced visual appeal.
Ensure building a professional site with over 50 different templates. 
Professionally designed layouts and templates. 
Integrated with block-by-block CSS extension to make it easy to add CSS to your blocks. 
Price: Free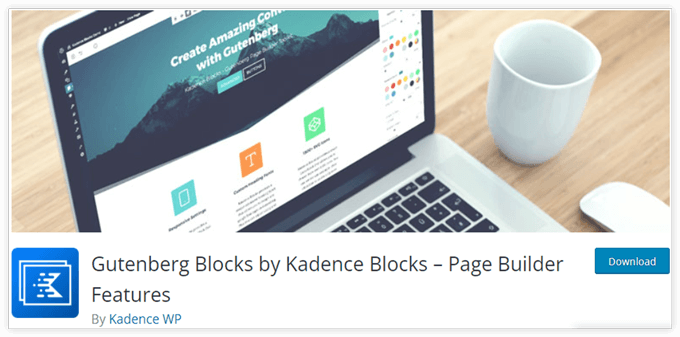 Yet another amazing Gutenberg Blocks by Kadence Blocks allows you to create custom layouts. It comes with pre-built layouts, so you can create a website page quickly.
With the column block, you can add margins, backgrounds, change the size, fill colors, and many more. It has crafted blocks to design layout, add buttons, headings, icons, and much more quickly.
The advanced gallery block helps to organize media files based on your needs. You can add testimonials in your post by customizing fonts, borders, sizes, and more. It provides advanced and responsive page creation for both mobiles and desktops.
Features:
It has 15+ Gutenberg blocks to customize your blog content.
You can adjust everything like color, size, stroke width, and many more with its 1500+ SVG icons.
Customize and design each page responsive to mobiles and large screens.
Control media files and buttons with the Gallery and button blocks.
The complete typographic control allows choosing from 900+ Google font.
Pricing:
This plugin is free. But if you want to access the premium features you should buy the Kadence Blocks Pro package. It comes in 3 different packages. See the plans and include features from the below image.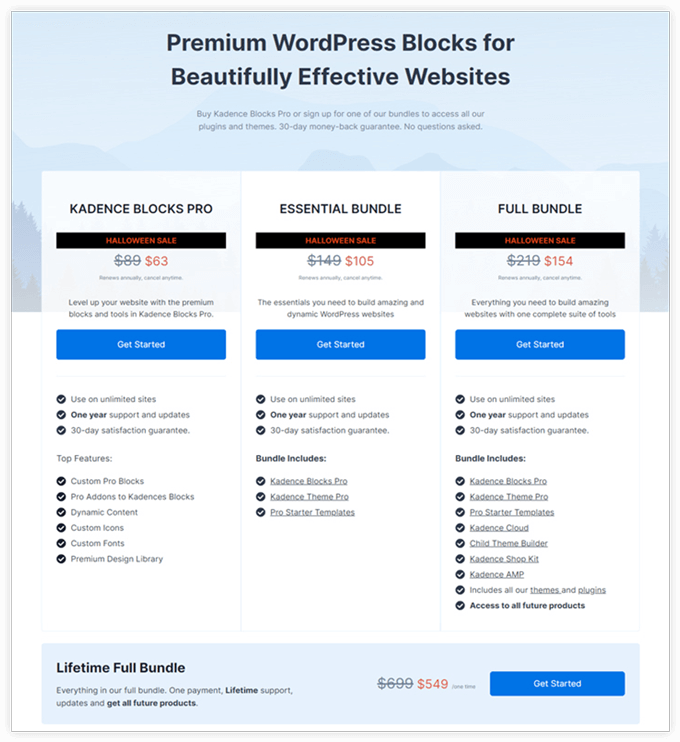 5. Stackable – Page Builder Gutenberg Blocks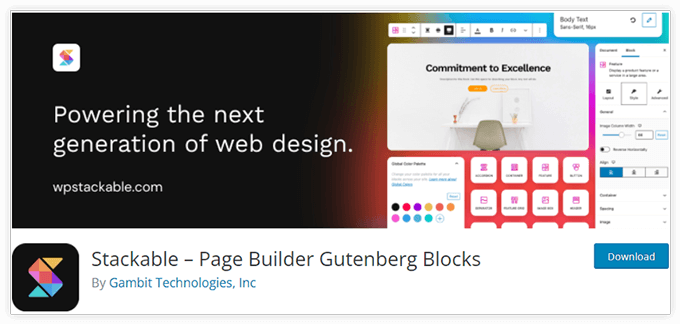 Stackable provides blocks to make a stunning and eye-catching website with Gutenberg. If you're a beginner, designer, marketer, or developer, it is an all-in-one solution for you.
You can use its ready-made design, extensive block collection, UI kits, and more to build a perfect-looking site.  Also, it allows you to edit images by changing colors and effects. You can even control the media files on your content.
With this plugin, you will get all intuitive page-building tools, multiple blog post options, SEO-Friendly features, and much more. You can optimize your site loading speed by compressing codes and files. Simply transform your site design without any hassle with Stackable. 
Features:
The fully customizable 24 Gutenberg blocks ensure a professional and responsive look for your website.
Set layouts, animations, images, icons, typographies, and much more like a page builder.
Use the CSS and role manager to design your blog professionally.
Integrated with third-party plugins and tools for a more advanced experience.
Maximize your page performance on mobile and desktop by compressing codes.
Pricing:
Stackable allows you to use this plugin for free. But if you need to unlock more potential of Gutenberg it offers 4 more premium packages with even more unique features. These are-
Personal: Best for Single site
Business: For those who are running Three sites
Agency: This is for Unlimited sites
Agency Lifetime: One-time payment for using lifetime on Unlimited Sites.
Now, let's have a look at what the premium plans include-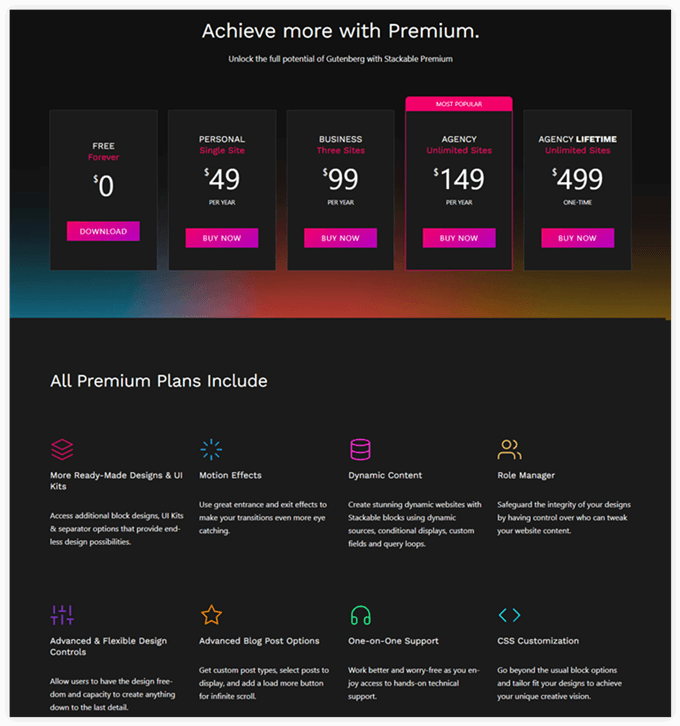 This plugin offers a 14-day money-back guarantee. So, you want to try this one out to see how it works. You can compare the free vs. premium essentials from here. 
6. Gutentor – Gutenberg Blocks – Page Builder for Gutenberg Editor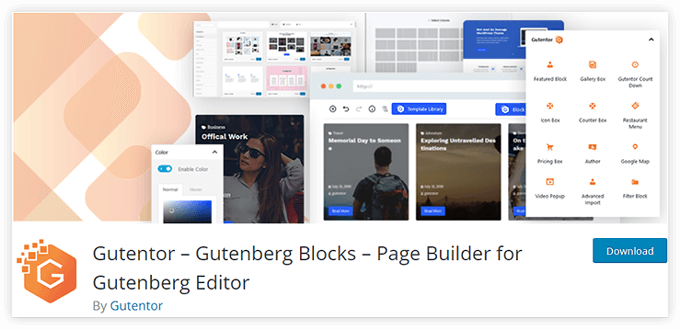 A free collection of page building blocks for Gutenberg, which is well-suited with all WP themes and plugins. This advanced plugin offers beautiful blocks and themes with the Gutenberg block editor to build a website in minutes. Also, its lightweight performance makes your website well optimized for SEO.
You can customize sidebar widgets, create and design content with very ease without requiring coding. With Gutentor, you can add modern style bars, add color, and several functions for a better user experience. Also, its wide range of options helps you to explore new options to expand your website.
Features:
It has advanced options background, color, border, and much more blocks.
Highly customizable and fully responsive for desktop, mobile, and tablets.
A large library of ready-to-use themes and blocks with one-click installation.
Block shape divider works as section divider and converting shapes. 
It allows you to add video backgrounds with customization support.
Pricing: Free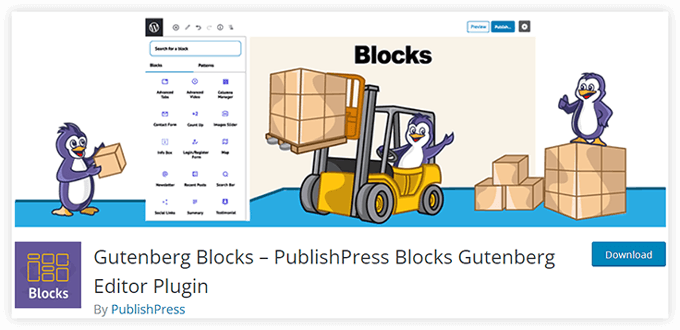 A worth Gutenberg block plugin to have more control over the WordPress block editor. You can make the most out of this plugin and create a1 flexible and good-looking page builder layout. PublishPress block plugin comes in 20 Gutenberg blocks to help you build a professional site for your business.  
The most useful feature of this plugin is, it comes with a block to display your latest WooCommerce products. You can filter it by order, product status, and category.
So, if you want to create a professional workflow in WordPress, with moderation, revisions, permissions, and more PublishPress will be a great option for you.
Features:
Includes a powerful content display block to show posts, pages, and custom post types.
25 Gutenberg blocks include accordion, button, columns, content display, icon, image slider, and many more.
Reusable, pre-defined custom CSS for blocks.
Different layout options for desktop, mobile, and tablet. 
 Allows to enable or disable blocks for smoke users. 
Price:
You can use PublishPress blocks for free, but if you want more features for your site, you can buy its pro package. The pro package will cost-
For One Site- $69.00
For Five Sites- $129.00
For Unlimited Sites- $199.00
Here are the features that you'll get with the free and pro package-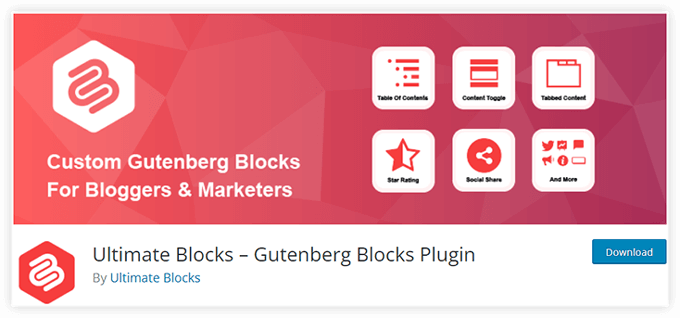 Ultimate Blocks provides several blocks with fully customizable options. You can create engaging pages with Gutenberg using this plugin to engage readers. It has different filters that allow visitors to read content easily. The Schema enabled a review block for product-based content.
Its Table block helps viewers to navigate the article quickly. To engage more visitors, you can get benefitted from the CTA block. With social blocks, you can easily share an article using a one-click process. It has more blog content-related blocks to customize your blog articles and make them SEO-friendly.
Features:
The drag and drop feature to sort the tabs in your posts and pages. 
Viewers can navigate content with the filter and table of content blocks.
Add styled boxes such as Notification, Number, and Feature box in your content.
Allows you to add a styled list in your post or pages including various icons and colors.
Easily share content on social media platforms using social sharing blocks.
Helps in adding expandable content with the Expand box. 
Pricing: Free
9. Gutenberg Blocks and Page Builder – Qubely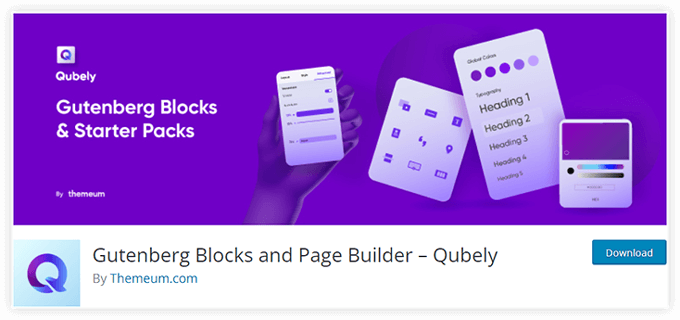 If you're looking for a full-fledged Gutenberg blocks plugin with a range of custom blocks and features Qubely is the perfect one for you. Qubely provides animations with customization features.
You can use 1 to 6 columns and customize them. In the columns, you can add everything that you need. You can customize columns, CSS, etc. as you need with better optimization.
The customizable Gutenberg Blocks offers to create exceptional and user-friendly sites. The blocks are easily moved as a page builder. Its pre-built themes and unlimited fonts provide a quick setup of your website. You will have complete control over your website.
Features:
It offers customizable 14 Gutenberg blocks to build more sophisticated designs.
Embed Google maps to add map address, customize the height, and zoom the map on a scale of 1 to 20. 
Change the website's font from its unlimited google fonts.
It allows you to use video background and blending modes.
Resize rows, columns, sections, and shapes under your control.
Pricing:
Apart from the free version, this plugin is designed with three different packages for individuals, freelancers, and agencies. You can try out the most suitable package without any risk. It has a 30-day money-back guarantee that will proceed within 48 hours.
Now, let's find out the features you'll get from the packages-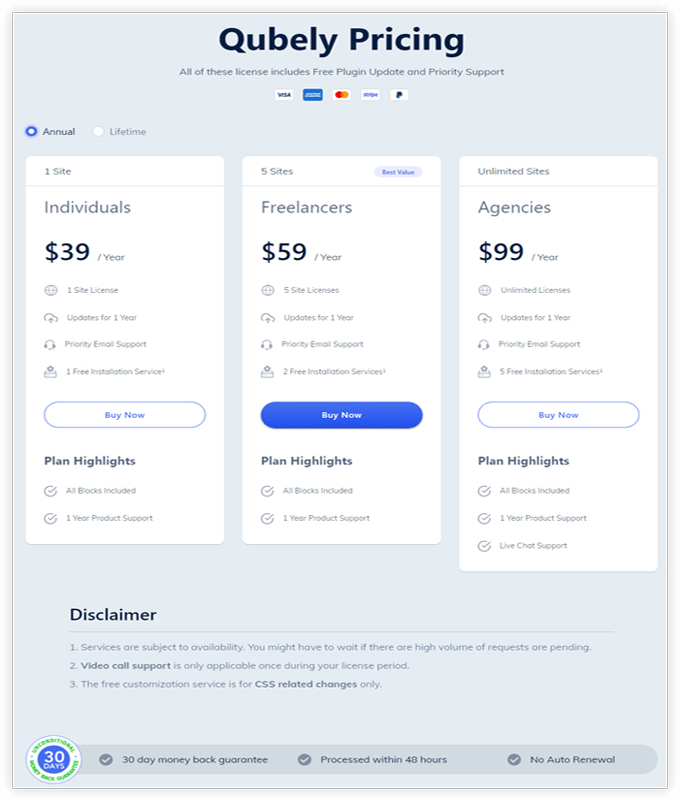 10. PostX – Gutenberg Blocks for Post Grid
A highly customizable Gutenberg block plugin allows you to create and customize Post grid blocks, Listing Blocks, Slider Blocks, News Blocks, Magazine Blocks, Post Carousel, and many more seamlessly. In fact, you can use these Gutenberg post blocks within the Elementor plugin. 
All the blocks included in this plugin are dynamic and pre-made which helps you to build a website within a few minutes. Besides, using this plugin you can have the most advantages of the advanced query builder, Ajax filter, and Ajax pagination. 
Features:
Archive builder will help you to rank all archive pages on Google along with Blog Posts.
The Category filter powered by AJAX technology is the best tool to provide many contents in a small place.
The Typography control is empowered with a plethora and accumulates 897+ Google Free Fonts in one place. 
Dynamix post slider block to display the posts.
Blog listing blocks are integrated with the Query builder and other distinct settings. 
Pricing:
Though you can use this plugin for free, it also comes in three different plans with yearly or one-time lifetime payment options. The packages are perfect for a single site, 5 sites, and unlimited sites. Here's what the packages include-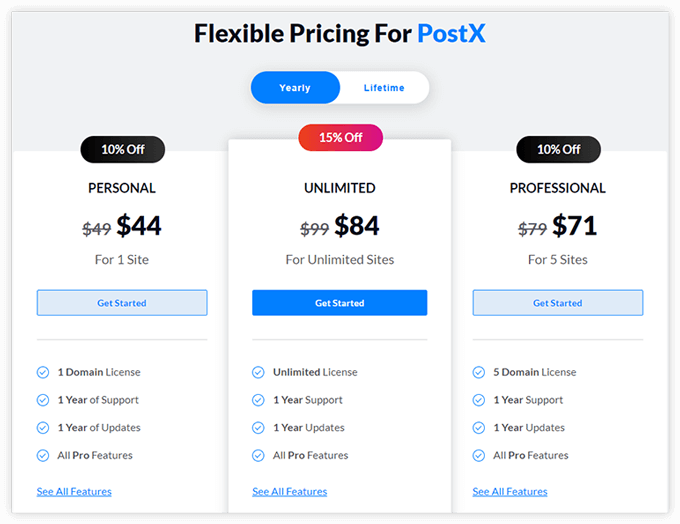 You can try any package from the above with a 100% no-risk money-back guarantee for 14 days. If you don't want to continue, you will get a 100% refund of your money.   
Final verdict
I hope these best Gutenberg blocks plugins will easily customize your site with a Gutenberg block editor. Beginners to professionals can develop any WordPress site with the Gutenberg blocks plugins. Also, they are friendly to all themes. 
I have tested several plugins for Gutenberg block editor, and in my opinion, these are the best for a complete website setup. They are very versatile and the interfaces are genuinely user-friendly.
I have never faced site loading issues while using the Gutenberg editor's plugins on my WordPress website. You can also try them. And let me know which plugin you're going to use or have any other plugins that are worth sharing by commenting below.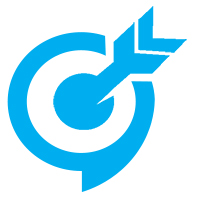 Giant Marketers is one of the fastest-growing and leading digital marketing company in Bangladesh. Its primary goal is to help clients to grow big with result-driven strategies and 10+ years of experience in the industry