Giant Marketers is one of the fastest-growing and leading digital marketing company in Bangladesh. Its primary goal is to help clients to grow big with...Read more
In this modern era of SEO, there is no doubt how important keyword research is!
From developing perfect content to increasing the organic search traffic, good quality keywords play a key role in everything. 
However, for making the perfect and effective keyword research you need a great keyword research tool. But the challenge is there are plenty of keyword research tools on the market, so it's a matter of headache which one will be best.
Especially, if you're a beginner this can be much trickier for you to find the correct one. Therefore, in this guide, I've come up with the 15 best keyword research tools for you, which are tested and are used by experts to grow their site. 
So, let's take a look at all these keyword research tools to find out the most suitable one. 
Best Keyword Research Tools 2021
Keyword research tools help you to find the phrases or terms that your customers or searchers use while searching for something related to your business online.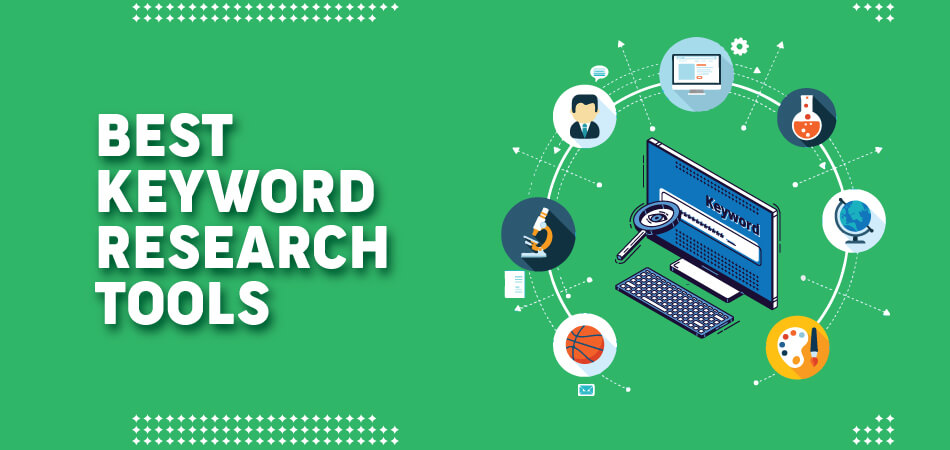 When done right, you'll be able to find the best suitable keywords and move on to the rest processes. This will simply help you to streamline and boost your SEO workflow. 
To help you find the right keywords, here I'm going to reveal the best keyword research tools that help you choose the right one for you! For your convenience, I've included both free and paid keyword research tools in this list. 
So let's drive into them!
It is a complete SEO tool that helps in growing your traffic by uncovering millions of national and local keywords. 
Among the other Keyword tools, SEMrush works a little differently. It carries out a detailed analysis of keyword ideas that your competitors are already ranked for instead of entering a seed keyword. You can easily dig into the keywords in detail, analyze them, and find the best one out. 
Using the Semrush keyword research tool, you will get both quality and in-depth data with a better strategy. In fact, it provides access to 20 billion keywords which is considered the world's largest database.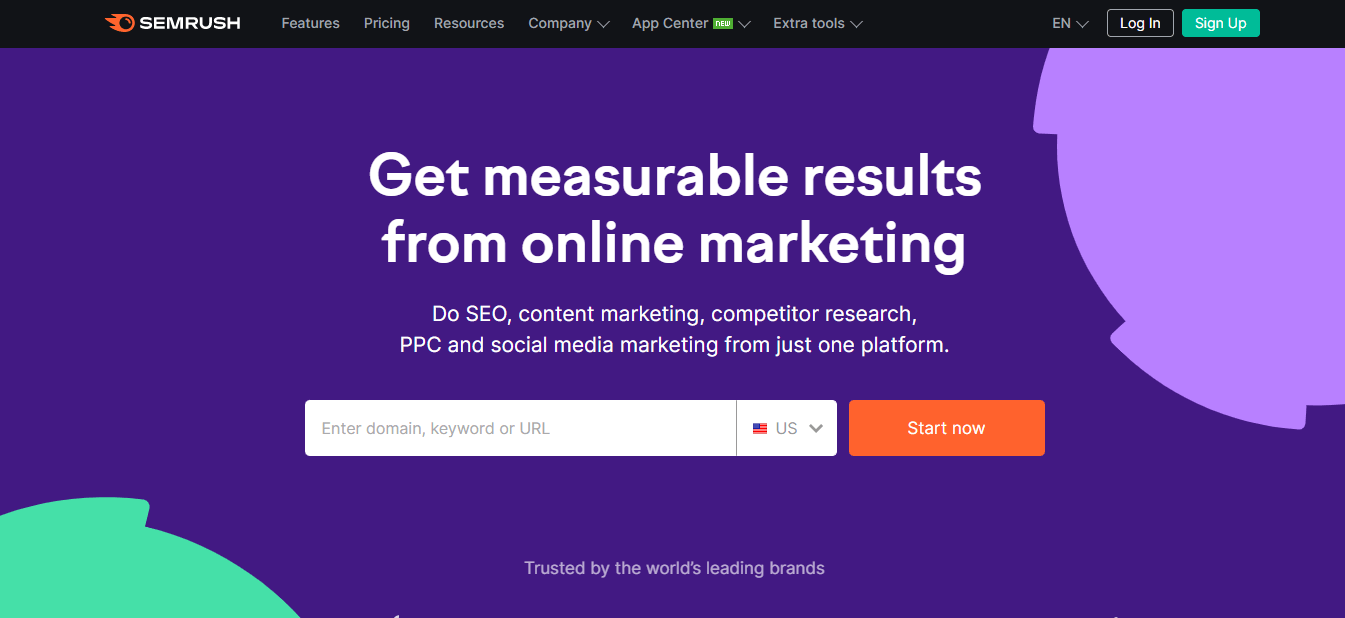 Semrush Features:
Display keywords' value based on search volume, difficulty, CPC, competition, SERP features, SERP results, variations, trends, and others. 
Find the most beneficial organic keyword by analyzing ranking and pages.
The keyword magic tool generates thousands of keywords researching 20 billion keywords in a few clicks. 
Discover new opportunities for you by analyzing the keyword gaps. 
Help you to create a powerful keyword list by analyzing the metrics for up to 100 keywords at once. 
Integrated with Google analytics to discover more keywords and cross-reference data for you. 
Pricing:
SEMrush offers you 3 different monthly pricing plans with several key features to make the most out of its keyword research tool. 
Pro- For newbies and small in-house teams.
Guru- Perfect for SMEs, growing agencies, and marketing consultants.
Business- Large agencies and enterprises can use this plan.
You will get details here: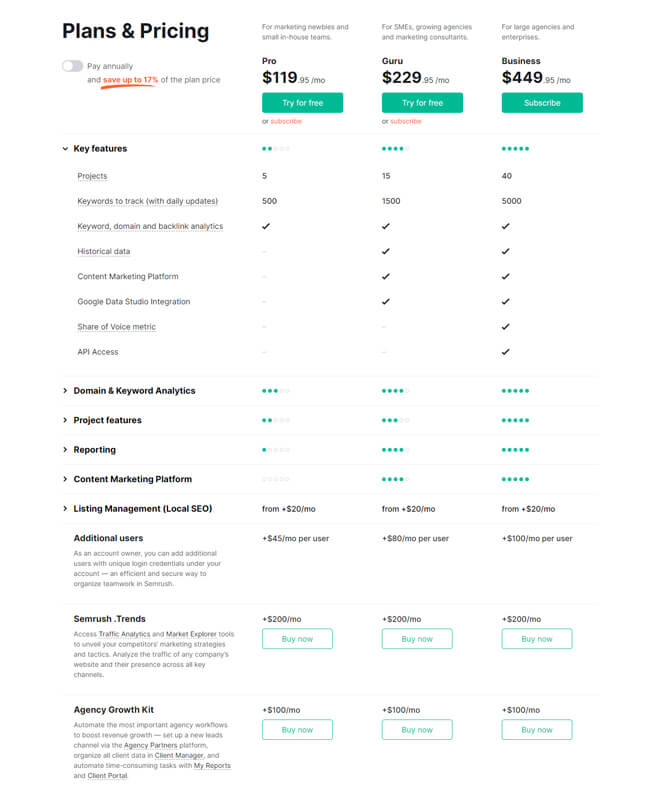 Free Trial: SEMrush offers a 7- day free trial and if you cancel your subscription within this time no charges will be levied. Here is what you can use in this period-
10 keyword searches per day. 

10 requests per day.

Create and manage 1 project  

Track 10 keywords
For content creators, Ahrefs Keyword Explorer is one of the best keyword tools. Using this tool, you'll have some benefits like getting in-depth information on each keyword, unique click metrics, finding out the low competitive words, and more accurate data. 
You just need to type your sewed keyword into the search box and it will come up with a whole list of keyword suggestions. Apart from these, you will get a breakdown of the first page competitors to calculate the traffic potential. 
With Ahrefs keyword explorer tool, you'll get keyword ideas for ten different search engines like Bing, YouTube, Amazon, Baidu, Yandex, etc. Besides, with the filter options, finding and prioritizing the best keywords will become much easier for you.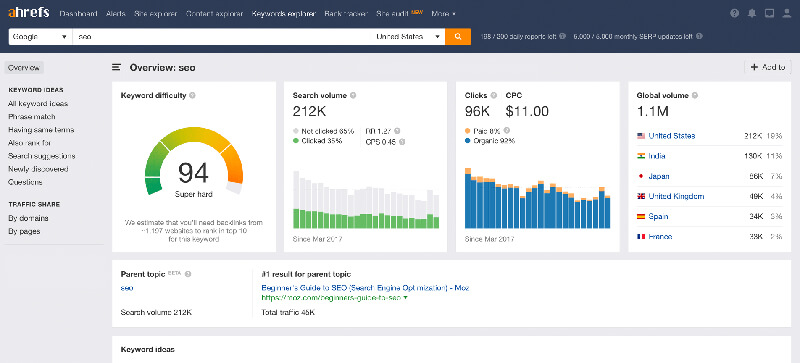 Ahrefs Features
Provides a list of keyword suggestions that contains more than 10,000 keywords from its database of over 8 billion queries.
This tool supports 171 countries and gives you data for all these countries.
Along with Google, you also get data from Bing, Baidu, Amazon, YouTube, etc.
Refine the search volumes of keywords on a monthly basis using the clickstream data to ensure up-to-date and accurate search volumes data.
Shows the difficulty score to determine how hard it would be to rank on the first page.
The only tool that shares the estimated number of clicks including average monthly clicks, clicks per search, percentage of clicks on impression, and the return rate of your given keyword.
Allows you to see the parent topic.
Helps in getting a quick overview of the ranking history and SEO metrics of the top-ranking pages. 
Pricing:
Ahrefs offers you four different monthly pricing plans with annual or monthly payments. You will get details here:

Trial: Ahrefs doesn't provide any free trial, but it offers a 7-Day trial for $7 on its Lite and Standard subscription plan.
Lite:

5 projects, track 500 keywords, and 10,000 crawl credits per month for your small business. 

Standard:

10 projects, track 1,500 keywords and 5,00,000 crawl credits per month. 
Refund Policy: The $7 for trials is non-refundable. But, for monthly subscriptions, you have 48 hours refund option.
Ahrefs has another treasure tool, that many people may not be aware of. It has a free keyword generator tool, that also works well to find some winning keyword ideas. Though this free tool doesn't work as great as the paid keyword research tool, to get relevant phrase ideas this tool can help you.
The best part is you can even filter the location to get location-specific keywords. With this tool, there is no limit, you can search as many times as you want throughout the day. So, let's see the features of this free tool from the next section.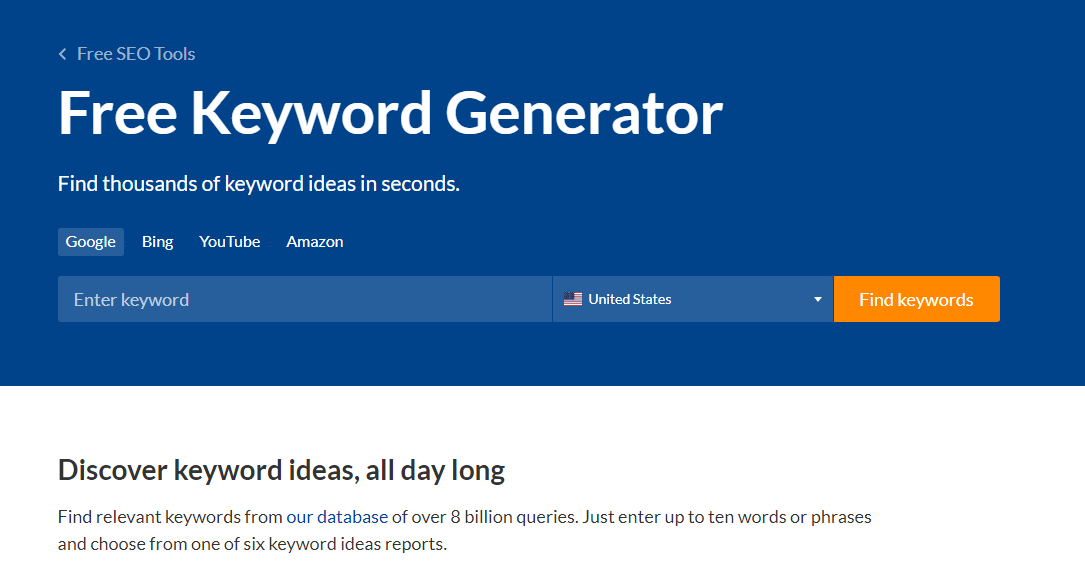 Features 
You can generate keyword ideas for Google, Bing, YouTube, and Amazon.
Each time you'll get 150 keywords, 100 of them are phrase matched and 50 are question-based. 
Shows KD (for top 20 results), volume, and last update. 
Provides long-tail keywords which are easy to rank. 
The Mangools designed the KWFinder tool that is completely dedicated to keywords research only. Although it's a newcomer, it is one of the fast-growing keyword research tools. It is well known for generating long-tail keywords with low SEO difficulty. 
Using this tool, you'll get accurate metrics for each of the keywords along with the best keywords that your competitors are ranking for. You'll find this super-effective tool really easy to easy with its simple and straightforward interface. 
Besides that, it is meant for local SEO, which means, you can find local-specific keywords for your site to target the local audience. All in all, this tool is simply perfect for both newbies and experienced users with its advanced data and features.

KWFinder Features
Generate up to 700 keyword suggestions from its over 2.5 billion related keywords data. 
Help in finding niche-related long-tail keywords in less than 3 minutes. 
Consists of 155 million competitor-based keywords with 213 million domains for 21 countries. 
Incorporated with Google Suggest making the most use of autocomplete and question algorithm to find the best suites phrases for your seed keyword.
Provides exact search volumes, trends, PPC, and CPC metrics for hundreds of keywords with a single request.
52k supported locations (cities, districts, countries). 
Allows saving the most profitable keywords, edit, export, or delete the keyword list.
Pricing:
This tool has 3 pricing packages with monthly or annual billing procedures. Have a look at the features and cost of these packages.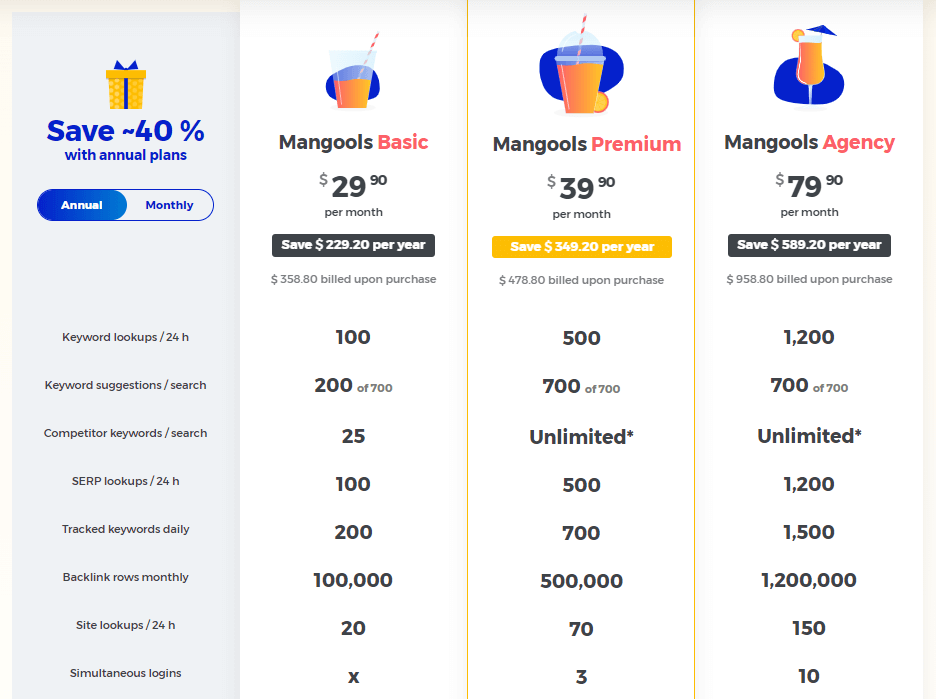 Free Trial: KWFinder offers a 10-day free trial. No credit card is needed for the registration. Here, you'll get 5 lookups per 24 hours, 25 related, and 10 competitor keywords per lookup.
Money-Back Guarantee: It comes in a 48-hour money-back guarantee. So, you can figure out how the keyword research process works without any hassle.
We have no doubt that long-tail keywords are the new standard of SEO. As the name suggests, Long Tail Pro is the keyword research tool that can help you find the long-tail keywords that you can target for your website. With this tool, you'll find less competitive long-tail keywords in a few minutes.
These keywords will help your site to rank top in Google SERP and to get tons of high converting traffic. Doesn't matter if you're a marketing professional, SEO consultant, affiliate marketer, or Agency, this tool can help you to scale your SEO.  
However, you'll find identifying the best keywords, Track and update your ranking for reach keyword using this awesome tool. Even, you can measure keyword profitability with their ranking value.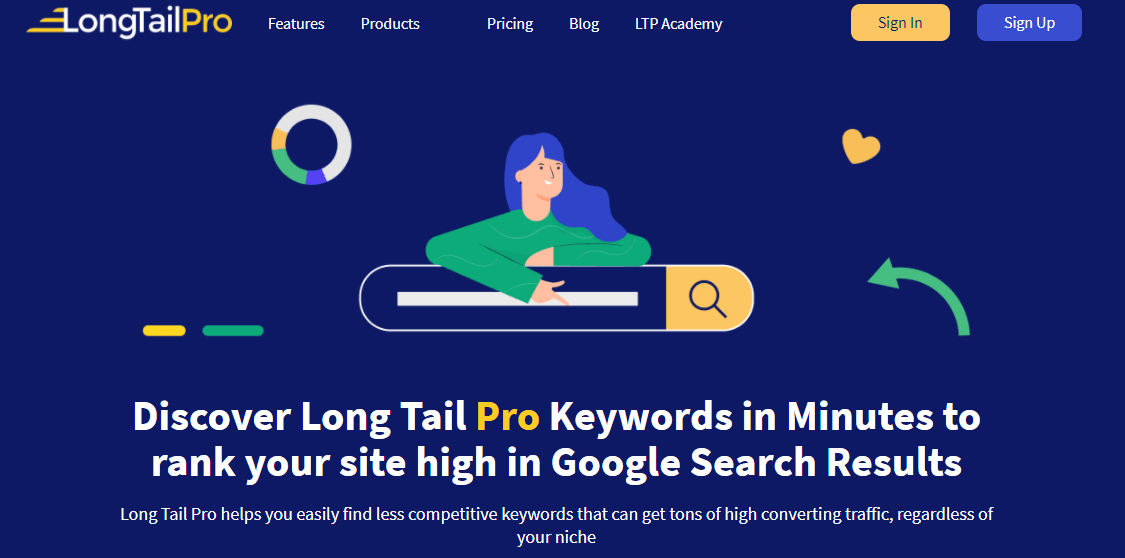 Long Tail Pro Features
It Shows 400 long-tail keywords within a second.
Each keyword comes with its search volume, rank value, CPC, and many more.
Allows filtering the results to find out the suitable and profitable keywords that meet your preferences.
Provides an option of entering your competitor's page or domain. So you can discover your competitors' top-ranking keywords.
The manual keywords feature helps you to understand how well it will work for your campaign.
Pricing:
Long Tail Pro offers you three different monthly or yearly pricing plans. With annual payment, you'll get 4 months of free access to its all features. Get the details here: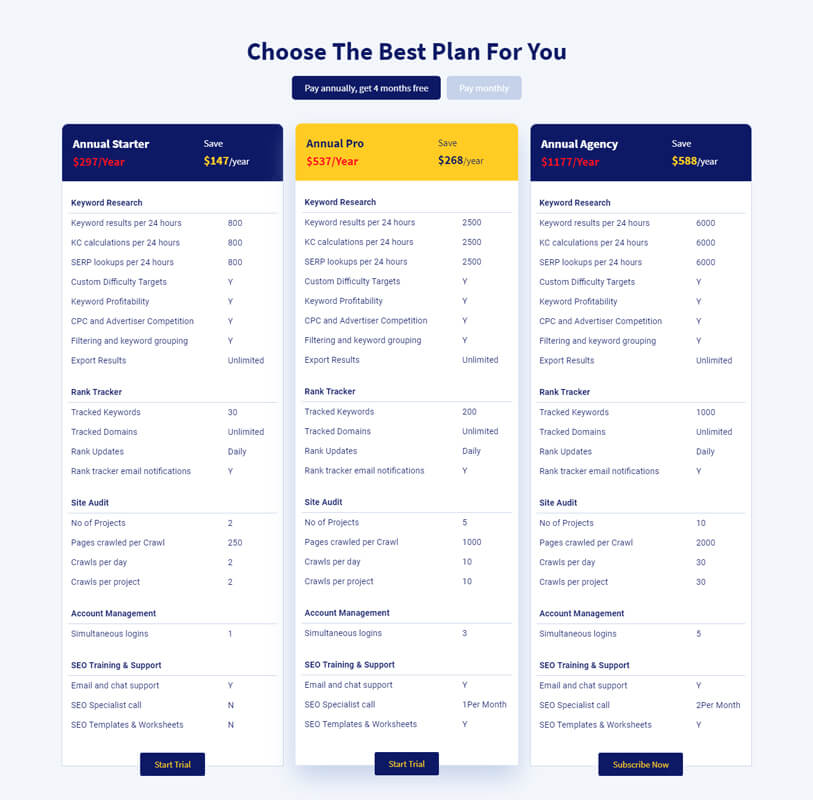 Trial: Long Tail Pro offers a 7-days free trial for $1 without requiring any contact, you can cancel it anytime. This plan includes-
800 keywords per day
A complete competitor analysis
Use the Rank Value feature to determine a keyword's profitability
Analyze competitiveness with the top 10 Google results.
Get Custom Keyword Difficulty Recommendations for your Domain. 
Majestic is not only a keyword research tool, it is an all-in-one tool that plays a vital role to track your site's health also. If you're a newbie who just started new blogs, and small businesses but are concerned about the resources to invest for SEO, can try the Majestic.
It will help you to drill down the site's link context to get keyword ideas. If you want to get content ideas and or looking for advertising terms, this keyword generator feature helps you much.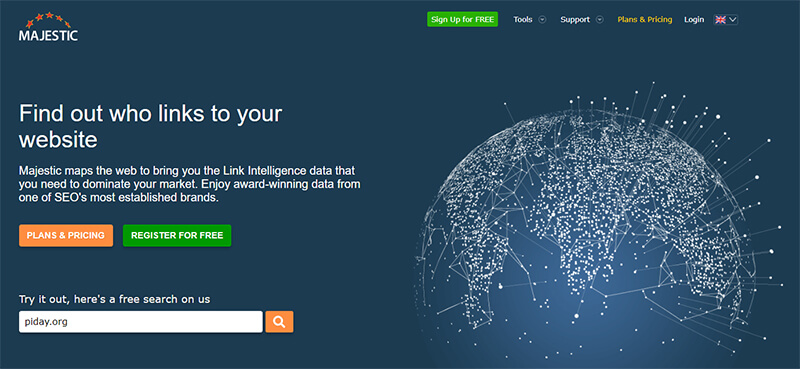 Majestic Features
Depending on your purpose, it will provide a combination of up to four of your sites and related sites keywords.
This tool displays the data through some metrics like 'Search Volume', 'Keyword Difficulty', 'Frequency', 'Language'.
You will also get the option to filter the frequency by the site.
The keyword checker allows you to how many times a keyword appears in your database. 
You can discover up to 100 variations of your chosen key phrase.
Pricing:
Majestic offers you three different monthly pricing plans which you can purchase for 1 month or a year.
Free Trial: To get a practical experience of their service majestic to allow you to sign up and perform 3 free searches.
Money-Back Guarantee: The lite and pro plan will offer you a 7-day money-back guarantee. It is applicable only for first-time subscribers. 
The Keyword Tool is regarded as one of the top keyword research tools for its user-friendly platform, and multiple sources for getting the most fruitful keyword suggestions. The first that you'll notice once entering into this tool's dashboards is its minimalistic and user-friendly interface. 
To use this tool, you don't even need to subscribe to it. It is considered the best alternative to Google keyword planner. Integrating with Google Suggest it can extract thousands of useful keywords using Google Autocomplete within a second. 
If you want to expand your targeted field, along with Google you want to work with other search engines like Bing, Amazon, YouTube, and more, the Keyword Tool offers you exactly what you want.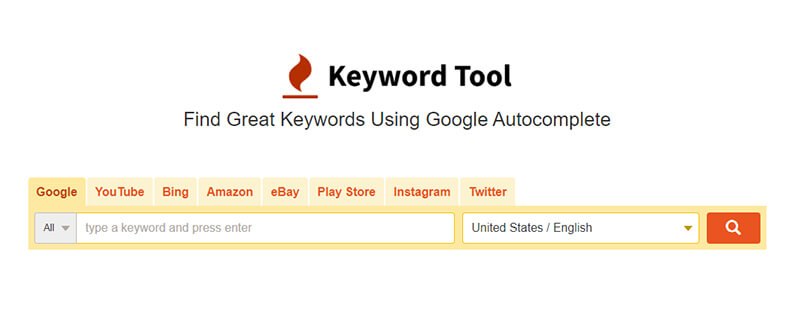 Keyword Tool Features
Generate keyword suggestions for

Google, YouTube, Bing, Amazon, eBay, Play Store, Instagram, and Twitter.

Provides search volume data for 192 countries and 46 languages.
Allows checking search volume data in bulk, for up to 70,000 keywords a day.
Help you to discover profitable keywords with high search volume and low competition.
You can discover the keywords your competitors are ranking for. 
Exports all your data into Excel or CSV files.
Digs deep into the Autocomplete feature of Google and other search engines and extracts extremely useful keywords.
Pricing:
Keyword tool offers you three different monthly pricing plans. You will get up to 20% off if you make payments annually.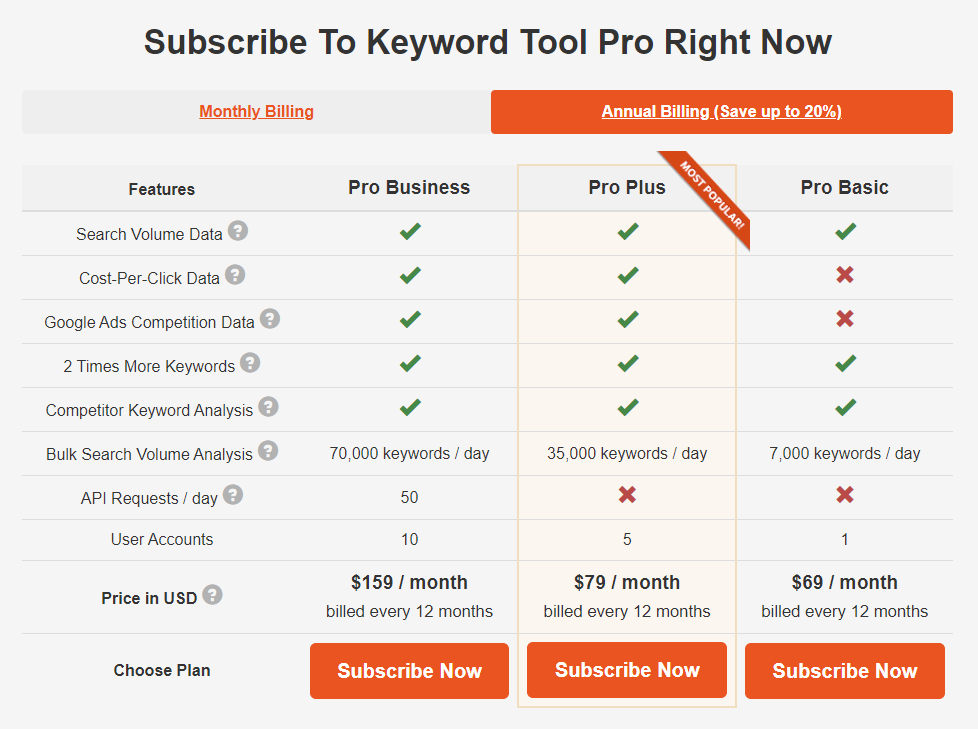 Free Trial: This allows you free searches for the first 750+ keywords. 
Money-Back Guarantee: Keyword tool provides a 30-day money-back guarantee. 
MOZ is an industry-leading SEO software that can effectively help you to increase traffic, rankings, and visibility in search results with its powerful and proven tools. It has an all-in-one SEO toolset and Moz Keyword Explorer is one of them. 
With this tool, you can access about 500 million keyword suggestions. Using this tool you can categorize, prioritize, and compare keywords from one single dashboard. With its thousands of intuitive keyword suggestions, you can easily find better keyword opportunities and outrank the competitors. 
The database of keywords is highly extensive, credible, and absolutely fresh (not older than 2 weeks). You can predict the performance of each keyword based on its real-time metrics.

Moz Keyword Explorer Features
Includes 180 million fresh ranking keywords.
Share metrics of Monthly search Volume, Difficulty, Organic CTR, and Priority.
You can analyze how much search volume a keyword will receive with 95% accuracy.
Allows to prioritize keywords by topics and save the keyword list.
Exports your research suggestions, analysis, and keyword list into a well-formatted CSV file. 
You can search keywords for different countries to create a better international SEO strategy.  
Pricing:
Moz Keyword Explorer offers you four different pricing plans with monthly and yearly payment processes. With the yearly payment, you can save 20%. You will get details here: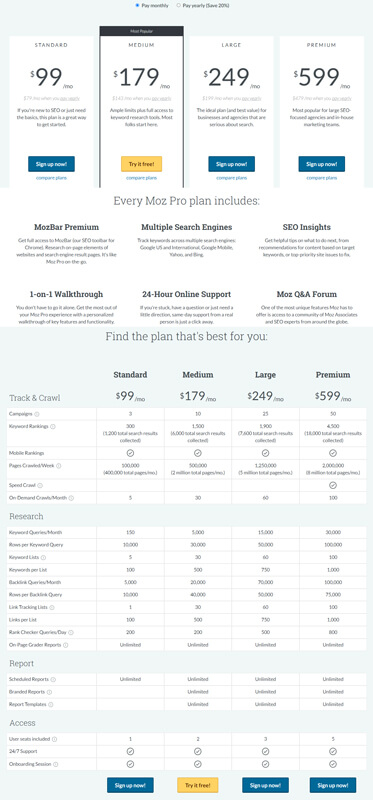 Free Trial: You will get a 30-day free trial on the MOZ's Medium Plan. It includes-
A total of 10 keyword queries

Access to the SEO data and SEO tools to drive insights and reporting

Personalized walkthrough with an expert

24/7 online support

Seek advice and engage with industry experts on the Q&A forum.
MOZBar is a free Chrome Extension that displays instant metrics like DA, PA, and the number of backlinks while viewing any page for each site. It even allows to dig into the page elements, country, region, city, highlight link types, search results of different engines, and view meta tags. 
Once signing up for the MozPro extension, you can access and compare link metrics across pages while viewing any SERP. You can use it whenever you need any SEO-related basic data point. It is just only two clicks away.

MOZBar Extension Features
Highlight keywords and differentiate them by followed, No-Followed, External, or Internal link types. 
Allows seeing page elements, general attributes, markup, link metrics, and HTTP status. 
You can quickly access the page authority and domain authority.  
Every business owner strives to stay ahead of their competitors, that's why they want to spy on the competitors' SEO strategies. In that case, SpyFu can be your best friend. SpyFu is a competitor intelligence tool that allows you to spy on your competitors and perform competitor-based keyword research.
Using this tool, you can deeply dig through your competitor's most profitable keywords and find out the potential ones for your business. Also, you will get more potential keyword data with much more consistency, which works well for your site. It will show you unlimited searches on millions of keywords.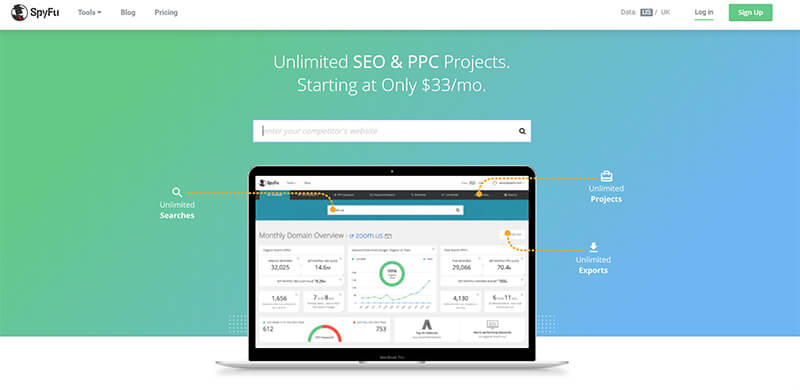 SpyFu Features
It generates keyword ideas including their search volume, CPC, SEO difficulty, number of advertisers, click-through rate, and more. 
This tool traces the keywords ranking history of any page or site.
Through deep SERP analysis, it finds specific ranking factors for each keyword.
Export a full list of keywords that are built to your site standards. 
Along with the traditional statistics, you can also figure out the immobile vs desktop metrics for all of your keywords. 
Pricing:
SkyFu offers you 3 different pricing plans, which you can purchase through monthly or annual payment. See the details from here: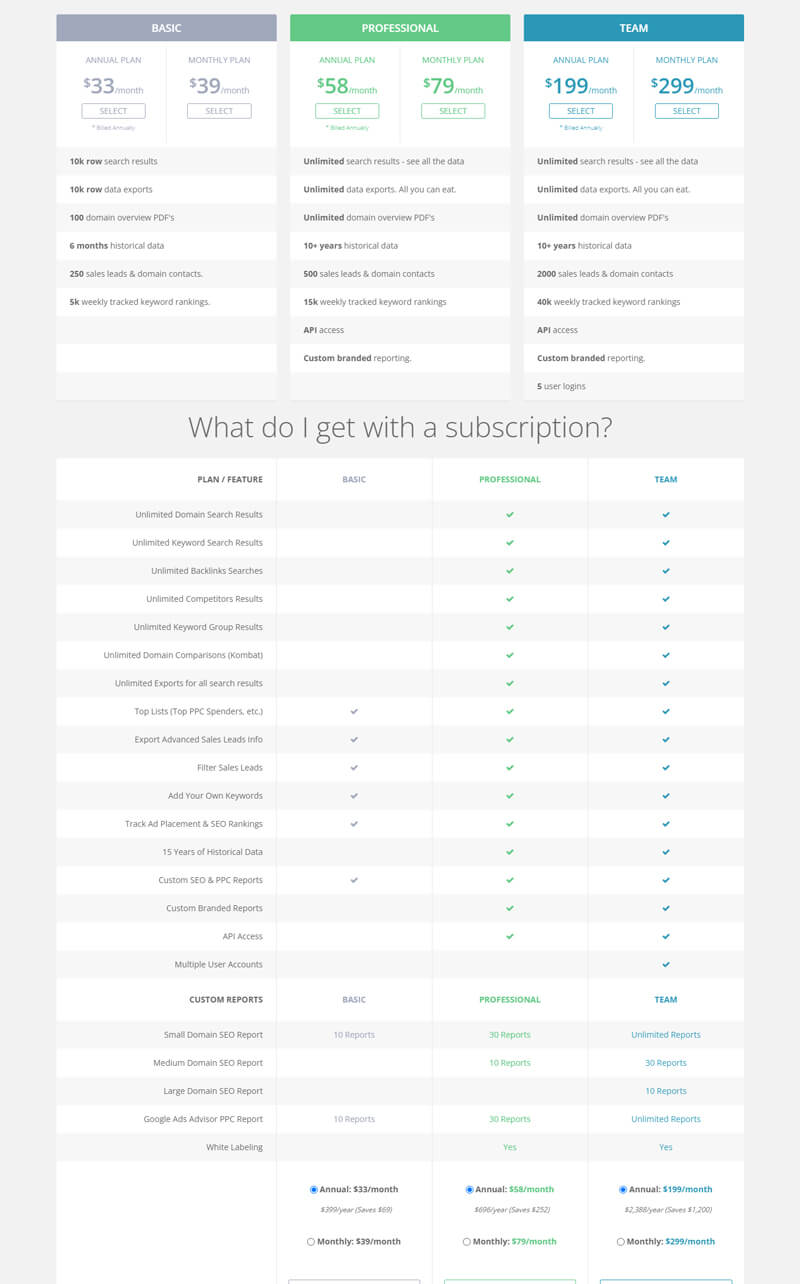 Money-Back Guarantee: Spyfu's all packages come in a 30-day money-back guarantee. There is no need to fill any form, questions to answer, simply cancel your subscription and get a refund within 30 days after purchasing via Email, Livechat, and Phone call. 
Another great keyword research tool from Neil Patel, that you can use in both free and paid ways. Generating 100+ long-tail keywords with this tool becomes much more convenient. UberSuggest shares search volume, KD, suggestions, and many more in one place. 
All the results or metrics of each keyword are accurate which can ensure ranking top. For me, the best part of this tool is, it provides a lot of related keyword suggestions along with top 100 Google results for that keyword including visits, no of backlinks, DA, and total no of social shares.

UberSuggest Features
Offer access to over 6 billion keyword data, 2 trillion links, and 1 billion pieces of content ideas. 
Allows you to get insights into your competitor's strategies so that you can adapt them to improve your strategy and avoid mistakes. 
Provides content related to your selected keywords.
Compatible with numerous languages and generates keywords for different countries. 
To provide accurate insights of what people search on Google it users Google's Autocomplete API.  
Pricing
This tool comes in a total of 3 different packages for individuals, businesses, and agencies. You can purchase any plan either with monthly payments or for a lifetime. The good news is, with the lifetime purchase you can save up to 90%. Here's what the packages are all about-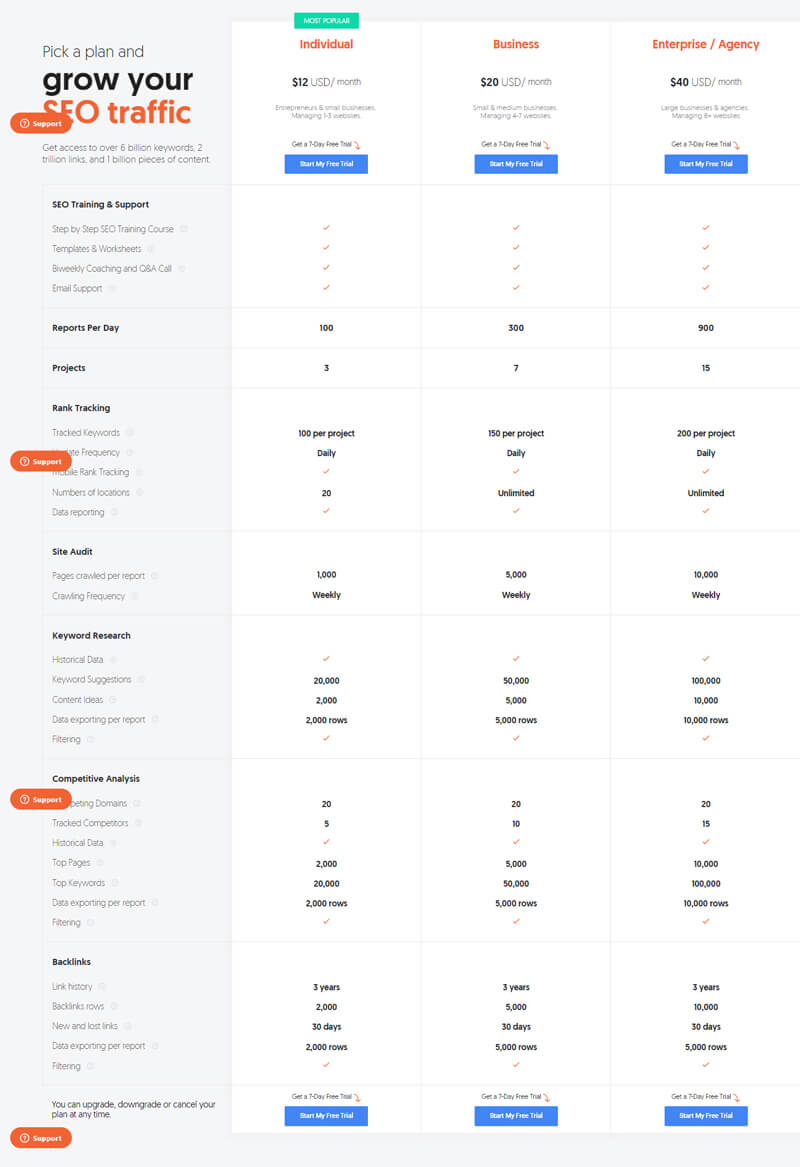 Free Trial: It offers a 7-day free trial. The best thing is, all three packages offer this free trial. 
Money-Back Guarantee: For both the annual and lifetime subscriptions it offers a 30-day money-back guarantee.
You can also make the most use of your SEO with its free Chrome extension. It comes in keyword search volume, CPC, competition data, and insights for all of those keywords that people search on Google, YouTube, Amazon, and more. 
After installing the extension, all you need to do is perform a search. Then, it will show you the data around your keyword and search terms. To get more details, simply click on the "view all" next to the search bar. 
UberSuggest Extension Features
Allows analyzing keywords using graphs and trends that break down the total monthly search volume. 
You will see the traffic volume under each URL.
Provides related keywords, trend charts, people also search for, long-tail keywords, and trending keywords. 
Alongside Google's insightful data for keywords, it also shares data for Amazon, Youtube, and others. 
Allow you to customize your preferred location and language. 
If you're looking for a faster keyword research tool, this one is for you. It works faster than any other keyword research tool as this tool runs in the cloud and access a huge amount of processing power. This way, it is able to generate 200 fully processed and analyzed keywords within a few seconds. 
Just give a seed keyword and get a list of keywords including depth of search trends, organic competition, and traffic. This tool is largely designed for SEO professionals so that they can make the most out of their SEO strategies with its provided lots of in-depth data.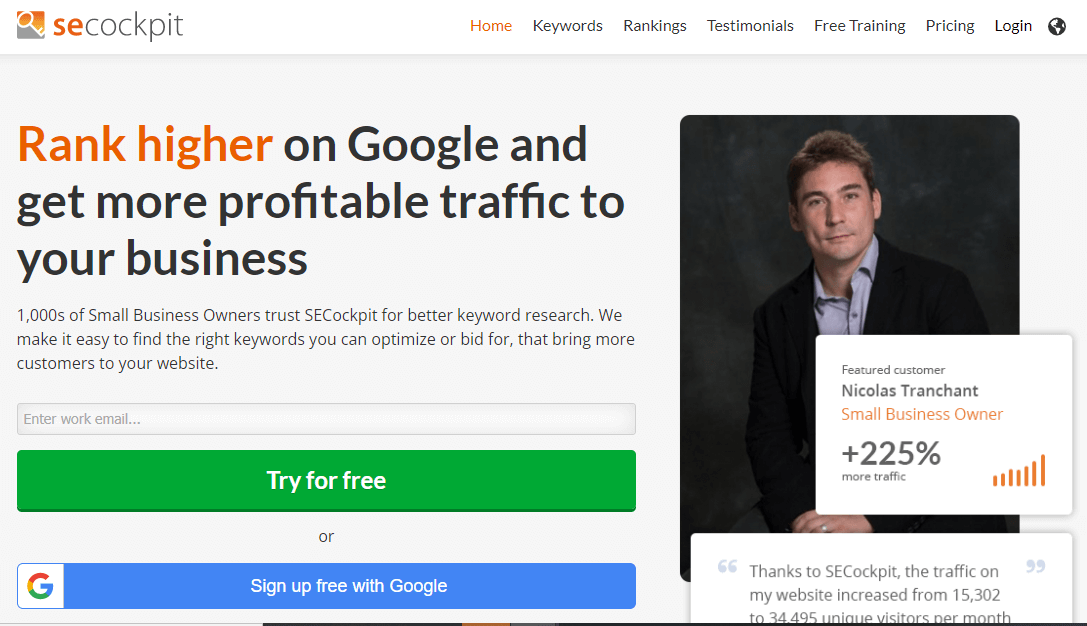 SEO Cockpit Features
Generated thousands of keyword ideas via Google Ads, Google Suggest, Amazon, YouTube, and Google Related Searches.
You'll get unrestricted and extensive keyword ideas with accurate search trends.
Gathers ideas from competitors to figure out the profitable keywords for you.
Sort, filter, and organize your keyword list by folders and labels. 
Creating a report of your keywords this tool export it as a PDF.
Pricing
You'll get 3 different packages with this keyword research tool for personal, pro and agency. It allows both monthly and annual payments. The details are given below-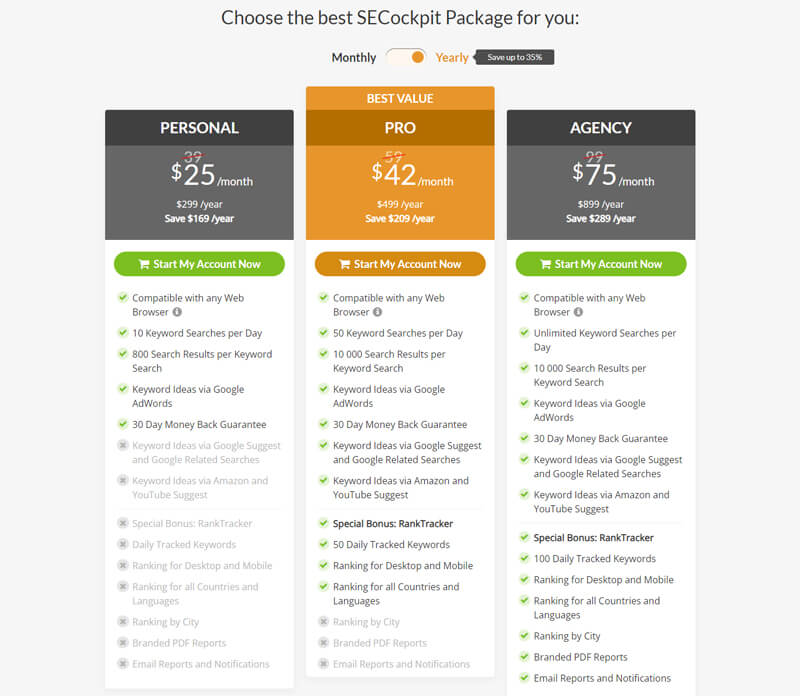 Free Trial: You can use this tool with its 7-day free trial to see how it works for you. 
Money-Back Guarantee: Each package comes with a 30-day money-back guarantee. So, you can try out this tool without any hassle. 
SerpStat is an excellent platform for digital marketing agencies, In-house SEO teams, and SMB and enterprises. It comes in more than 30 tools with a lot of features to conduct an entire site analysis, competitor analysis, keyword research, checking backlinks, and many more. 
It includes the largest regional databases of keywords for Google and Yandex which helps you to find the correct SERP keywords. You can collect semantics for your site with the indicators like search volume, popularity, competition, KD, Keyword collection, and analysis using this tool. 
In fact, with this tool, you can analyze trends and keyword seasonality to make the most suitable choice of keywords. So, anyone who wants an all-in-one solution to streamline your SEO SerpStat is the one for you.

SerpStat Features
The in-depth analysis helps in finding the best keyword options and suggestions. 
Provides insights on search questions so that you can create content for blog posts. 
"Tree-view" Keywords Distribution.
Allows to analyze and find the top-performing keywords with the fullest databases. 
You can compare up to 1,00,000 keywords in a single report with any 5 databases simultaneously. 
Pricing
Serpstat includes 4 different packages for its users. You can make the payment either monthly or yearly. One more thing, if you go for 3 months plan you'll get a 5% discount, for 6 months it'll offer a 10% discount, and for the annual payment, you'll get a 20% discount.
So, here's what features each package includes.

Free: This tool doesn't offer any free trial, but you can use it for free with a minimal number of searches per day. This will help you to get an idea of how this tool works. 
Answer the public, designed by Coverage Books' team. It works a bit differently than the other keyword research tools. This tool instantly discovers what people are searching for or asking about on SERP. It listens to the autocomplete data from Google to figure out every query and search of people. 
This tool is considered the goldmine of consumer insight that helps you to get a deeper understanding of what people are looking for related to your business and service. In fact. using this tool, you can create fresh, ultra-useful content, product, and services. 
It provides keywords in visualizations data mode and opens up keywords in a new tab showing the top-ranking contents. If you're a beginner, you'll find this tool really user-friendly.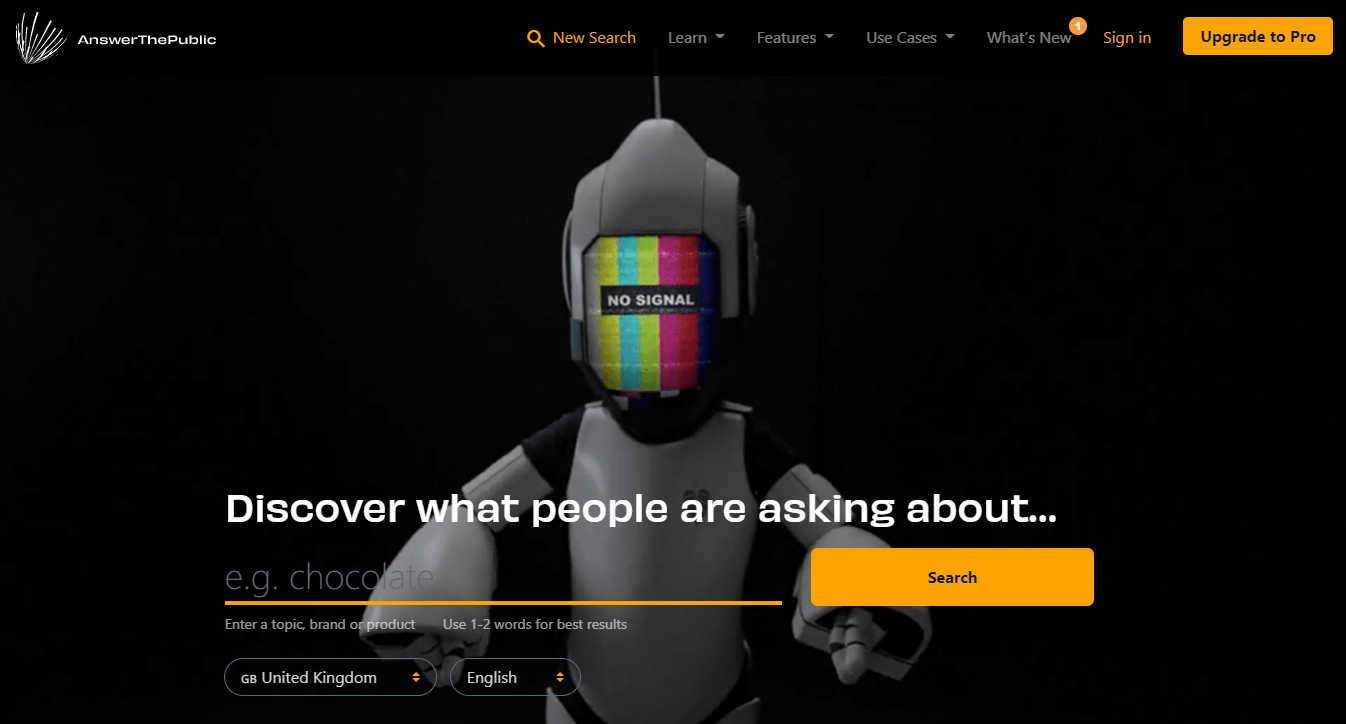 Answer The Public Features
Allows you to monitor the search behavior and monitoring trends. 
Discover unexpected and hidden keywords to ensure a winning edge campaign.
Keywords are shown in proposition, questions, comparisons, alphabetic, and related types. 

Creates folders to gather all your research and projects in one place.

You can export all your research or data to CSV, and then filter them and pivot tables as your accordance. 
It even hides all the unwanted suggestions and other unrelated branches. 
Pricing
It designed its packages for freelancers, agencies, and teams of different shapes and sizes. The payment can be made on a monthly or yearly basis.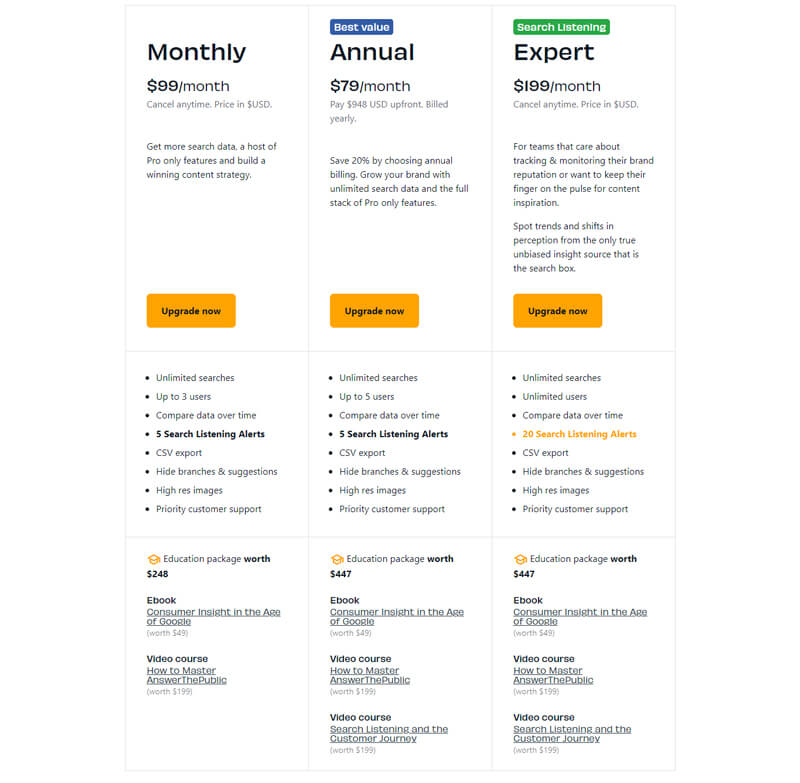 Free Trial: With this tool, you will get free searches for over 500K a month. These searches are limited based on the traffic. 
It is a freemium keyword research tool that provides accurate metrics right where you needed them. It shows the monthly search volume, CPC, trending data, and competition data for multiple website keywords. The best thing is, using its Chrome extension and Firefox add-on, you can save a lot of time. 
There is no need to copy data from one site and analyze the metrics from another site. As, with this keyword research tool, you can find long-tail keywords along with all accurate and real-time data and metrics.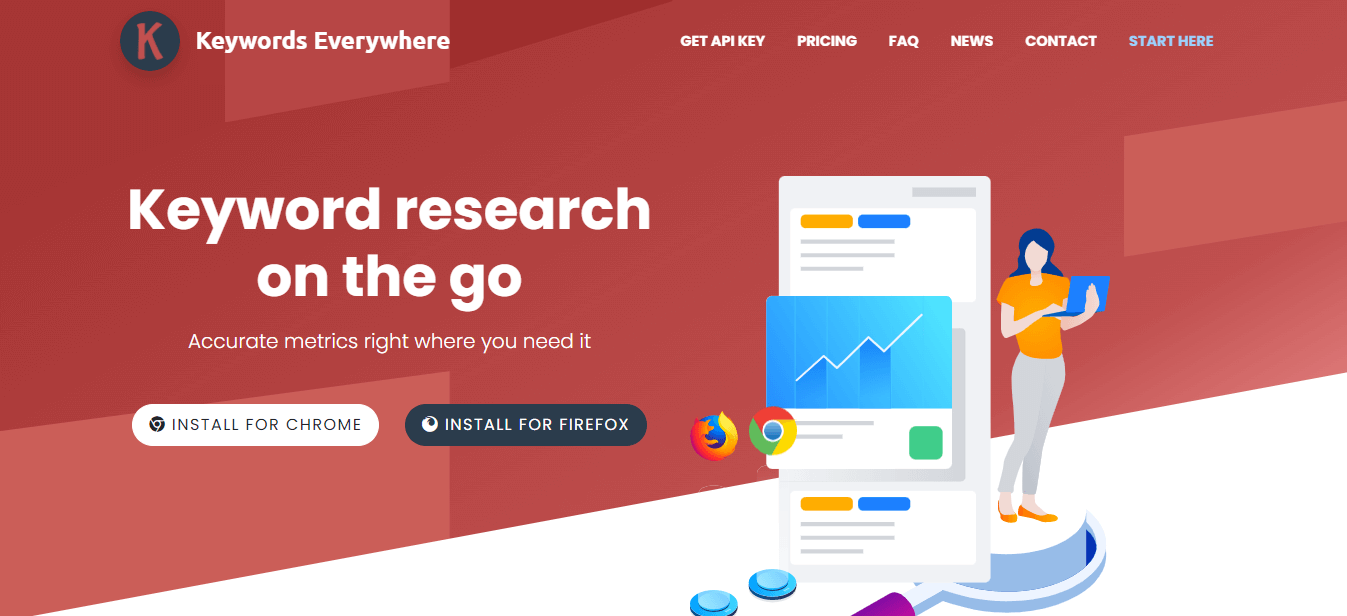 Keywords Everywhere Feature
You can see the trend chart of specific keywords from 2004 with historical volume data (in the free version you can't see the historical data) in Google and YouTube.
Provides YouTube metrics like search insights, video insights, SERP Metrics, and YouTube tags.
Allows seeing monthly traffic metrics and top 500 keywords for any URL or Domain. 
Shows the accurate monthly search volume, CPC, 12 months Trend data, and competition data. 
You can have the historical volume data for Google Search, Google Search Console, Google keyword planner, Google trends, Amazon, eBay, Etsy, Youtube, Bing, DuckDuckGo, Keyword shitter, Soolve, and answers the public. 
Pricing
The package design is a bit different, there you don't need to go for any subscription. It follows pay as you go method, so, you need to buy credits to get and analyze keywords. Remember, in this tool, 1 credit means 1 keyword. 
So, let's find out the deals from here-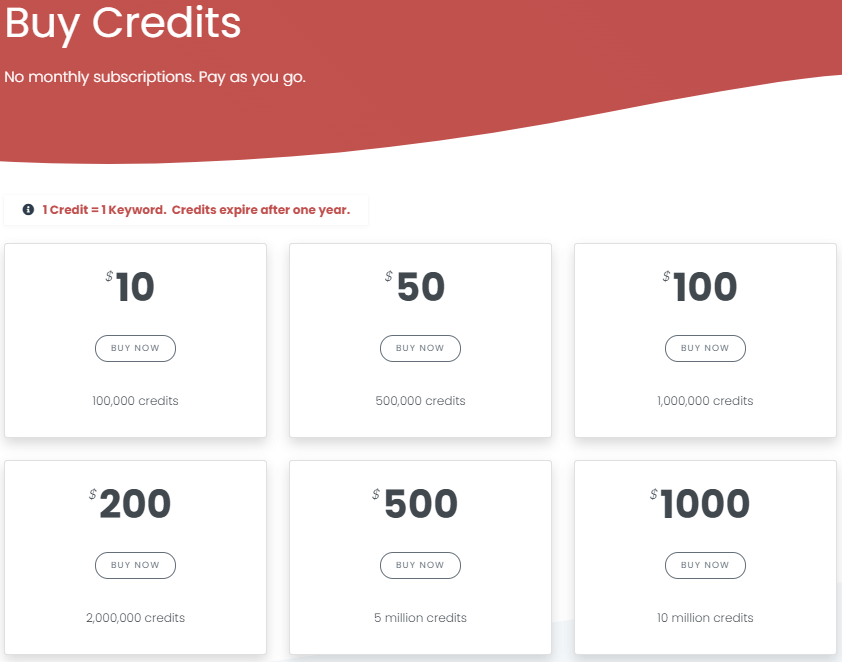 It is a free tool, that helps you to see the relative popularity of keywords through their valuable data on regional variations. This tool can be a great source if you need something to evaluate the changes in seasonality and trends of keywords over time. 
Unlike any other keyword research tool, it shares the results through graphs. You can explore what the world is searching for, related to your business with accurate data using this tool. With its provided sets of related queries, you can have an additional idea for keyword research and content strategies. 
When you enter any term into this tool, it will start showing the web interests for that specific keyword and from where (specific location) the traffic is coming. All in all, Google trends is a great tool that you can use to narrow down your targeted keywords.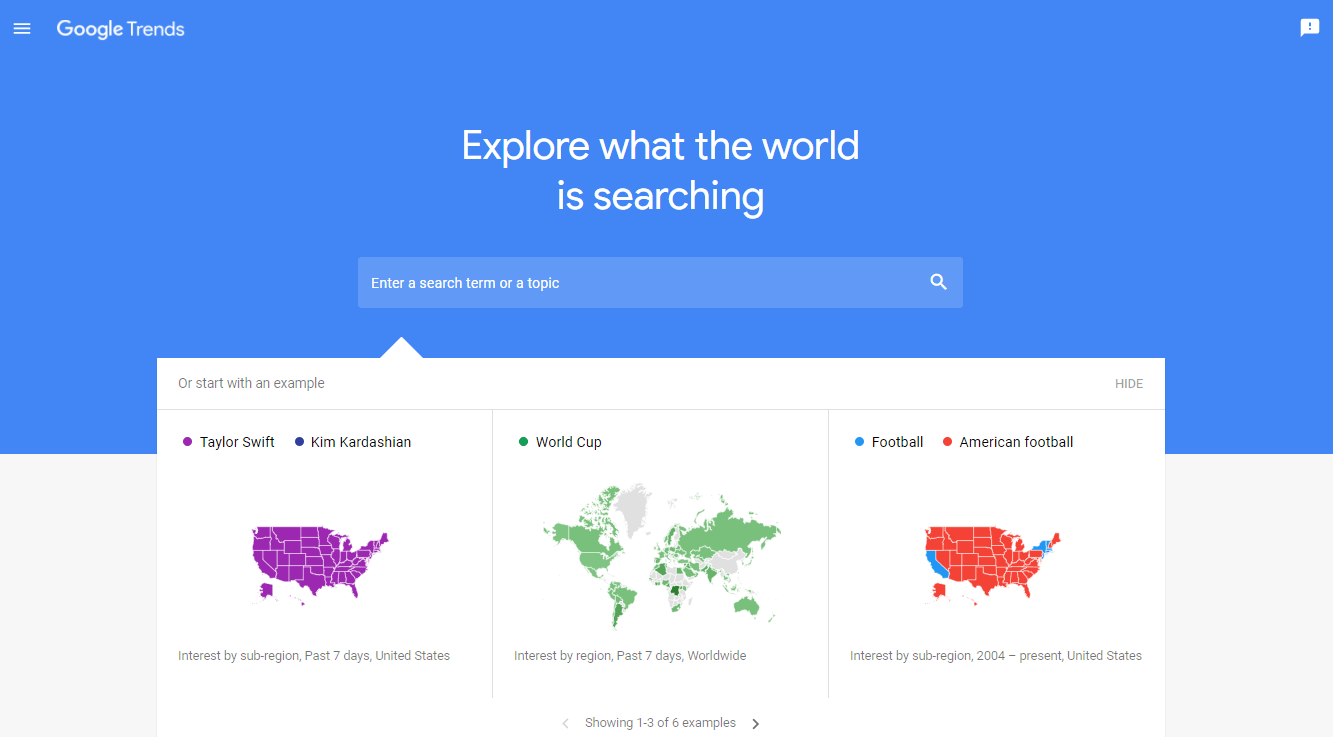 Google Trends Features
Allows comparing 5 keywords at a time so that you can determine which one will work best for you. 
Filtering the location, you can see the daily and real-time search trends. 
It shares search interest for each keyword with category and religion.
You'll get topics in several categories like news, people, beauty, definition, games, how to help, and go on. 
Comes in a comparison button to get the most beneficial one for your business. 
Soovle is also a free keyword research tool that aggravates all major search engines in one place using an auto-suggestion feature. It is able to scrap a quick list of top terms for Google, YouTube, Wikipedia, Amazon, Bing, answers.com, and Yahoo all in one place. 
This tool is really user-friendly, you just need to enter the term or phrase and it will generate keywords over each platform. With its drag-and-drop saved suggestion feature, you can easily save your favorite keywords for further use. The best part is, you can get some untapped keywords that your competitors are not aware of.

Soovle Features
Before suggesting the keywords this tool sorts them alphabetically.
You can switch from one search engine to another very conveniently.
In fact, you can place your logo and then put the search term.
Allows downloading all the keywords in a CSV file. 
By clicking the TOP button you can see the top-most internet keywords and search results. 
Which is The Best Keyword Research Tool for You?
Every tool has some unique features to do keyword research and share the metrics to let you get the perfect keywords. Some are not only keyword research tools but also act as your SEO assistant.
If budget is your main concern you can use Ubersuggest, Keyword Tool, and Google Trends. To get a more robust and versatile tool Semrush, SeCockpit, and Ahrefs work best. But I'll suggest using the free trial before making any purchase.
Hopefully, you are well informed now about the top keywords tools from the aforesaid discussion. For making your job easy, I have also mentioned the pricing plan of these tools.
So, choose one or a couple of keyword research tools that are best suited to your business and fall within your budget. Oh, one more thing, don't forget to share your thoughts and queries with me by commenting below. Best of luck!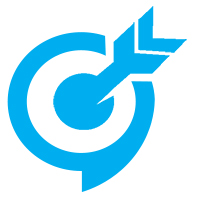 Giant Marketers is one of the fastest-growing and leading digital marketing company in Bangladesh. Its primary goal is to help clients to grow big with result-driven strategies and 10+ years of experience in the industry