In the modern era of SEO, we have no doubt how important the keyword research is!
For making the perfect and zffective keyword research you need a great keyword research tool, but the problem is there are plenty of keyword research tools on the market, so it's a matter of headache which one will be best.
Best Keyword Research Tools 2021
To give you relief from this problem, I'm going to reveal the world's best keyword research tools that help you choose the best one for you!
So let's drive into them!
1.Semrush
Among the other Keyword tools SEMrush works little differently. It carries out a detailed analysis of your keywords, gets info on trends, organic and paid searches as well as suggest 5-10 specific keywords that your competitors already use instead of producing a list of keywords.
Semrush Features:
Here I'm going to show you what features SEMrush offers you. So let's drive into them.
Keyword Overview:
The keyword overview report demonstrates a big picture about your entered keyword.
This report shows the total search volume of your entered keyword globally and also breaks them into countries.
Here you also get ideas about the keyword difficulty. This data reveals how difficult it is to rank your chosen keyword in Google's organic result.
This report provides you a list of top ranking keywords and search queries that are related to your keyword.
And tells you whether your keyword is previously used in paid search as well as the number of ads with this keyword have been rolled out over time.
This Keyword Overview report helps you to evaluate the prospects of that keyword and how it affects the traffic on your site.
Organic Research:
The Organic Research report of SEMrush helps you to find out your organic competitors, tells you which keywords are performing best and reveals new opportunities of getting a place on SERP.
It will give you a complete picture about the top organic keywords, what changes happen on the position of the top keywords, domain's keywords usage, top subdomains and the competitive position map.
It provides you the position report which shows the most used keywords for a particular domain, and their search ranking in Google top 100 results and the pages report which shows the domain that has the maximum pages in Google's Top 100 pages and find out the keywords they rank for.
Backlink Analytics:
In this section SEMrush checks any backlick profile, finds out the new opportunities and filters out the results and also measures the power of the particular domain.
It conducts a deep link analysis to find out the backlinks which are the richest portfolio, their types ( image, text etc) and whether the backlinks are followed, defollowed, or sponsored.
This report also lets you know how much the referring domains are authoritative by showing the Authority Score. And spot out your link's geolocation to show the location of your distributed links.
Traffic Analytics:
The Traffic Analytics section analyzes your website performance and compares them to your competitor' website. This report lets you know the insights of the audience; compare the competitor's audience with yours, evaluate the potential growth of the users and their preferences.
It monitors the traffic trends of organic, paid search and the referrals. Explore the new market and niche where you have the opportunity to expand your market and try to understand the behavior of the users.
Apart from these, the SEMrush provides the following features:
I. Advertising Research: Advertising Research analyzes your competitors' search Ads, its budget, gives you insight into their paid search strategies and helps you to plan your own paid search campaign.
II. Display Advertising Research: This research tool helps you to enhance your Google Display Network campaign through monitoring your competitors' display ads, analyse their ads content and define the target audience.
Pricing:
SEMrush offers you four different monthly pricing plans. You will get details here:
Note: SEMrush offers a 7- day free trial and if you cancel your subscription within this time no charges will be levied.
2. Ahrefs Keyword Explorer
For the content creators Ahrefs Keyword explorer is one of the best keyword tools. It has some benefits like it provides in-depth information of each keyword, unique click metrics, find out the low competitive words and give more accurate data.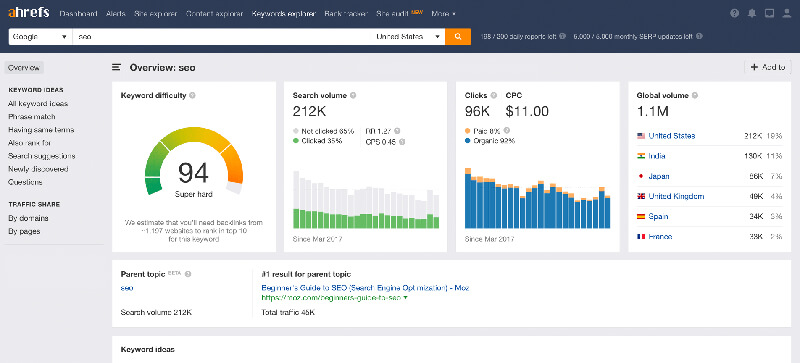 Ahrefs Features
From the aforesaid discussion we are informed about some of the benefits of Ahrefs Keyword Explorer but in this section I am going to talk about some fantastic features of this tool. So Let's get started!
Site Explorer:
In the site explorer tab of the Ahrefs Keyword explorer you get the in-depth information of the organic search, backlink profile, paid search, pages and the outgoing links.
To give you more detailed information about those features here I will give a clear look how they work.
If you enter a domain in site explorer and then click on the organic section, you will get the report on following metrics:
Organic Keywords: that show the data about the total search volume, CPC (Cost per Click), traffic and the position of that keyword in SERP.
Movements: Shows the data on the position changes of particular keywords.
Top Pages: Here you will get the top pages URLs along with the top keywords, their search volume and position in SERP.
Apart from these, you will get data about Top subfolders, Top subdomains, Competing domain, Competing pages and finally the Content gap.
The Backlick Profile section shows the report on following metrics:
Backlinks: The backlinks report shows you the data on the referring pages, their DR(Domain Rating),UR(URL Rating), traffic and the anchor text which are used for building links. You can filter the data based on live, recent and historical.
Referring Domains: It shows the list of domains from which your web pages get backlinks, their DR, Ahrefs rank and total organic traffic of that domain.
One more thing,the site explorer section of Ahrefs gives in-depth
information about the paid search.
Keyword Explorer:
The Keyword Explorer tool of Ahrefs will give you the new test of the keyword research. It tries to give all features that you have needed for keyword research. Ok, let drive into them:
Keyword Suggestions: If you have striven much but are not able to select the keyword, this tool can help you here. It makes your task easy by giving you a list of keyword suggestions that contains more than 1000 keywords.
Countries' Data: If you are not from the USA or want to expand your business in other countries. Don't panic, this tool gives you data for 171 countries.
Search Engines' Data: This tool gives you the keyword research data of 10 different search engines. So along with Google, you also get data from Bing, Baidu, Amazon, YouTube, etc.
Accurate Search Volumes: This keyword explorer refine their search volumes on a monthly basis through using the clickstream data. So you will get up-to-date and accurate search volumes data.
Keyword Difficulty Score: This tool shows the difficulty score that helps you to determine how hard it would be to rank on the first page.
Advanced SEO Metrics: You will get data of some advanced SEO metrics like average monthly clicks, clicks per search, percentage of clicks on impression, and the return rate of your given keyword.
Apart from those you also get the following features available in the Ahrefs Keyword Explorer tool:
Site Audit: This feature gives you in-depth information about what is happening on your website along with the On-Page SEO Performance.
Rank Tracker: This tool monitors your keyword rankings over time and compares performance against the competitors.
Pricing:
Ahrefs offers you four different monthly pricing plans. You will get details here:
Note: They offer a 7-Day trial for $7 on their Lite and Standard subscription plan.
3. KWFinder
The Mangools designed the KWFinder which is completely dedicated to keywords research only. Although it's a newcomer, it is one of the fast-growing keyword research tools.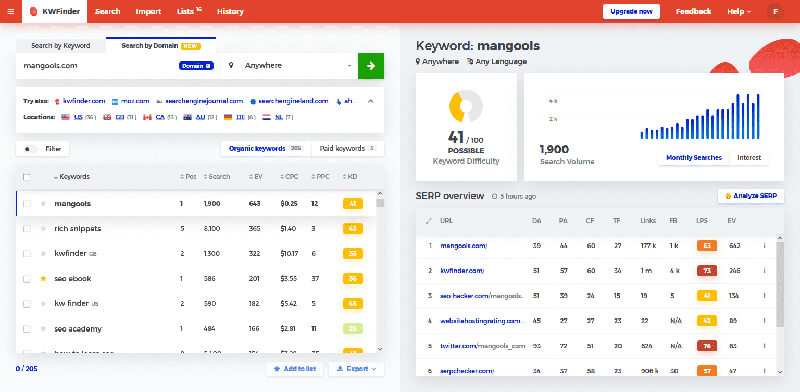 KWFinder Features
Let's take a clear look on the features that the KWFinder offers to you:
Long Tail Keywords Suggestion
This reauture give you the opportunity to find out the long tail keywords with low difficulty score.
Through the following steps you can easily find out the low competitive long tail keywords:
Start your keyword research with a particular keyword for which you want to develop your content. For example, you have searched for the home made coffee. This tool shows you up to 700 keywords ideas.
You will get the data of search volume trend, average search volume,CPC, PPC and the keyword difficulty about individual keywords.
Here you will get the option to filter the results to quickly find out your desired result. So, set the maximum SEO difficulty at 30. In that case, you will see the keywords which difficulty score is within 30.
Now, you select one long tail keywords that reveal a low difficulty score along with a good search volume.
Find Competitive Keywords:
To find out the most relevant keywords that people search for in your niche is the main purpose of keywords research. And it's the most effective strategy to find out the keywords that your competitors already rank for.
The KWfinder can help you here.Instead of starting with the keyword you just enter your competitors' domain, this tool will find out the top ranking keywords.
Along with those, you will get following features in this section:
Optimize the content for the most relevant search terms: Top ranking keywords of your competitors, Highest organic position of those keywords, CPC, PPC and immediate SERP analysis.
Google Suggest Keyword:
Google uses the autocomplete and questions algorithm to find the best matching phrases to your main keyword. You will get the Autocomplete and the Question Feature in KWFinder.
Autocomplete Feature: When you click on the "Autocomplete" tab and enter your main keyword, KWFinder adds different letters with your main keyword to discover the relevant keywords and shows the search trend, search volume, CPC, PPC and keyword difficulty of those particular keywords.
Question Features: It is a little bit different to the autocomplete feature. Here the KWFinder adds different question words with your main keyword to find out the relevant queries.
You also get the data about the same metrics that I have mentioned above.
Local Keyword Research:
If you want to dominate your niche wherever you are located, the KWFinder stands with you through providing you the exact search volumes of the local keywords.
In this section you will get some features that might be much helpful to you:
Locations: KWFinder offers you the local keyword research data about thousands of locations including cities, regions, states, countries etc. So you can choose your targeted location and discover the data.
Languages: You can filter the local keywords research result based on the languages. You will get the option of selecting one from more than 40 languages to identify search volume for that language in your selected location.
Pricing:
Ahrefs offers you three different monthly pricing plans. You will get details here:
Note: KWFinder offers a 10-day free trial. No credit card is needed for the registration.
4. Long Tail Pro
In this era of SEO, we have no doubt that the long- tail keywords are the new standard of SEO. As the name suggests, Long Tail Pro is the keyword research tool that can help you find the long-tail keywords that you can target for your website.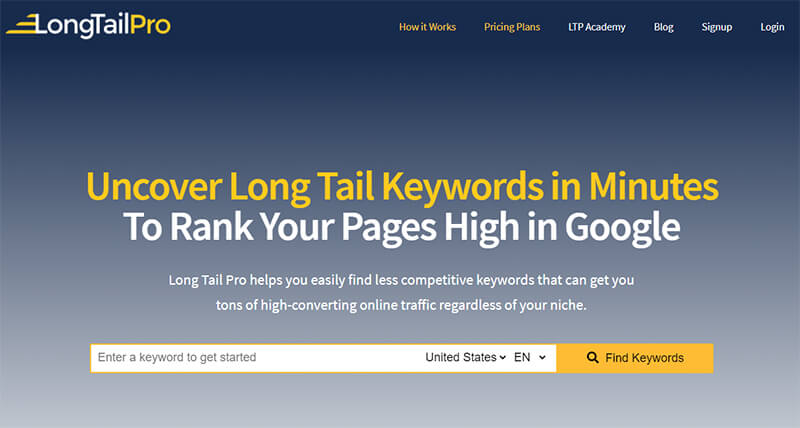 Long Tail Pro Features
Keywords Research:
In this section you will get three searching modes for your keywords research. Those are briefly discussed below:
Related Keyword: A search box has appeared on the top and here you can get the option of entering your seed keywords. When you enter a seed keyword this tool will show you 400 long tail keywords within a second.
Along with those keywords it shows their search volume, rank value, CPC and many more. You can filter the results to find out those keywords that meet your preferences.
Competitor Keywords: In the Competitors Keyword mode, you will get the option of entering your competitor's page or domain. So you can start with a competitor's page or domain.
In this case, this tool reveals the keyword strategy of your competitor. So compare the keywords by using the metrics like search volume, rank value etc and select those keywords which are proven to work.
Manual Keywords: If you have already selected your keyword, the manual keywords feature helps you to understand how well it will work for your campaign.
Measuring Keyword Competitiveness:
The most important feature of a keyword suggestion tool is to measure the difficulty of the keywords to rank for.
The Long Tail Pro keyword tool let you know the average keyword Competitiveness score of the suggested keywords. The higher score indicates the higher competition to rank that keyword.
In addition, it also shows you the search volume, rank value, Bid rate and other metrics to help you choose the perfect one through comparing the metrics.
Spy on Your competitors:
If you want to stand out against your competitors, you need to compete with dozens to thousands of competitors who are all after the audience as you are. The Long tail pro can help you to dominate your competitors.
When you have generated the long keywords ideas, it's ideal to conduct the competitive analysis. You will get the option available in the Analyze SERP tab of the Long Tail Pro. Enter your keyword here, it will conduct the competition analysis of the top sites that appear in Search Engine Results Pages.
This tool shows you the data of the metrics such as keyword competition, trust flow, citation flow, site age and referring domains to measure the chance of outranking them.
Daily Updated Rank Data:
After finding lucrative keyword opportunities, you should go for some strategies like link building, on-page optimization to boost up your keyword ranking. And side-by-side you should keep a close look on your Google keyword ranking to determine how your strategies work.
You will get a built-in Rank Tracker in Long Tail Pro that will keep you updated through checking the keyword ranking daily.
Pricing:
Long Tail Pro offers you three different monthly pricing plans. You will get details here:
Note: Long Tail Pro offers a 7-days free trial (subscription to be cancelled before 7 days).They also give you the facility of 10 day money back guarantee.
5. Majestic
Majestic is not only a keyword research tool, it plays a vital role to track your site's health. Who have started new blogs, and small businesses but are concerned about the resources to invest a lot of complicated support for search engine optimization, can try the Majestic.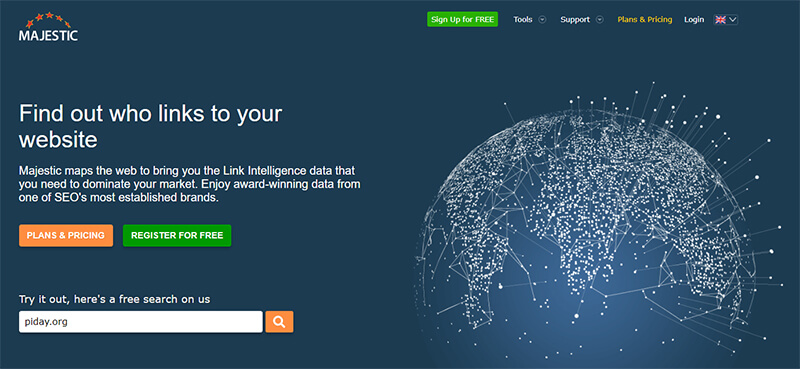 Majestic Features
Keyword Generator:
If you want to get content ideas and or looking for advertising terms, this keyword generator feature helps you much. To mine the extensive dataset Majestic Keyword Generator uses AI-based NLP algorithms.
So, let's take a took how the keyword generator works:
Enter a keyword or site domain: In the keyword generator section you will get the box that directs you to "Choose a Seed or Keyword". Here you can enter either a keyword, root domain or subdomain.
It depends on your purpose, you may have a combination up to four of your sites and related sites. No problem, put them into the box and get results!
Get a list of keywords: When you put the domains in the box and perform a search, a list of keywords will appear. This tool displays the data through some metrics like 'Search Volume', 'Keyword Difficulty', 'Frequency', 'Language'. You will also get the option to filter the frequency by site.
Keyword Checker:
The job in Keyword checker may be linked with the Keyword Generator. You can select a keyword or a set of keywords up to 100 from the Keyword Generator section you enter your selected keywords to see their stats.
Here will be noticed about the search volume, and how often the keyword appears in Anchor, Title, URL of the particular domains and URLs.
Site Explorer:
Within the Site Explorer, a box will appear and you can put either root domain, subdomain, or the URL in the box. After entering a domain or URL you will get the data of following metrics:
Summary: The summary section shows you a big picture of your entered domain or URL. Through the score of the Topical Trust Flow this tool lets you know how close you are to the most trusted websites.
It presents the total number of Backlink and breaks them down into external backlinks and supplemental links. Shows the amount of the links which are lived, direct, followed and nofollowed and also shows reports on the detected languages of your site and the incoming anchor texts.
Topics: The topics section the site explorer tab shows the trust flow of the topics like "Computers", "Internet", "Software","Programming" that your entered domain contains. It also lets you know the total numbers of external backlink and the links your topic has got from referring domains.
Referring Domains: Here you will see the domains like sparktoro.com, majestic.com, nuzzel.com that refer to the content/topic of your site through the backlinks. This tool will show you the total number of backlinks to your particular topics, their trust flow and citation flow.
Anchor text: Which anchor text is used for linking with the particular topic, total referring domains and external backlinks of that anchor text; all the information you will get from the Anchor Text section of Majestic keyword research tool. In Addition it lets you know the score of the trust flow and citation flow of that anchor text.
Pricing:
Majestic offers you three different monthly pricing plans. You will get details here:
Note: For getting a practical experience of their service majestic allow you to sign up and perform 3 free searches.
6. Keyword Tool
The Keyword Tool is regarded as one the top keyword research tools for its user friendly platform, and multiple sources for getting the most fruitful keyword suggestions.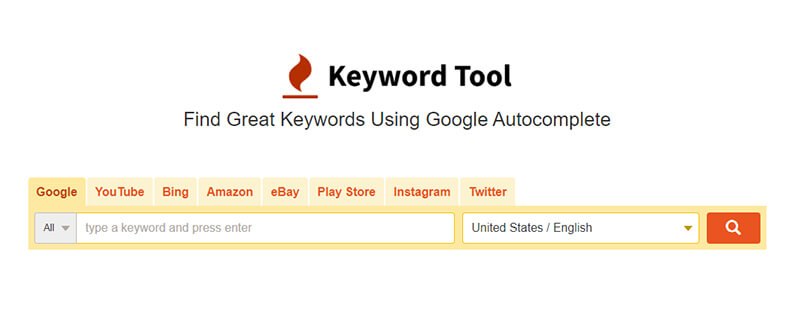 Keyword Tool Features
I. Keyword Research on Multiple Search Engines
If you want to expand your targeted field, along with the Google you want to work with other search engines like Bing, Amazon, YouTube and more, the Keyword Tool offers you exactly what you want.
Along with Google we will get other 7 search engines available in this tool. So you can try a search for a seed keyword and get the keyword suggestions for those search engines. In addition, you set the location to get the results of that particular location.
For example, if you search for a keyword like smartwatch, and set the location to United States, you will notice that the top keyword suggestion for google is "smartwatch for kids", for YouTube "smartwatch ", for Bing "smartwatch android app" for Amazon "smartwatch for men".
This result will be much helpful to you if you want to produce content for different search engines.
One more thing, along with the keyword suggestion, it also shows the search queries and presposions words for each search engine.
II. Social Media Marketing Assistant
Integrating your website with social media has much benefit, it sends more traffic to your website and increases engagement.
This tool acts as your social media marketing assistant through providing you the keyword suggestion for Instagram and Twitter. It lets you know the trending keywords that are related to your main keywords. For Instragram search you will be able to see the total post about that keyword.
For Example, when perform a search for the same keyword like smartwatch and select the language English you will get the keyword suggestion for Instagram is like #smartwatches, #smartwatchapple and for twitter smartwatch iwo.
III. Insights of the keywords
When this tool shows you the keyword suggestions, at the same time it also lets you know the total search volume, search trends, CPC(Cost Per Click) and how much the keyword will be competitive to rank.
Compare those data with the alternative keywords and choose one which is proven to work.
IV. Find valuable keywords Using Autocomplete Feature
Almost every search engine has the autocomplete feature. When you attempt to perform a search and put some keywords in google search box, it shows you some popular and relevant keywords along with your entered keywords.
Since it shows the most relevant and popular keywords, it's a great source of keywords.
The Keyword Tool digs deep into the Autocomplete feature of Google and other search engines and extracts extremely useful keywords.
Pricing:
Keyword tools dot io offers you three different monthly pricing plans. You will get details here:
Note: Keyword tool allows you the free searches for first 750+ keywords and provides a 30-day money back guarantee. You will get up to 20% off if you make payment annually.
7. Moz keyword Explorer
Moz Keyword Explorer is the combine package. Although it's a keyword research tool but it also a SEO keyword generator, and a link analyzer.It's helps you to diagnose potential issues on your site's SEO and find out what's working with SEO.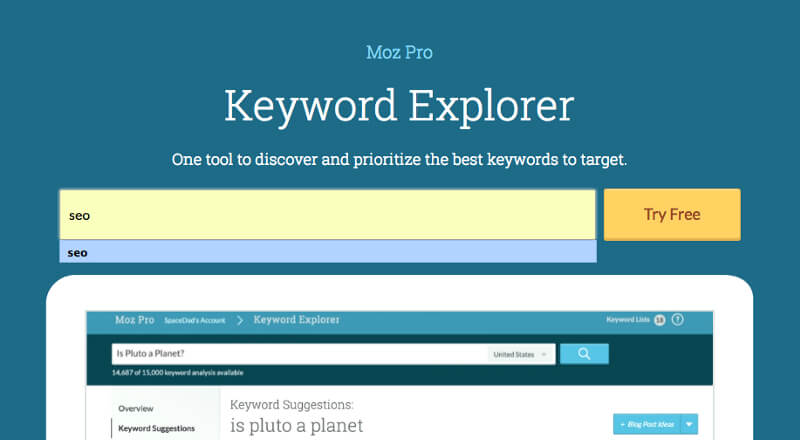 Moz keyword Explorer Features
I. Keyword Explorer
This tool is pretty simple, it gives you only a couple of metrics which you have to use in order to decide is your keyword good or not? Are you going to go with it or not?
Many tools use very confusing data to present the monthly volume metrics. But it's an important metric when you make any keyword research or if you are content marketer then it should be your top metric.
So let's talk about how keyword explorer works and help you to make perfect keyword research.
Enter an Exact Keyword: At the top menu bar you will find the Moz Pro, click this tab and select Keyword Explorer from the options. Within the keyword explorer section you will notice a search box, here you can enter an exact keyword. You could also search for keywords based on a root domain, subdomain or exact page. And don't forget to select the location.
For example, you have entered "best keyword research tools". Then this tool shows you data about this keyword. It uses some sections like Keyword Overview, Keyword Suggestions and the SERP analysis to demonstrate the results.
Keyword Overview: Within the keyword overview section you will see the data about the metrics which are Monthly search Volume, Difficulty, Organic CTR and Priority.
❏ The Search Volume indicates how many searches happen per month for your keyword. It helps you to decide quickly if your keyword is good or not.
❏ The Keyword Difficulty score reveals how difficult it is to land on the first page of Google search results for that keyword.
❏ The Organic CTR demonstrates the percentage of searchers that clicked on your keyword's results that appeared on the Search Engine Result Page.
❏ The Priority score combines the data on search volume, CTR and keyword difficulty and reveals a score to allow you to determine which keywords to use first.
This is a pretty cool metric and helps you to do your keyword research in a flash!
Keyword Suggestions: Within the Keyword Suggestions section you can find a ton of long tail keyword ideas related to your entered keyword.
By default it displays keyword suggestions that include a mix of sources. But you can filter your keyword suggestions through choosing a option that can you see in the below screenshot:
You can display the keyword suggestions only based on closely related topics or related to keywords with similar result pages.
You can group keywords with low lexical similarity, medium or high and you can even select a volume range so that you will get the keyword suggestions that fall within your selected range.
SERP Analysis: The SERP Analysis shows you the overview of organic results on the first page of SERP. Within the top section of the SERP analysis page, we can see if there are any add words on top, where the position of features snippet if someone has it and where is related questions snippet.
Just below them, you can read your competition to see how high authority they have, how many backlinks they have to their website.That's all you have to know when it comes to reading your competition.
Here you can see the top top website on Google results page and how well developed they are. It helps you to measure on your website to see where you are and how easy or difficult it is to rank for the first page.
Pricing:
Moz Keyword Explorer offers you four different monthly pricing plans. You will get details here:
Note: You will get a 30-day free trial on the MOZ's Medium Plan.
8. SpyFu
You are strived much to stay ahead of your competitors, that's why you want to spy on your competitors' SEO strategies, SpyFu can be your best friend. SpyFu is a competitor intelligence tool and allows you to spy on your competitors.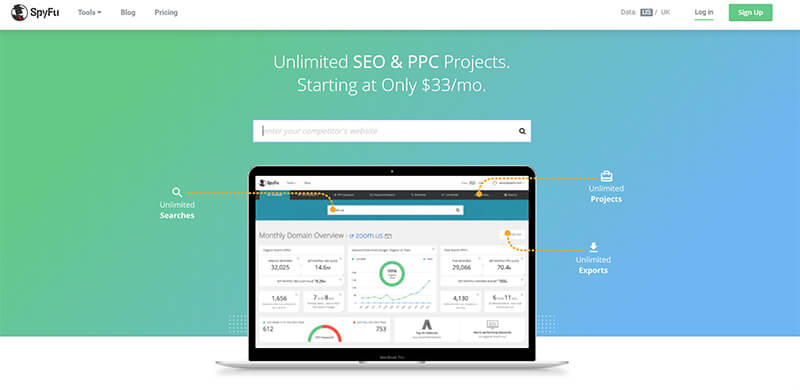 SpyFu Features
Through the SpyFu keyword research tool you will get a deep keyword research with a few easy searches. So let's take a look at what features the keyword research section provides you.
I. Keyword Research
Before starting the keyword research you need to complete an easy task. Just put your seed keyword in the search box which appears in the top section of the keyword research page and start your research journey.
After generating a keyword and making a click on search button you will get the following results:
Keyword Overview: In the keyword overview section the tool demonstrates a big picture about your keyword.
For Instance, you have put a seed keyword like "hybrid car". This tool will show you the overall data about that keyword which can be important to you for choosing a best suited keyword.
To make it more clear to you I'm going to break down the results into following metrics:
❏ Monthly Volume: It shows the number of searches done in the past month for your entered keyword (hybrid car) on Google.
❏ Estimated Clicks: This reveals the total number of clicks including both paid and organic made on SERP over the past month for that keyword.
❏ Difficulty Score: It's an effective data for keyword research. It calculates how competitive it would be to rank on the first page of Google.
❏ Similar Keywords: Based on your keyword this tool will show you the similar keywords. You will get details in the Related Keyword section of keyword research.
❏ Top AdWords Buy Recommendations: In this section, this tool recommends you the top keywords for which your competitors make advertisements. It shows the domain of the competitors to tell you which competitors advertised on this particular keyword. The total number of impressions the keyword gets per month also reveals here.
❏ Organic ranking History: Here you will see the top 10 websites , their rank position (last rank and best rank), domain strength, rank position and estimated clicks per month. Here you will also see the ranking history to get ideas of which domains were on the first page of Google in a specific time.
Through the overview section of keyword research, this tool tries to help you on your keyword research in a short while. But you will get in-depth ideas about the fields like Related Keywords, Advertiser History, Ranking History, Backlinks, SERP Analysis and more that also appear in the Keyword Research section.
II. SEO Research
The SEO Research provides a domain's most compelling SEO insights. So let's take a look what the SEO research section of SpyFu offers you:
Competitors: Enter your competitor's domain and start your SEO research. The competitors section of this tool shows you top organic competitors. Not at all, it also lets you know the total number of organic keywords that the particular domain has, estimate monthly clicks that the domain gets from its organic keyword and the monthly value of clicks to reveal how each paid keyword has a certain CPC(Cost Per Click).
SEO Keywords: Which keywords your competitors use to rank for, is an effective way to get the keyword ideas. In this SEO Keyword section you will be informed about the top keywords that your competitors use. You can see the rank, CPC, ranking difficulty of those keywords.
For example, if you enter your competitor's domain like whatcar.com, you will see the top ranking keywords such as "cheap car to insure", "cheapest car to insure", :insurance rates for cars" of whatcar.com.
Pricing:
SkyFu offers you three different monthly pricing plans. You will get details here:
Note: If you billed annually, you will get the Basic plan for $33, Professional for $58 Team for $199.
Summary
Every tool has some unique features, they have developed the metrics to let you do a perfect research. Some are not only a keyword research tool but also act as your SEO assistant.
Hopefully,you are well informed now about the tasks of the top keywords tools from the aforesaid discussion. For making your job easy, I have also mentioned the pricing plan of these tools.
So, choose one or a couple of keyword research tools which are best suited to your business and fall within your budget. Oh, one more thing, you can try the free trial to test the service of these tools, then go for the best one. Best of luck !