Giant Marketers is one of the fastest-growing and leading digital marketing company in Bangladesh. Its primary goal is to help clients to grow big with...Read more
Google ranking is the most desired factor in SEO. For every webmaster, it is absolutely essential to know where you appear in Google rankings and tracks the ranking of pages in the SERP for targeted keywords.
But, doing this task manually takes a lot of time and effort. Here, Keyword Rank Checker Tools can help you to do this task quickly. Just put your site URL and see the results in detail without wasting time on manual checking. 
You'll find tons of rank checker tools to track keywords in Google on your website. Some have been popular for functionality, and others offer rank tracking with a more complete package of resources. Thus, it can be difficult for the newbies to choose the right ones for them.
Therefore, I'm come up with the best free and paid keyword rank checker tools for SEO after using 50+ rank checker tools. I'll share what these rank tracking tools can do to help you, how they work, and how much they cost. So, let's discover them.
Best Keyword Rank Checker Tools For Tracking SEO Rankings
Using the best keyword rank checker tools is a must for every site owner. This will help you get an idea of how your optimization efforts are paying off, as well as how well your targeted keywords are progressing over time.
So, here, you will find both free and paid keyword rank checker tools for SEO to know the position of your website and have everything you need to monitor your website in the SERPs.
Ahrefs Rank Tracker

The Ahrefs Rank Tracker allows you to monitor the positioning over time on the SERPs of over 170 countries and compare it with your competitors.
Its using process is really easy, simply import the list of keywords, add multiple countries for each keyword, and input your competitor's URLs. And It's done, within a few seconds this tool will start tracking data and provide you with regular updates.
This tool will benefit you with your ranking updates for both desktop and mobile. In fact, you can visualize your SEO progress and see how can you stack up against your competitors.  
With this advanced ranking check tool, you can track a total of 13 elements such as featured snippets, AdWords ads, knowledge panels, and more. You can even see your site backlinks and competitors' backlinks to make a successful plan for your targeted keyword ranking on Google's first page.
Its Features:
It provides interactive graphs including the percentage of your site's average position, traffic, visibility, and position distribution. 
You can sort and filter your keyword lists and grouping the keywords by tags.
shares the insights with the "Share of Voice" functionality.  
It presents the ranking progress, search traffic, and SERP features report of the competitor's website to help you create a better strategy.
Helps to get deeper advanced metrics for your targeted keyword's ranking progress, CPC search volume, clicks, return rate, difficulty, and more. 
Allows you to create scheduled reports and receive them via email or download them directly
Pricing:
This tool comes up with a simple pricing structure with only 4 packages like Lite, Standard, Advanced, and Agency. So, here's what you get from the rank tracker tool with each plan.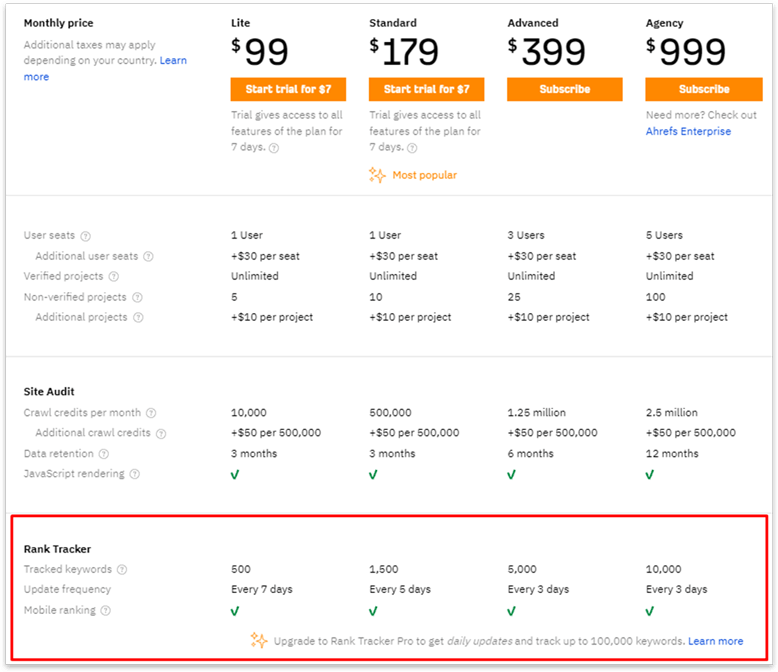 Free Trial:
Fortunately, Ahrefs offers 7 days trial at $7 for its lite and standard packages. With this free trial, you are allowed to do 5 projects with the Lite package and 10 projects with the Standard package.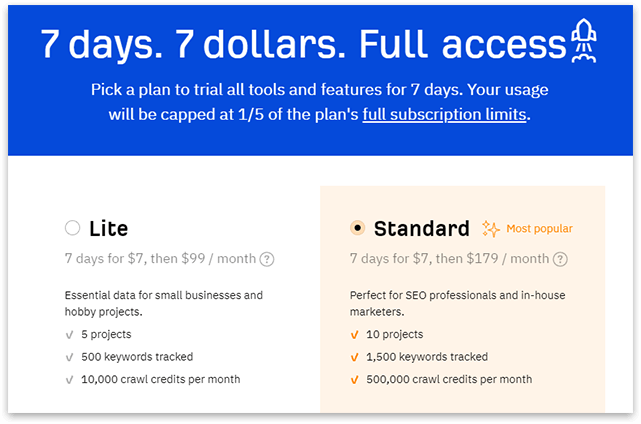 Ahrefs Keyword Rank Checker (Free)

The best thing is, Ahrefs has a free keyword rank checker tool that allows you to see where you rank for any keyword in 229 countries.
Simply enter the keyword that you've targeted, then enter your domain, select the country, and click on the "Check rankings" button. Within a few seconds, this free tool will come up with your current ranking position for the specific keyword.
It will also share the metrics for AR (Ahrefs rank), DR, UR, backlinks, domains, traffic, the no of keywords that this search result ranks for in the top 100 positions along with the AdWords and no of sitelinks.
Besides that, you'll also get the current top-ranking pages for your specific keyword with all the above metrics. 
Advanced Web Ranking's Rank Tracker

Advanced Web Ranking's Rank Tracker is the world's longest-standing tool that is doing rank tracking for over 19 years long. This convenient tool to receive a daily update on the positioning of your sites, which can be used from any device. 
If you want to carry out professional SEO in an advanced way this one will be the best-suited option for you. You can monitor your site ranking in more than 4,000 search engines and 170 countries.
In fact, you can see your keyword positions for specific local SERPs.  It'll help you to visualize your site progress on multiple data sources with relevant metrics. this way, you can show your SEO efforts and prove the value that you're bringing to your clients. 
Its features:
Provides accurate positioning updates on several search engines like DuckDuckGo, YouTube, Amazon, etc, even in different languages.
Allows to track, compare, and optimize website performance in SERPs across both mobile and desktop. 
It provides ranking reports related to the location of interest.
Tracks keywords and aggregate search visibility of your site in pixel position.  
Ideal for performance tracking, diagnosis, evaluating LPIs like visibility, click share, market share, estimating visits, and average ranks.
Available as an API to connect to Search Console and show data older than usual.
Pricing:
Advanced Web Ranking's Rank Tracker offers 4 different plans to fulfill the needs of different businesses. 
Starter: Best plan for those who are newbies in this industry. This plan starts at $49/mo only.
Pro: It will cost you $99/mo to get 7000 units. It's a perfect package for in-house teams.  
Agency: With this plan, you can utilize 14,500 units with $199/mo.  
Enterprise: If you are running an enterprise and need big data to sale this is the ultimate option for your business. It starts from $4989/mo and lets you use 35,5000 units. 
So, here are the features you'll get from each of these plans.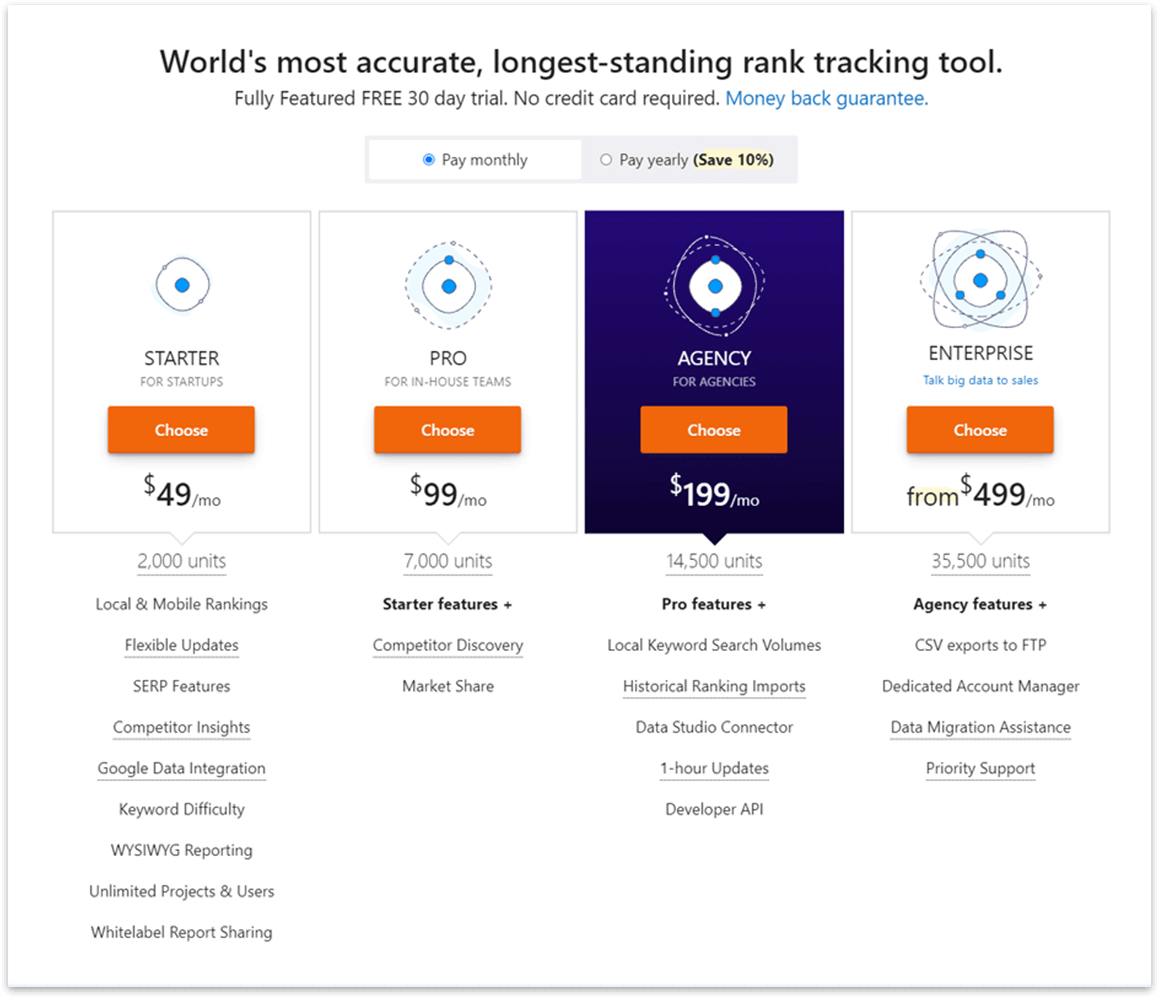 Free Trial:
You can try out this most accurate tool absolutely free for 30 days, before choosing any monthly plan. It doesn't end there, you can make the most use of this free trial using all the features without requiring any credit card. 
The best part is, it offers a 30-day money-back guarantee.   
MOZ

MOZ Pro allows you to track keyword rankings for your site as well as your competitors' site. Also, you can track the overall keyword visibility of your site on the SERP over time to get a detailed idea about what's working and what's not.
Apart from that, you can compare both desktop and mobile SERP visibility to check the positions reached with various contents such as featured snippets. It can do everything with rank tracking for SEO.
Using this tool, you'll get the most trusted and accurate data with advanced SEO insights and reporting. 
Its features:
It shows visibility on SERPs data over time.
The industry-leading SEO metrics provide the highest-quality comprehensive snapshot for keywords.
It helps to discover new possibilities for ranking improvement.
You can audit your site's performance and fix all issues that it shows.
Uncover gaps in strategies between you and your competitors by tracking their movements.
Track desktop rankings across 200+ countries on the top search engines. 
Pricing:
MOZ Pro has four packages like Standard, Medium, Large, and Premium. Each plan includes 24/7 customer support and onboarding sessions. 
To find the best option for your business, here are the features that each plan offers to you.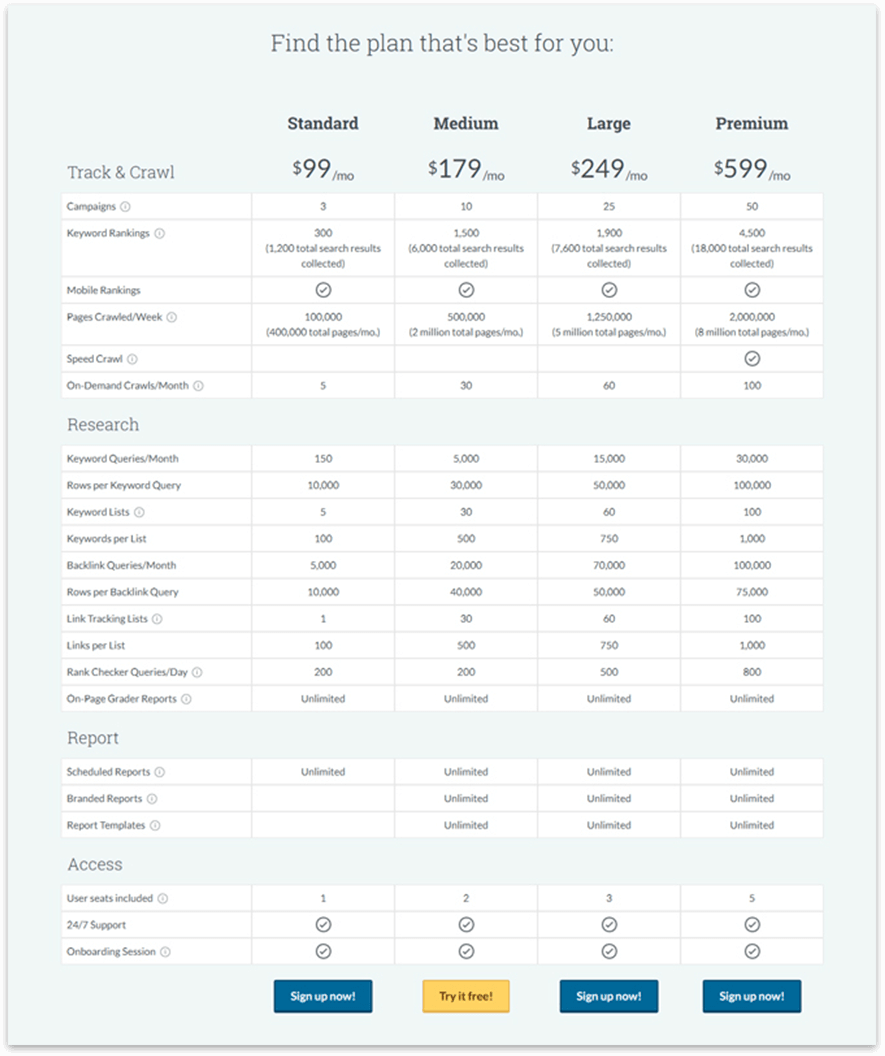 Free Plan:
If you want to try this tool first, there is a 30-day free trial option for you. In this free trial period, you'll get full access to MOZ Pro features. It includes-
Access to the SEO data
The full suite of SEO tools to drive insights & reporting
Personalized walkthrough with an expert
24/7 online support
Seek advice & engage with industry experts on the Q&A forum.
RankWatch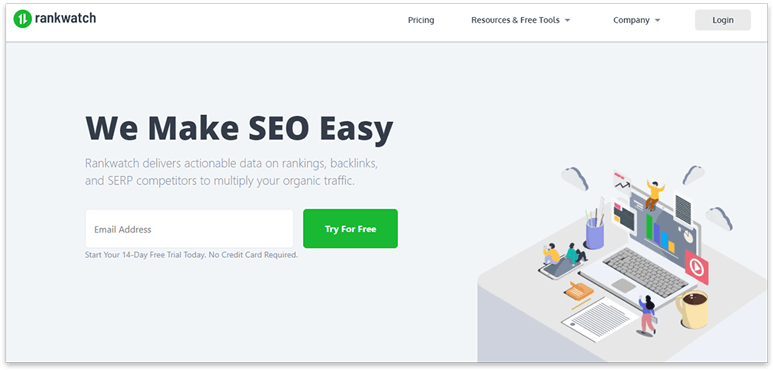 RankWatch provides a wide platform that allows you to get actual data of your SERP ranking, competitor analysis, site audit, keyword research, and many more. 
Its rank tracker allows you to get the accurate rankings of your site in all the leading search engines like Google, Bing, Baidu, etc. You can track the position of your keywords on the SERP specifying geographic locations.
With this fully automated SEO platform, you can even track your keyword's additional parameters like local, images, news, advertisements, etc.  However, with its in-depth ranking data, you can analyze your keyword strategy's success on a per-day basis through the module. 
Its features:
Uses a strong and advance rank tracking algorithm to provide an accurate ranking database. 
Plans SEO based on both desktop and mobile ranking. 
It allows you to "Re-run" your real-time ranking calculation.
Provides SERP screenshots for each respective keyword search query. 
Contains keyword categorization and advanced filtration options. 
Notifies instantly through email alerts about any keyword fluctuation.
Monitors the Global presence of your site with Google index, backlink count, and Alexa rank. 
Provides country-based search volume, CTR, clicks, and impression of keywords.   
Pricing:
RankWatch provides a customized pricing plan so that you can choose the perfect option for you. You can get daily or weekly rank updates for a 1-month, or 6-month, or 1-year plan. So, here are the plans and their features.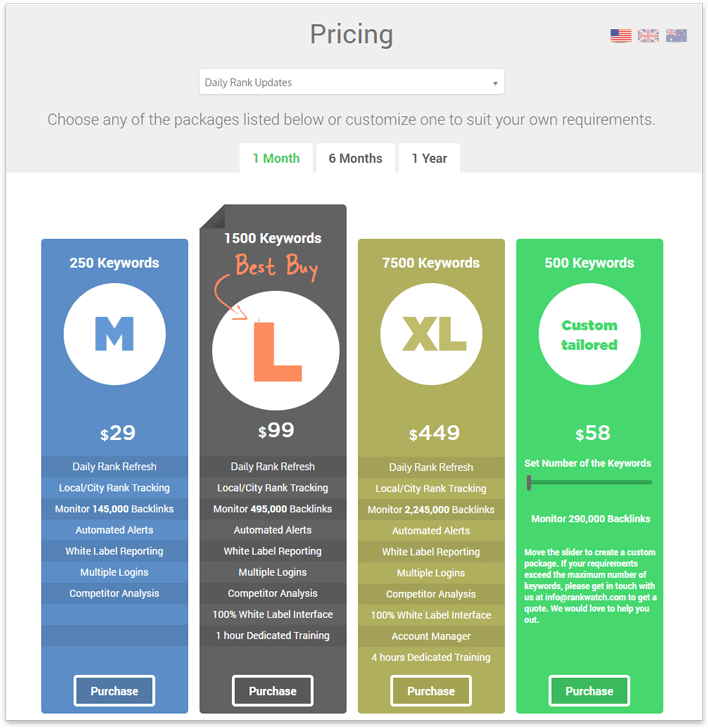 Free Trial:
If you're still confused to go for purchasing any plan, then you can try out this tool using its free trial plan. It offers a 14-day free trial option, so you can explore all the features with no credit card required.  
Semrush

Semrush has a vast collection of tools to help you to make the most out of your site's SEO. With its position tracking tool, it allows you to keep track of the positions reached for any keyword, comparing with competitors, and helps to discover new opportunities to improve the online presence.
It can be set for different kinds of devices and allows you to evaluate the positioning for the keywords of interest and with respect to the competitors who are judged to be more relevant.
Using it you can see your best-performing posts, pages through the specific keyword. This amazing tool makes it easy for users to track campaign progress, discover and fix cannibalization, and optimize their targeting efforts using their most accurate data, and daily updates.
Its metrics help users to understand the difficulty of ranking on the 1st page of Google. You can analyze traffic and their location to prepare for the next plan. Also, it is perfect for Ads research.
Its features:
It monitors and collects accurate ranking data of any domain, subdomain, subfolder, or URL on a daily basis.
Analyze and filter data by 16 SERP features to boost SEO strategy.
The competitor's discovery tab will share your real competitor's data.
You can download site data and keywords lists with CSV, Excel, and other formats.
Monitors website performance across different locations and devices along with the search volume comparison. 
Discover opportunities to appear on Google's SERP with the featured snippets. 
Pricing:
Semrush has 3 different pricing packages. Each package comes with several features to make your SEO project successful. so, here are the plans and what they offer to you.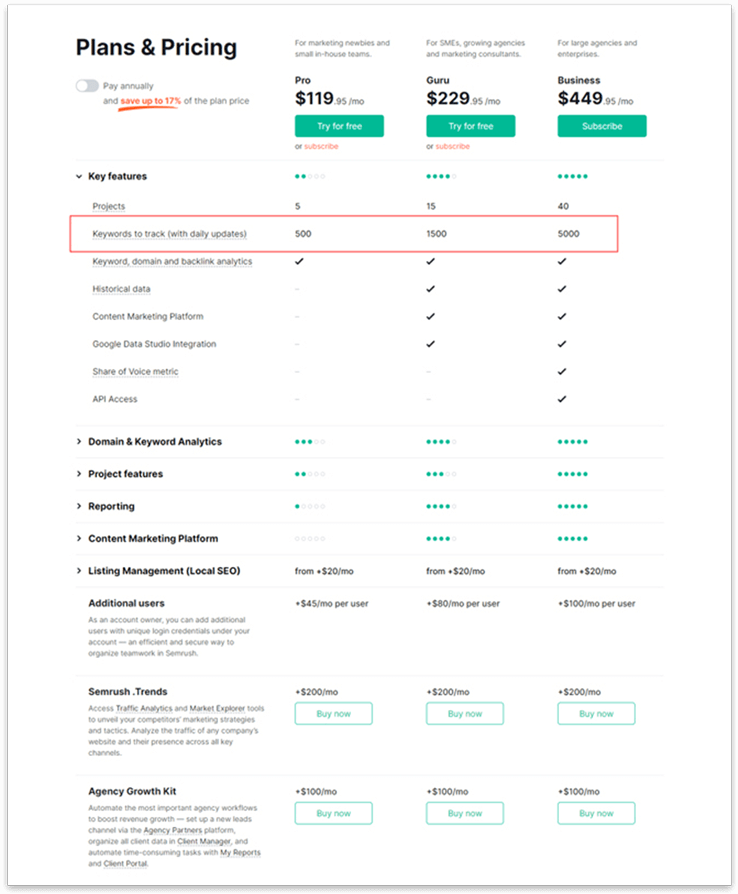 Free Trial:
You can start using this tool with its 7-day free trial option of either a pro or guru subscription. Also, if you want to cancel your subscription within the first 7 days, you'll get a full refund. 
AccuRanker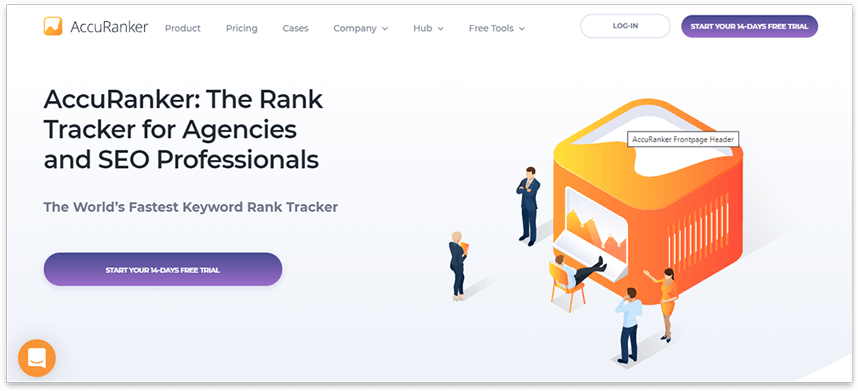 AccuRanker is the fastest Keyword Rank Tracker best for agencies and SEO professionals. It is integrated with Google Analytics, Google search console, CSV Importer, Google Data Studio, and many more so a user can get accurate data for improving rankings.
In fact, you can have ranking data both globally and at the local level. You can track your keyword ranking with the top 10 competitor's data. The ranking data are provided based on daily updates so that you will get fresh data. 
 Its UI ensures an easy and appealing way to track your ranking data. You can do custom keyword tagging and performance analysis. It helps to build a report based on your ranking data.
Its features:
Provides a real-time overview of your keywords, tags, landing pages, and custom view's organic position. 
Reviews the changes in keywords and offers historical data. 
You can add and manage unlimited domains within one account. 
It allows you to tag custom keywords with the full-featured report.
Segment and filter data to ensure in-depth analysis.
Pricing:
The pricing strategy of AccuRanker are developed by monthly and yearly plans. With the yearly plan, you'll get a 10% discount. The best thing is, you can upgrade, downgrade, and cancel your plans any time without any additional cost.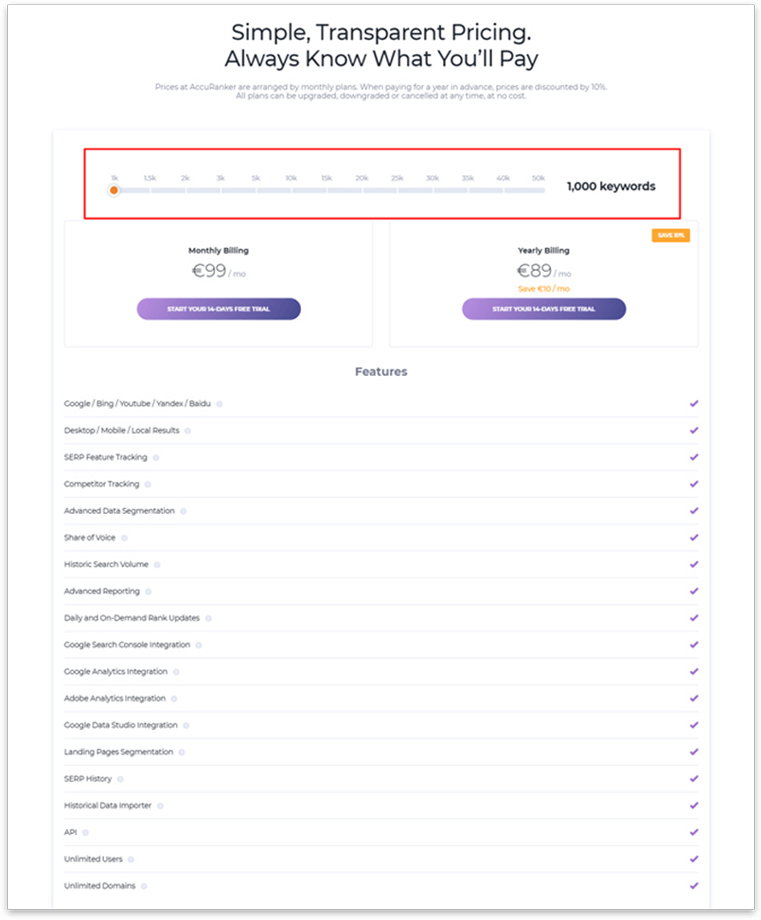 Free Trial:
Both monthly and yearly plan offers a 14-day free trial. with no credit card required you can explore this tool and its features. 
Authority Labs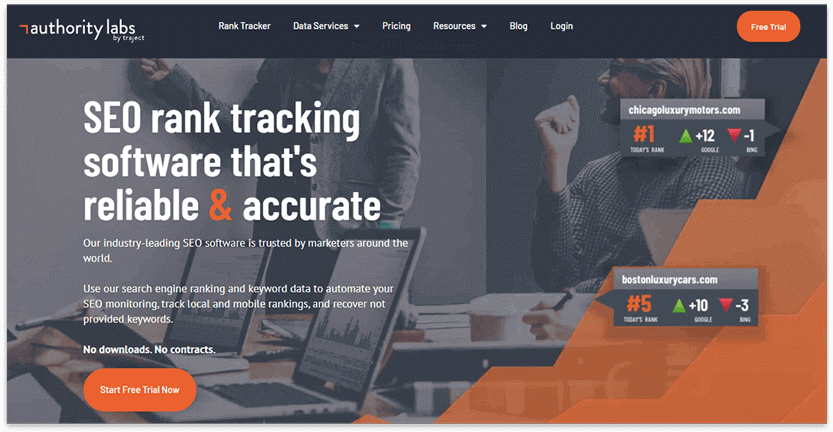 Authority Labs Rank Tracker is one of the tools for SEO that shows reports with daily rankings with the keywords we select in different search engines.
You can track the data locally by indicating a city (including a postal code) or country. Using its reports you can prioritize your SEO approach, plan new, and more attractive content for users.
It allows weekly or monthly scheduled analysis that enables you to modify your positioning strategy more quickly and effectively. Working with this tool is really time-consuming, simply add the domain, keyword, and location and it'll do the rest.  
Its features:
Track your mobile ranking and the keywords with device-specific data.
Add domains or pages from any country or language supported by Google, Bing, and Yahoo to expand your reach. 
It allows you to track competitors' SEO campaigns along with your own to compare.
Get detailed reports with a daily rank check to help you explore your site.
Optimize your SEO by setting up multiple sites.
Pricing:
The pricing plans are arranged by four different packages like Plus, Pro, Pro Plus, and Enterprise. Choose the best one according to your business need and start tracking your SEO campaign. So, let's see the plans and features-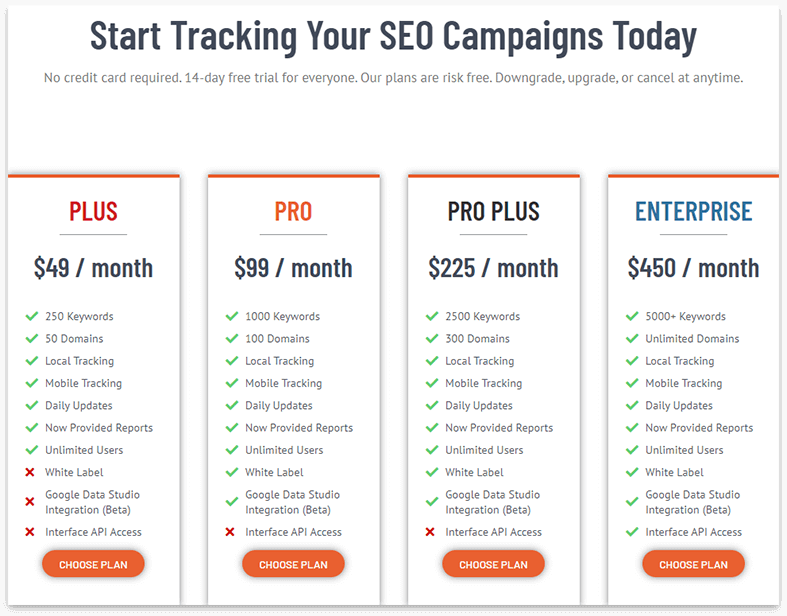 Free Plan:
All the above plans are absolutely risk-free. To explore how this tool works, you can try its 14-day free trial plan. No need to provide any card details. 
Serpstat's Rank Tracking Tool

Serpstat's rank tracker tool is a one-stop solution for tracking your website rankings. It helps to check both global and local organic as well as paid results for your domain and competitors.
You can easily determine your keyword's value from its given performance indicators to increase visibility and boost traffic. It helps website owners keep full track of their competitor's backlinks.
This solid SEO tool provides you with a unique manual or automatic white label reporting. Moreover, with this tool, you'll get instant notification whenever your ranking changes or SERP features are gained or lost. 
Its features:
Serpstat tracks the site's position with Google SERP tracker.
Consists of a unique filtration option to target and fine-tune specific pages. 
Allows to analyze market share and assess the potential.  
Monitor and analyze ad positions in contextual advertising.
Collects complete backlink data over the past two years and at the same time tracks competitor's backlink strategies.
Set up a schedule for automatic reports with changes' dynamics.
Pricing:
This tool offers 4 packages that are billed monthly or annually. If you have a big enterprise and need even more data you can contact them to get the specific service. However, here are the common packages-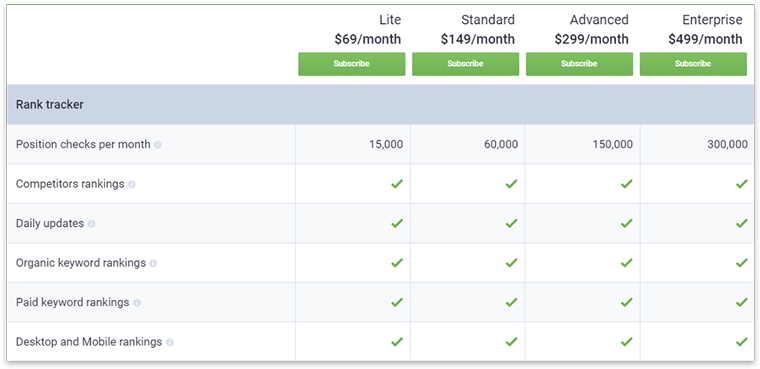 SEObility's Ranking Checker (Free)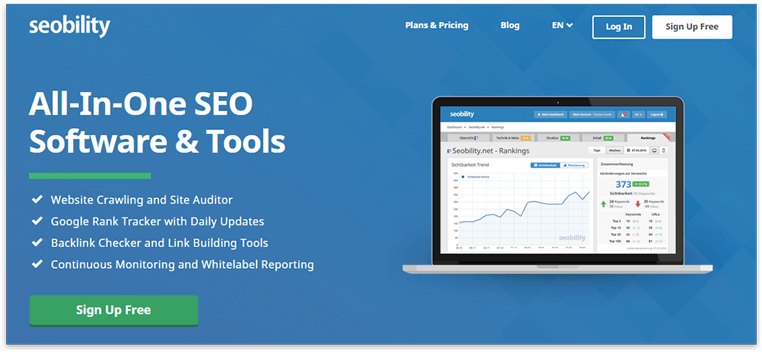 SEObility's Ranking Checker helps you monitor your website ranking based on targeted keywords which helps to optimize SEO. It's a completely free tool that requires no registration and card details.
With its regular updates, it helps users to improve their rankings on search engines. Along with showing the exact ranking this tool also displays the top 100 search results overview on Google – including SERP snippet.
This tool provides analyses, evaluations, and reports for both desktop and mobile search results, and also includes the rankings of your competitors. While using this tool, you can react quickly to changes in search results and rework your website's SEO to leave your competitors behind. 
Its features:
Shows your keyword position, provides objective and SERP data in real-time. 
Performs in-page crawling and keyword tracking by providing users with suitable improvement suggestions.
Users can also rate and monitor local search results, which will help them rank higher for a particular target group.
Quickly explore and compare competitors' website content so you can streamline the process.
Generates regular reports to show a change in website rankings.
Pricing Plan:
It's a free tool and you can only check 3 rankings data in a day. You can continue to use this tool free until 1000 subpages have been checked. Then you have to subscribe to the Premium or Agency plan. 
so, let's see what these plans include-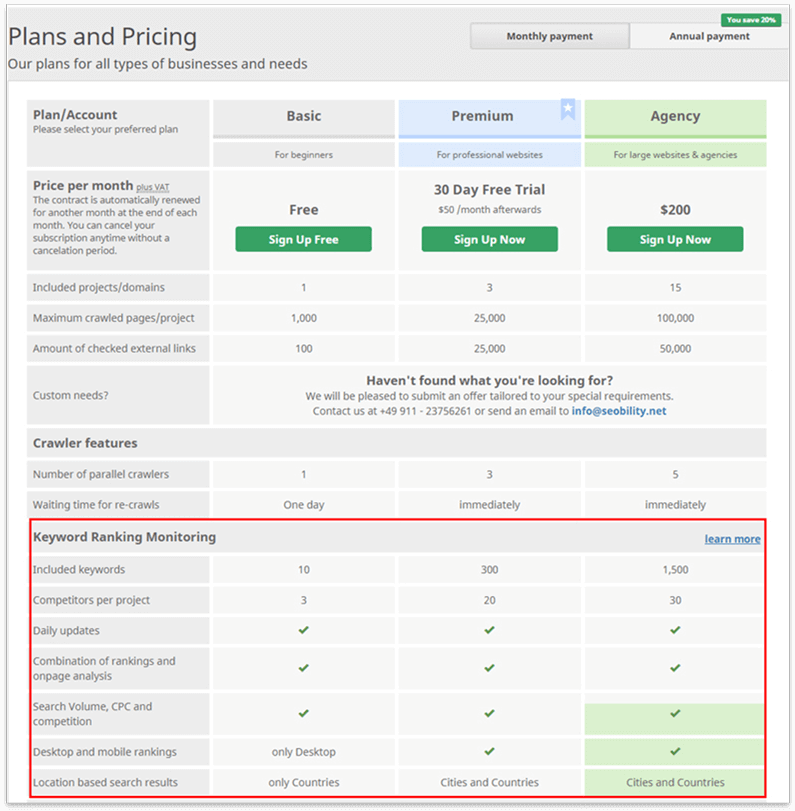 Free Trial:
The premium plan offers a 30-day free trial. So, you can make the best use of all the premium features before making any decision to purchasing it. 
SEOptimer

SEOptimer helps you improve your page ranking on search engines and keep you updated to progress over time in your country. Just enter your site and this tool will show you all the real-time keywords your site ranks for. 
You can even scan your site's content to get the most common keywords that may add value to your site. In fact, you can find the most potential keywords for you from its given search volume, ranking position, traffic, and competitiveness for your ranking keywords. 
It allows you to track the week-to-week changed in keyword rankings and the number of traffic they are gaining.  Besides, you can create a potential plan for content marketing and improve your website rankings on Google's first page.
Its features:
Provides websites with their own customized reports by performing a multi-factor audit.
Share your success in ranking through exporting data to CSV, Excel, or PDF.
Helps to detect technical SEO issues by crawling every page of the website.
Allows you to track your keywords from 70+ countries worldwide.
The DIY SEO plan users get a weekly email about the latest rankings and changes.
Pricing:
SEOptimer comes in 3 different plans like DIY SEO, White Label, and White Lable & EMbedding. All these packages are perfect for small business owners and digital marketers. so, here are the included features-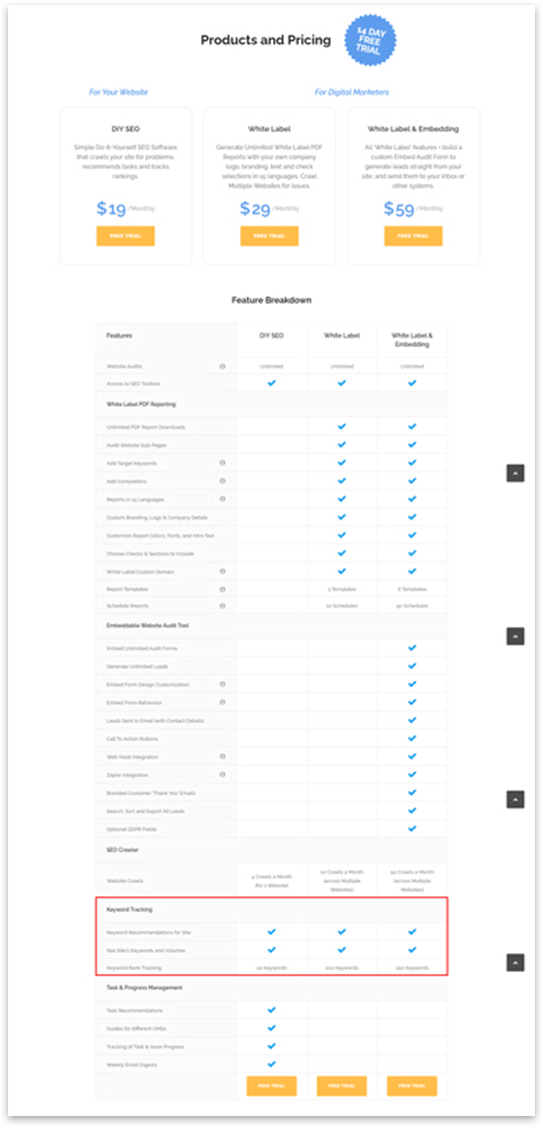 Free Trial:
Each of the above plans offers a 14-days free trial to test this tool and see how it works for you. Once testing and found it useful you can subscribe to any of the plans that suit your business most. 
Ubersuggest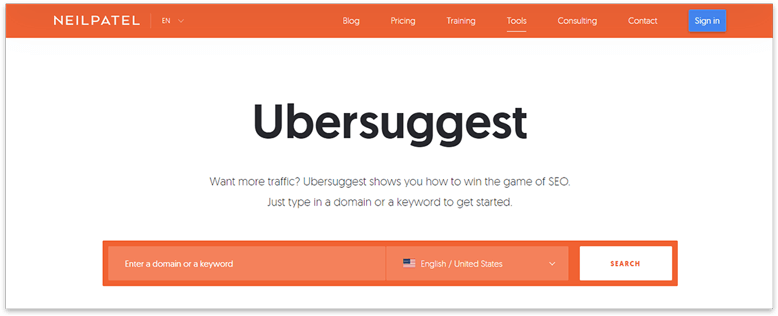 Ubersuggest is a free keyword research SEO tool, that helps you generate new keyword ideas to create engaging content. While researching keywords, it provides over a hundred suggestions with search volume, difficulty level, and traffic graph.
Also, using this tool you can track daily rankings on various topics. It shows the competitor's list on each keyword search with all parameters. It includes backlink data that impact Google rankings.
However, you can get engaging content ideas on your keyword and topic. With top pages on a specific keyword, you can save time from unnecessary content.
Its features:
Optimize blog or website content by providing niche keywords.
It allows you to analyze competitors' strategies and plan for your better SEO planning.
Provides daily changes in your rankings.
Track or check ranking position for both desktop & mobile in unlimited locations.

Exports feedback and data report for your keyword ranking.
Pricing:
There are a total of 3 packages for small businesses, medium businesses, and enterprises or agencies. So, pick a plan and get started with your keyword rank tracking. Now, let's see what you'll get from these packages.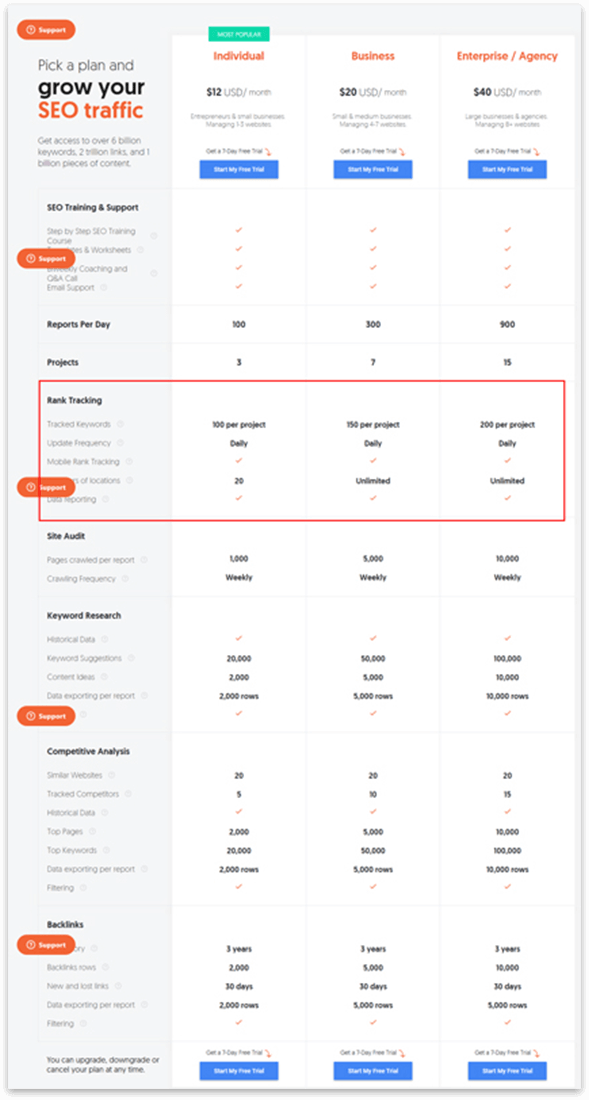 Free Trial:
Though you can use this tool absolutely free, with of course a limitation. You are allowed to do only 3 searches per day. Therefore, to make the most use of this tool, you've to choose a plan. but the good thing is, you can at least see how this tool works with its zero Risk-Free Trial for 7 days.
SpyFu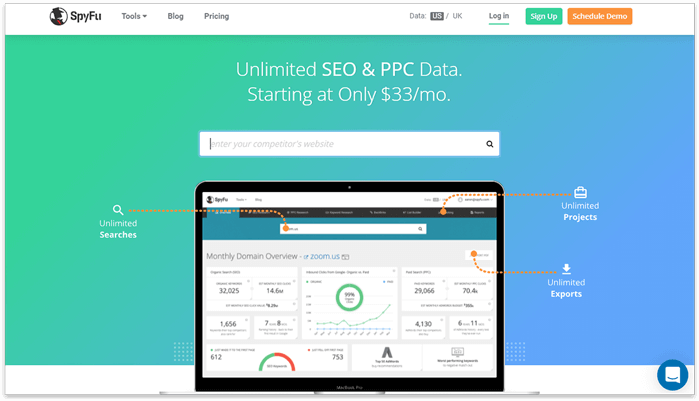 SpyFu's rank tracker allows users to generate amazing keywords by analyzing competitors' keywords. You can track keyword-based ranking and do research SEO on related topics.
Once adding keywords to a project, this tool will start presenting the report back every single week with your keywords ranking. Not only you will be able to see the keyword ranking in organic search but also for PPC on both Google and Bing.
You can even trace the ranking history of your site on a keyword and discover the algorithm change. In overview, it presents organic keywords, traffic, value, inbound links, and lots of information on any website. 
Its features:
It helps to track your ads and also suggests keywords with all parameters.
Make it easy to save keywords and organize them using convenient short-cuts. 
Keeps track of competitors' strategies and valuable data.
Provides weekly report updates with your domain's standing.
Suggests beneficial keywords by tracking the competitor's campaigns.
Find out exactly where your SEO paid off by tracking every single ranking or ad position.
Pricing:
SpyFu has 3 plans such as Basic, Professional, and Unlimited with monthly or annual billing options. So, here are the plans and their included features.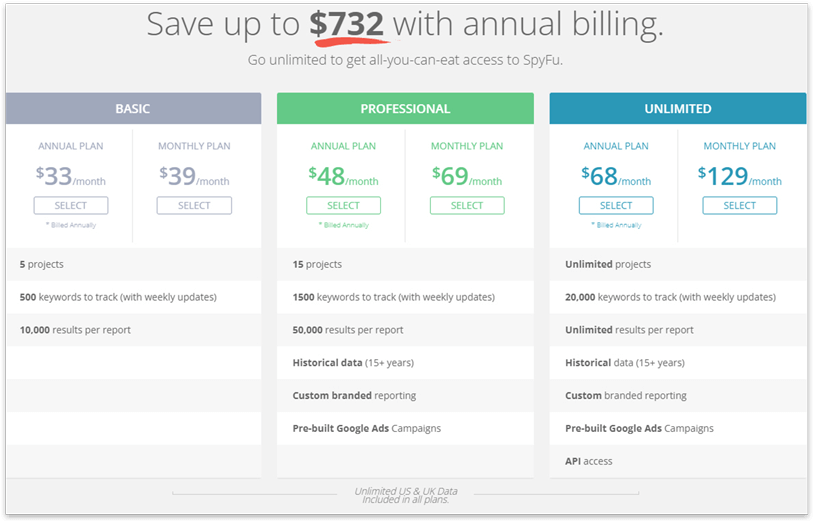 Money-Back Guarantee:
This tool doesn't offer any free trial, but it is absolutely risk-free with its 30-day money-back guarantee. If for some reason, you want to cancel the plan within 30 days, you can do it just by sending an email, live chat, or phone call. 
Woorank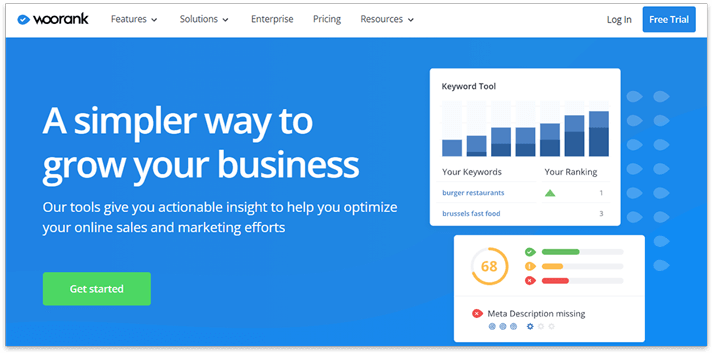 WooRank's tracking tool is an effective SEO keyword tracker that identifies, monitors, and tracks your keyword ranking progress. You can use the essential data provided by this tool to compare your position against competitors and react immediately to changes.
This way, this tool can help you to improve traffic and other improvements. You can make the most with its web analytics track conversion, goal setting, ads strategies, keywords, and shape your business strategy.
So, if you want to monitor your competitor, localize your effort, discover new opportunities to provide a potential value this tool is there for you. 
Its features:
The keyword tool is used to track keywords and changes in ranking over time along with competitor keyword exploration.
Fix tracked issues, indexing errors, and remove duplicates to make the website Google friendly.
Built-in web analytics for tracking rankings, keywords, goals, and much more.
Provides keywords that trigger Google's featured results.
export data as CSV to complement your historical report.
Organize and categorize keywords using tags and gain insights into which areas of your site require more attention.
Pricing:
Its pricing plans are designed for growing businesses, professionals on multiple sites, and for larger teams. So, see from the following image which plan suits your business.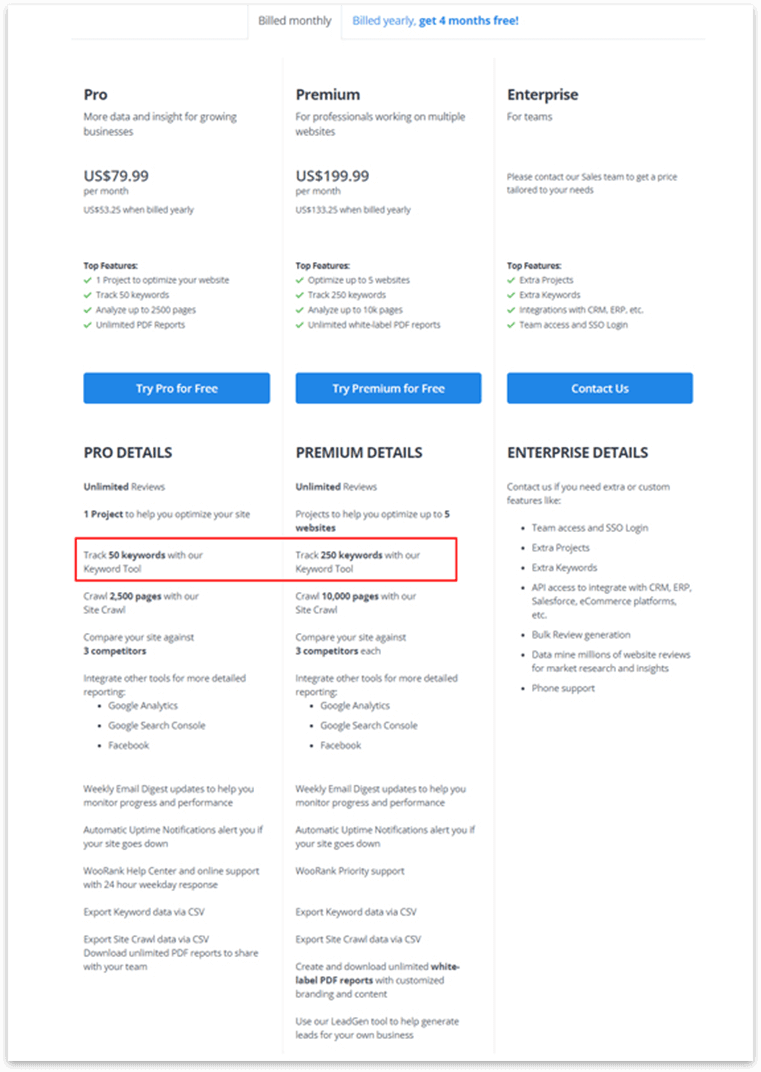 Free Trial:
The pro and premium packages offer a 14-days free trial option. In this period, you can use all its features and tools.  
FATRANK

FatRank is an effective Google Chrome extension that finds out your site rankings in the Google search engine. It ensures 100% accurate data of keyword parameters.
Anyone can use the tool to improve a site's SEO. It shows keyword density by researching competitors' analyses and tracking their keywords. You can track your site's rankings globally and locally.
With this extension, you can check multiple keywords and these will all store within your session history tab. It also allows users to quickly download CSV reports from both the FatRank mobile app and the Chrome extension.
Its features:
It tracks unlimited keywords by doing competitive analysis.
The graph function shows how the ranking of web pages has changed over time.
Send you in-depth and analytical reports in readable formats.
Search down to a ranking depth of 100.
Check your site's keyword base rankings according to country.
SERPWatcher

SERPWatcher is a great rank tracking tool that makes daily rank checking possible within 30 seconds. This tool developed a performance index, so that, you can get the current keyword position including search volume and traffic. 
You can have precise local data for over 50K locations including countries, states, cities, and DMA regions. With this tool, you can see exactly how your site is performing in SERP. 
Its features:
Tracks desktop and mobile results for 50k+ locations.
Updates daily keyword positions.
Provide all critical data on one screen. 
Organize your keywords with tags and check performance with one key metric. 
Allows Gmail alerts and share interactive reports of your tracking results. 
Pricing:
It comes in 3 pricing packages which will be billed either monthly or annually. Let's find out what these plans offer-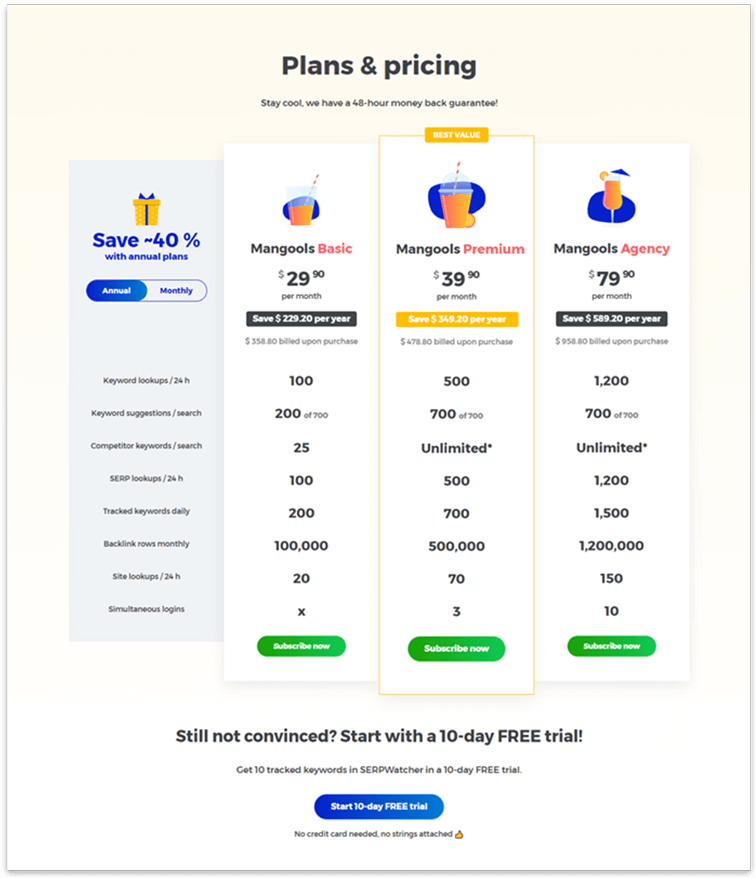 Free Trial:
This rank checker tool offers a 10-day free trial to test this tool requiring no credit card and no strings attached. Even it comes in 48-hour money-back guarantee.  
Final words
Using an excellent SEO tool will always help you get the best results and quickly improve a website's search engine rankings. With these best free keyword rank checker tools for SEO, you can easily optimize your content and keep an eye on your competitors.
The best about these rank checker tools is that many of them have a free trial. These tools allow you to try them out before making any final decisions. Also, they help users track changes in keyword rankings. Use the tools to improve your site's SEO performance.
In my opinion, SEMRush, Serpstat's rank tracker, and Ahrefs genuinely work great for real-time keyword rank tracking. when it comes to using a free tool, the FatRank extension and SEObility's Ranking Checker will be a great option for you. 
So, this is the end of this guide. If you have any related queries, don't hesitate to comment below.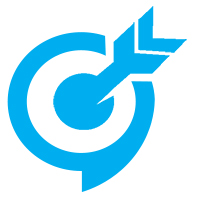 Giant Marketers is one of the fastest-growing and leading digital marketing company in Bangladesh. Its primary goal is to help clients to grow big with result-driven strategies and 10+ years of experience in the industry