Giant Marketers is one of the fastest-growing and leading digital marketing company in Bangladesh. Its primary goal is to help clients to grow big with...Read more
Copywriting is tough, and when you are doing it on a regular basis, it's become harder to create something great. The repetitive nature of this task is the main reason behind this.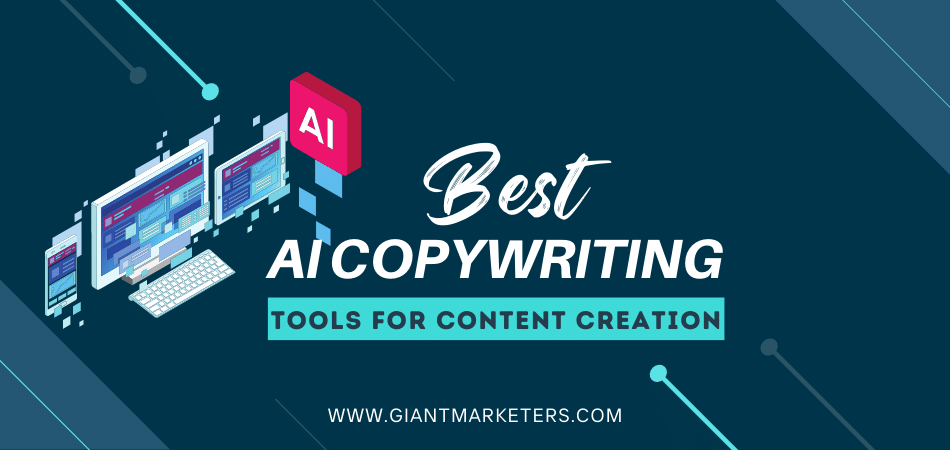 It makes you monotonous and sometimes can drain your creativity also. Well, here, artificial intelligence, or you can call them AI Copywriting Tools, can help you out. With a few instructions, these tools can create excellent content faster and cheaper than before.
But the issue is, there are dozens of tools out there, and only some of them are worthy. Therefore, I have listed the best available AI copywriting software in this guide to make your task easier. So, without delay, let's start exploring them.
What is an AI Copywriting Tool?
Essentially, it is computer-generated writing that is created by using natural language processing tools. However, these tools are not fully automated, and they require some kind of manual interaction. For example, you have to set certain parameters for the AI tools as per your content type.
Let's say, you want to write a social media post, keywords, so you have to instruct the tool according to this topic. Like, what tone you want, some basic information about your post, your targeted audience, and many more. The parameters of requirements will differ for different tools.
Now, once receiving the instructions, the AI tool will start analyzing similar content on the web. Then, based on your parameters, it will begin generating content into something unique.
Before jumping into the tools, let's find out the reasons why you should use AI copywriting tools for your content creation. And, I have to say there are a few reasons why every marketer should check out these tools.
It helps to boost your performance.
AI tools can analyze data much quicker than humans.
Saves money, time, and effort as well.
Generates articles instantly.
Work 24/7.
Improve the quality of service.
Great for startups and digital agencies.
Improves digital marketing.
Most importantly, when you feel absolutely blank, which is called writer's block, this tool can be your best writing partner.
Unfortunately, like any other digital marketing tool, the AI copywriting tool also has its own limitations. First, you should keep in mind that I'm talking about a machine. These machines or tools analyze content that is written by humans and mix them up to create something unique.
So, here are some of the drawbacks of AI Copywriting tools-
These tools can't replicate human emotion, which is essential for engaging content.
AI Copywriting tools are not the complete substitute for human content writing.
Still, you have to proofread the copy and correct the grammatical mistakes, wrong wording, and incorrect phrases.
Best AI Copywriting Tools for Content Creation
Now that you get a clear idea about AI Copywriting Tools and their benefits and drawbacks let's explore different tools. There are plenty of tools out there, but we have listed the best ones for you to try first.
Conversion.AI is powered by Jarvis, which is an artificial intelligence bot. It is a GPT-3 based tool created by OpenAI. Actually, GPT-3 is an autoregressive language model that produces human-like text using deep learning. This tool is perfect for agencies, marketers, and entrepreneurs.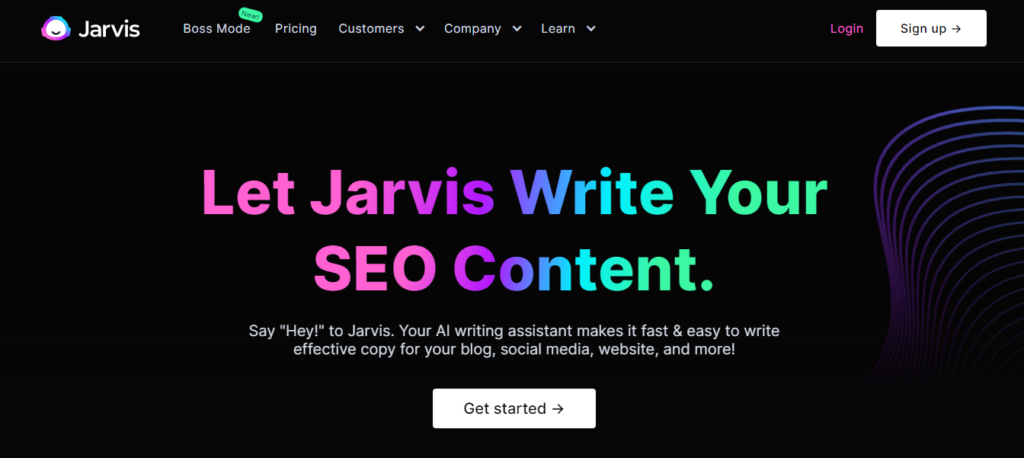 Jarvis is trained by copywriters and conversion experts. Therefore, it can follow the rules or instructions and mimic the models. The dashboard of conversion.AI is featured with 50+ templates. This long template list implies that it can write almost all business-type content for you.
In addition, it provides content in categories like SEO, Blog, Website, Ads, Email, and many more. In this way, accessing the required type becomes much easier with this tool.
Features of Conversion.AI
Generate dozens of relevant headlines with a bit of input.
The Boss Mode can write content 2x faster.
Able to adjust the tone of your brand's voice, and you just need to select the tone you want.
Can translate your content into 25+ languages.
Create long-form content.
Use multiple copywriting skills to build content faster.
A mobile-friendly app that helps to write on the go.
Allows specific folders for your multiple projects and clients.
Integrates with Surferseo.com to optimize blog posts for ranking top on SERP.
Pros of Conversion.Ai
User-friendly and simple to use interface.
Perfect use of grammar.
End writer's block forever.
Generate 10k words absolutely free.
Support available 24/7
Cons of Conversion.Ai
Free trials are offered through email and require a credit card each time.
Plans are pricier compared to others.
Pricing Plans
Conversion.AI has three different pricing plans to choose from, Starter, Pro, and Base Mode with several features and templates. Fortunately, all these three packages are covered with a 7-days money-back guarantee. So, you can at least give this tool a try to see if it works for you or not.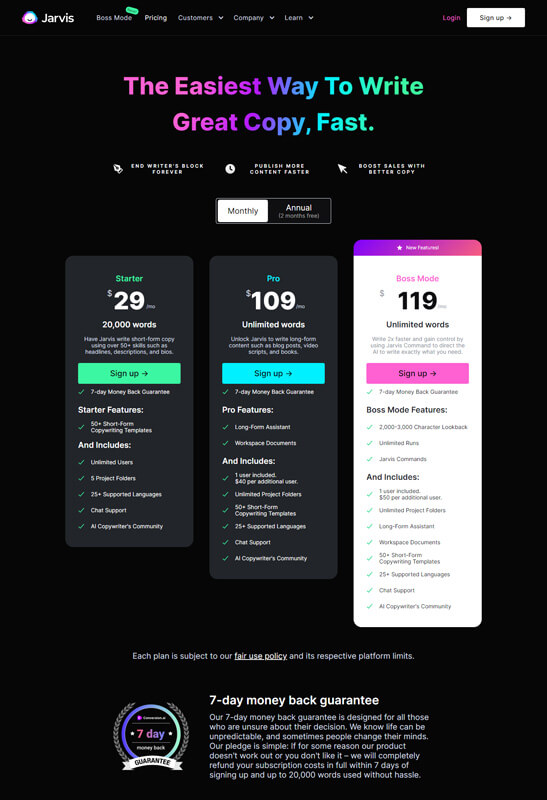 Another GPT-3 content generator by OpenAI is copy.ai. This tool comes with huge options for the user, including digital ad copy, social media content, website copy, eCommerce copy, blog content, and sales copy.
Copy.ai will generate persuasive content for your website's landing page, blog, ads, and intros. Its homepage featured almost everything that a user is required to know. The best thing about this tool is its using process is really simple. You won't face any difficulties while instructing it about your topic.
After creating the account, you should create a project. Simply give the name of your project and select the tone you want for your content. Next, you will find several tools from which you can choose your preferred one.
Then describe the product, and if you need to target a specific audience, you can specify that also. The following image will give you a clear idea of how it works.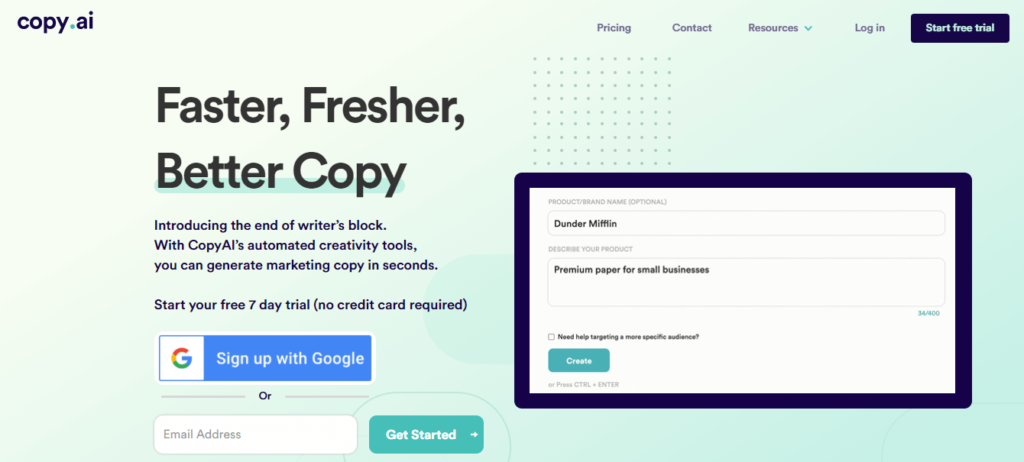 Features of Copy.AI
Designed with 70+ specialized AI templates.
Generate content that includes specific promotions and demographics.
Has a chrome extension that makes it stand out and extremely user-friendly from others.
Creates content human-like, readable, and with correct toning.
Uses brainstorming tools to eliminate writer's block.
Allows to create new projects and save all of them.
Pros of Copy.Ai
Offers Unlimited runs.
24/7 email support.
Compatible with 20+ languages.
Cons of Copy.AI
No lifetime deal.
Minor grammatical errors in samples.
Pricing Plans
It has two packages, one for small businesses and the other one for larger teams. The solo package will charge $49 monthly and $420 a year.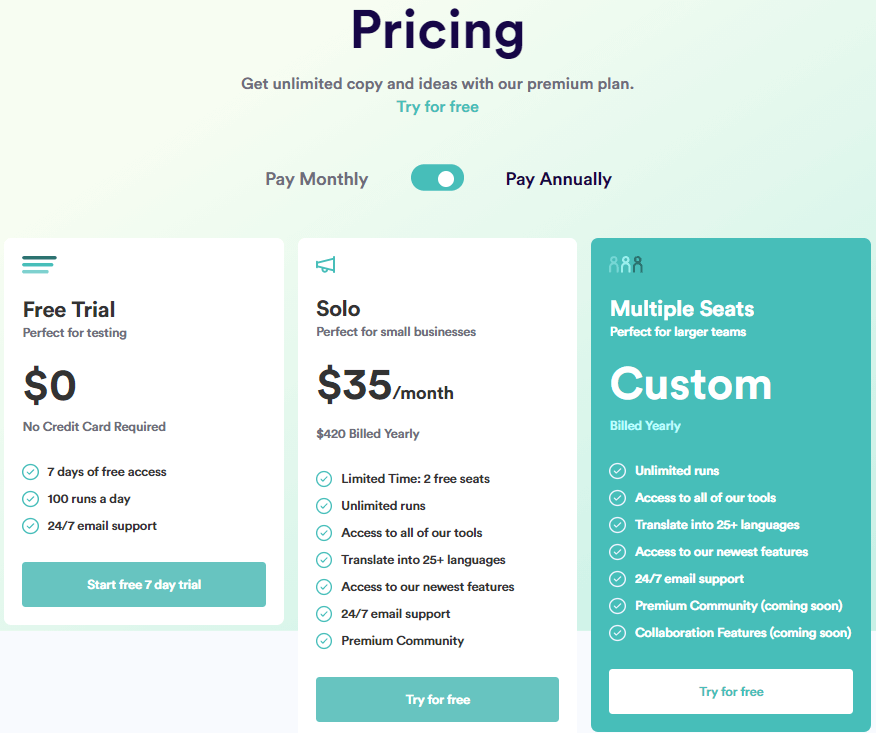 Free Trial
If you have any confusion, you can clear them out by giving this tool a free trial for 7 days. You will be allowed to give 100 trials a day and 24/7 email support within this trial period.
Copysmith.ai is powered by AI and trained with a high-performing copy. It has a growing collection of Ads, blogs, brainstorming, branding, content writing, and more templates. Whether you are a marketing agency, in-house marketing teams, freelancers, and e-commerce owners, the copysmith is there for you.
You can use this tool to accelerate your growth through tailored marketing. After creating an account, you will see several templates. First, select your preferred template to see the available options and choose your preferred one. After that, the tool will start generating a copy for you. If you like a copy, simply click the heart button. In this way, copysmith will understand the structure and tone of content you like.

Features of Copysmith
This tool is designed with folders for every client, campaign, and project.
It will organize and store all your copy in one place.
Maximize efficiency and instant writing for Google, Facebook, Instagram, LinkedIn, and many more.
Best for rewriting the content, providing content ideas, product descriptions, blog ideas, and much more.
Serves with bulk export to CSV so that you can export the articles in a few clicks.
Pros of Copysmith
No credit is required for unlocking the free trial.
Easy navigation without cluttering.
Ensure data protection using Google Firebase.
Helps to get rid of writer block.
Cons of Copysmith
Only use English.
Fewer templates than the other tools.
Pricing Plans
Copysmith comes with 4 plans for starters, professionals, teams, and enterprises. Now, let's see what features all these plans include so that you can choose the best one for your business.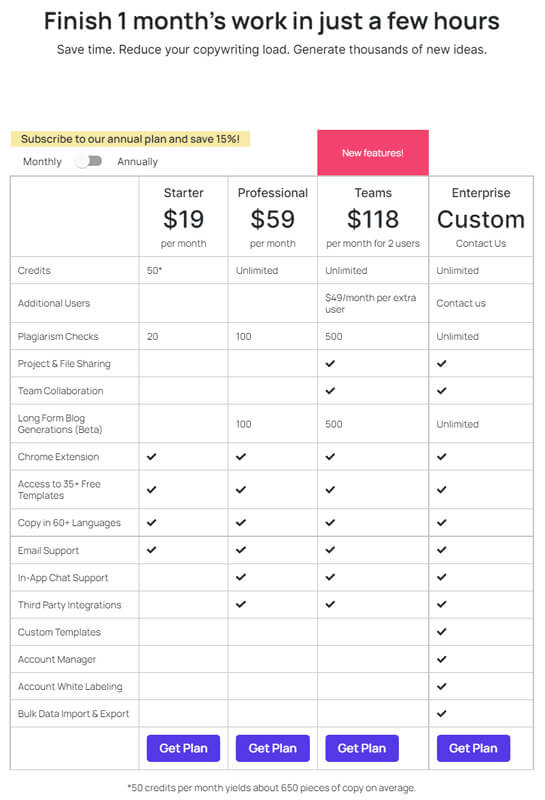 Free Trial
This tool offers a 3-day unlimited free trial without requiring your card details. So, you can get an idea about this tool within this trial period before making any final purchasing decision.
Wordsmith is the world's first self-service NLG (natural language generation) platform created by Automated Insights. This tool transforms data into human-sounding narratives for any industry using this NLG technology.
Wordsmith integrates with MicroStrategy, Tableau, Tibco Spotfire, Qlik tools to provide data context as you want. With this self-service platform, you will get a complete narrative customized, real-time content updates, and a powerful API platform to publish your content.
Wordsmith works very simply; just uploads your data, designs the content, and generates your narratives. It is perfect for startups, SMEs, agencies, enterprises, and more.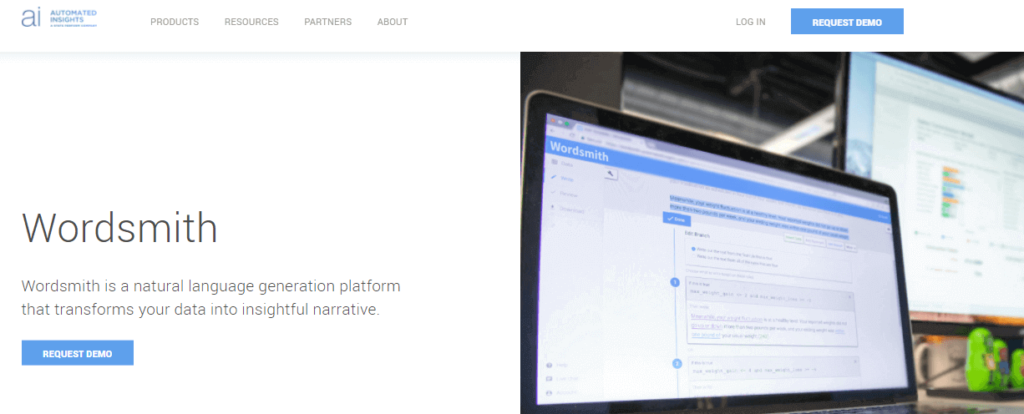 Features of Wordsmith
Generate millions of narratives in a matter of milliseconds.
This tool uses each person's data to personalize content so that it can convey their interest, roles, and responsibility.
Combines with power Bi's data visualization tools with NLG to create faster and better content.
The AP can publish more than 3,000 financial reports every quarter.
Allows you to request a demo.
Pros of Wordsmith
Multiple language support.
Produce content in 50+ industries.
Empower your content with NLG
Automate easy-to-understand and valuable content.
It's really easy to use.
Cons of Wordsmith
Cost not specified.
Pricing Plans
Unfortunately, they don't publicize the pricing plan. To know the pricing, you should request a free demo. And then provide the required information about your business and content.
Another AI copywriting tool that works like humans but can produce content within seconds. Writesonic's AI is trained with the top brands on the high-performing copy to write better content effortlessly.
This tool knows what converts and how to resonate with the audience and convert them. It can generate almost anything from Google ads, content writing, social media copy, website copy, e-commerce copy, and many more.
After creating your account, you should name your project. Then choose the preferred templates from its huge collection to generate content. After that, fill the target topic box, and it will provide several ideas from which you can select the perfect one.
Then prepare a title, intro, and outline for your content, and this tool will do the rest for you within a few seconds. The best thing about this tool is it creates much readable and absolutely human-like content.
Features of Writesonic
Writesonic's AI-powered writing tool can generate high-performing blogs, ads, landing pages, and many more in seconds.
Generates 100% original content at the push of a button.
You can summarize articles, draft professional emails, and generate marketing copies with this tool.
The most standout feature is their landing page generator. Only by providing a few details you can optimize an engaging landing page.
Apart from generating content, it includes startup ideas, youtube titles, growth ideas, analogies, etc.
Pros of Writesonic
Provide 10 credits for the free trial.
Generate great copies within a few seconds.
Compared to other AI tools, it seems affordable.
Absolutely user-friendly interface.
Supports more than 20 languages.
Cons of Writesonic
Generated content is still not that perfect.
Consists of numerous blatant factual errors.
Pricing Plans
Free Trial: You can start using writesonic for free without providing any card details. This tool offers every new user 10 credits to try out this tool. They divide their pricing categories into two platforms like marketing platform and writing platform.
Now, let's see the pricing and packages of Weitesonic along with their features.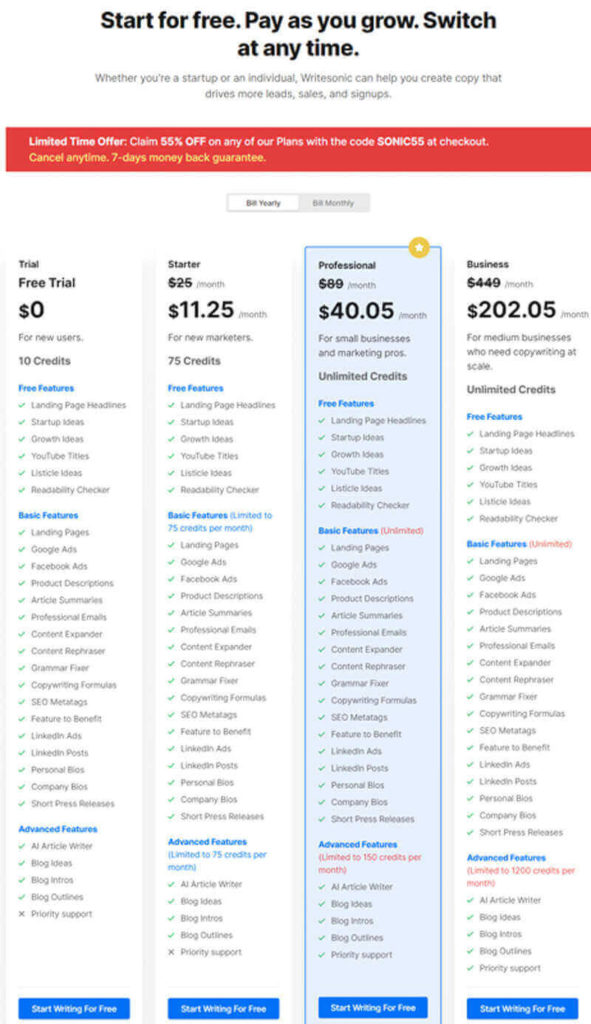 However, if you want to work without any upfront commitment, they have a "pay as you go" plan. Here you can generate content on-demand and pay only for the credits you need.
An AI-powered writing tool that can write anything and everything is Rytr.me. Rytr makes sure that all content is error-free and targets the emotion creatively. It comes with several variants, tones, and content cases to choose from. The content quality is also very impressive, readable, grammatically correct, and relevant.
With Rytr, you just need to put your content type, tone and click on the submit button. After that, this tool will generate perfect content as per your requirements. It allows you to complete text, rephrase, summarize, and expand the sentences as you need from the same dashboard.
You can use this tool to create high-quality blog posts, articles, social media posts, web pages, product descriptions, reviews, and many more in just a few seconds. With Rytr.me, you'll never feel writer's block again.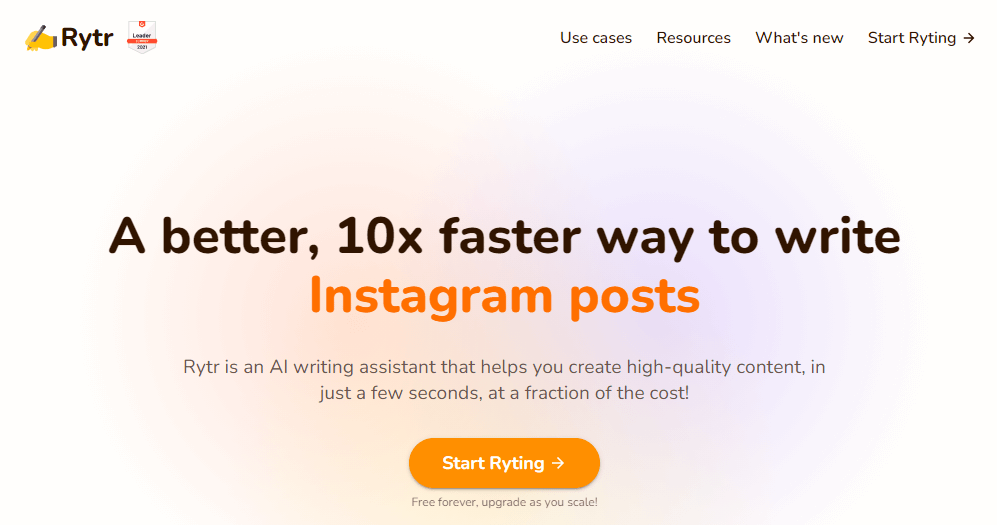 Features of Rytr
Generate everything from emails to ad copies, catchy and creative content text.
Works like a human assistant that follows your instruction to create killer content pieces effortlessly in 20+ tones and any structures you want.
This tool is mobile-friendly, and this feature makes it stand out from the other tools.
Powered by state-of-the-art language AI and state-of-the-art language AI.
Rytr is an online content title generator. It generates creative titles, headlines, SEO meta, and taglines for your website and blog posts.
Consists of an in-build plagiarism checker.
Pros of Rytr
Generates unlimited characters.
Designed with 30+ use cases and templates.
Capable of writing in 30+ languages.
Access more than 25 content types and cases.
Dedicated account manager, email, and chat support.
Manage and organize content through documents seamlessly.
Cons of Rytr
Fewer templates than other tools.
Some sentences contain fragments at the end of the draft.
Pricing Plans
The pricing plan of Rytr is very straightforward. It has only one premium plan that costs $29 per month and $290 annually. In this plan, you will get access to the premium community. The best thing is you can explore this tool before going for the paid version with its free version.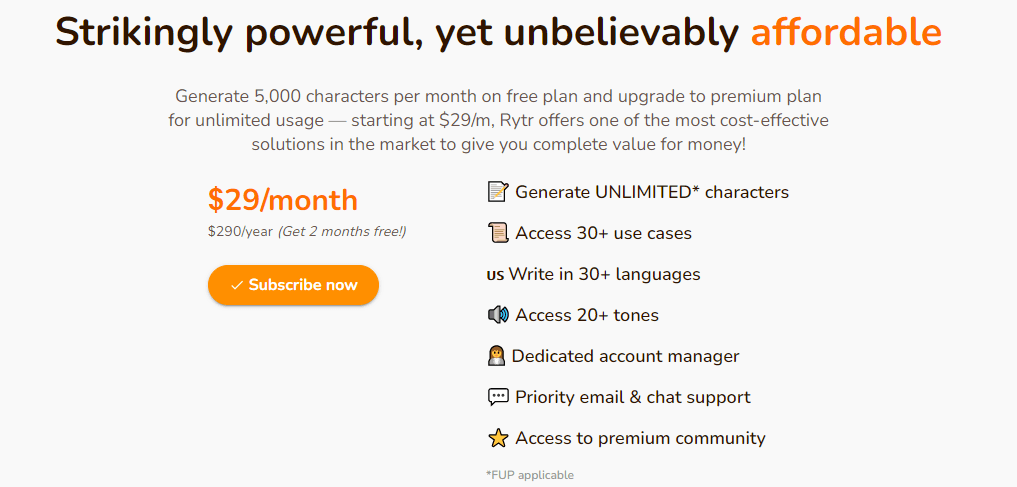 Contentbot.ai is a content automation platform that helps in generating quality content through its AI-driven technology. It uses "Generative Pre-trained Transformer 3" to parse the content and generate new content. This tool can generate human-like new blog posts, articles, marketing copy, SEO content, social media feeds, etc.
The generated content is up-to-date with the latest events and topics, which help in boosting the value of your brand as an expert in your industry. This tool also offers support for multiple languages, making it easier to reach out to your global audience with high-quality translation capabilities.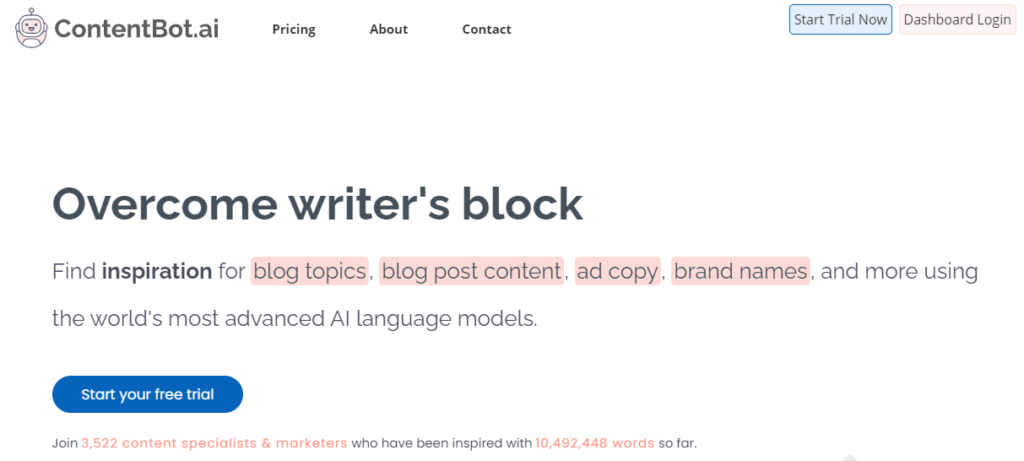 Features of Contentbot
Provides inspiration email daily, weekly, and monthly for blog topic ideas and marketing ideas.
Uses several copywriting and marketing tools to increase content output substantially.
Consists of a wide variety of 35+ highly-tuned AI tools.
It can create an abundance of copies of your landing page tests and ads.
Featured with the NLP system that uses deep learning for producing error-free human-like text.
Contentbot is bundled with WordPress plugins and web apps.
Pros of Contentbot
Compatible with all languages that Google Translate supports.
95% of the content is unique and original.
Generate several contents in under 30 seconds.
The free trial allows access to all tools.
Cons of Contentbot
The output is not 100% satisfying.
Requires human interaction and corrections.
Pricing Plans
This tool comes with two packages like premium and premium plus. The premium package with $29 per month is perfect for startups and content marketers. On the other side, the premium plus plan with $79/month is ideal for agencies.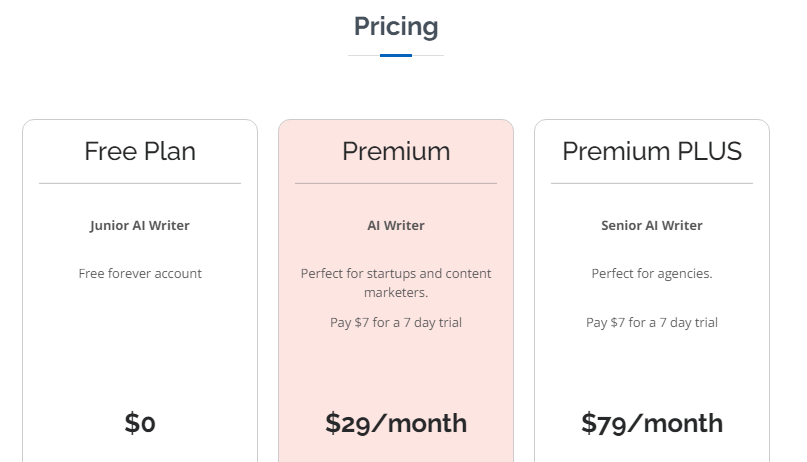 Trial Period
You can try out the premium and premium plus package at $7 for a 7-day trial. After 7 days, if you find this tool useful, you can go for the actual plan.
Wordtune is an AI copywriting companion built by AI21 Labs that works in real-time alongside you. It helps rephrase and reword your content without changing your content's flow, tone, and meaning.
Since it can't generate fully-fledged content, this application is highly beneficial for individuals and professionals to improve written communication skills and find comprehensive rewriting options.
Wordtune uses a powerful algorithm based on AI and machine learning for reviewing your text and providing rewrite suggestions. Usually, it doesn't take content directly from the literature. Instead of doing that, it uses AI technology to rewrite your written sentences in a new and better way.

Features of Wordtune
Explore fresh and unique ways to rephrase everything from sentence length to full-length articles.
This tool can conveniently convey a lighter and less serious tone for specific audiences.
Presents sentences in a more sophisticated and professional way.
The best part is this tool can convey your message clearly and concisely as well.
To give more detail, nuance, and depth, it helps to expand the sentences.
Comes in a Chrome extension also.
Pros of Wordtune
Works on Twitter, Facebook, Gmail, LinkedIn, etc.
Wordtune editor helps you copy and paste another source's text and wordtune them.
Translate and rewrite simultaneously.
The free version can effectively transform writing.
Cons of Wordtune
Can't generate full content.
Consists of very few features.
Pricing Plans
If you only want to rewrite, get contextually relevant synonyms, and translate your content, then the basic free version will work great. But to get the tone and length control feature for matching with your content, you should go for the premium version. It will cost you $9.99 per month.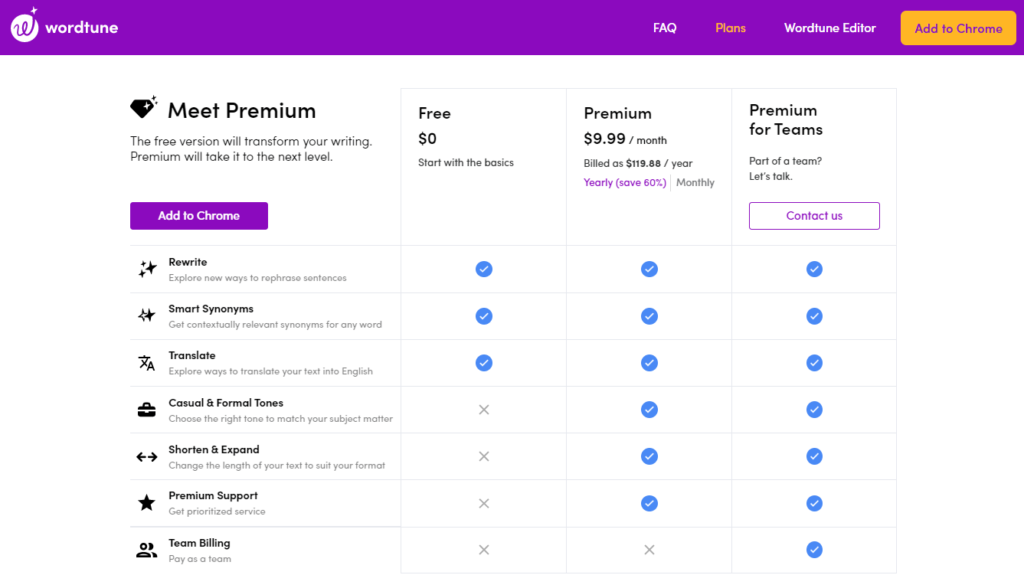 If you have a larger business and several team members, you can sign up for the premium for teams package. Here the prices will vary depending on the services you will require.
Snazzy.ai is a copywriting tool that combines with their own proprietary ML and GPT-3 model. This tool understands your needs and provides you with content that will help to reach users.
It provides high-quality content for social media, blogs, and landing pages with the help of templates. This innovative copywriting solution has made every template available for free.
This software has an easy-to-use interface to make it possible for even the newest user to create top-quality content with little time investment. However, you can use this tool for brainstorming, getting growth ideas, blog ideas, and more.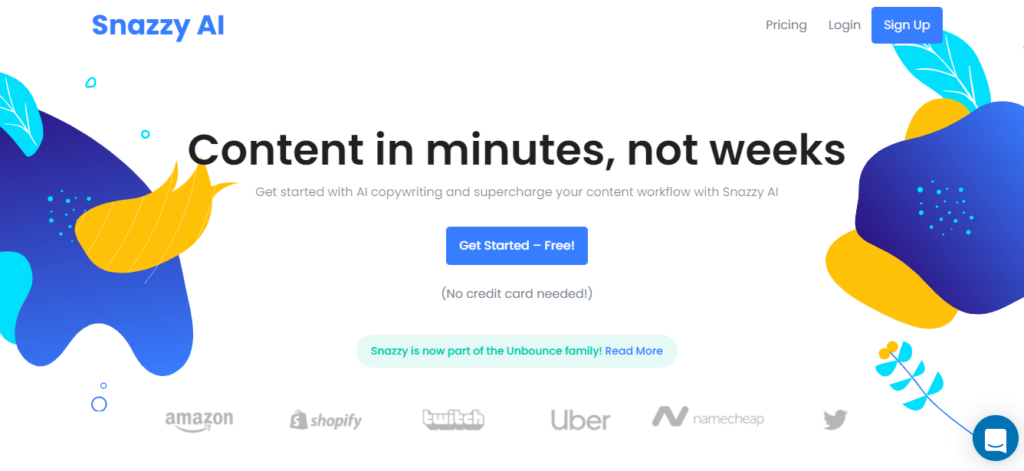 Features of Snazzy
It provides quality content that is well-written and grammatically sound.
Snazzy has several generators for taglines, landing pages, Google ads, Investor emails, product descriptions, and sales emails.
Templates create content based on your provided information.
Content extender turns the sentences into bullet points to make them more catchy.
The Remix option allows the creation of several versions of content.
Pros of Snazzy
Easy to use and beats the task of writing from scratch.
Has a chatbot that allows for quick feedback.
Doesn't require inserting data each time for generating content.
Freemium pricing structure.
Cons of Snazzy
Each generation contains fewer selections.
Creates comparatively simple landing pages.
Pricing Plans
Snazzy offers to create unlimited content at a single price of $49/month and $300/yr. It also includes profile switching, customizing templates, and customer support. In addition, this tool provides an absolutely free starter plan.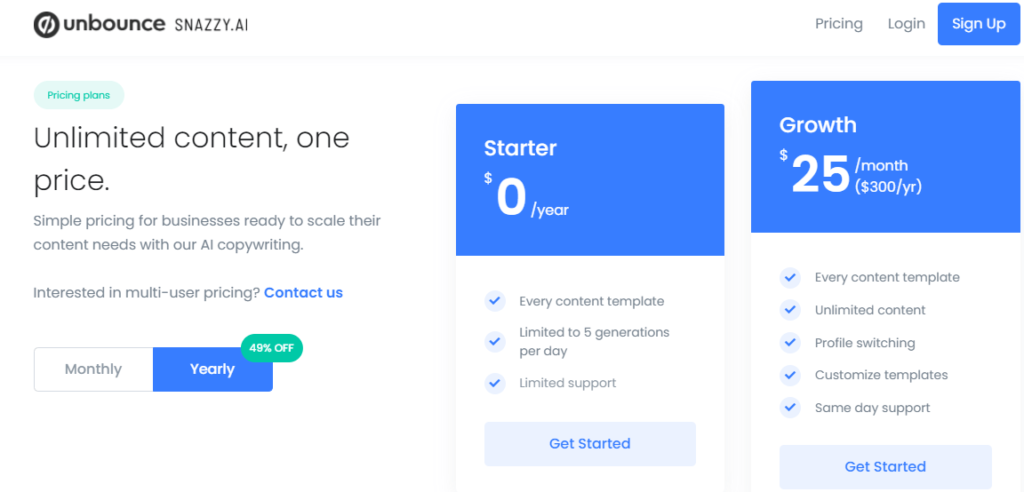 Freemium Plan
The amazing thing is, their free plan offers using every template. It'll provide 5 credits per day to generate content with this free version.
Headlime claims professional marketing copy for anyone with its smartest copy generator. This tool automatically writes the best copy for you using the power of GPT-3 and the latest NLP techniques. This tool can increase the conversion rate and revenue of the users with its creative marketing copies.
You will never get stuck while writing something with headlime. You just need to answer a few questions about your topic and the content type. After that, headlime will do the writing for you. Once completing the writing, simply export the file to Word, PDF, or TXT and publish it.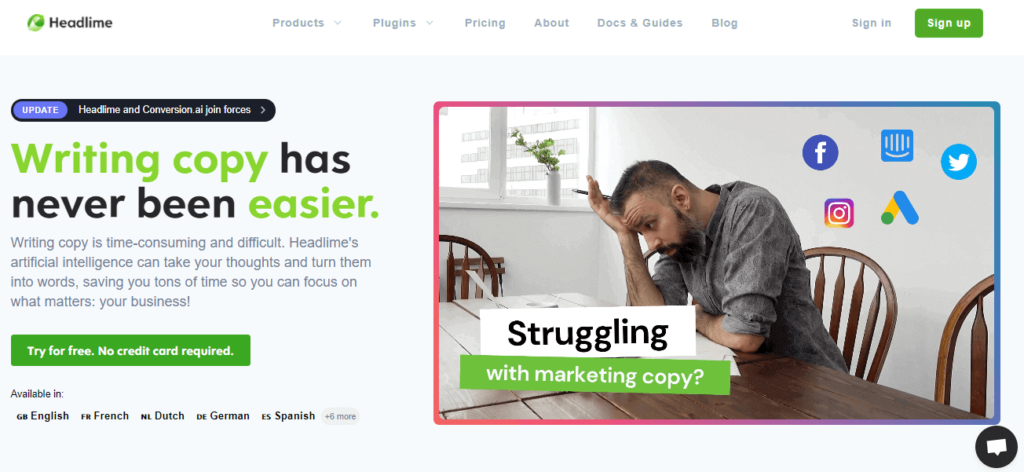 The best thing about this tool is that it can fix all the errors with its grammar-checking and sentence-re(writing) content editor for writers. Its homepage is well-balanced with impressive features to get started. Along with copywriting, it can create landing pages, create several documents in seconds, product pitches, and many more.
Features of Headlime
Provides 1700+ pre-made templates to create better copy instantly for your specific business.
Featured with the latest advancements in NLP technique for writing best sales copy on the web.
Ensure convenient collaboration with the other team members by managing all projects in one place.
The automated document generator ensures achieving accurate data and error-free documentation quickly.
This tool is bundled with thousands of real-life examples of great copies.
Pros of Headlime
Support 10+ languages.
AI intelligence ensures error-free content.
Helps to get rid of writer's block.
Several inbuilt templates.
Great collaboration tool and excellent documentation.
Cons of Headlime
Very pricey for additional user seats.
Do not write blog posts well on particular topics.
Pricing Plans
Headlime has two pricing packages; the first one is individual at $59/mo. This plan is for personal use or small business. The second one is the business package, and its price differs with the increasing number of team members. This plan is for larger companies, teams, and agencies.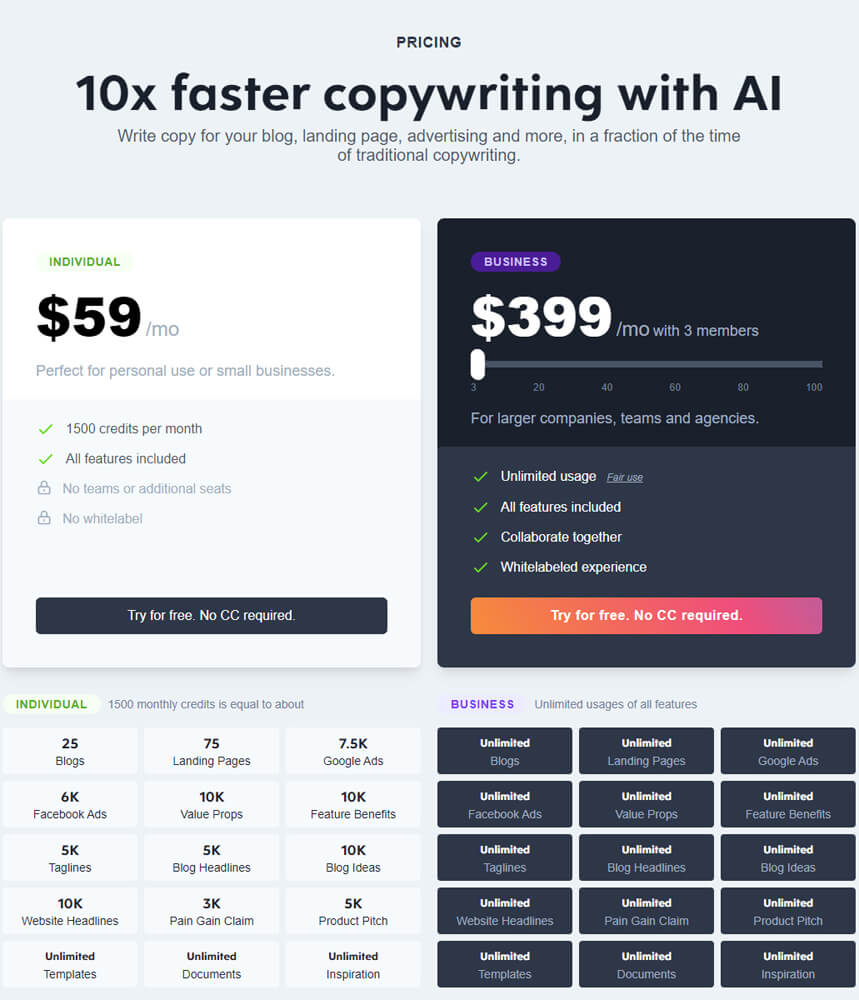 Free Trial
You can try this tool out for free with limited access just to see how it works and no credit card will be required. There is another plan which is 7 Days at $7. This 7-day trial gives you full access to all tools and features of your chosen plan.
AI-Writer is an automatic content generator for your SEO content, blog, content marketers, or copywriters. This tool will help you to edit the content by eliminating all the errors efficiently. It works best for short-form writers who are in search of minimalism.
The software interface is very simple; you just have to submit your topic or headline. Then, give the tool some time to create the content draft. Once done, you can start converting this draft into a great piece of content in just 2 minutes.
AI-Writer is engineered with high SEO, and this way, it can generate fresh, relevant, SEO-friendly, and authoritative content for you.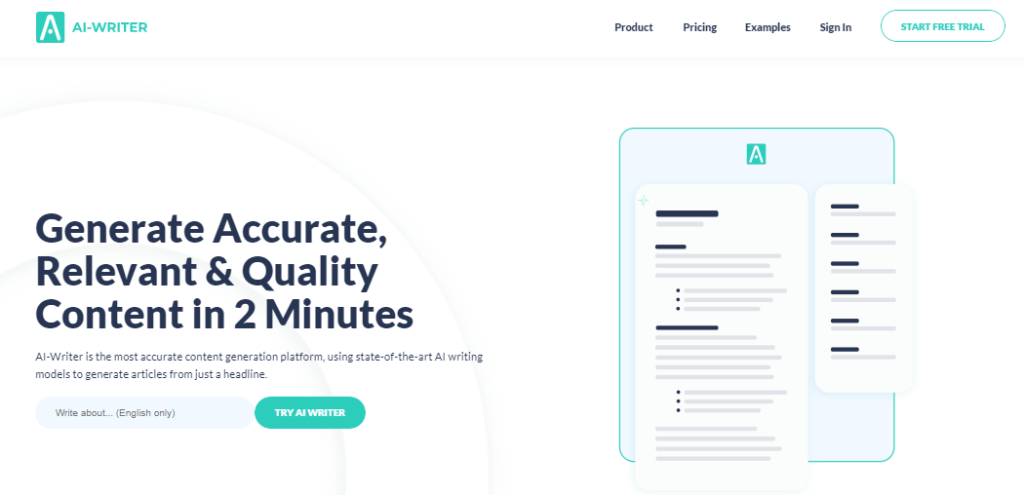 Features of AI-Writer
Its AI content generator can provide information-dense articles which are perfect for every user.
The AI text generator can reword your already written content by using its text spinner tool.
AI-Writer features a text-generating API to help you create auto blogging projects.
This tool works as a source of idea generation and inspiration.
Pros of AI-Writer
Helps to save around 33% of the time for text generation.
Software with built-in inspiration.
Generates 94.47% unique contents.
Show the duration of reading through the content.
Cons of AI-Writer
Very few templates compared to the other tools.
Pricing Plans
AI-Writer offers a 1-week free trial with access to the full article draft, SEO_friendly content, citation listing, and generating unique and relevant content. Other than that, it has three packages of basic, standard, and custom.
Basic: Offers 40 pieces of content to a single user each month at $29.
Standard: A single user will get around 150 pieces of content per month at $59.
Custom: Here, multiple users will get unlimited unique content pieces. To get this offer, you should contact the sales team.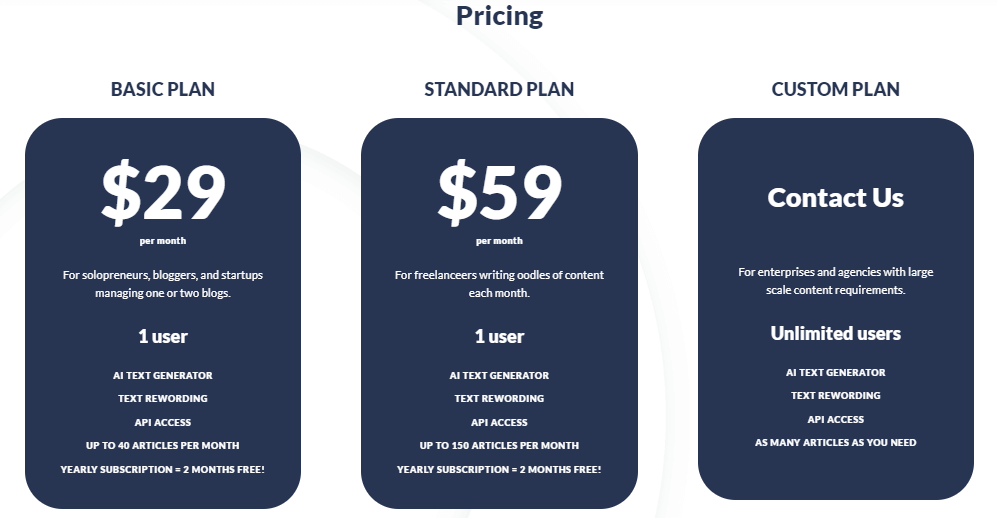 ArticleForge writes human-like unique content using advanced AI and deep learning. Within 60 seconds, it can provide high-quality content. The deep learning models of ArticleForge are trained on millions of articles. In this way, it can also write with the same intelligence about any topic virtually.
It requires entering the keyword, optional sub keyword, article length, and other requirements to get started. This tool ensures 100% unique content. It is integrated with different SEO tools to make the writing process more efficient. These are SEO AutoPilot, WordAI, CyberSEO, RankerX, GSA Search Engine Ranker, and Senuke TNG.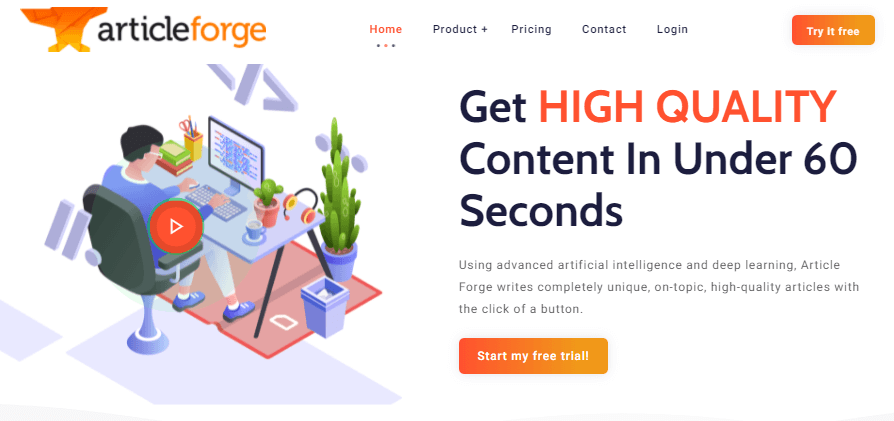 Features of ArticleForge
Automatically creates content for SEO autopilot to get valuable backlinks.
It focuses on high-authority web 2.0s to ensure maximum ranking power.
WordAi tools paraphrase any content and provide high-quality SEO content, blog, or others.
It is featured with CyberSEO for helping post content to their WordPress sites.
ArticleForge uses RankerX, which is a cloud-based link-building service. You can directly import your content on RankerX through this tool to create authoritative backlinks.
It adds relevant titles, LSI, images, links to your content to make it more natural and relevant.
Pros of ArticleForge
Generates content in 7 different foreign languages.
Uses cutting-edge technology to write entire content.
Write freelancer quality content in 60 seconds.
Provides SEO-optimized results.
30-day money-back guarantee.
Cons of ArticleForge
Result quality sometimes varies.
Don't offer an offline version.
Pricing Plans
You can try out this tool absolutely free with its 5-day trial plan. Also, this tool offers a 30-day money-back guarantee with no-risk and no-question-asked.
Apart from that, ArticleForge has a monthly plan at $57/mo and a yearly plan at $27/mo.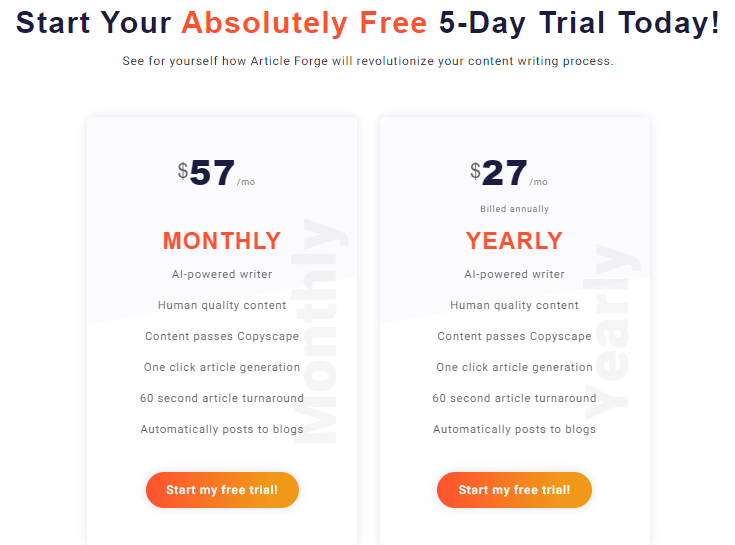 WordAi is a spinning tool that rewrites human-quality content to understand the text's meaning using advanced AI. This tool is not for creating new content, but it can help with spinning sentences or paragraphs. The WordAI API is extremely simple to understand and use.
It is super fast to rewrite the content and also allows you to give a personal touch to your content. This tool rephrases the content keeping the meaning and tone accurate by understanding the material source of your content in-depth.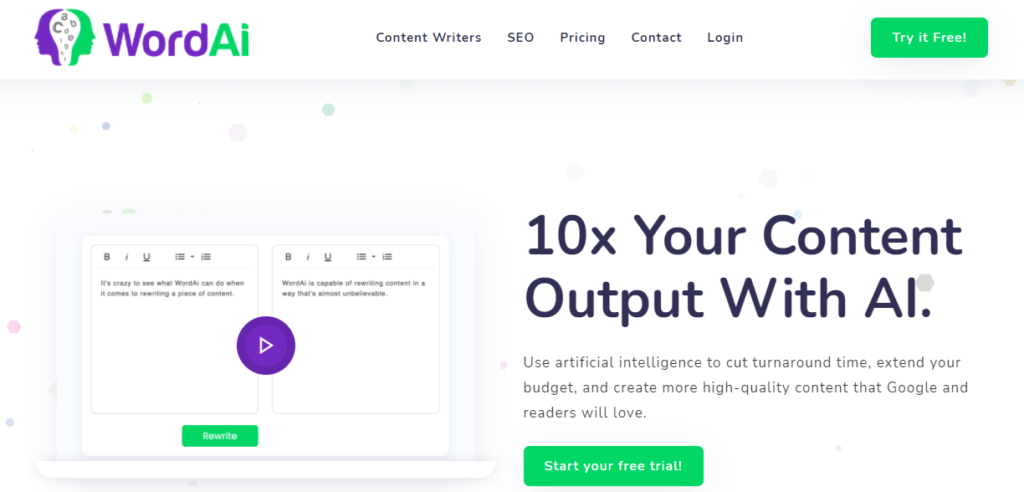 Features of WordAI
WordAI uses advanced machine learning models.
This tool picks synonyms to understand the accurate meaning of each word.
It Supports HTML, which implies you can edit or spin HTML using this tool. Also, you can add images, videos, styling, and many more.
With its perfect tense integration, it can find the mistakes of grammar and spelling and add corrections.
Ensure providing unique content with improved quality so that Google can't detect it as spun content.
Pros of WordAI
Understand words that have several meanings.
Supports 4 different languages.
Amplify your content to scale your business.
Can spin bulk content with a single click.
Rewrite and restructure an entire paragraph or list.
Import content with ArticleForge
Cons of WordAI
No lifetime subscription.
Technically less featured.
Pricing Plans
Right now, WordAI has three pricing packages like a monthly turning plan at $57/mo, a yearly plan at $27/mo, and an enterprise custom plan.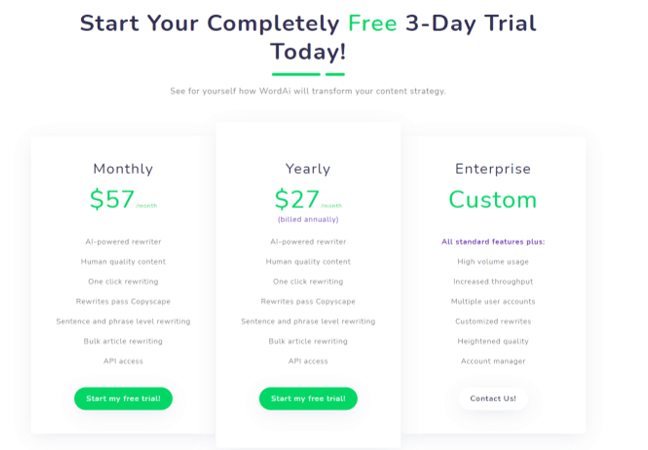 Free Trial
WordAI comes with absolutely no risk to try offers. To test the service, it allows you to try out the tool for a 3-day free trial. Above that, it offers a no-string attached 30-day money-back guarantee. So, you can have a hassle-free refund with no questions asked.
Last verdict
AI copywriting tools can actually help users to scale their content creation and achieve their business goals. Whether you're a beginner or a busy content creator, these tools can help you the most.
Since every tool works differently, you should check how these tools work using the free trial. In this way, you get an idea about their writing nature and determine which one goes with your business strategy.
In my opinion, I'll recommend Conversion AI as the best assistance to human writers. This tool made significant progress in producing readable and relevant content on specific topics. It comes with huge features and templates to help you even more in copywriting and content creating.
So, if you like this guide and find it useful to make your decision, you can share your feelings with me in the comment section below. Or, if you want me to write on other specific topics, you can also comment on that. So this is all for today; start discovering these tools and invest in the perfect one to save your time and effort.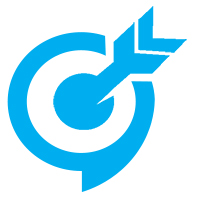 Giant Marketers is one of the fastest-growing and leading digital marketing company in Bangladesh. Its primary goal is to help clients to grow big with result-driven strategies and 10+ years of experience in the industry